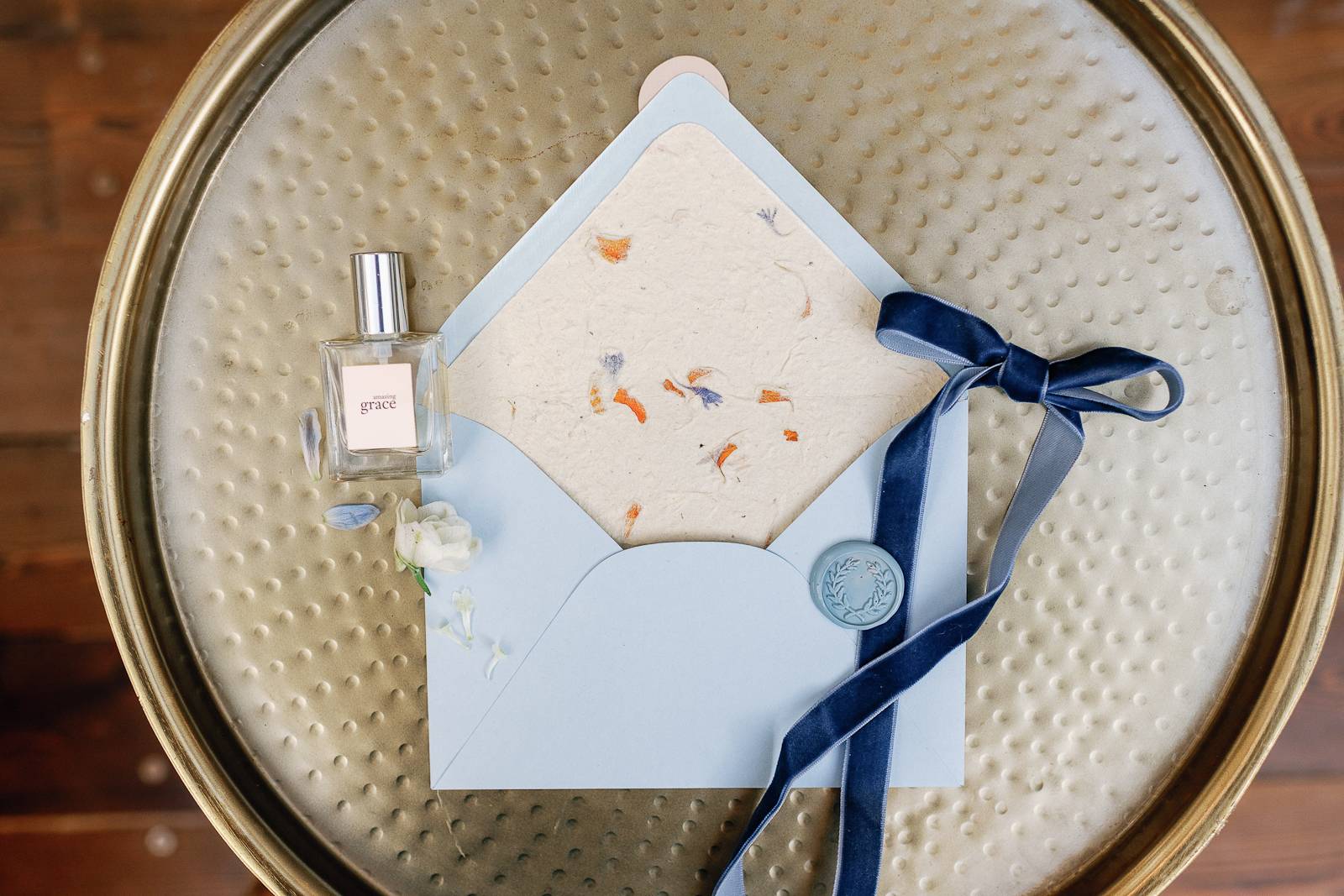 Giving a soft and elegant touch to the stationery and signage, Lettered by Shi played with texture and shape to create this vintage-met-modern eclectic look that paired seamlessly in all the moving pieces throughout the day.
Velvet Rentals curated and combined items that reminded them of classic romance and antique french furniture with a modern twist. The gold-framed settee, tufted blue velvet bench, ornate gold candle holders, and antique glassware are Louis XIV-inspired, and they contrasted those pieces with sleek white plates and a modern bar cart where antique vanity mirrors were placed to circle back to those classic period pieces.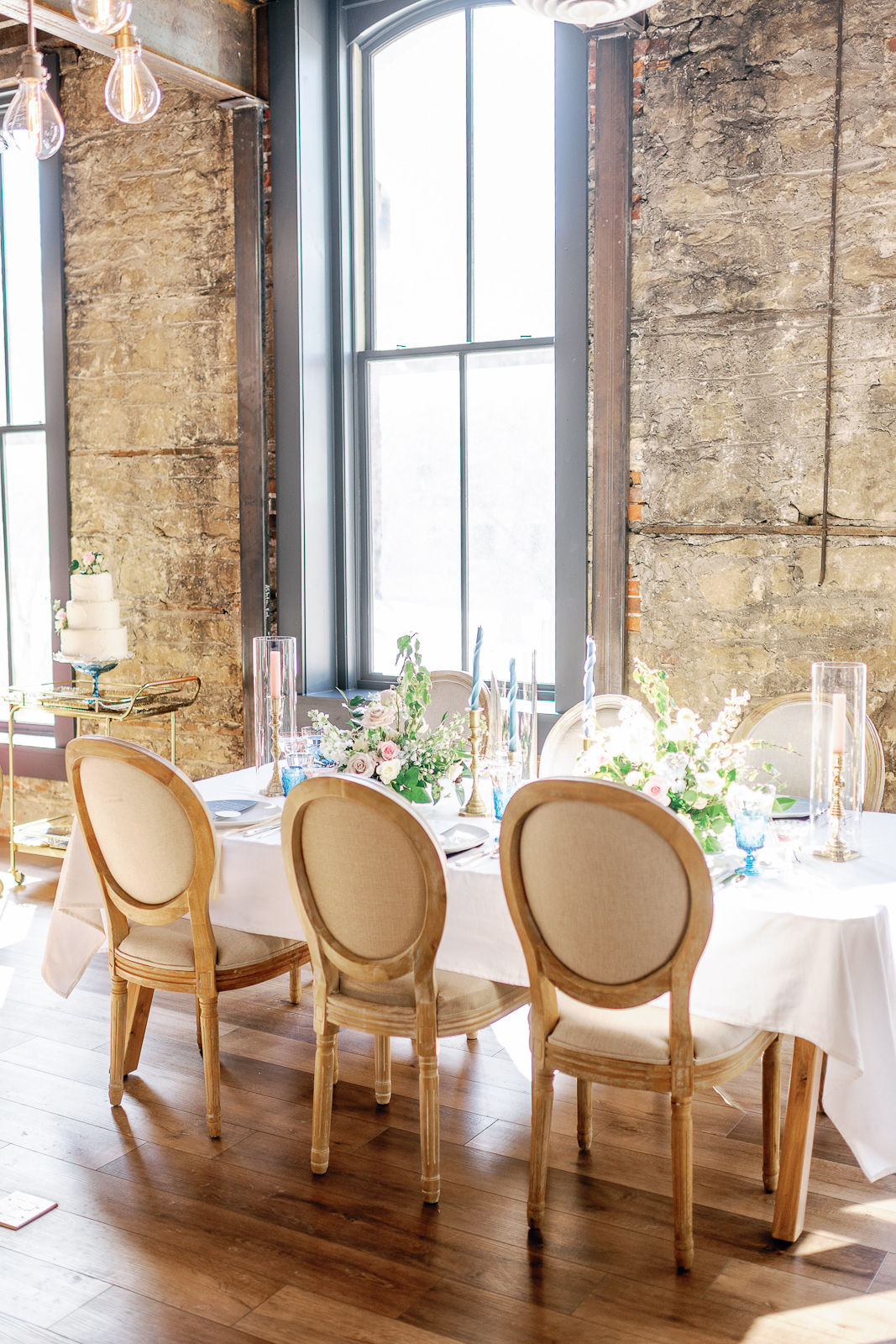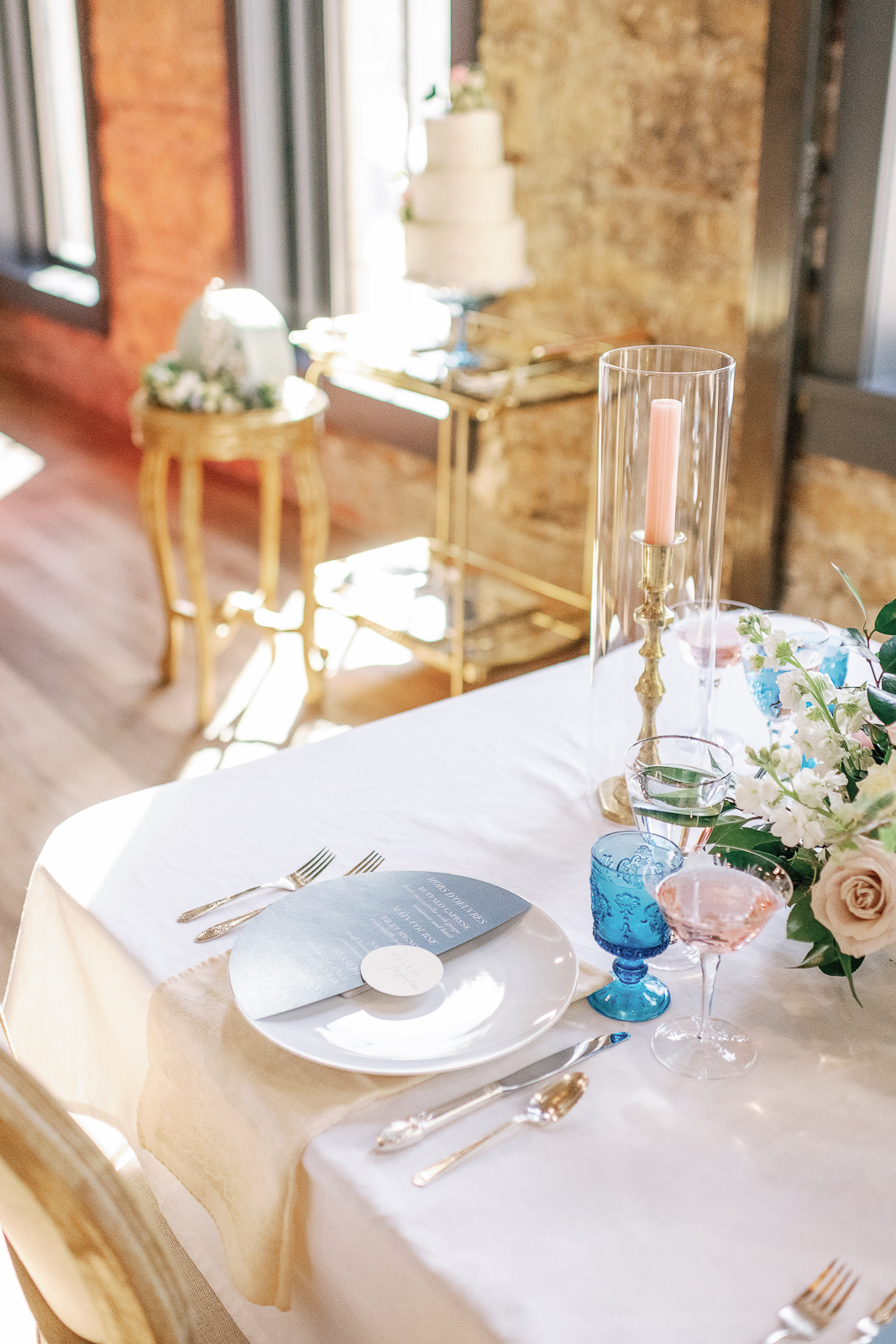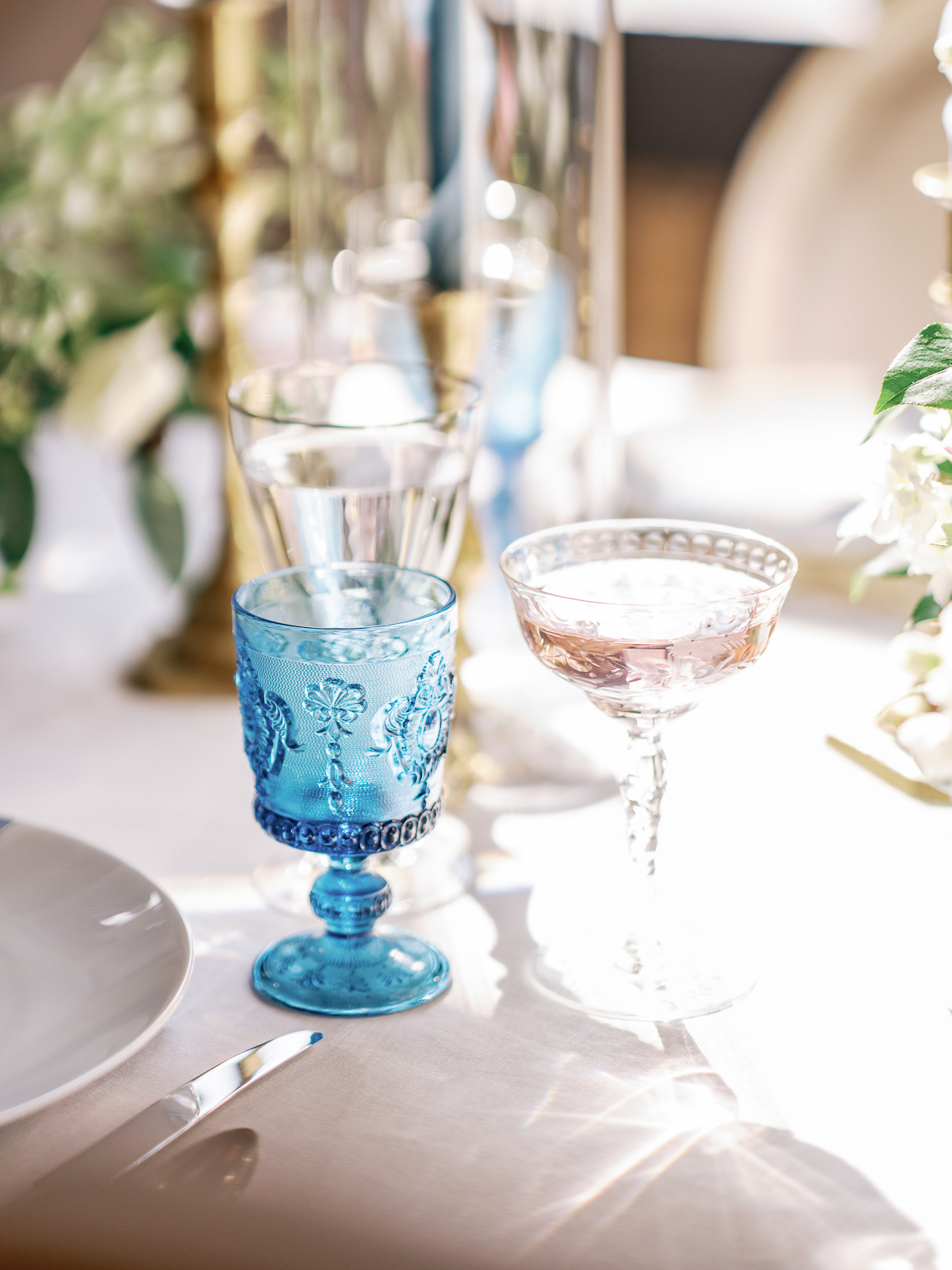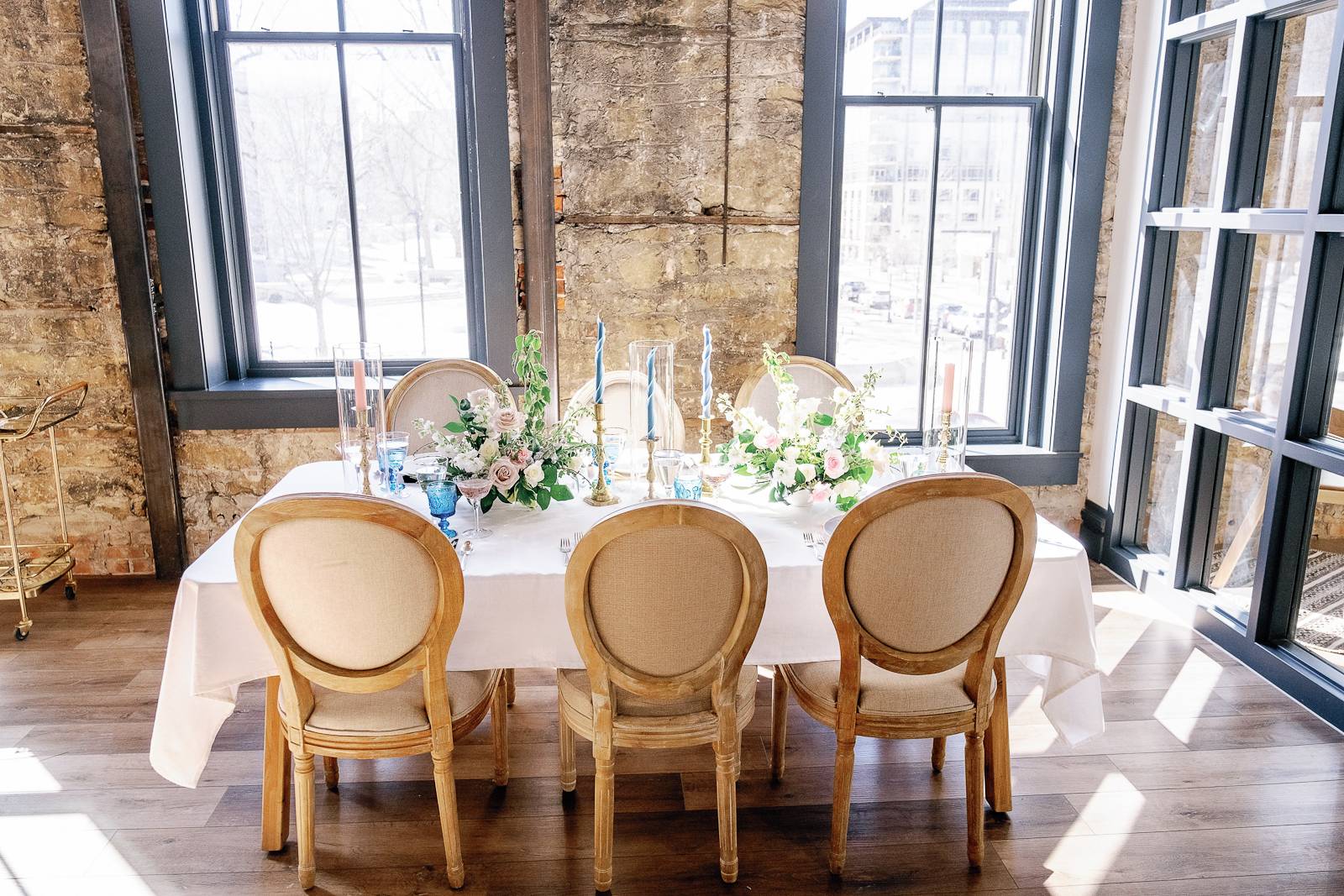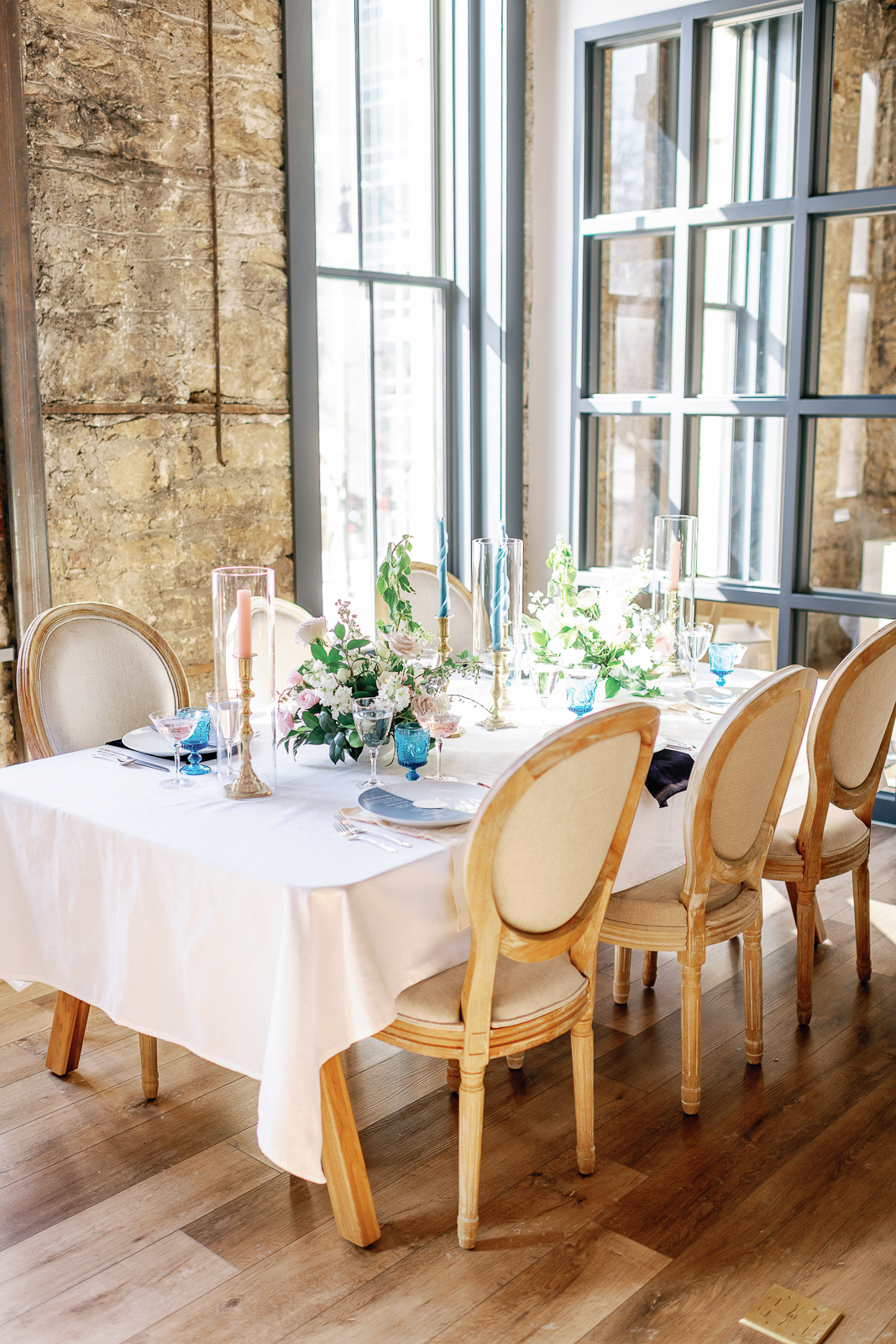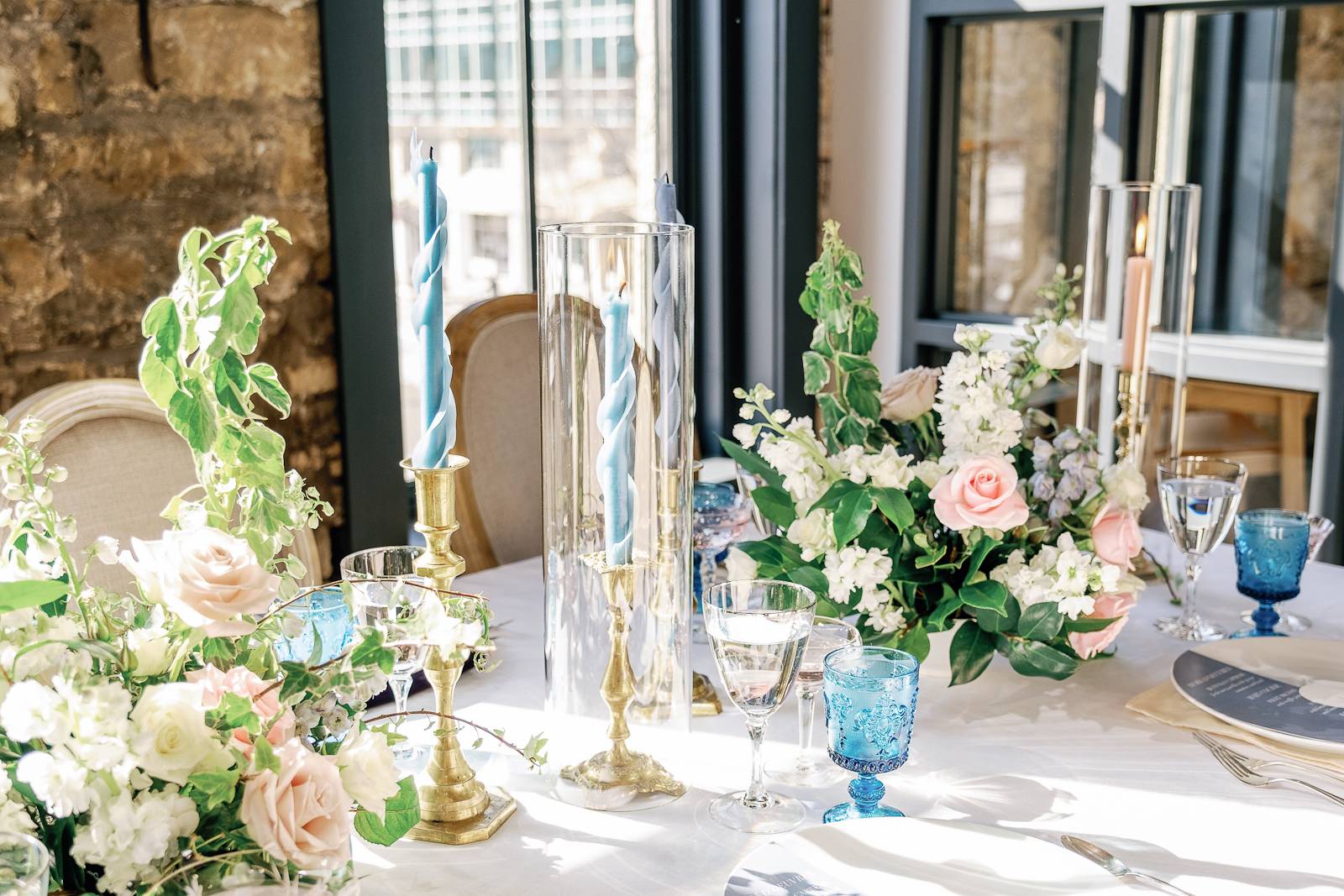 The moment Larissa and Matt from Larissa Marie Photography stepped into Ellsworth Block for the first time, they knew they wanted to put together a shoot in its beautiful, intimate, historically renovated space that provides the backdrop for any fairytale wedding.
Its stone walls and original woodwork scream old-school class and romantic sophistication. And the natural light from the vast windows overlooking the Wisconsin State Capitol brightens the atmosphere wonderfully. Ellsworth Block has a lovely mix of the old and the new, blending historic touches with modern finishes creating the perfect downtown Madison space for couples to celebrate.
We love the unique pairing of a classic 3-tiered cake and a playful modern cutting cake from Carl's Cakes.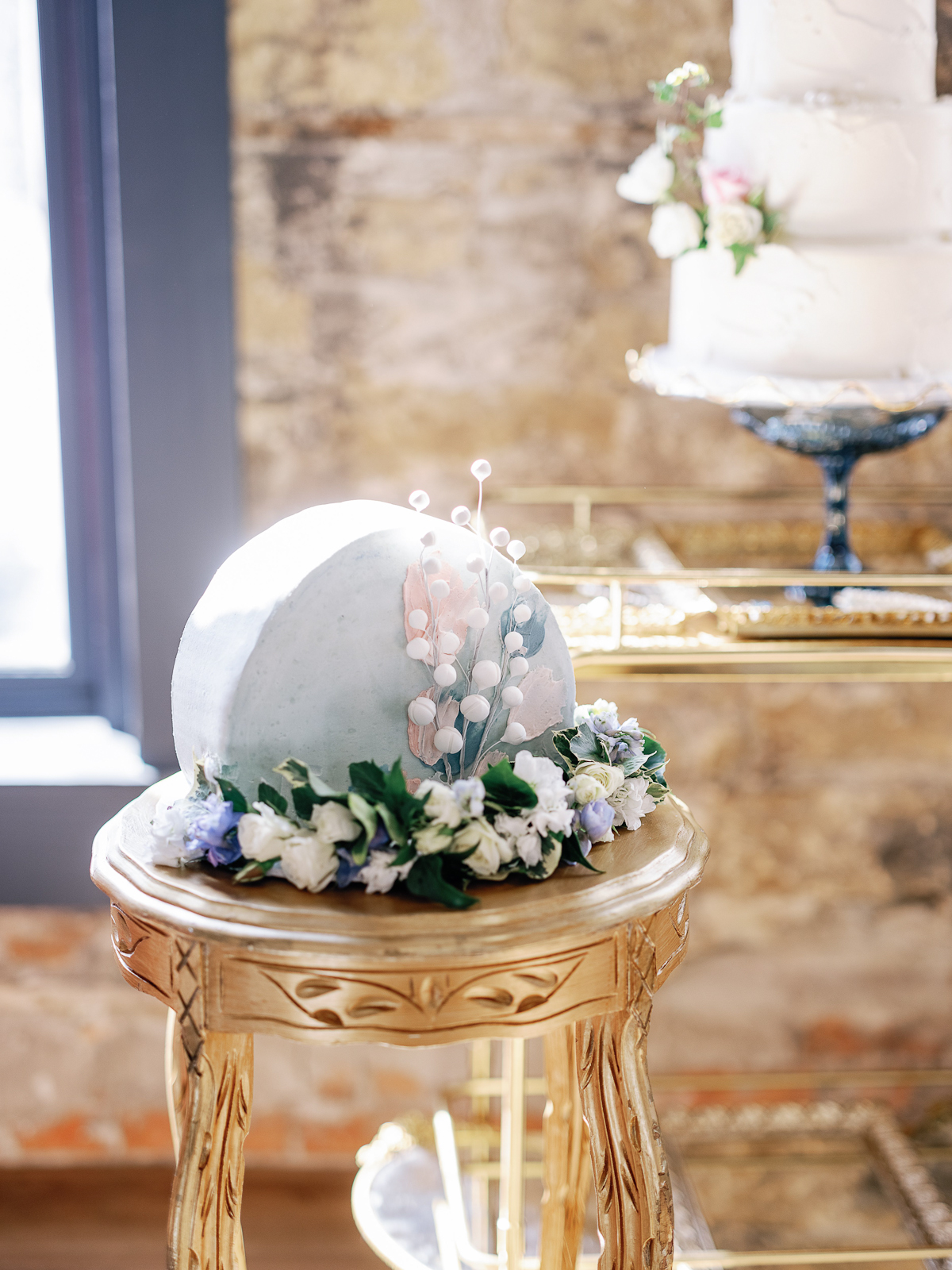 Sunborn Gardens created a more natural look suited for this elegant winter wedding design using soft tones of local and domestically grown floral varieties mixed with evergreen. We love the non-traditional nod to winter greens.
Ali's princess-style dress layer in regal, traditional details while also taking on a modern cut and color. Dimitri's old-fashioned look is contemporized touching on the funky style of downtown with his pink suit coat and patterned bow tie.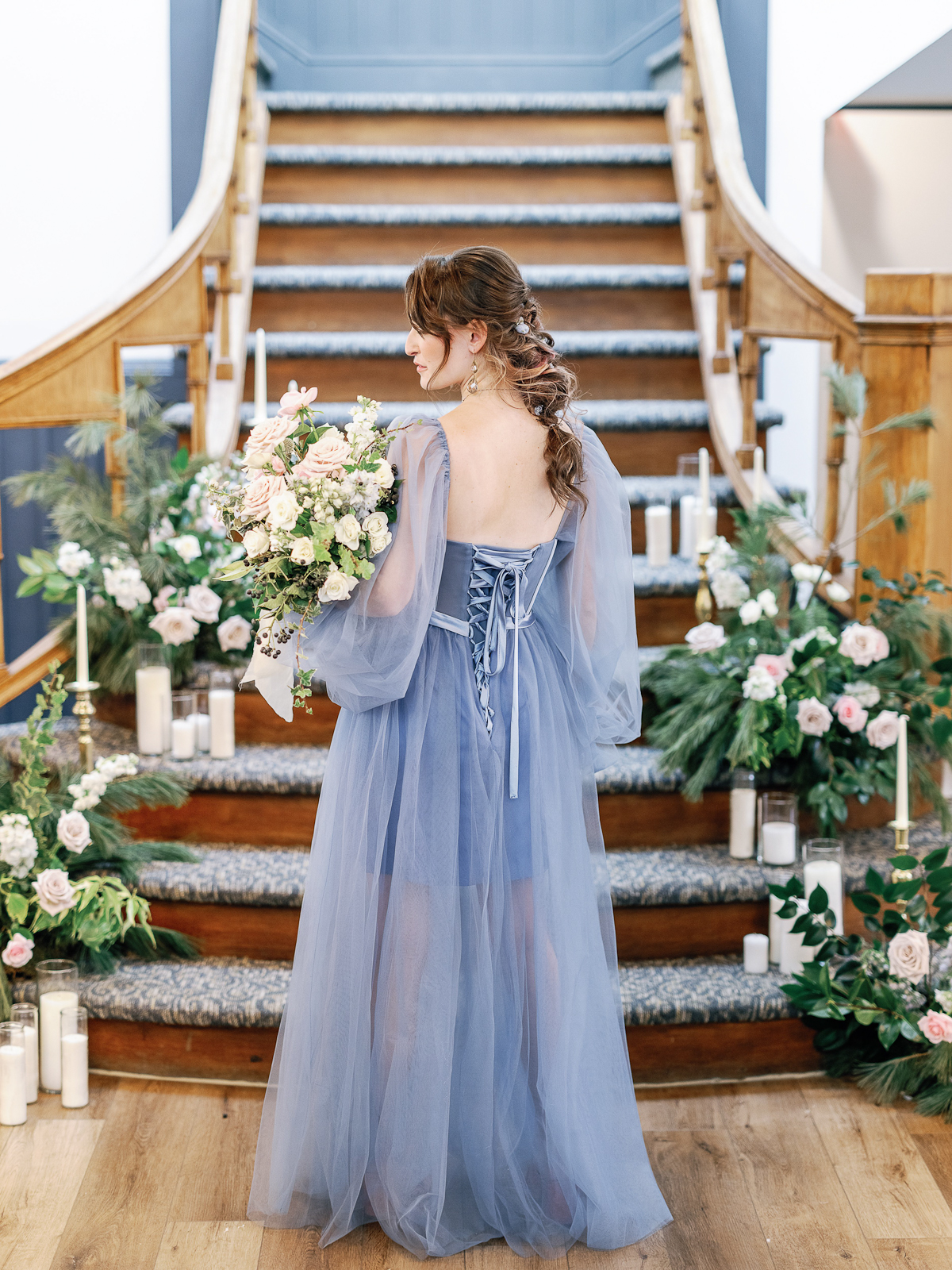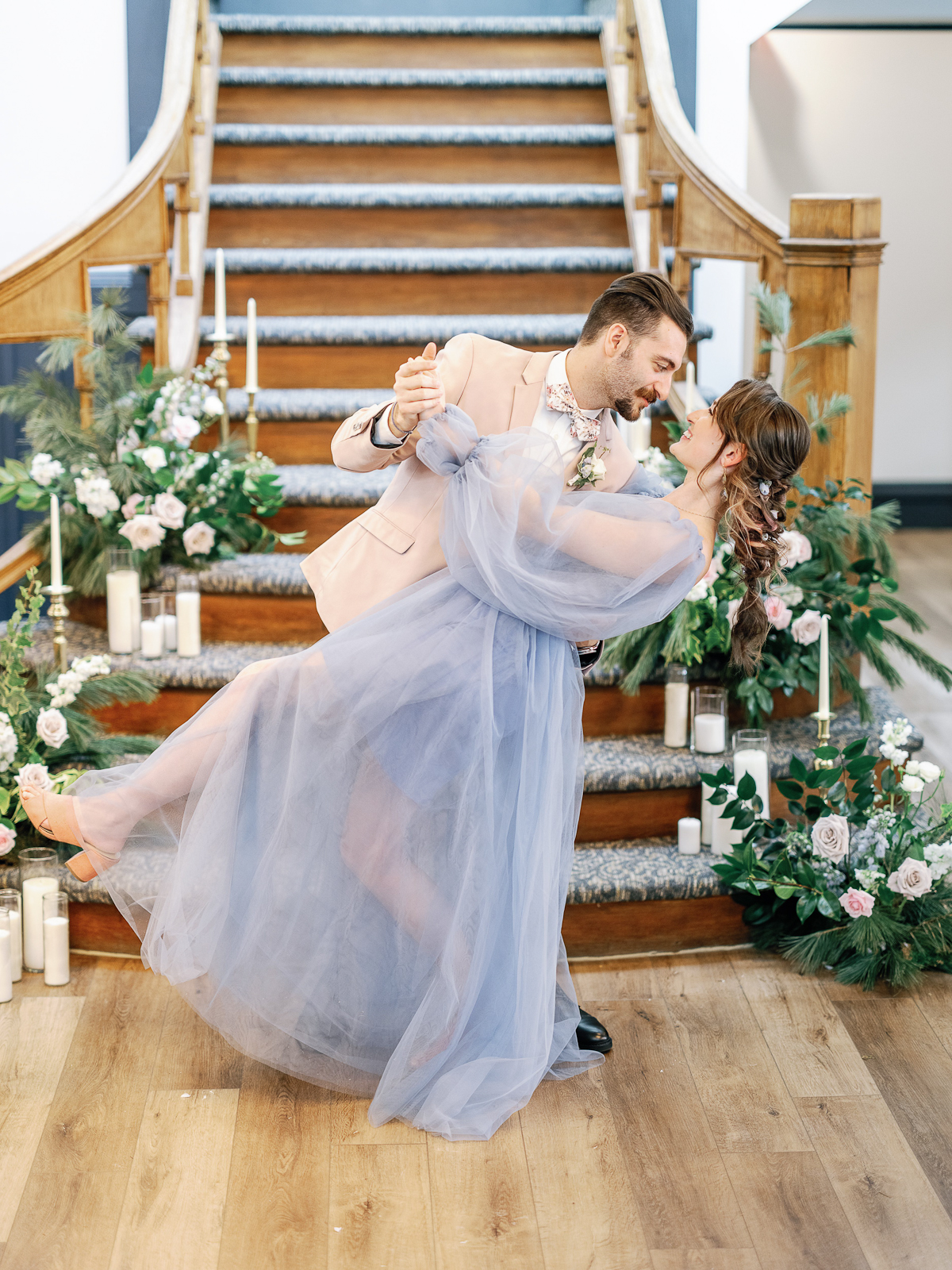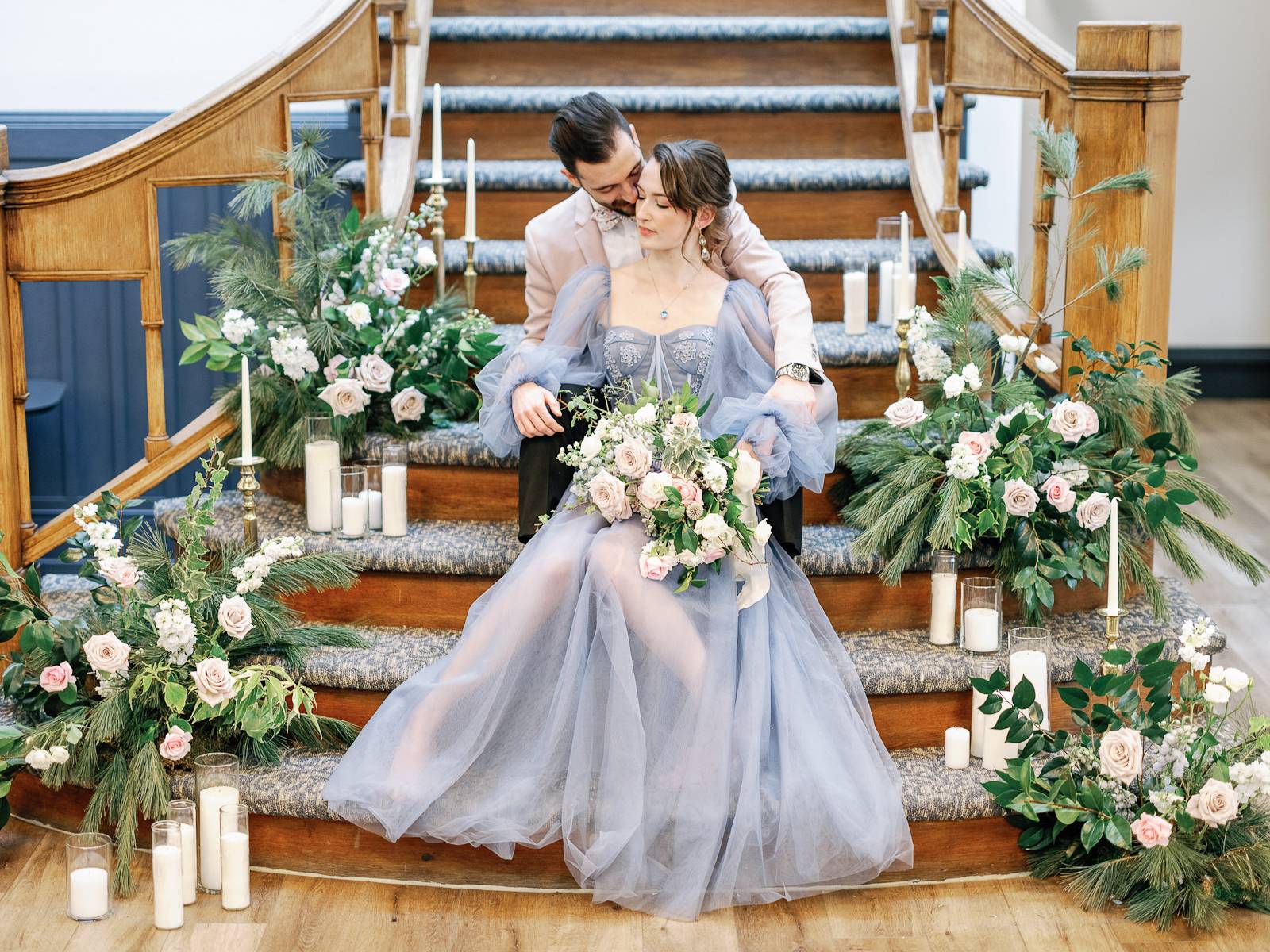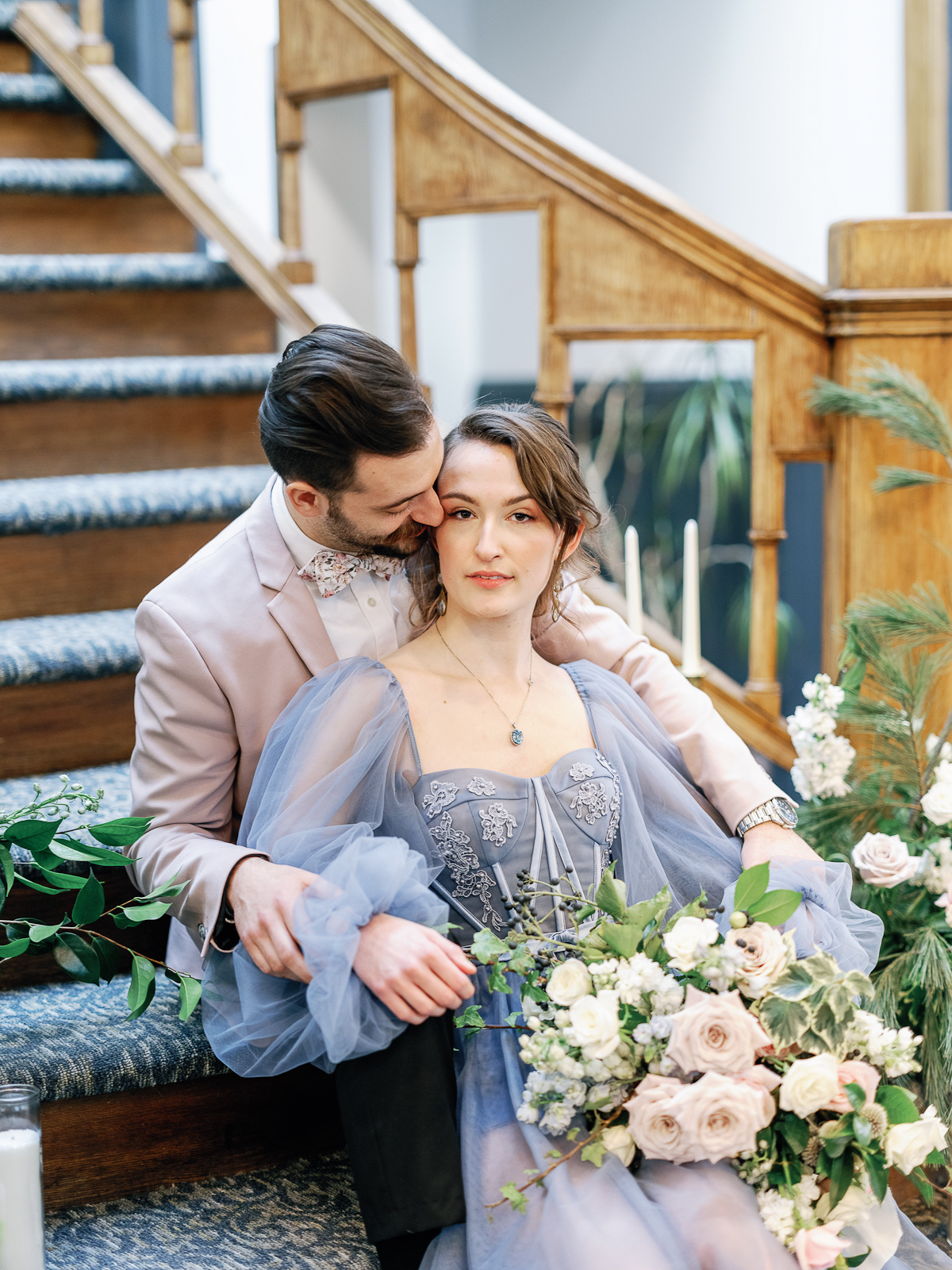 Ali shows off a stunning engagement ring in a multi-band solitaire accented with pave diamonds. At the same time, Dimitri fashions a 4mm comfort fit stepped edge band - both in beautiful white gold from the incredible Soha Diamond Co.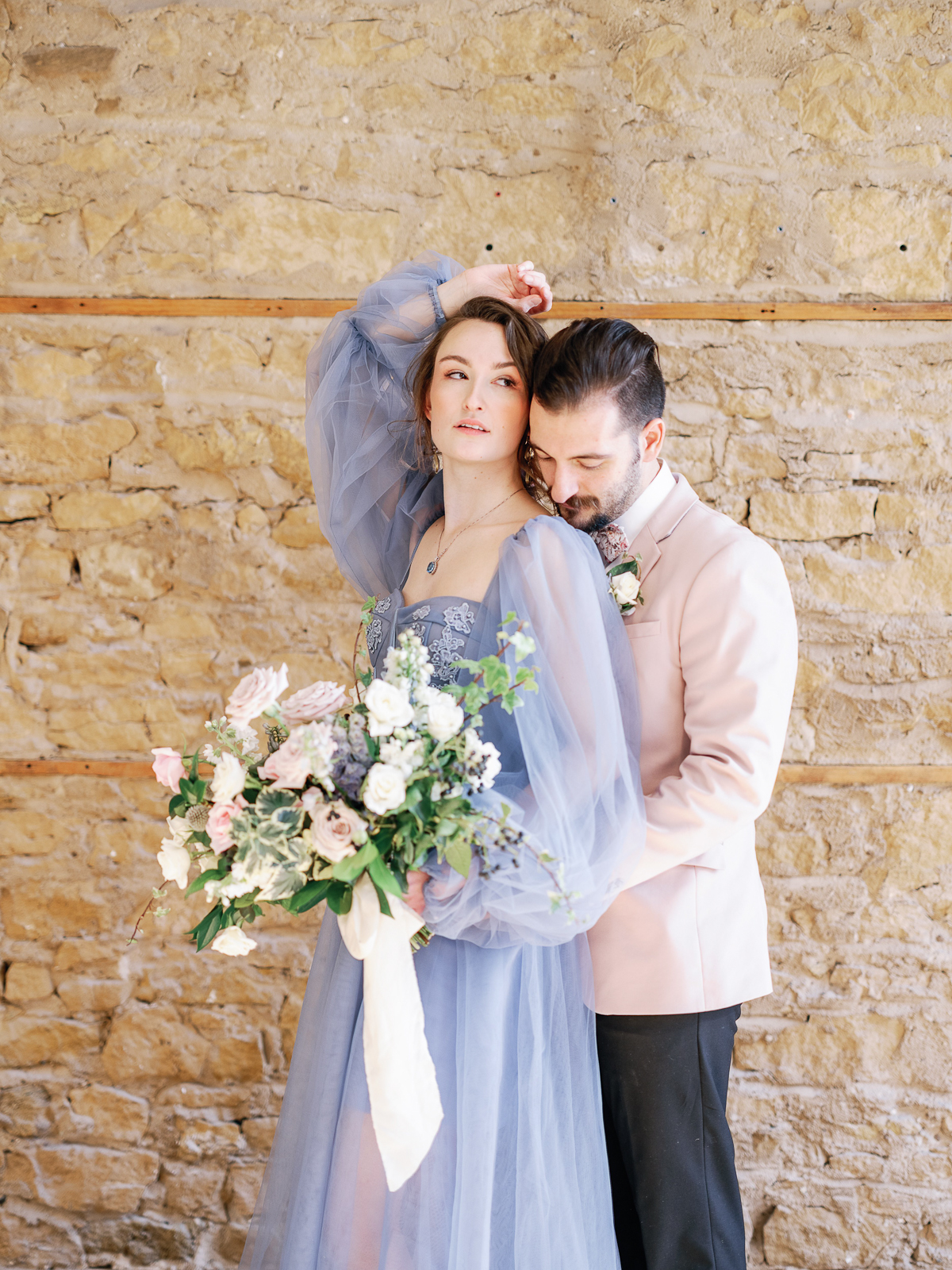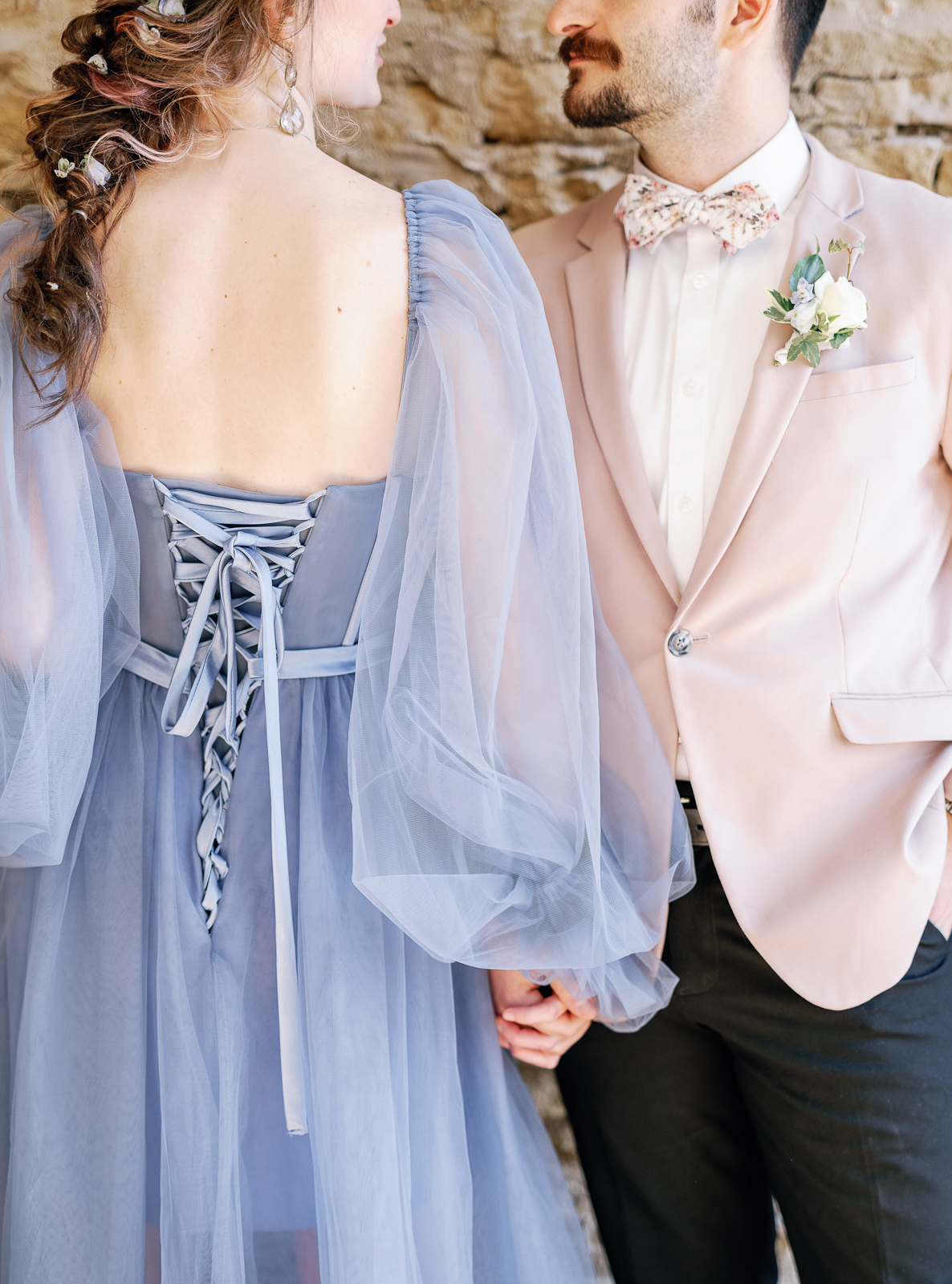 Ellsworth Block's upstairs Skydeck is the perfect spot for a cozy lounge setup for you and your guests to enjoy relaxing and mingling on your special day.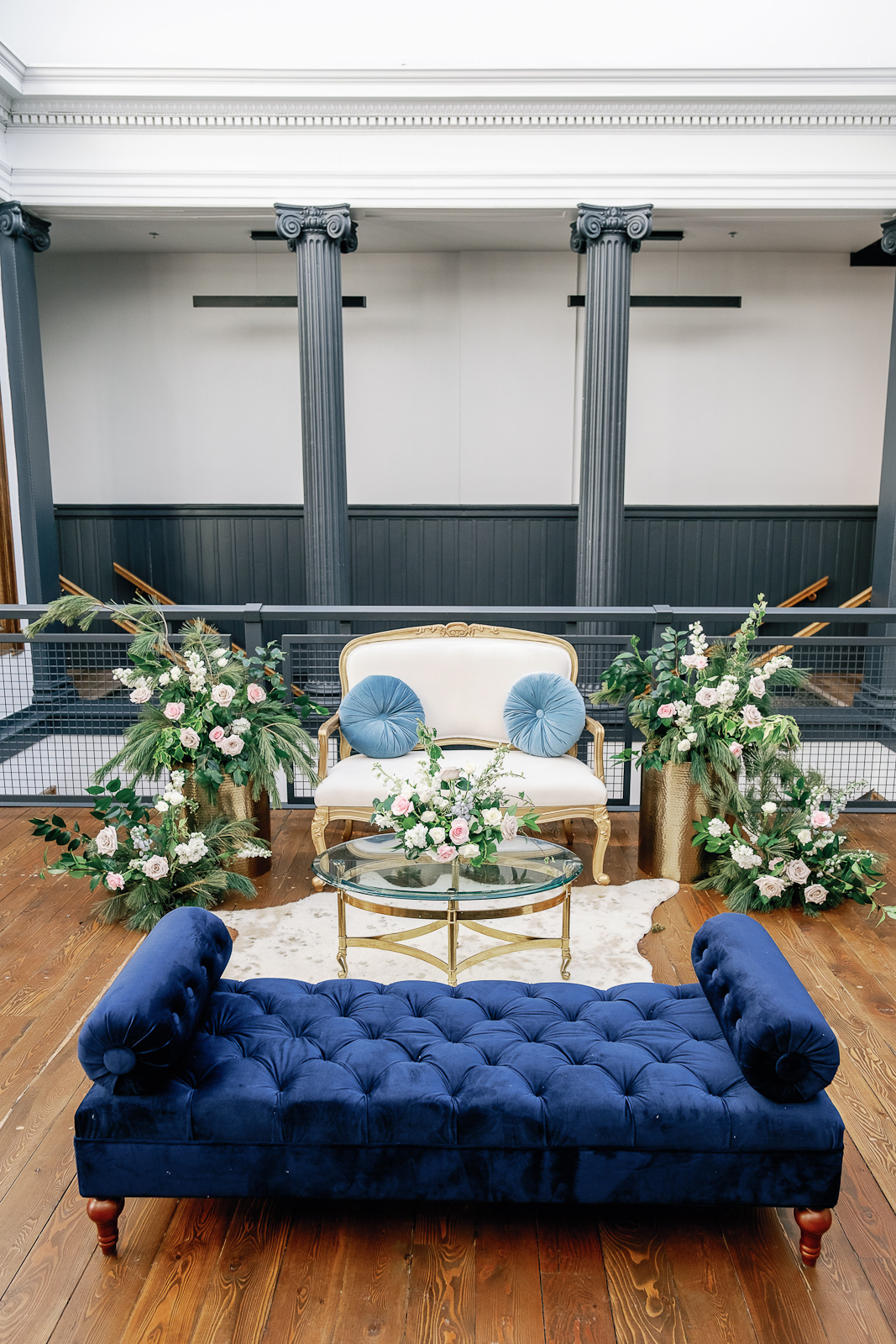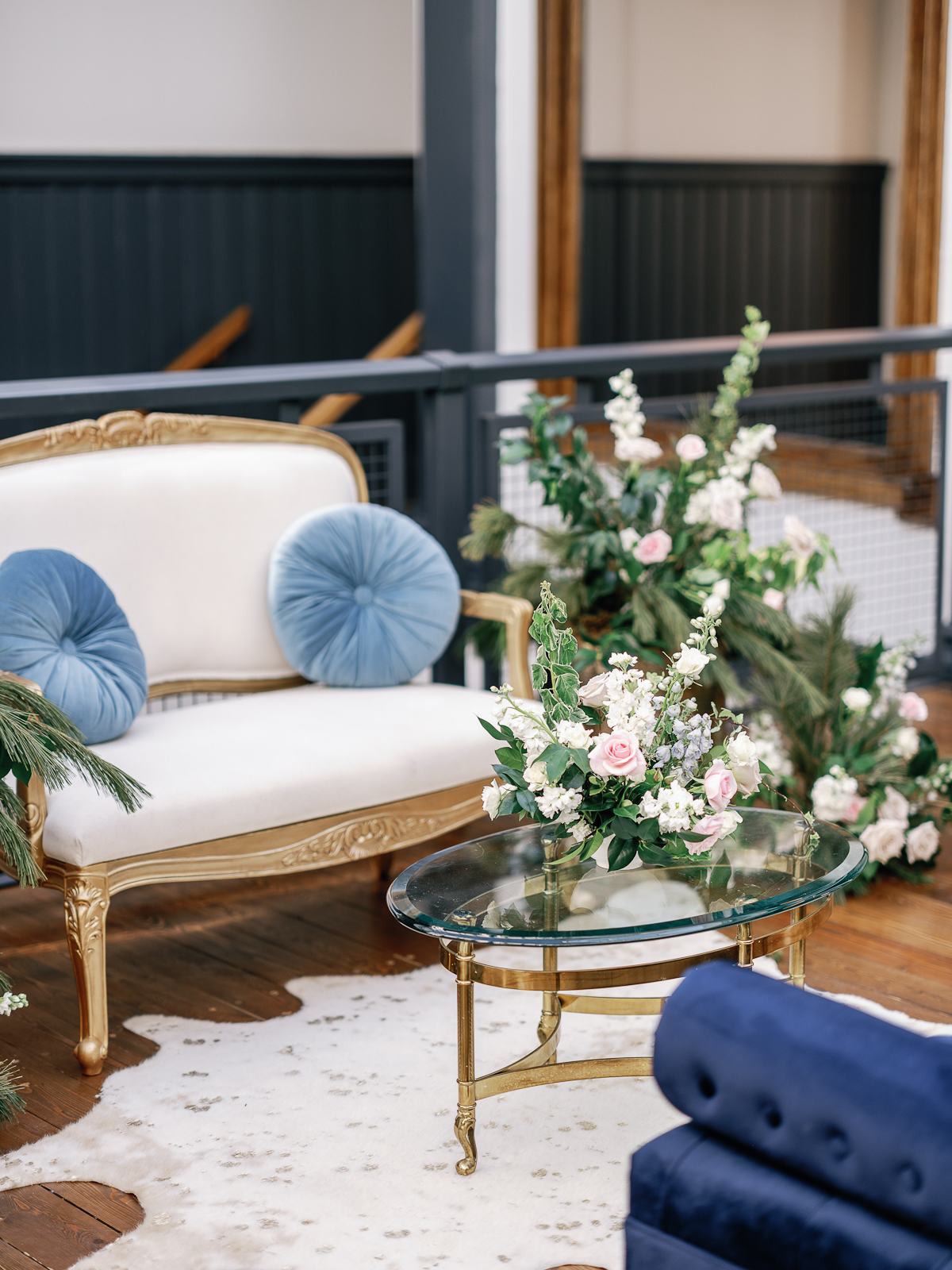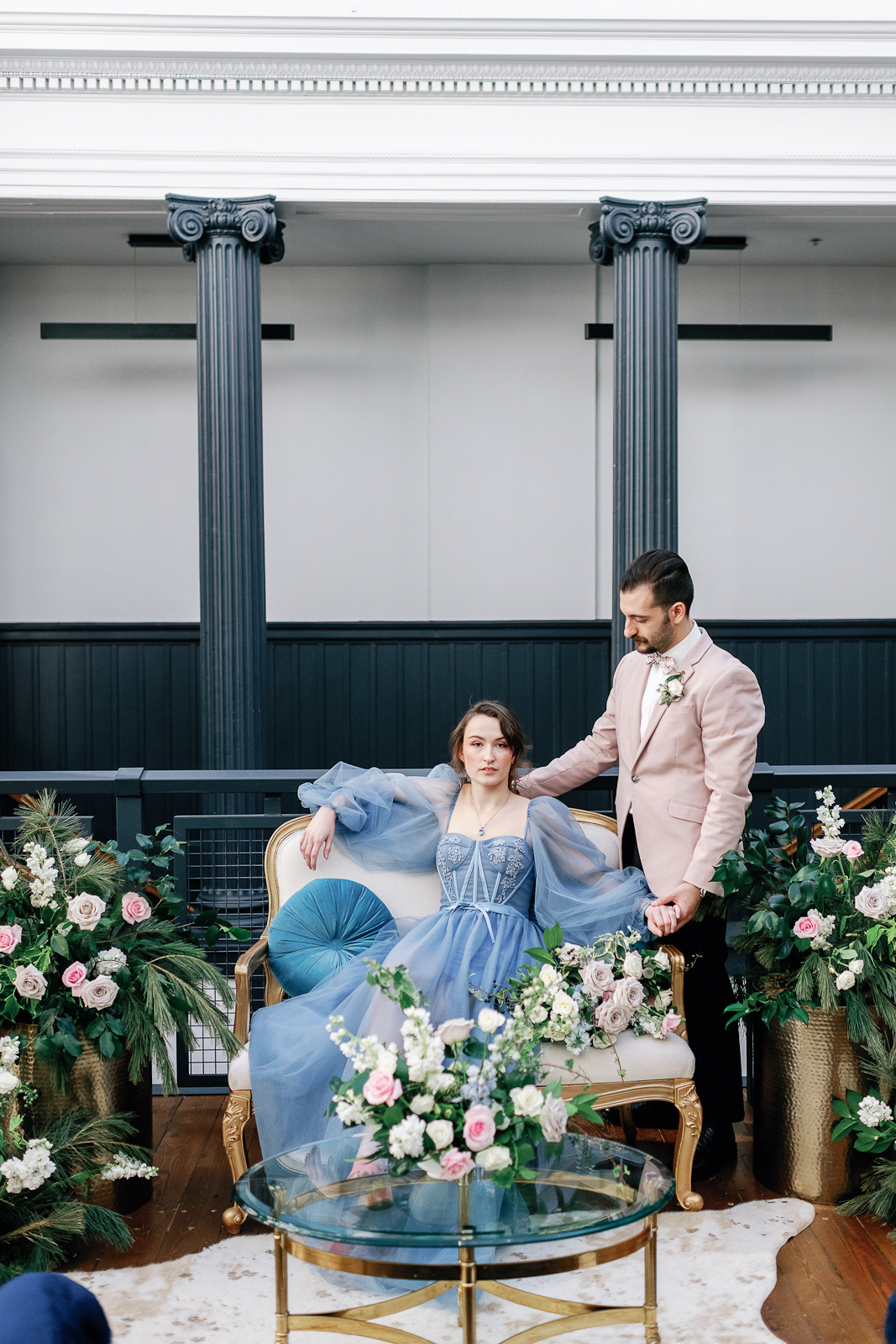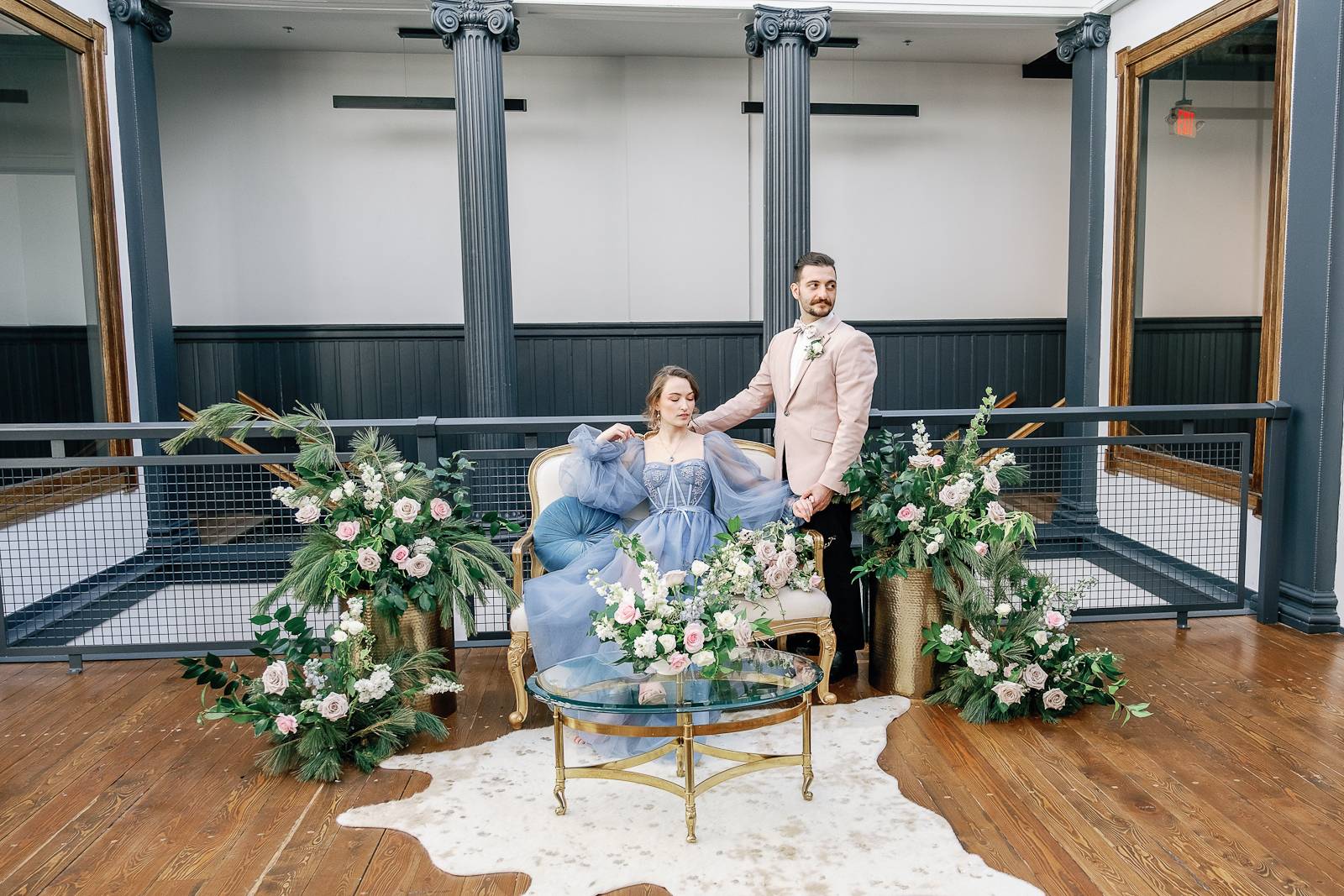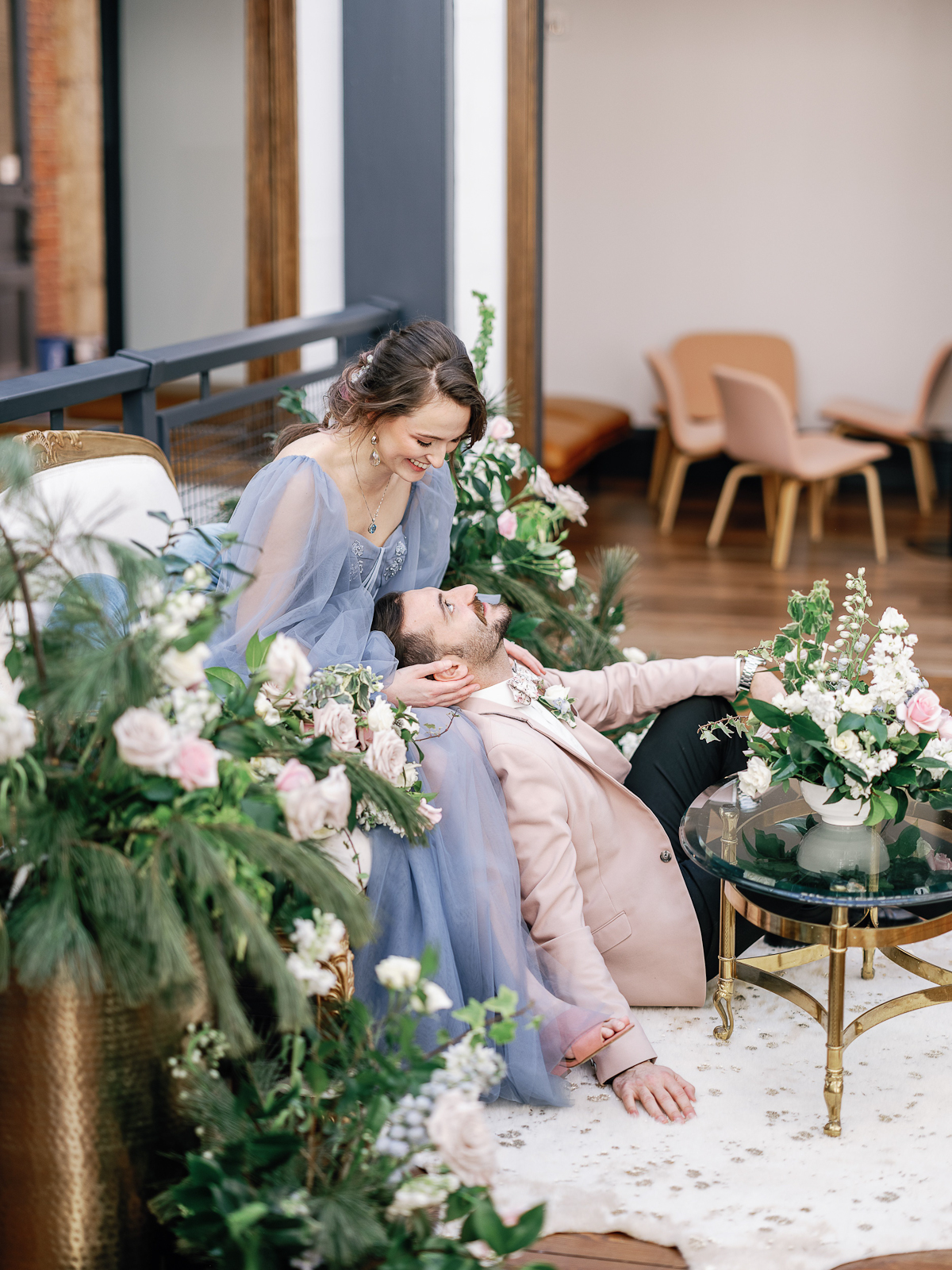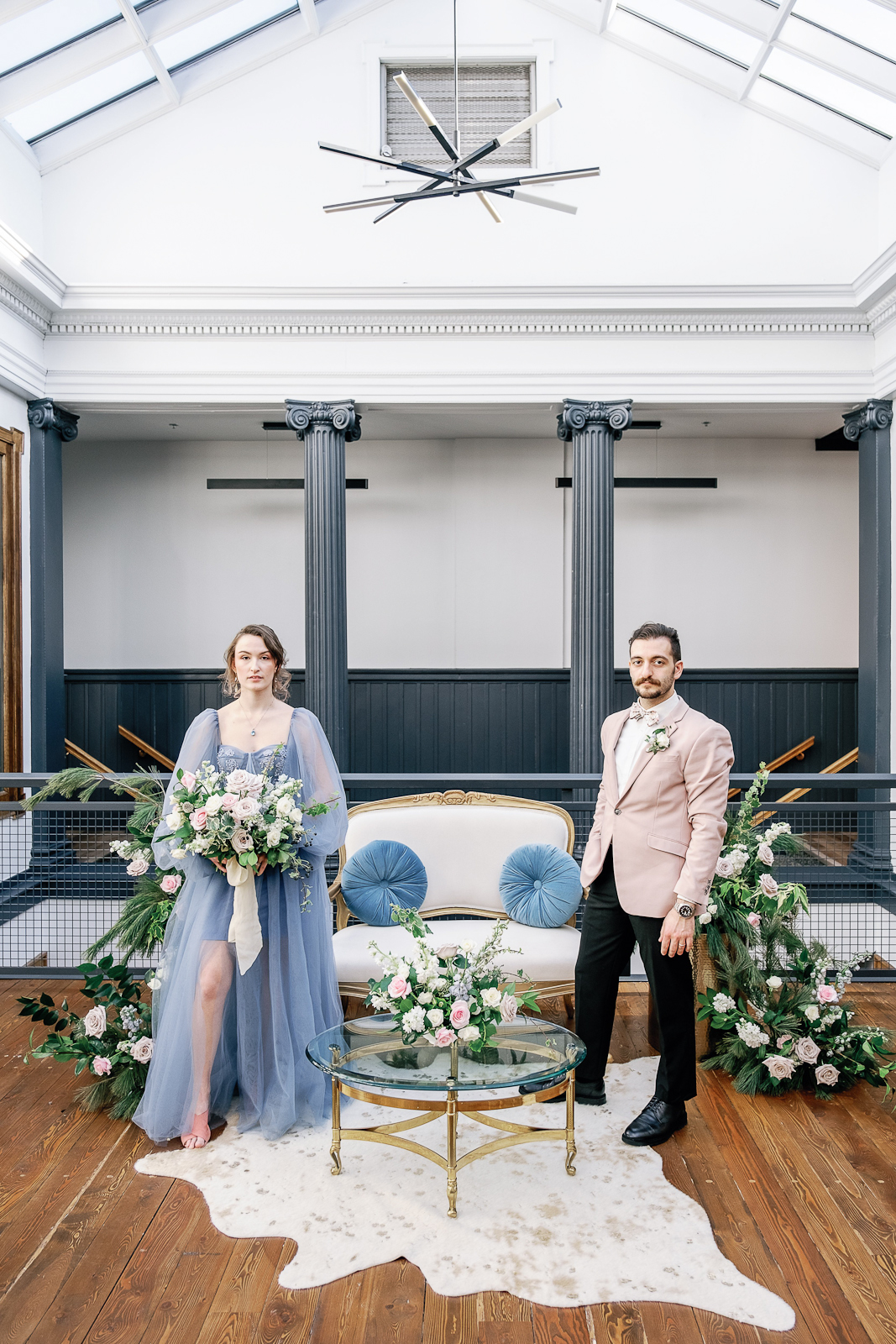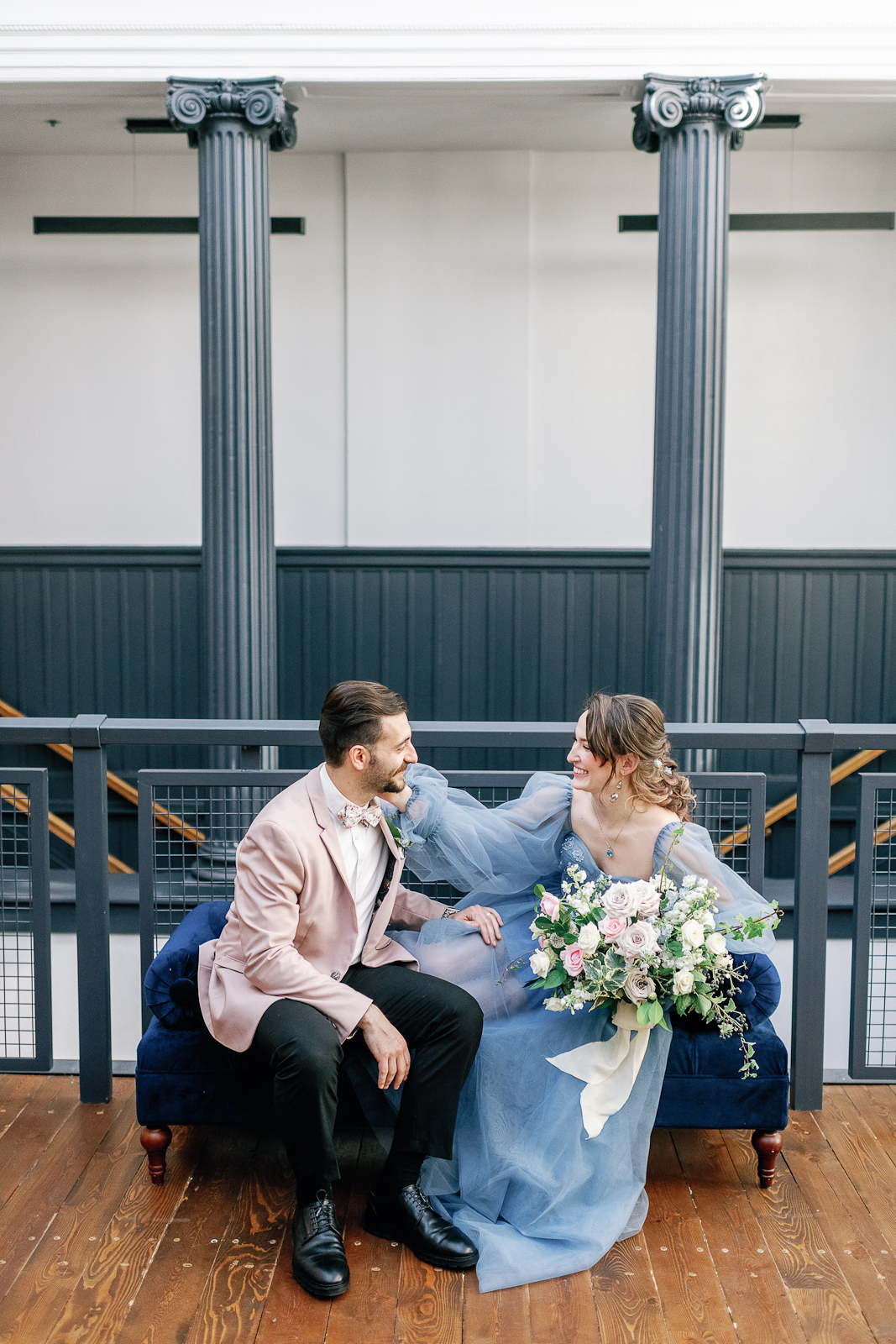 Connect with the vendors involved in today's styled shoot by clicking on their names below. For more Wisconsin wedding inspiration, head to the WedPlan Madison blog!