Demi and Lukas celebrated their love for nature and each other on a gorgeous Wisconsin October day at the enchanting Caribou Bay Retreat. Their boho, gypsy-inspired celebration was filled with meaningful personal touches, including the most beautiful macrame installation our bride created herself for the two of them to say their "I do's" under. Stunningly captured by Tara Draper Photography, we can't get enough of the rich fall colors and organic details this wedding day brings.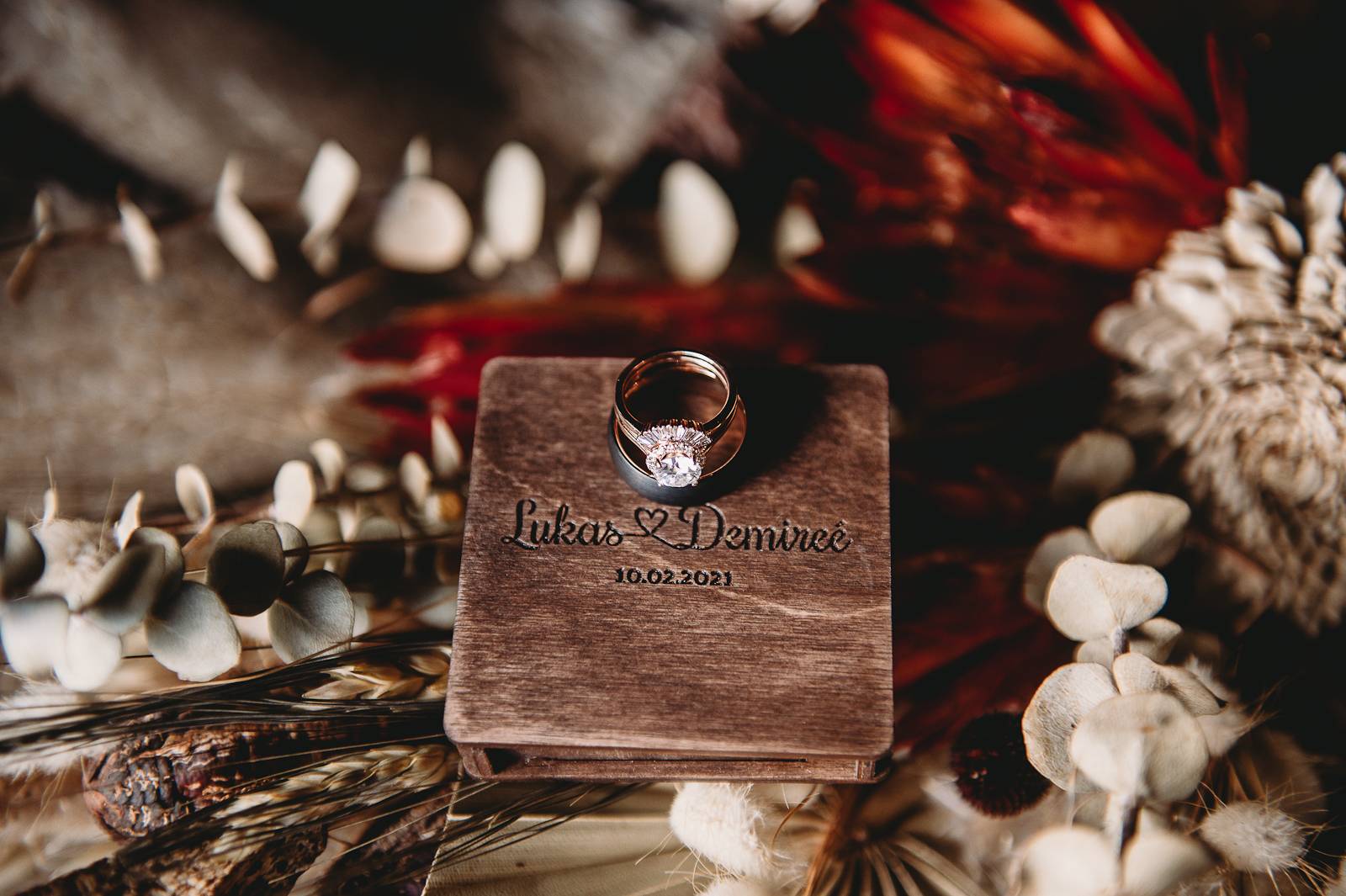 TELL US ABOUT YOUR LOVE STORY: Lukas and I met in college at UW Oshkosh when he worked as a bouncer at a local bar. We got to talking, and I took his water because the bar wasn't serving water (strange, but true). During our conversation, I told him where I worked, but we didn't get each other's names. Several days later, he showed up at my work, a local nutrition store, where I found out his name and added him on Facebook faster than he could get to his car. From then, we had our first date at a Mexican Restaurant in Oshkosh and started going to the gym together.
There isn't one moment that solidifies having "found the one," but for us, knowing we wanted to spend the rest of our lives with each other came from a combination of moments and experiences that we wouldn't want to go through with anyone else.
Lukas proposed to me on Echo Rock at Mirror Lake State Park. I grew up spending summers camping at Mirror Lake, kayaking the lake, and enjoying the crooner music at Ishnala supper club - it always reminded me of my grandpa. Overlooking the lake and restaurant at a point on the rock, I was sitting telling Lukas how it was my favorite spot because of all the memories and peace it brought me. Standing behind me, I heard him say, "hey, Dem." I turned around, and he was on his knee, holding a ring between his fingertips. As it turns out, he had been carrying that ring in his pocket without the box for several weeks until he found just the right moment. He couldn't have chosen a better moment for me to say "yes!"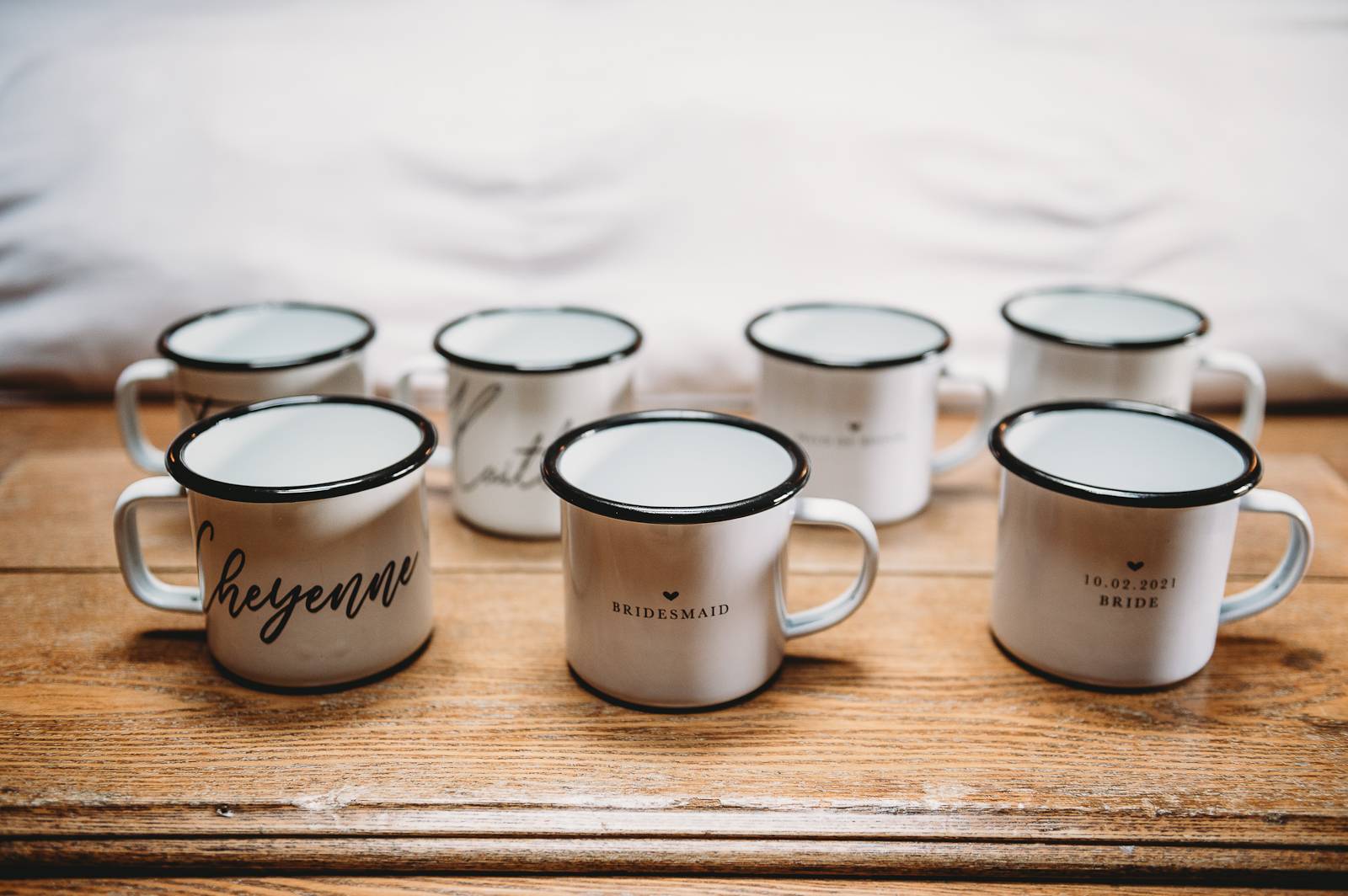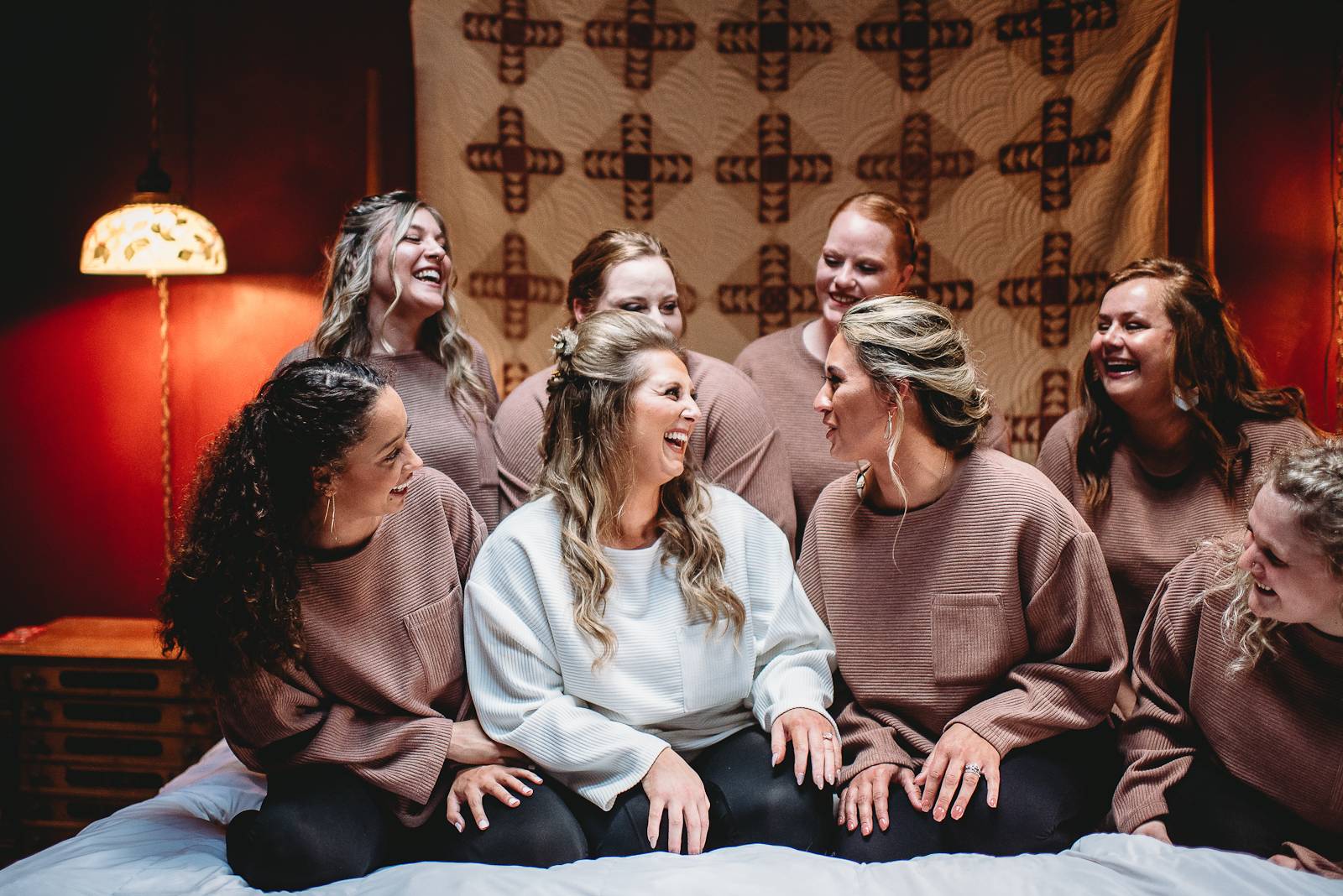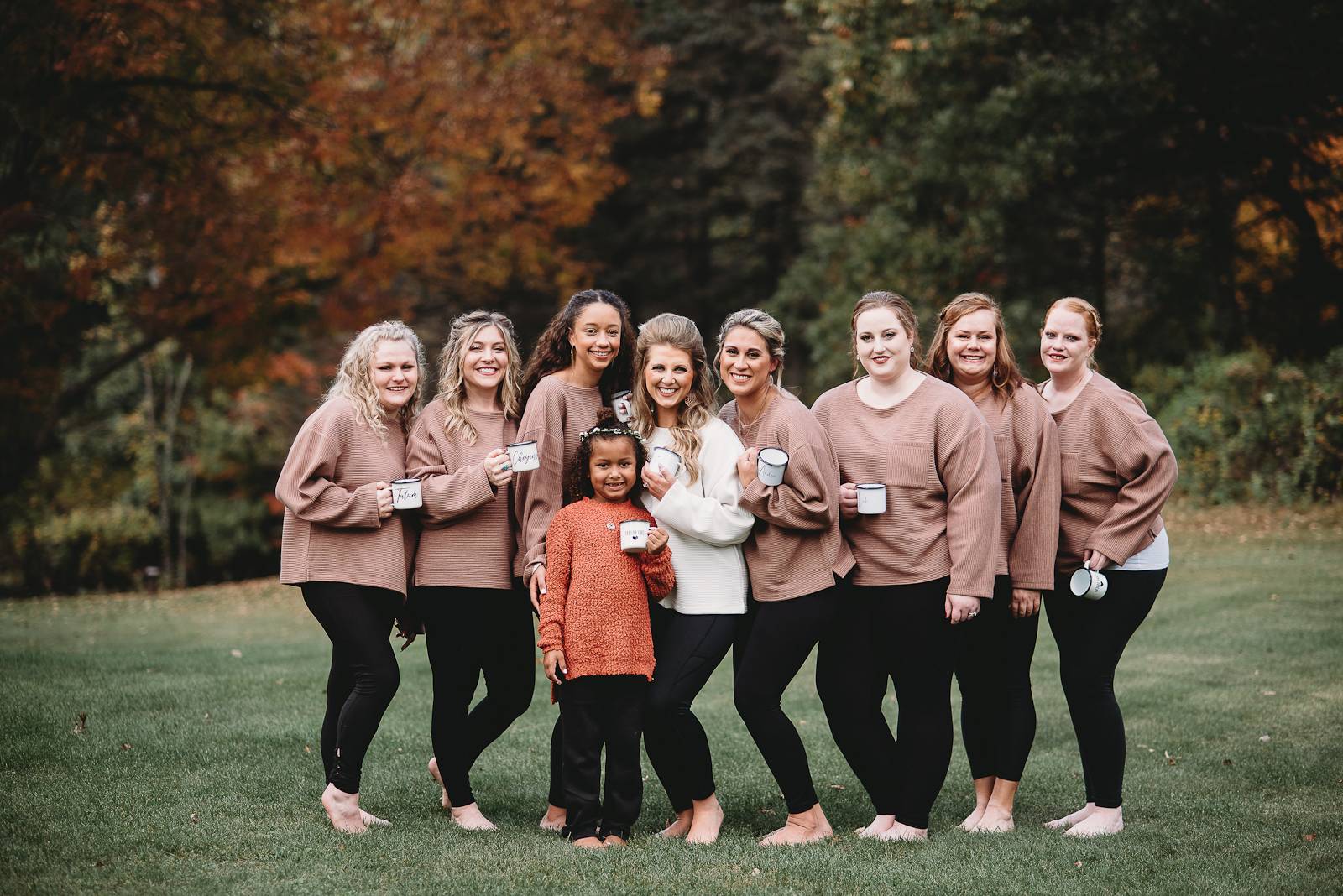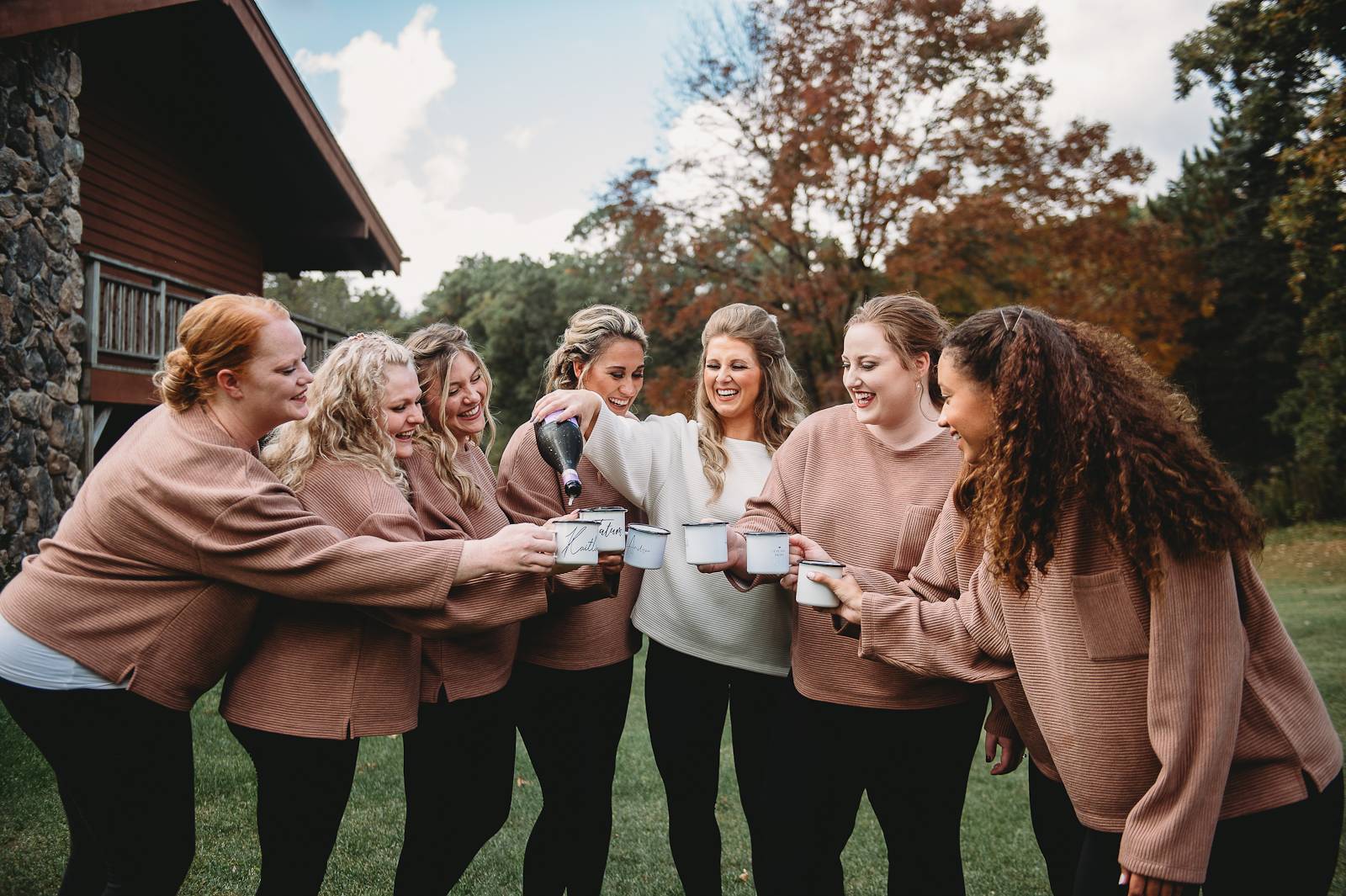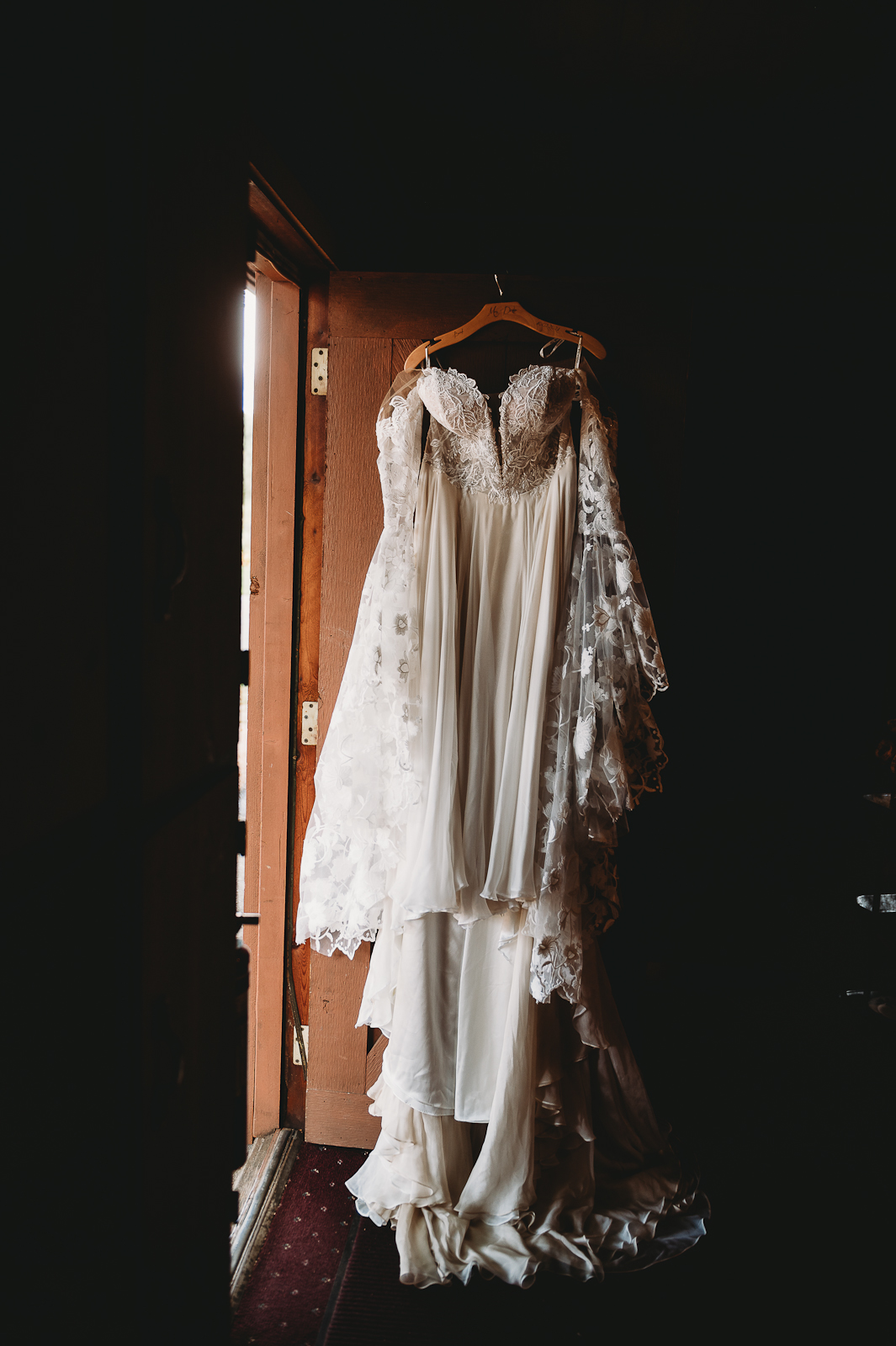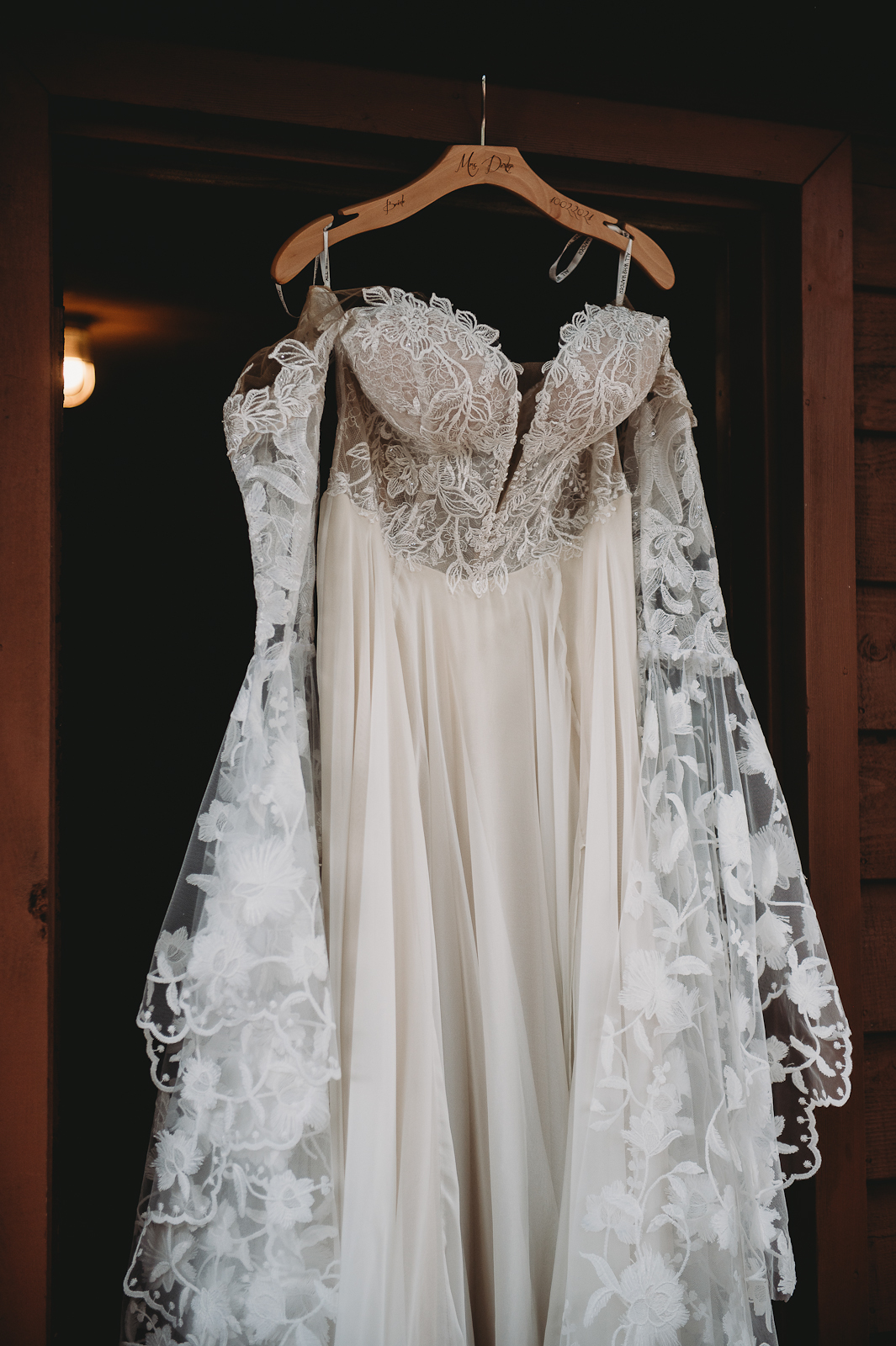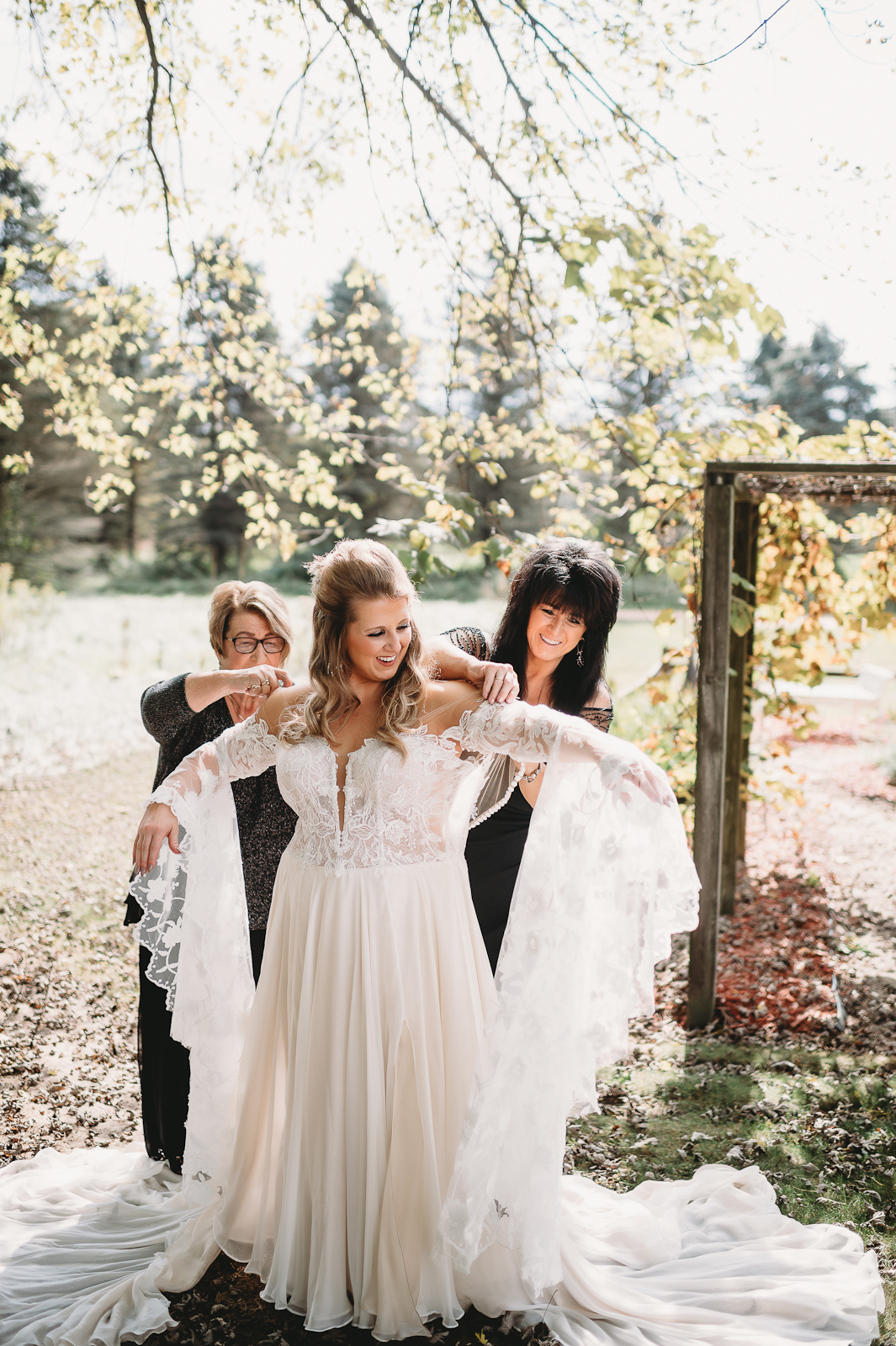 WHAT WERE YOUR WEDDING MUST-HAVES? We fell in love with the enchanting vibe of our venue, Caribou Bay Retreat! The venue's ceiling is covered in vines and twinkling lights, which made me cry the first time I saw it. I knew at that moment it was our must-have venue! Mona and Jack have such a beautiful property that has been transformed into a fairytale retreat for weddings. It was important to us that we could have the ceremony and reception at the same location, which is something Caribou Bay offers. A bonus is that we had the resort, including a cabin for Lukas, myself, and our wedding party to stay at from Thursday to Sunday. Weddings go SO fast, and I didn't want to feel rushed. On the day of the wedding, I was getting my hair done in the master suite and looked out the window to see Lukas and his dad fishing on the property's pond - it was little moments like this that brought me so much joy.
Tara Draper was our must-have photographer! I had been following her photos of weddings for years and knew she would capture all the details that could easily be overlooked. Posing for Tara felt so natural! We also wanted a videographer so that they could capture and bring to life reactions and moments from the day. Jordan Van Cleave-Sandifer was recommended to us by Tara Draper as a videographer who had never done a wedding but was looking to begin. Hesitant at first, because we had never seen his work, we were incredibly happy to have gone with Jordan! He captured so many details and has a great personality. I am so glad we have a video that captured special moments for us to look back on.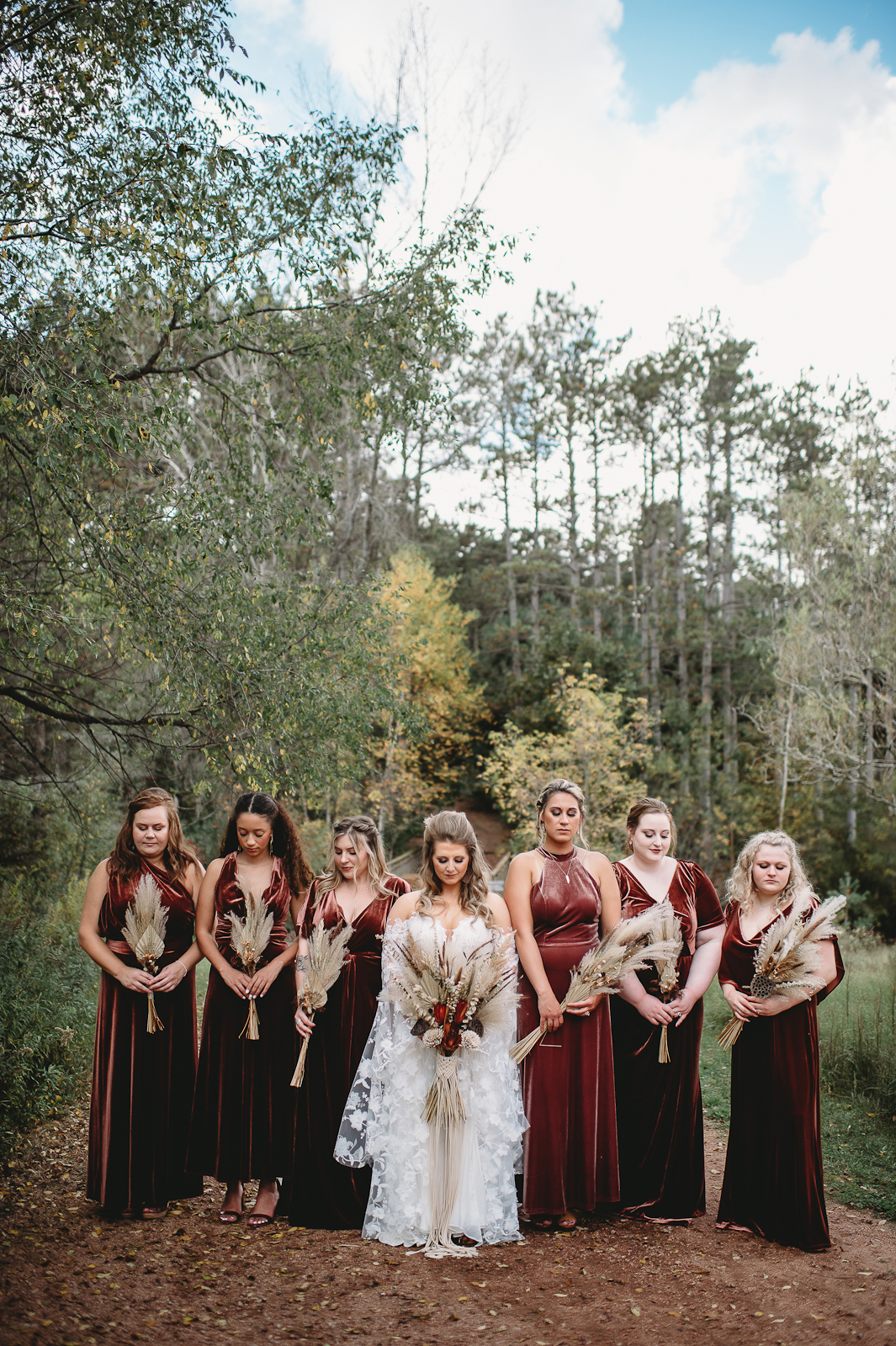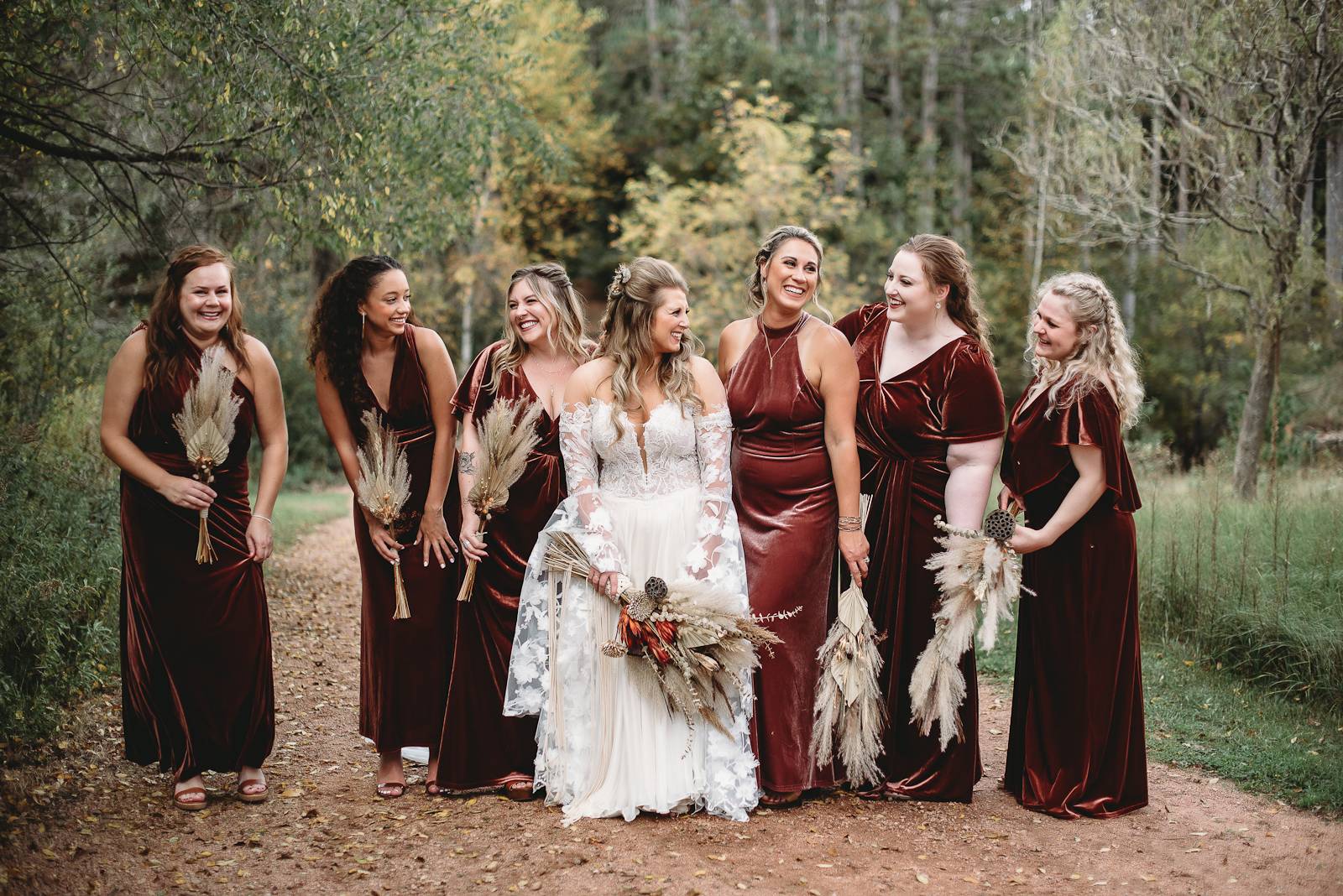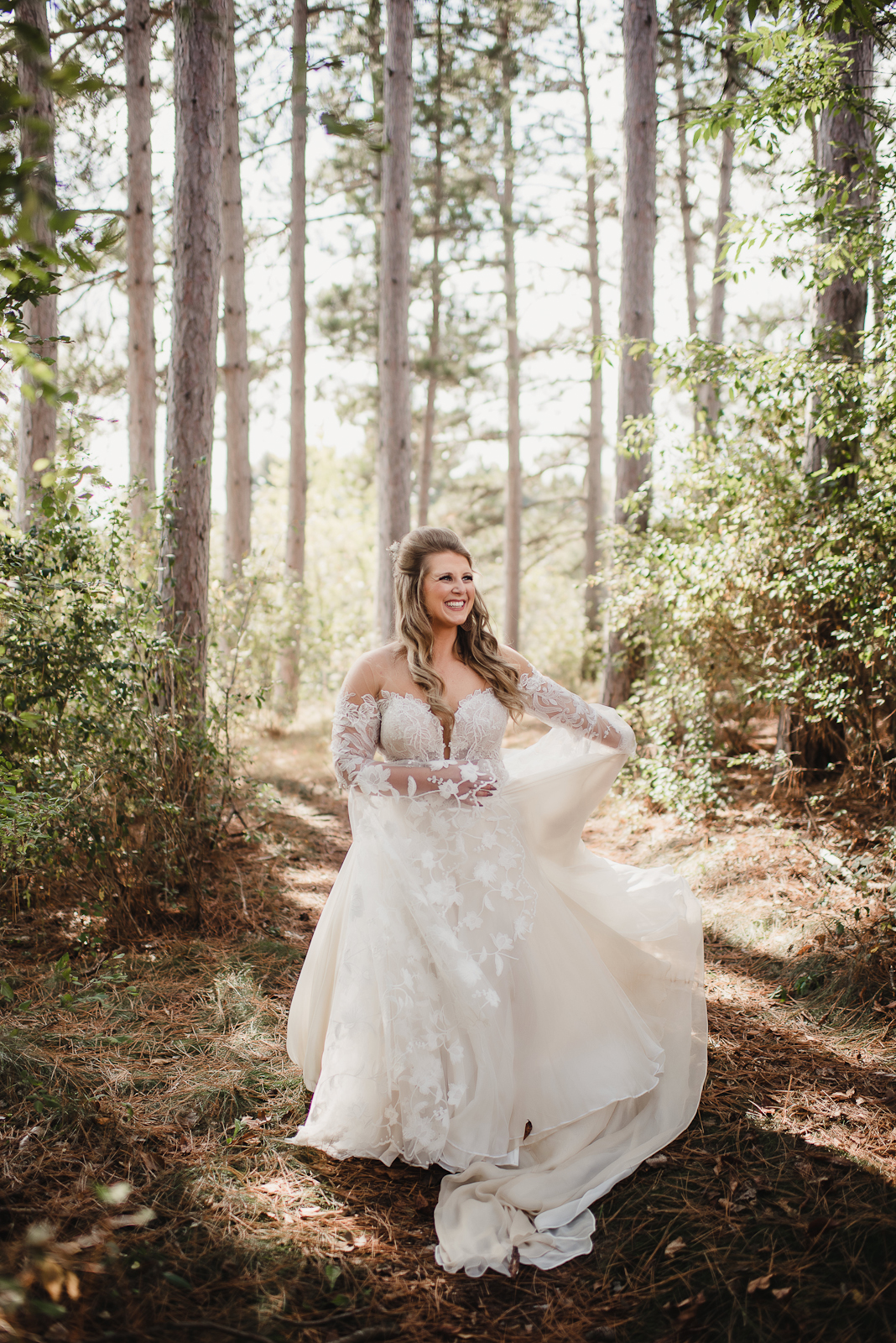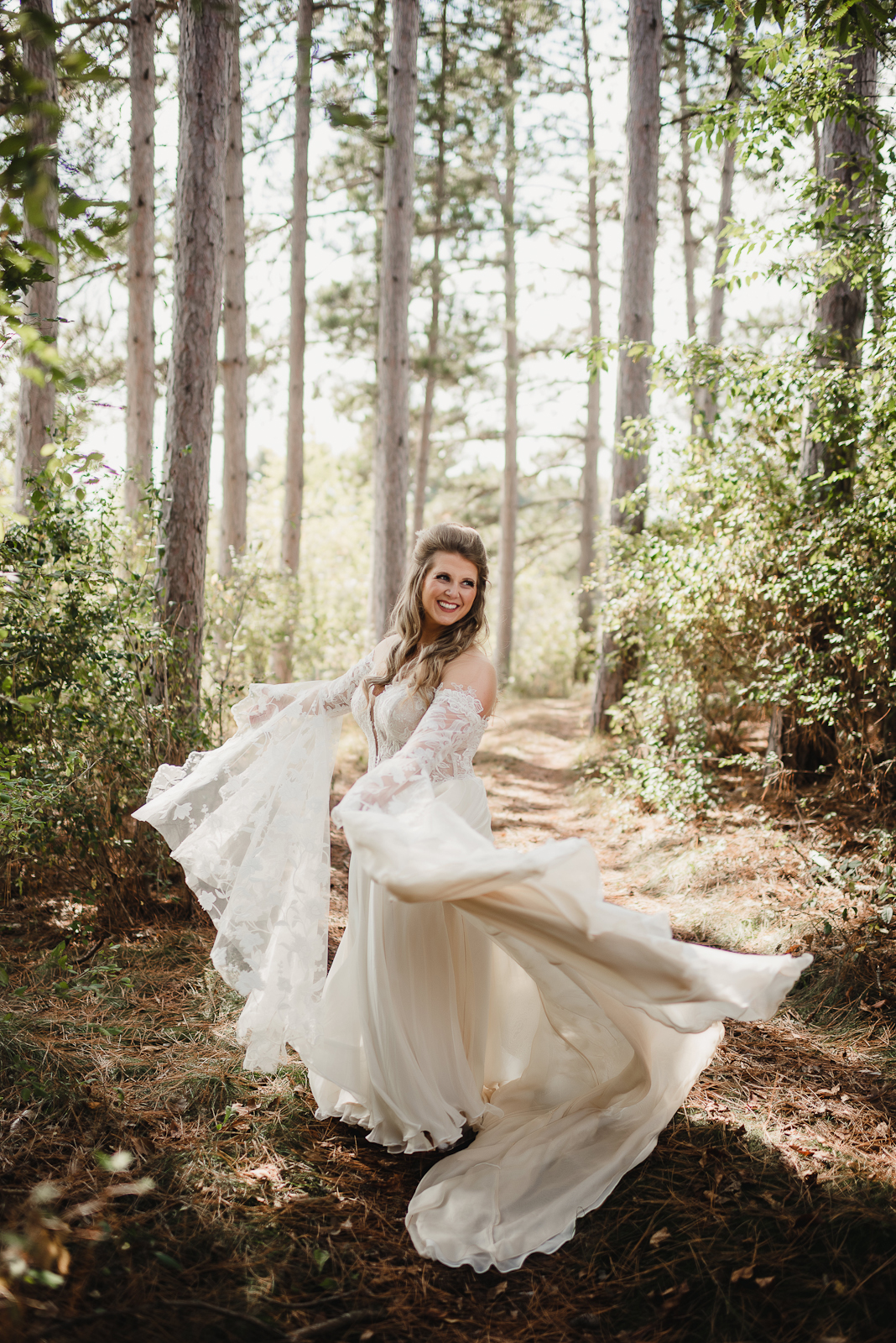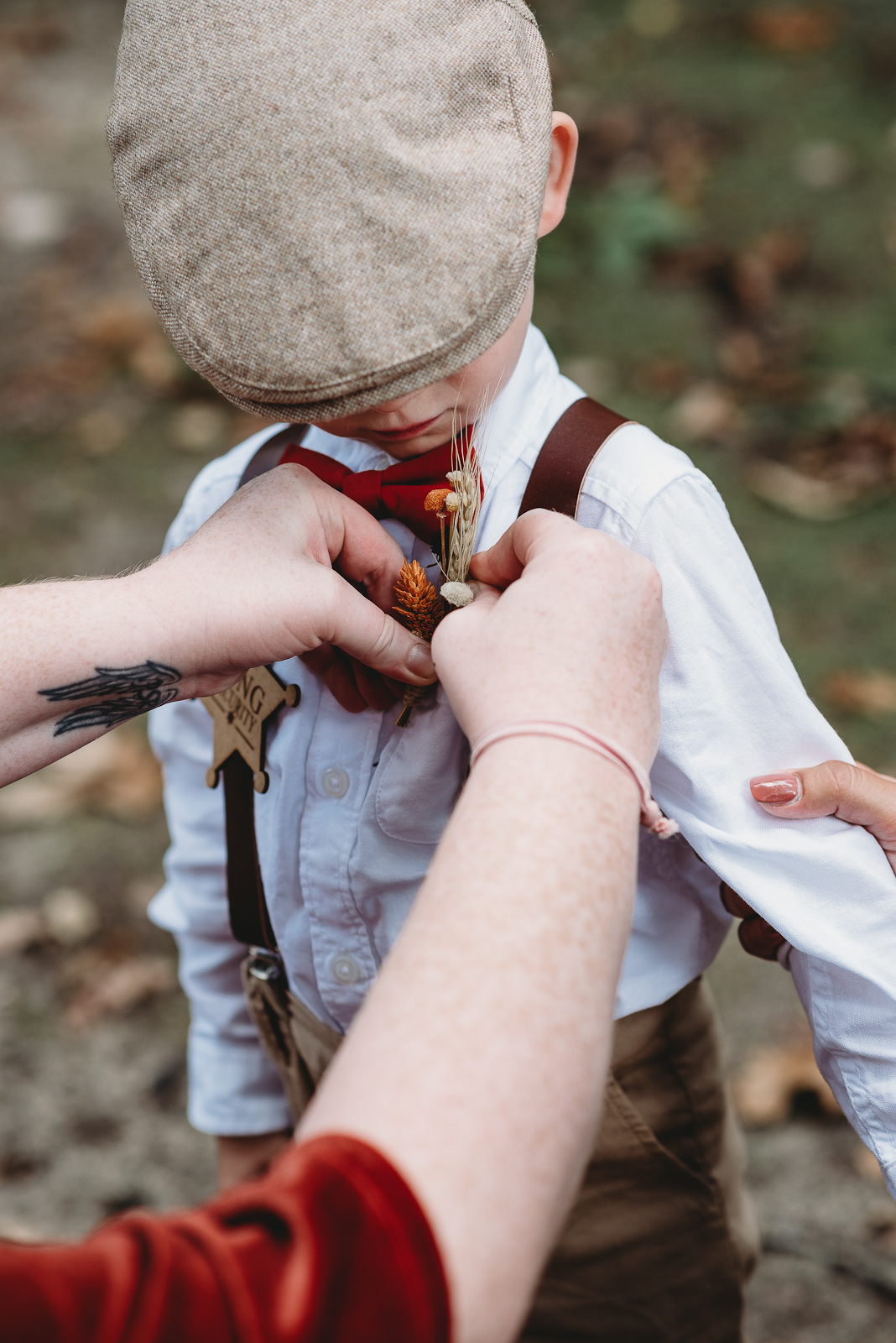 DESCRIBE YOUR WEDDING ATTIRE:
Bride: I wore All Who Wander's "Finn" gown which had a boho, delicate lace bodice, and a light silk skirt. I replaced the detachable sleeves with handmade floor-length bell sleeves and wore handmade barefoot sandals to top of the look.
Groom: Lukas wore a medium gray slim-fit suit with an ivory button shirt and tie. I wanted him to stand out and look slightly different than the groomsmen.
Bridesmaids: My bridesmaids were in velvet terracotta floor-length gowns from Revelry and my Maid of Honor wore the same in a dusty rose color. Each girl chose a style that she felt most comfortable in. All of the girls wore a different style, making each of them unique!
Groomsmen: Our groomsmen wore a lighter gray slim-fit suit with a white button shirt and dark gray tie.
Ushers: We had our ushers wear khaki pants, a white button-up, brown suspenders, and a terra cotta bow tie.
Ring Bearer: Our ring bearer wore khaki pants, a white button shirt, brown suspenders, a terra cotta bow tie, and an adorable newsboy cap.
Flower Girl: Our flower girl wore an off-the-shoulder ivory lace dress with a flower headpiece.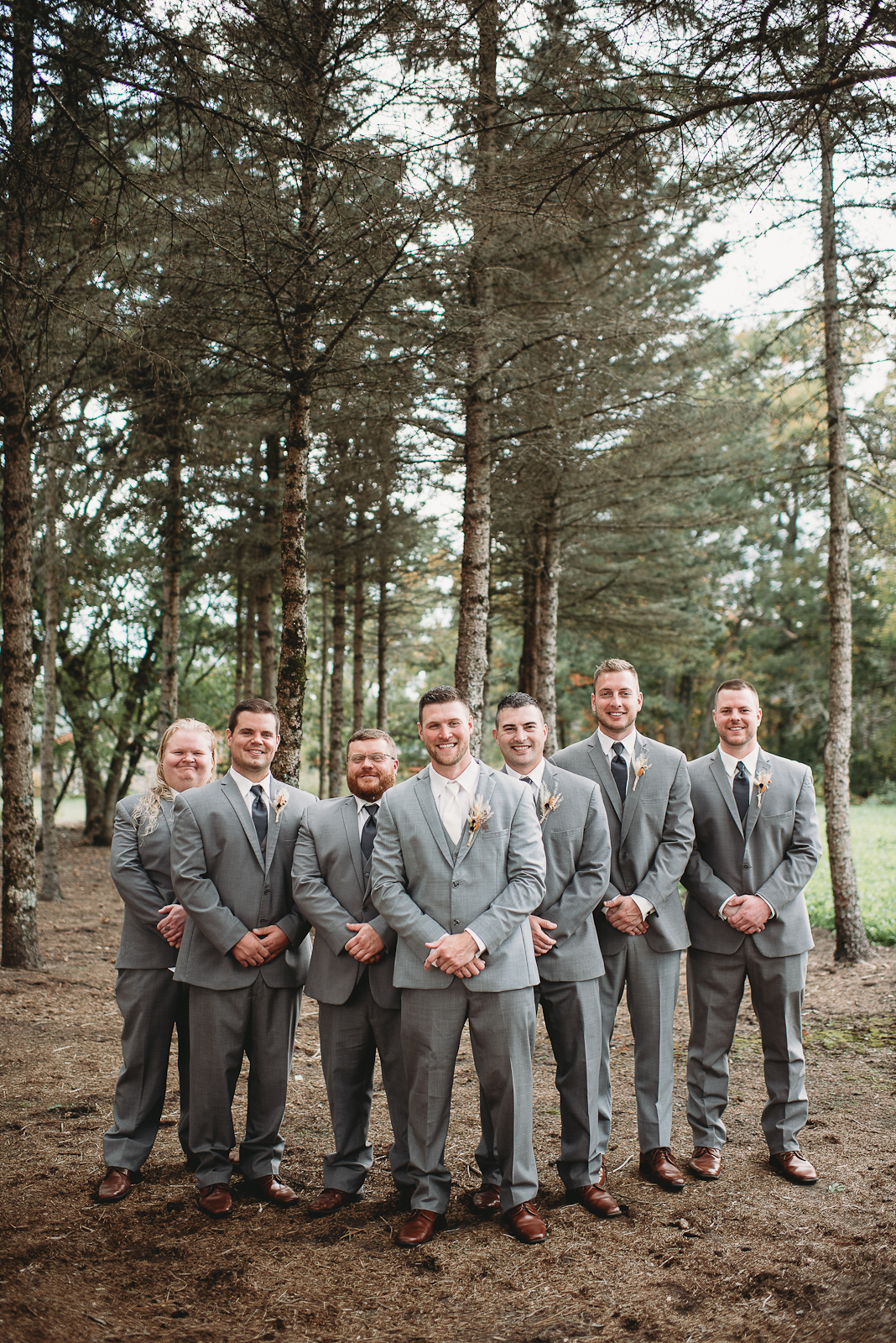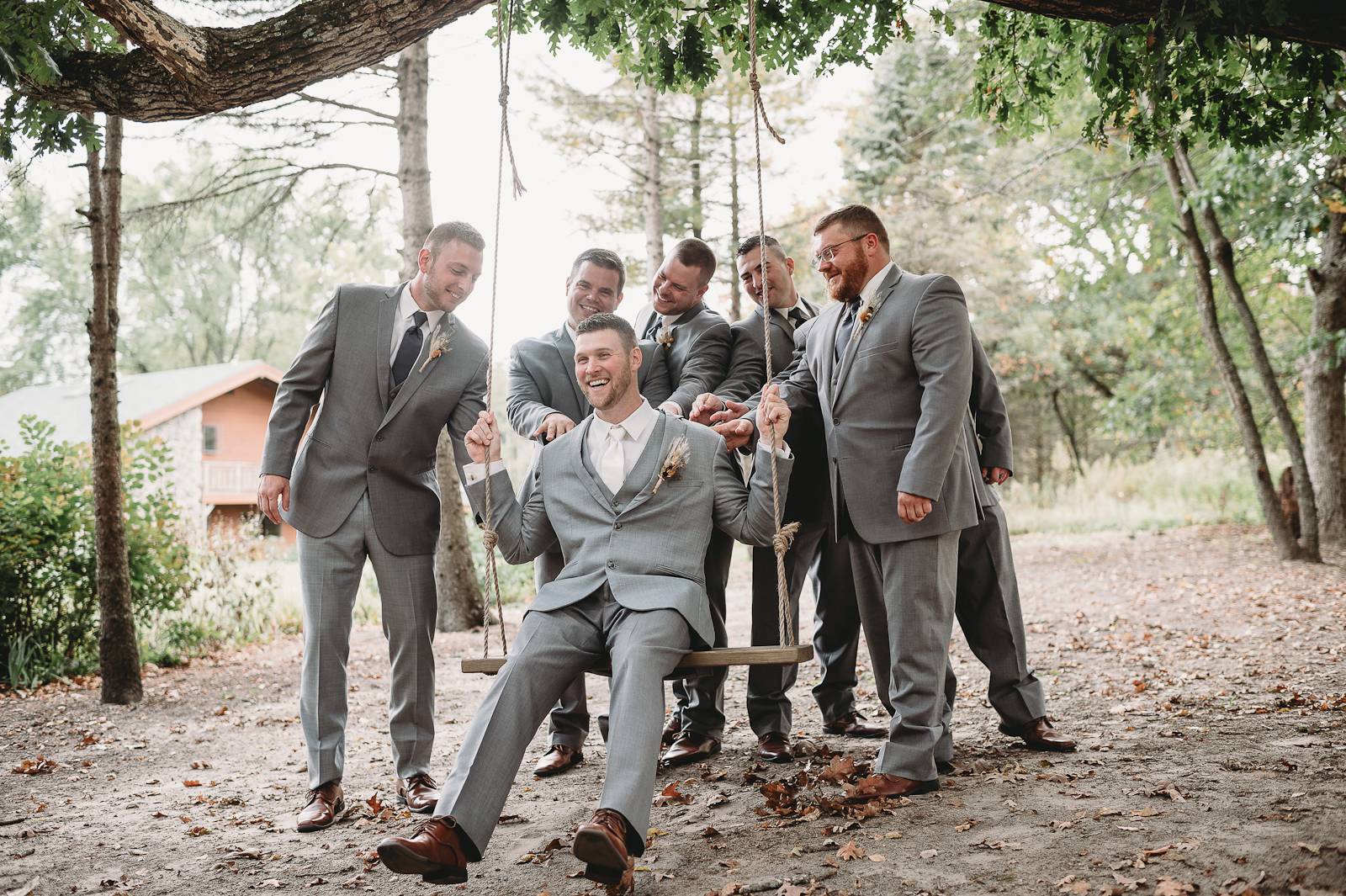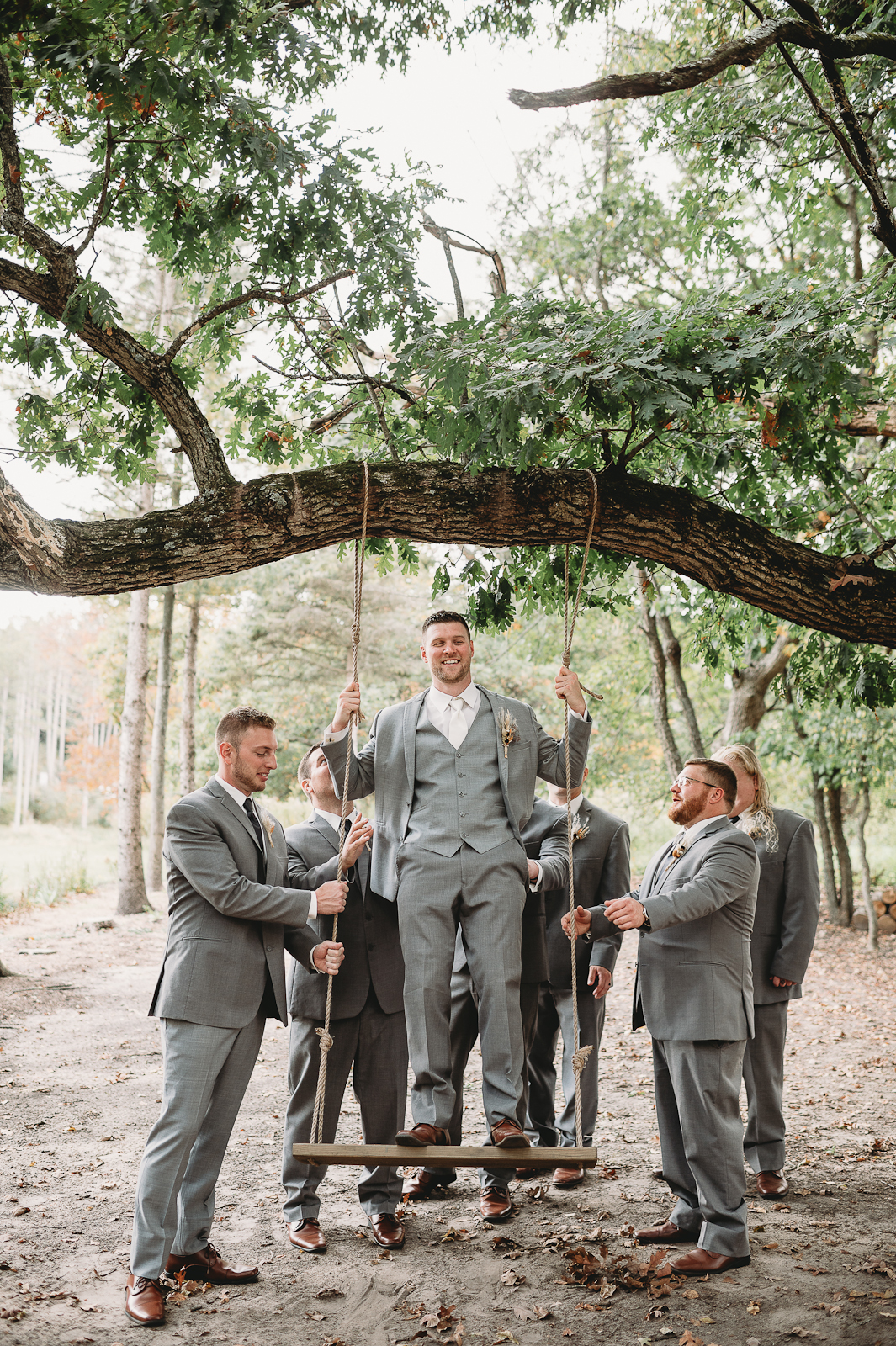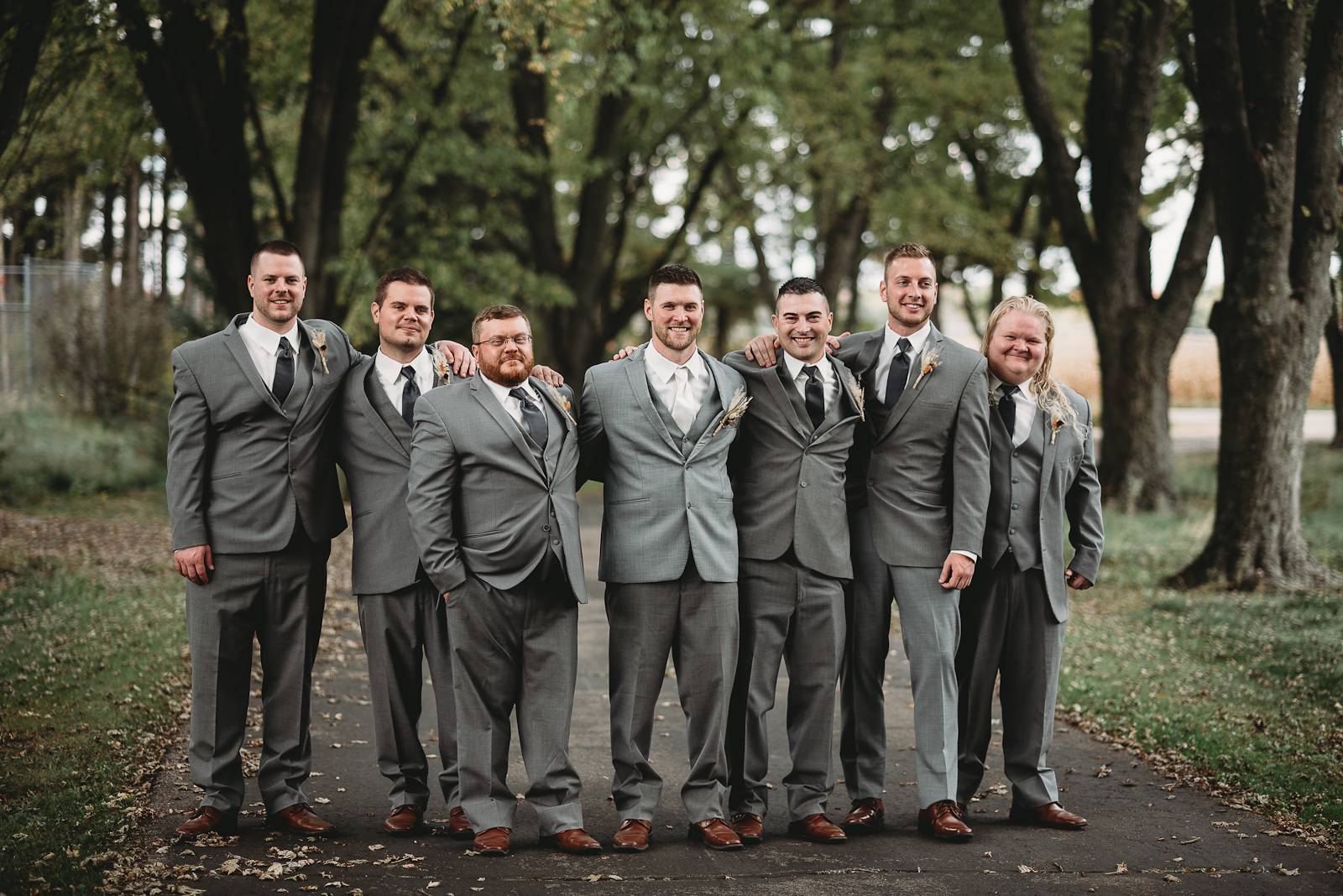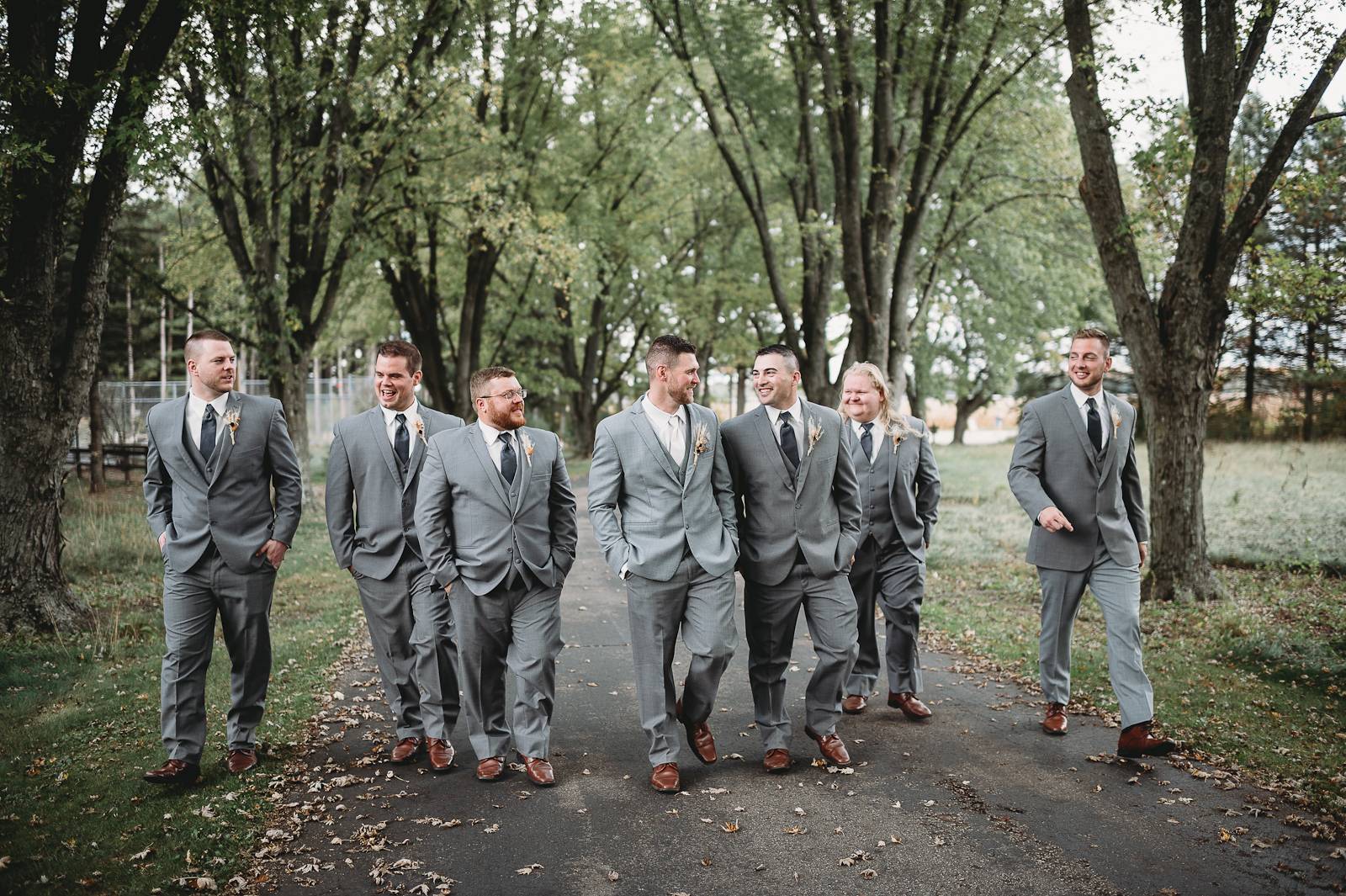 DESCRIBE YOUR WEDDING THEME/STYLE IN FIVE WORDS OR LESS: Gypsy Boho in a Woodland Escape
WHAT WAS YOUR WEDDING COLOR PALETTE? Terracotta, Dusty Rose, Neutrals
DESCRIBE YOUR WEDDING FLOWERS: The flower arrangements, bouquets, and boutonnieres were put together by my family. I only wanted to incorporate dried grasses and wooden accents as it was so important that my florals could be preserved for years to come, and I love that we have our centerpieces as accents throughout our home to this day!
We used a mixture of pampas grass that we picked locally and preserved for a year by drying the bunches and hanging them upside down in our basement. I visited Pike Place Market in Seattle the May before our wedding and shipped home bunches of wheat and other dried grasses that I purchased to use for the arrangements. We also bought bunny tails, black beard wheat, dried palms, and other unique accents from sellers on Etsy. I love that we were able to support so many small businesses with our florals!
I have a coworker who hunts pheasant, so I added some pheasant feathers to the bridal bouquet and the sweetheart table arrangements. The focal piece I wanted for my bridal bouquet was bright protea, which I had a difficult time finding dried, until I came across beautiful wooden protea at Hobby Lobby in their wood and dried decor section. They are so beautiful and held up wonderfully! My bouquet still looks the same as the day we made it. I am a macrame artist, and I handmade the macrame wrap that really captured the gypsy vibe.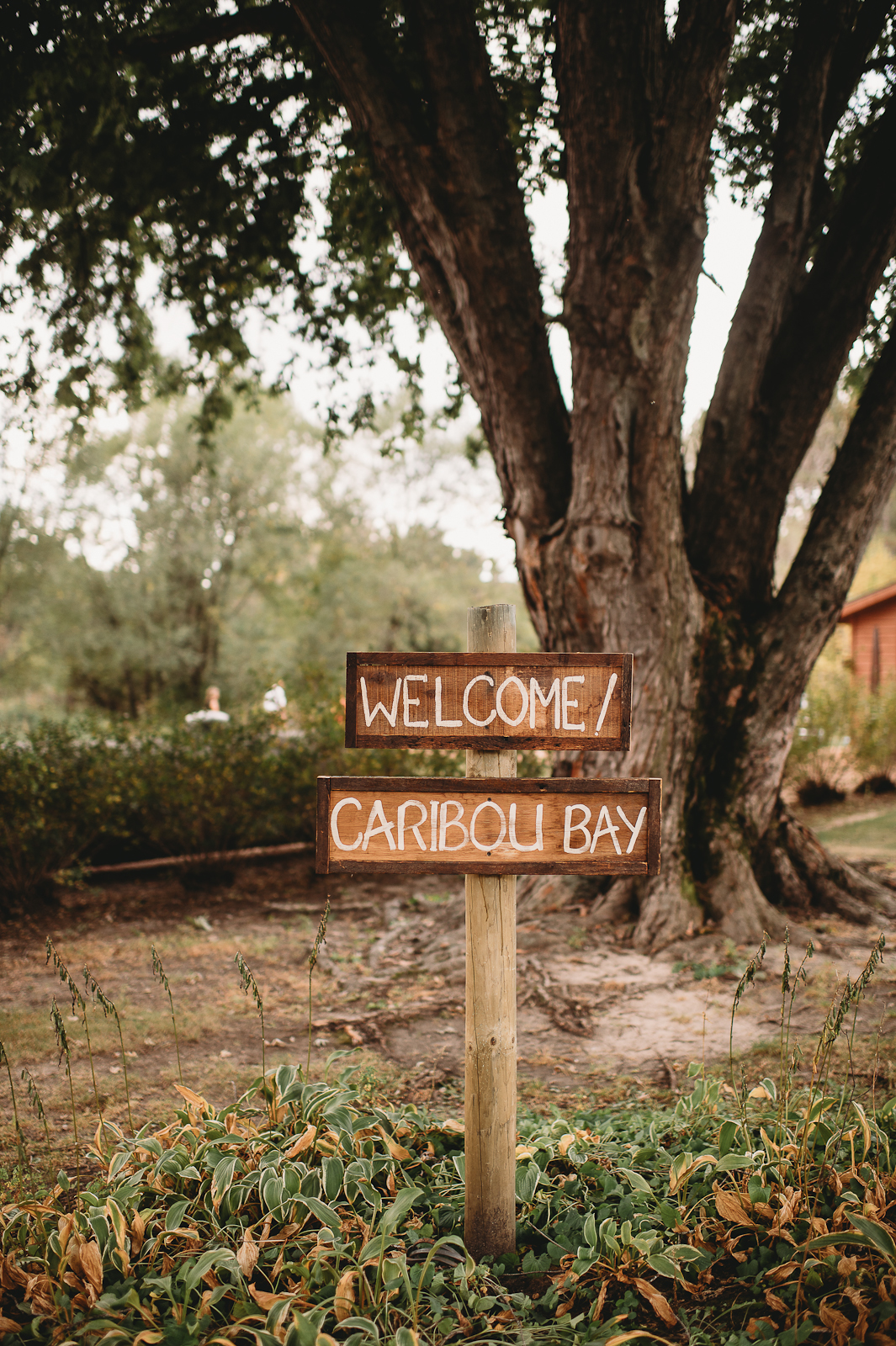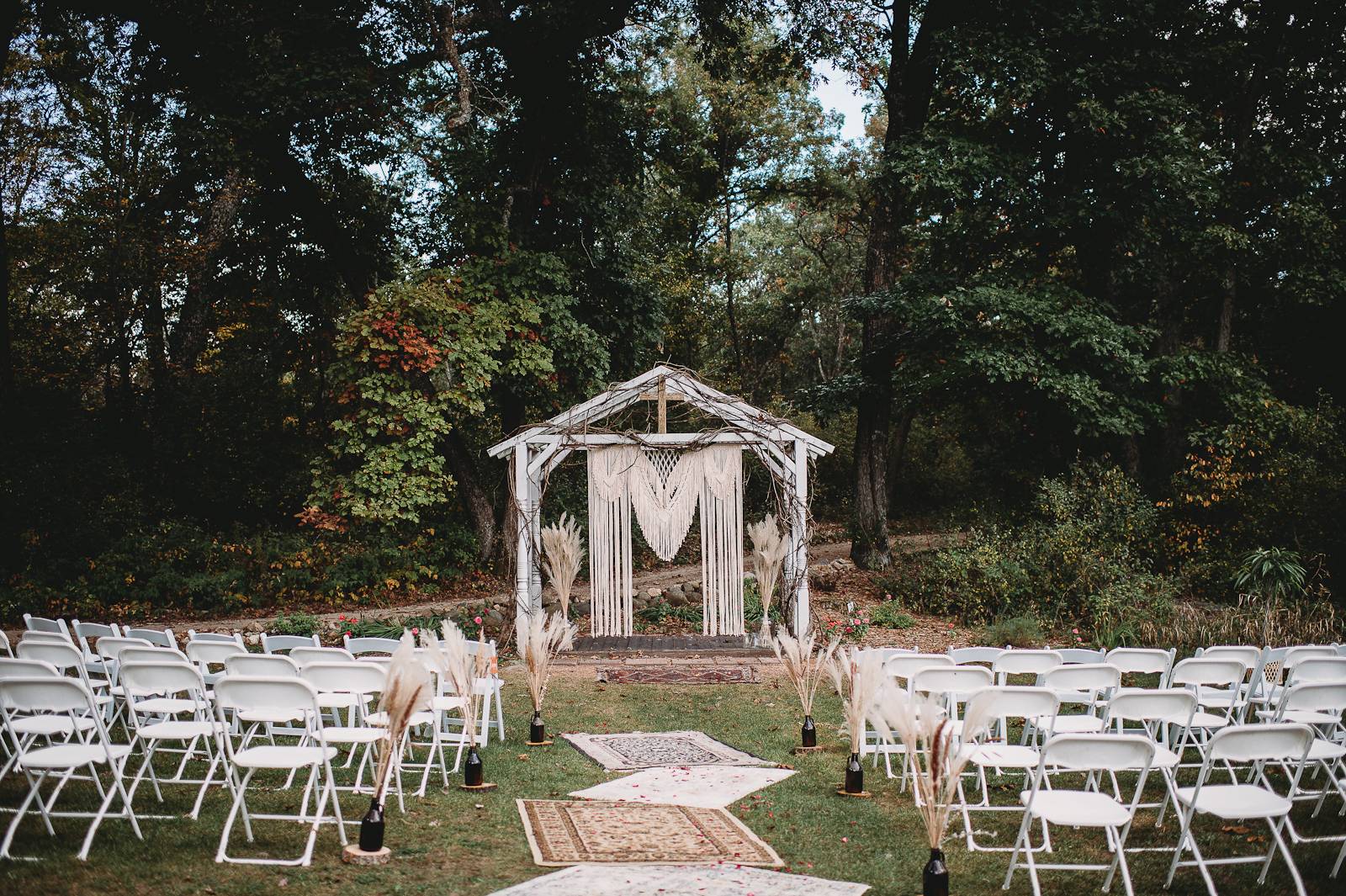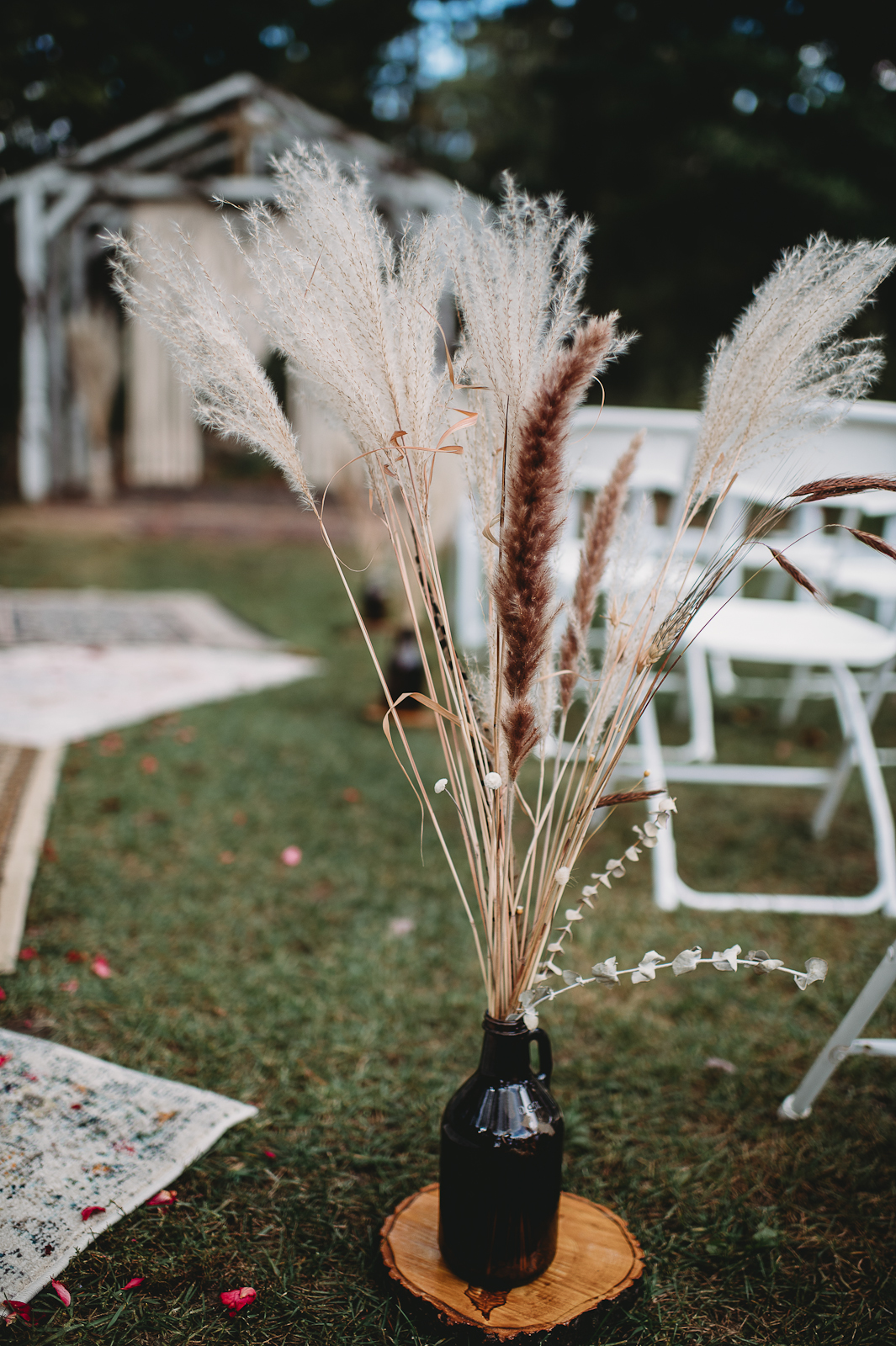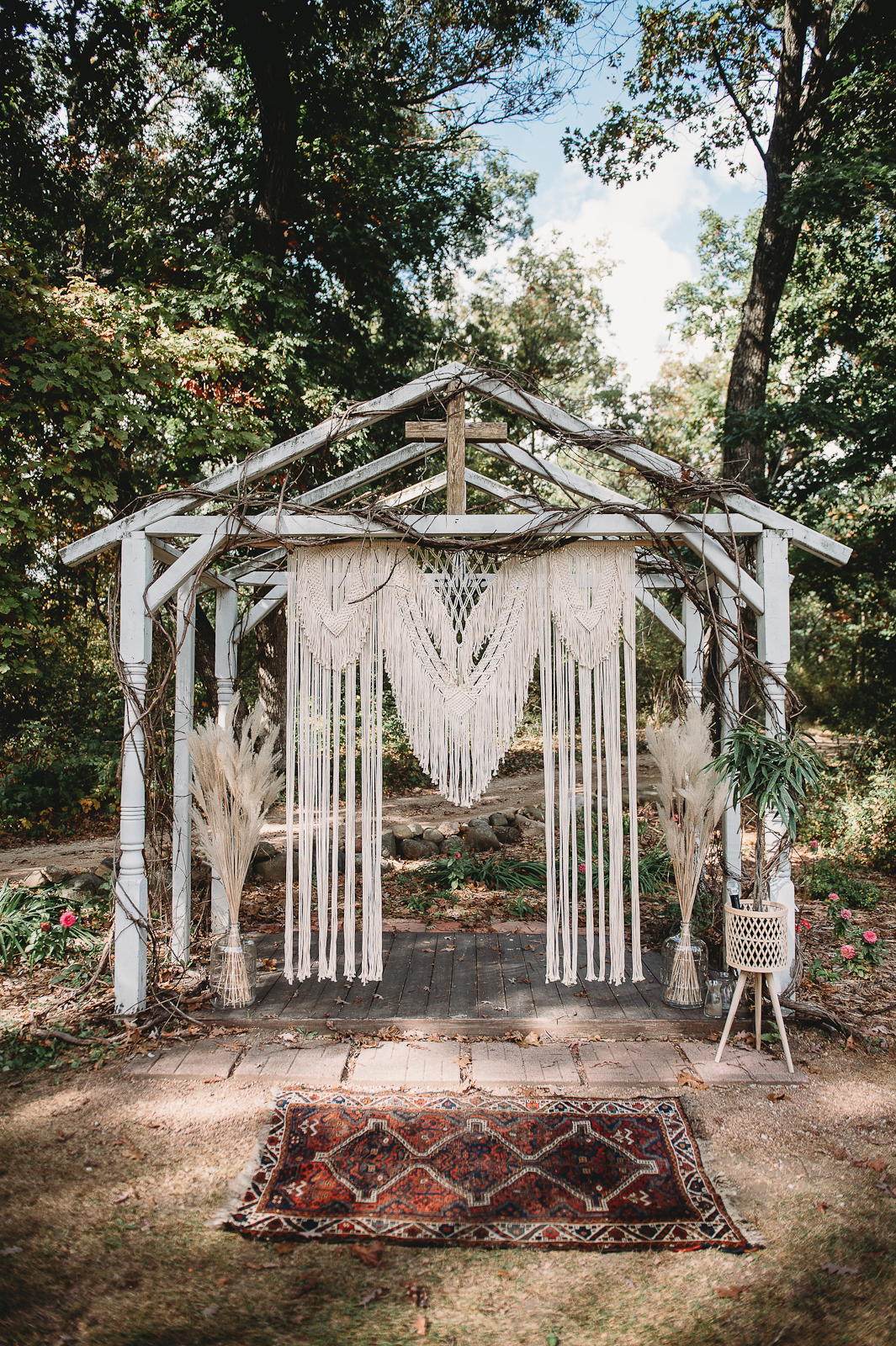 SHARE ANY UNIQUE DETAILS THAT STAND OUT:
Macrame Backdrop: The majestic backdrop was something I dreamed of creating. Being a macrame artist, I knew this was my opportunity to create something of meaning that would be the project of a lifetime. Over 40 hours went into the creation of our backdrop that was used as our ceremony backdrop and then moved after the ceremony to be used as our sweetheart table backdrop.
Oma Rina's Handmade Bell Sleeves: My Oma Rina owned Denrina's Tailoring in Wisconsin Dells as a seamstress for decades and created my floor-length bell sleeves using two different fabrics that we picked out together. The sleeves were tight around the biceps and dropped to the floor, starting at the elbow. The dress was beautiful by itself, but I wanted to add a gypsy flare that stood out and was unique compared to other dresses I had seen. I loved that we detached the sleeves for the reception so that I could have short sleeves during dinner and dancing!
Braided Alii Ficus Tree for unity ceremony: Trying to stay closely connected with nature and God, we decided a braided plant would be perfect for our unity ceremony. We can now care for this plant and watch it thrive for years to come!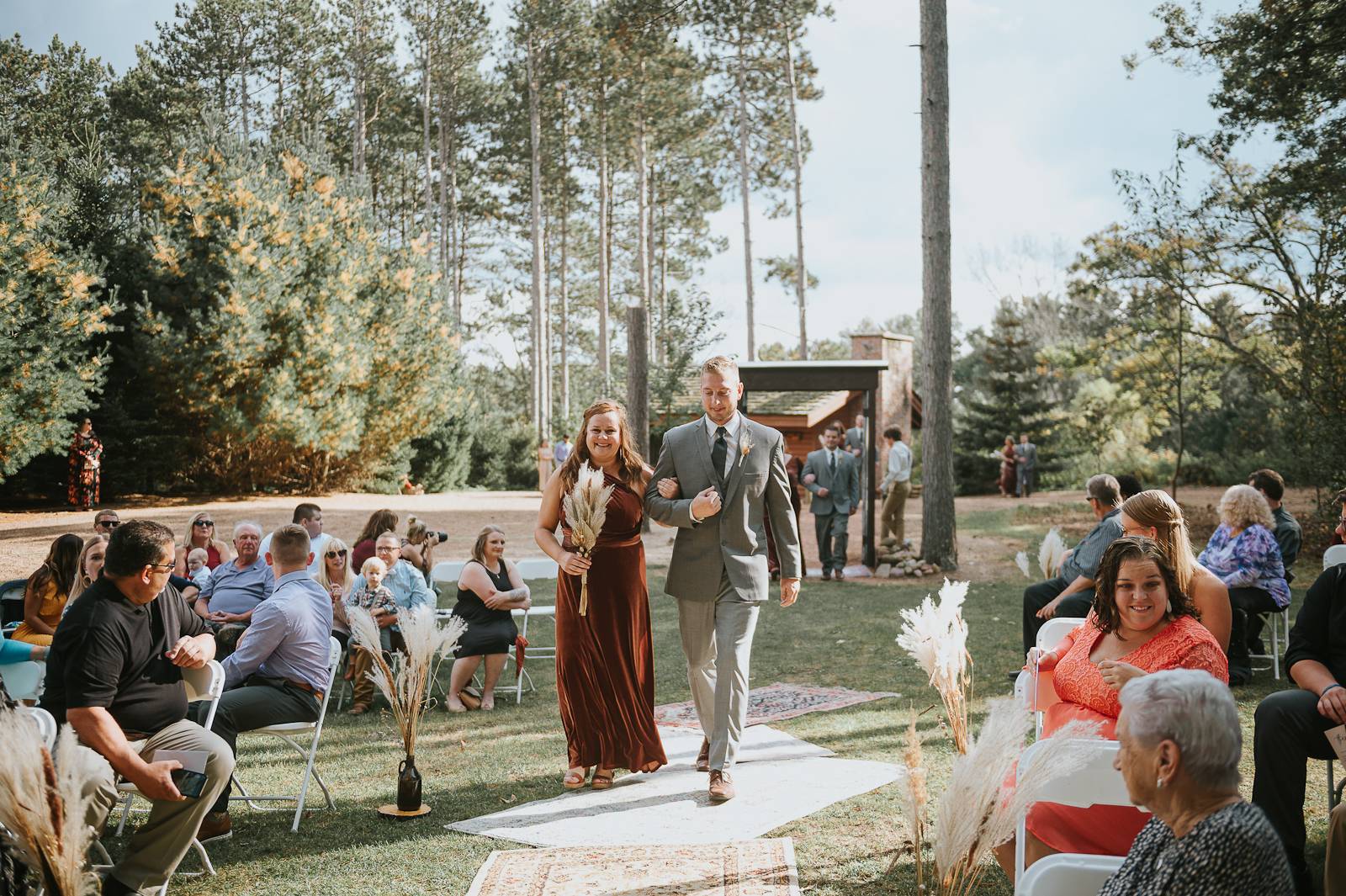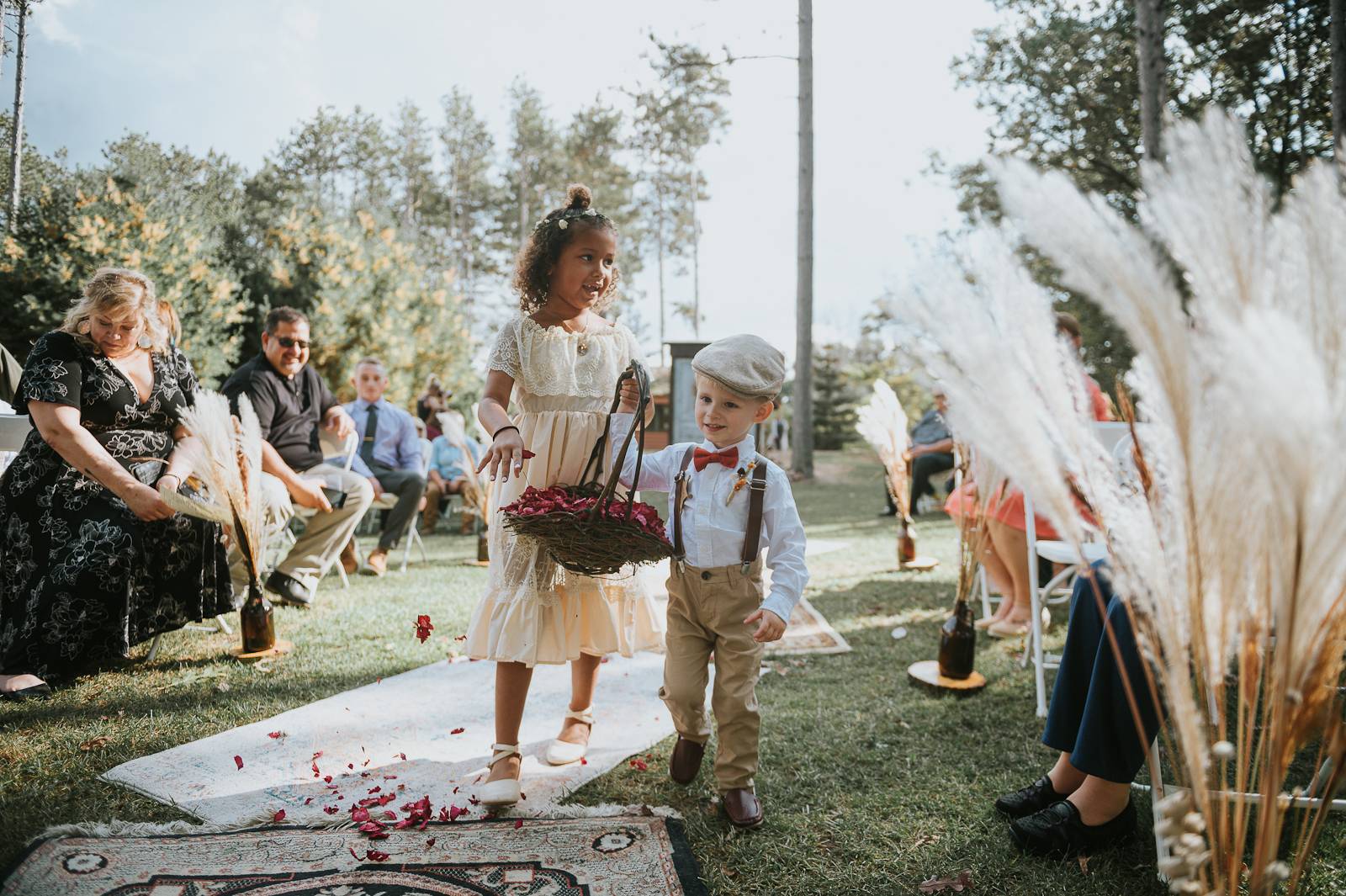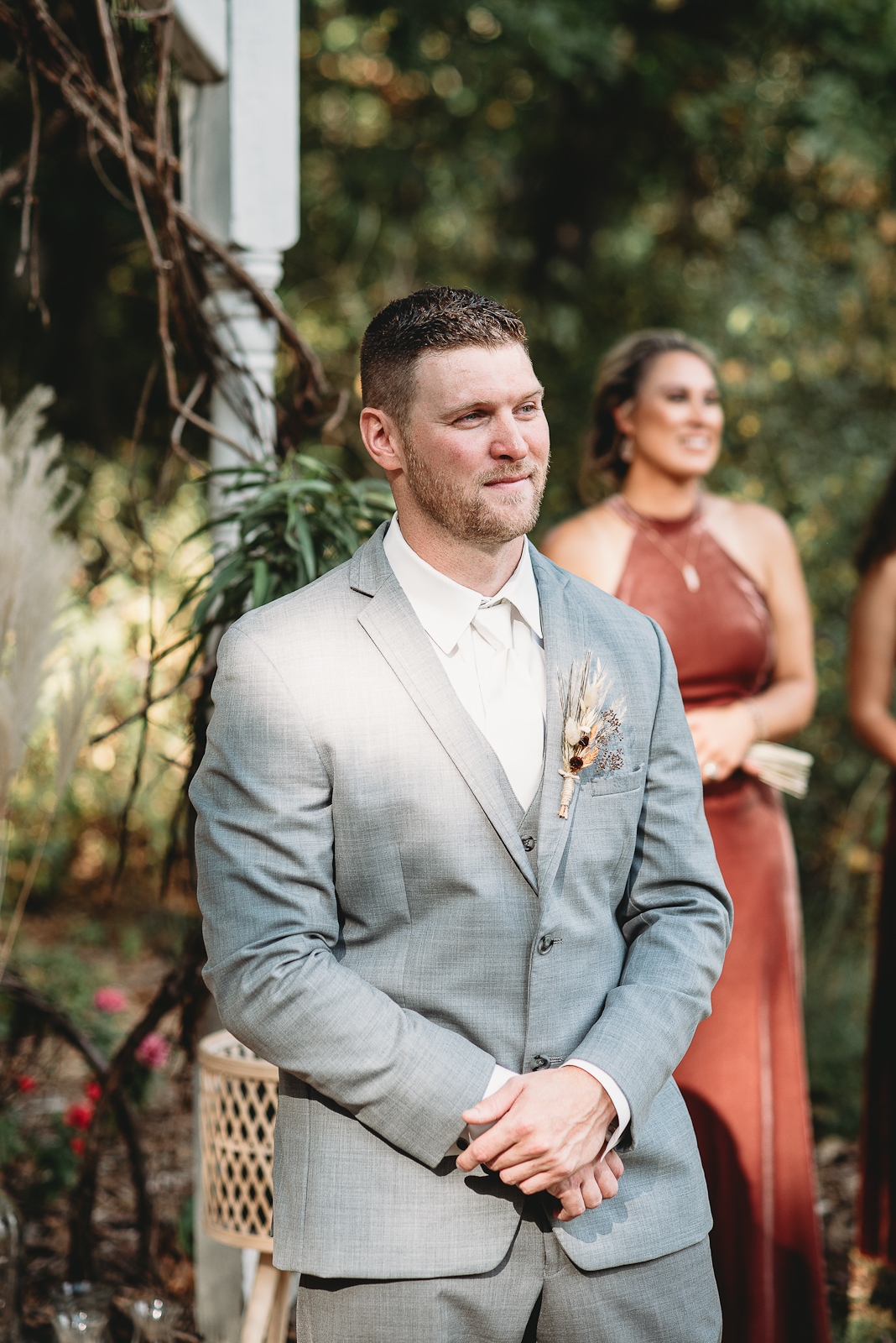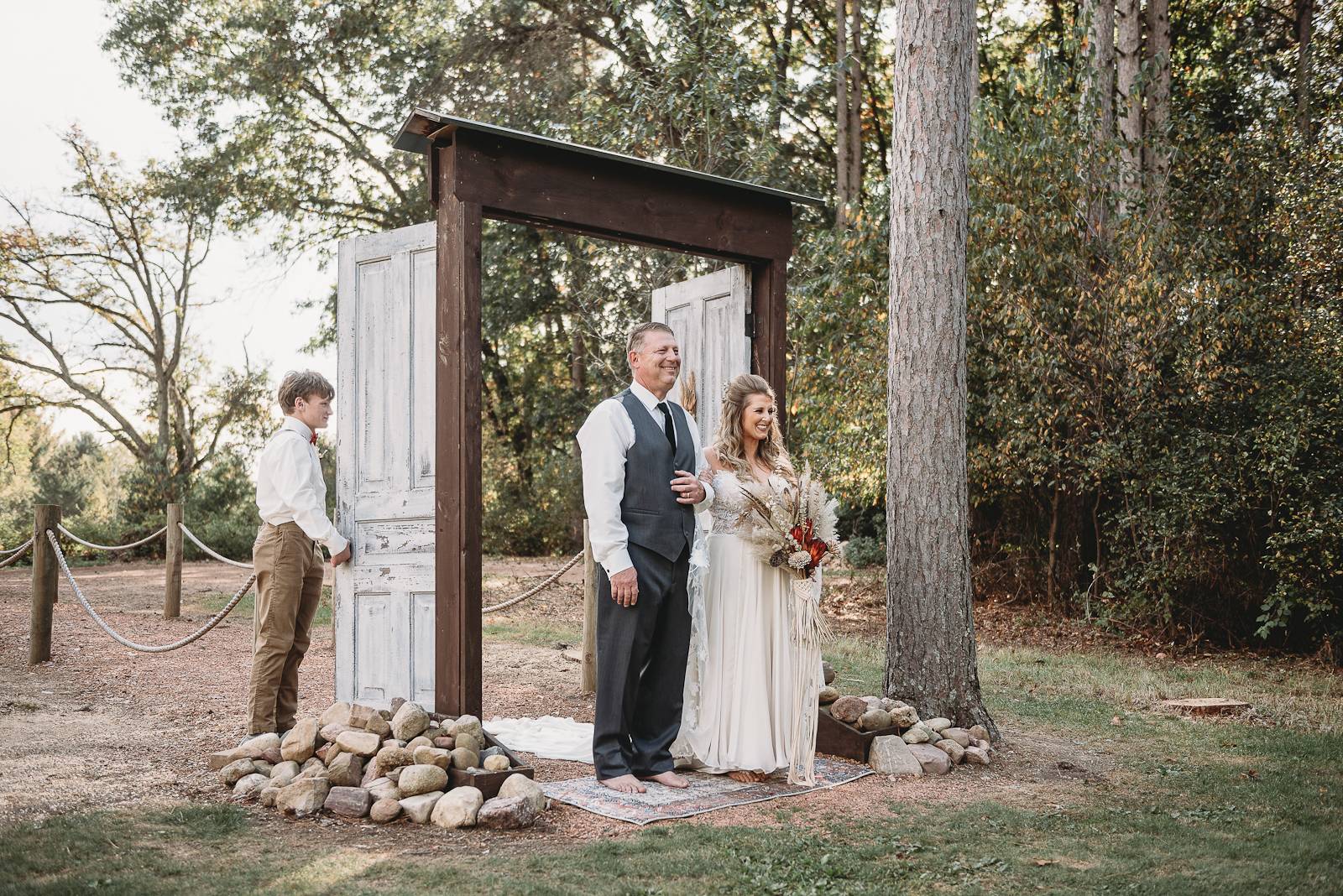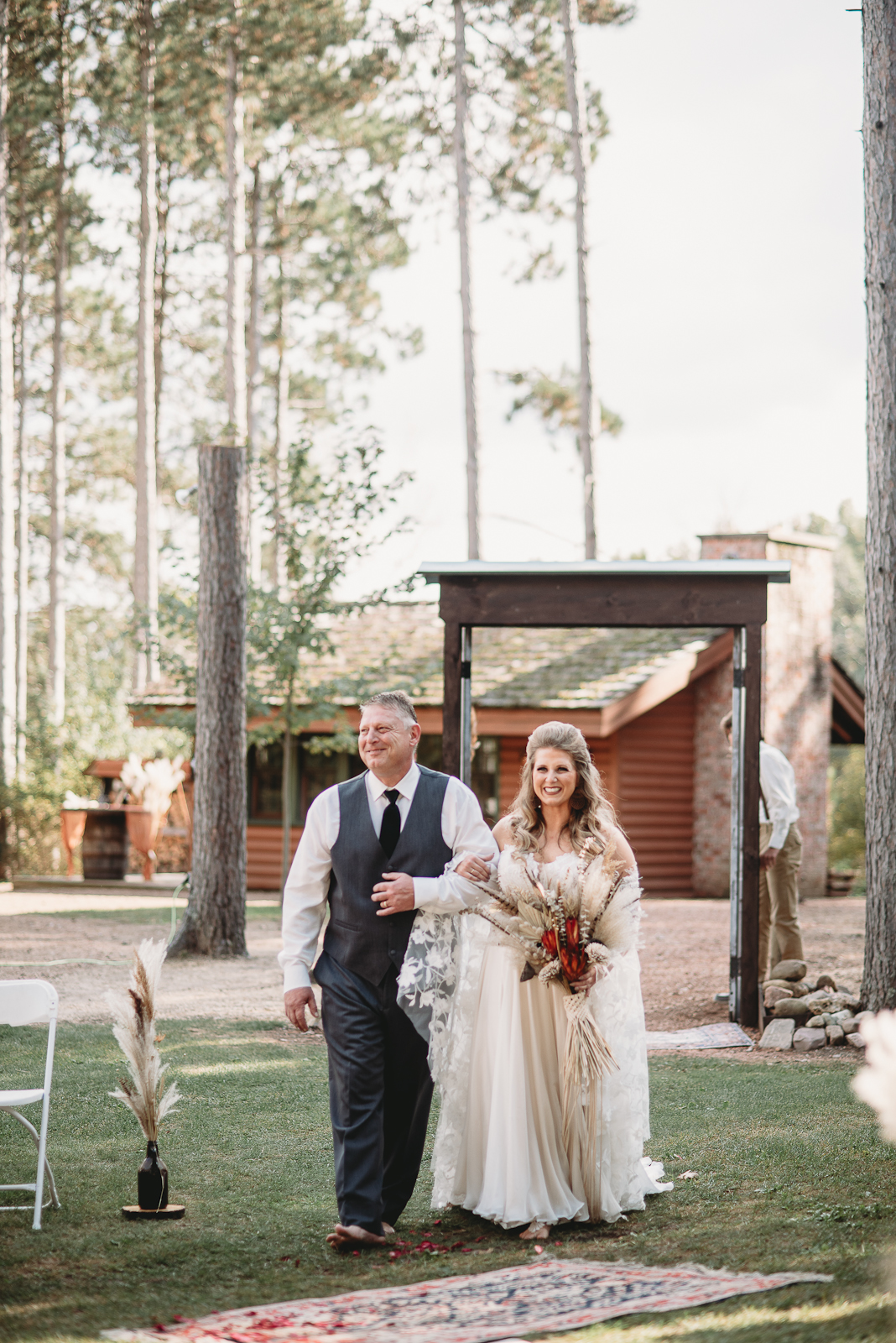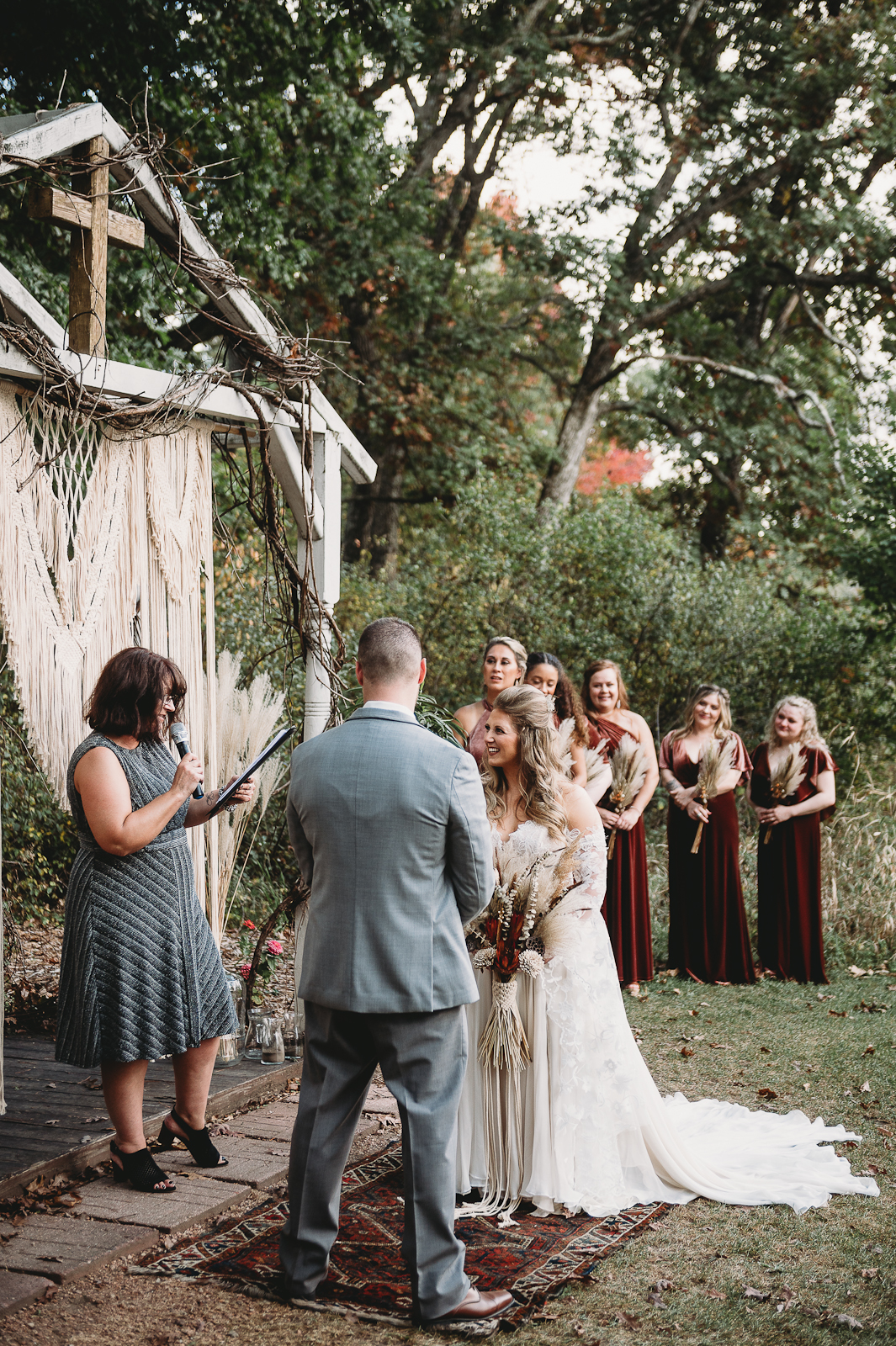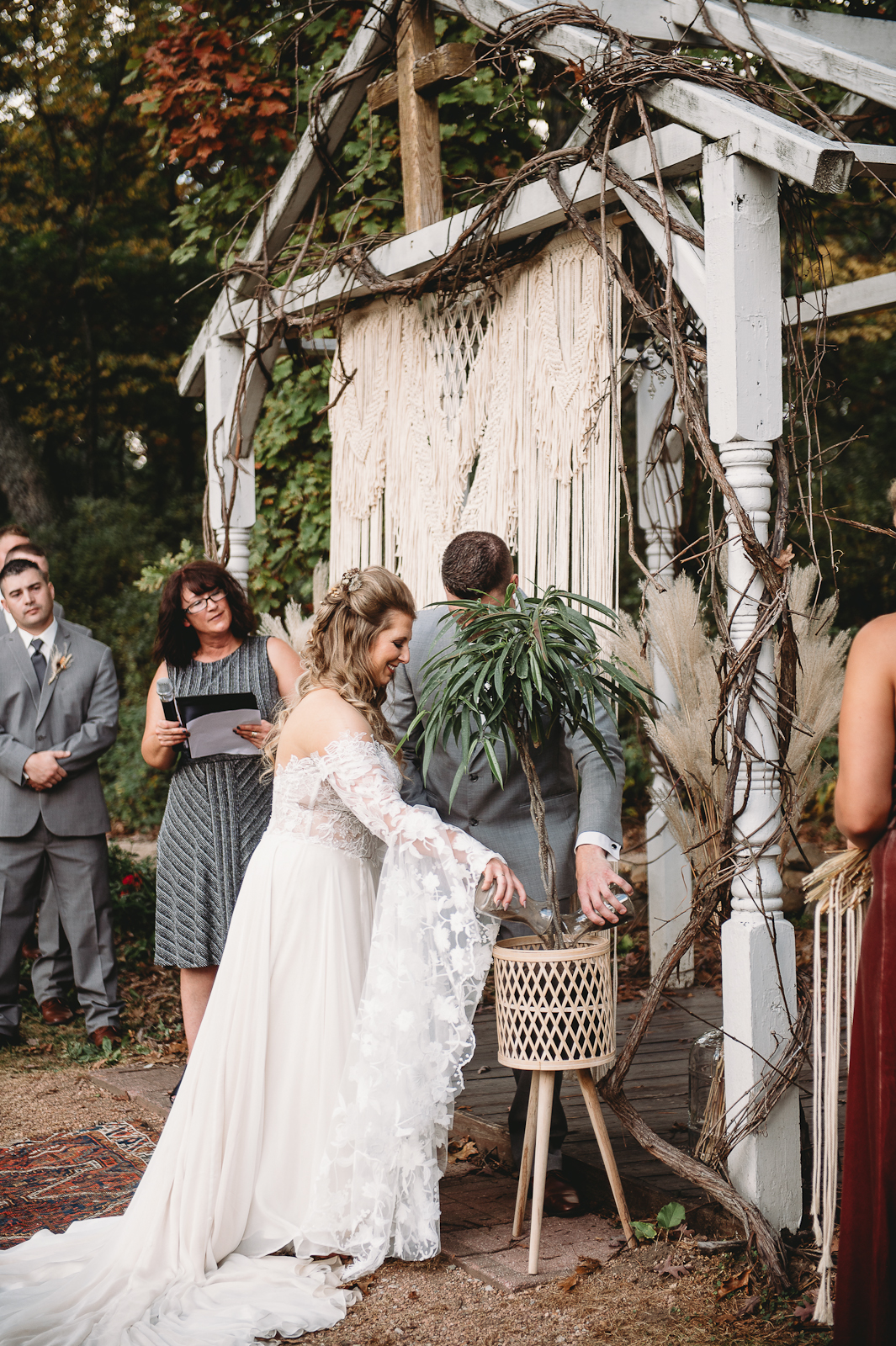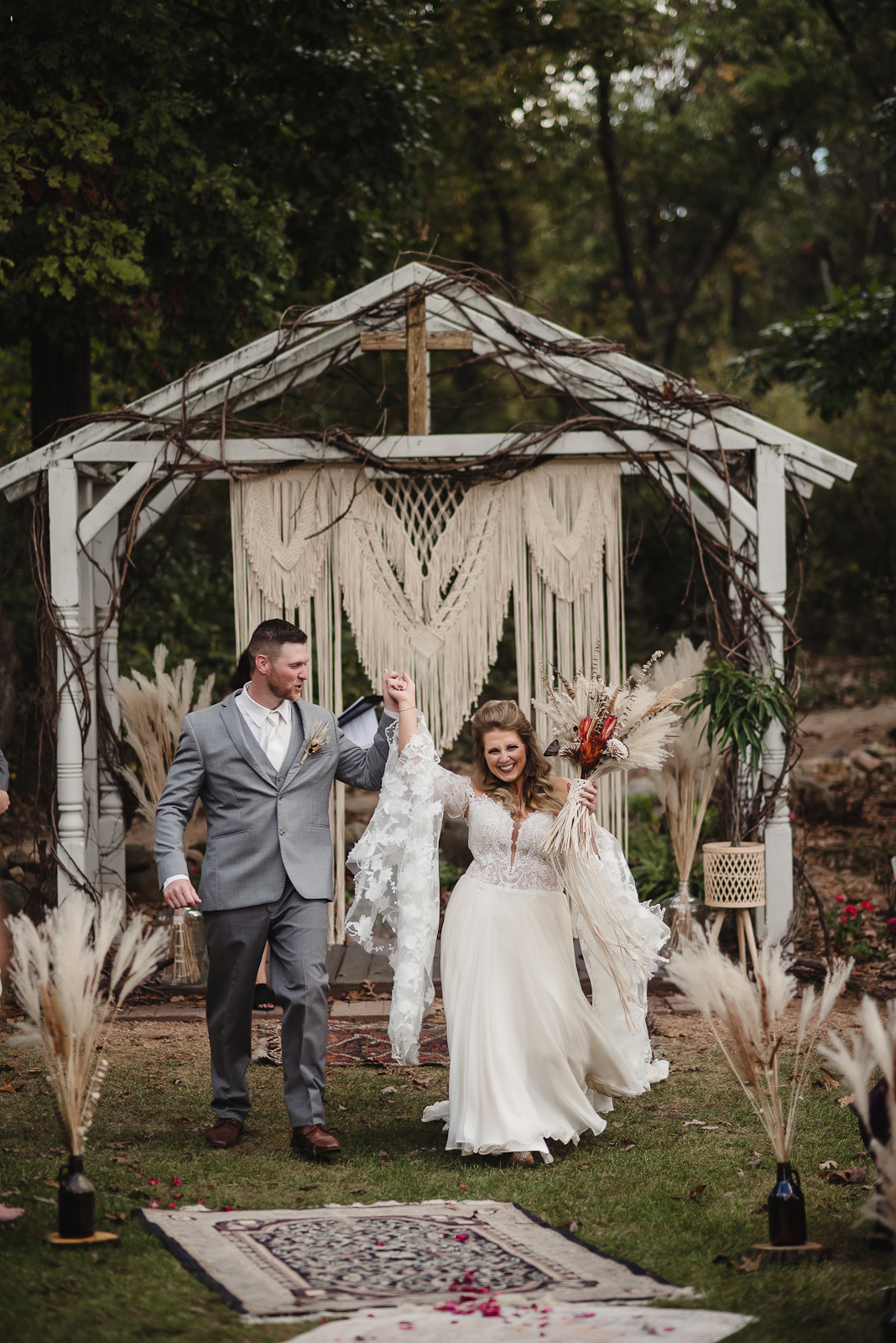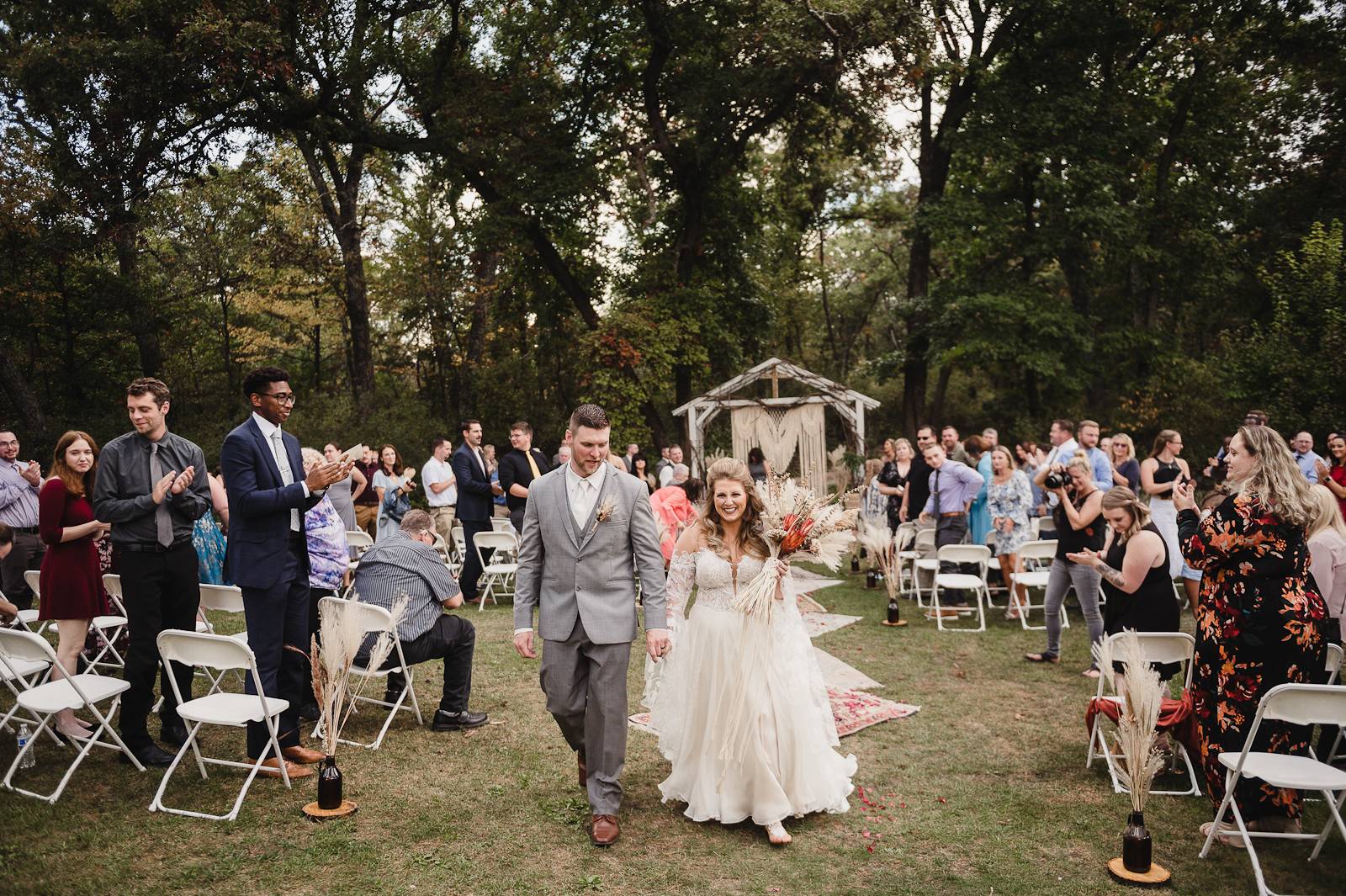 DID YOU INVEST IN ANY RENTALS?
Limo Shuttle Bus (Gallant Knight Limousine)
Peacock Chairs (A La Crate Rentals)
Ceremony Chairs (Wautoma Rental Center)
TELL US ABOUT THE FOOD, DESSERT, AND ANY SPECIALTY BEVERAGES ON THE MENU: J's BBQ catered our dinner, and we served their BBQ Brisket and Smoked Chicken. People LOVED the food! This is true Texas-style cooking out of Ripon, Wisconsin, and they were extremely accommodating, especially with booking their services last minute!
For our cake, we had a naked chocolate cake decorated with extra accents that weren't used in my bridal bouquet. And for dessert, my aunt, who is an excellent baker, created an assortment of cheesecakes in jars, brownies, and cookies!
Old-Fashioned Cocktails, Spotted Cow, Fawn Creek Wine, and Homemade Brew from friends were the assortment of drinks served at our reception! It was important that we kept Wisconsin traditions alive, and I loved that our friends made us our own signature Hefeweizen beer.
DID YOU INCLUDE ANY CULTURAL OR FAMILY TRADITIONS? We both have Dutch roots, so we decided to place a Stroopwafel (a Dutch cookie treat) on the table chargers with the word "Bedankt," meaning "Thank you," on the wrapper as our wedding favor.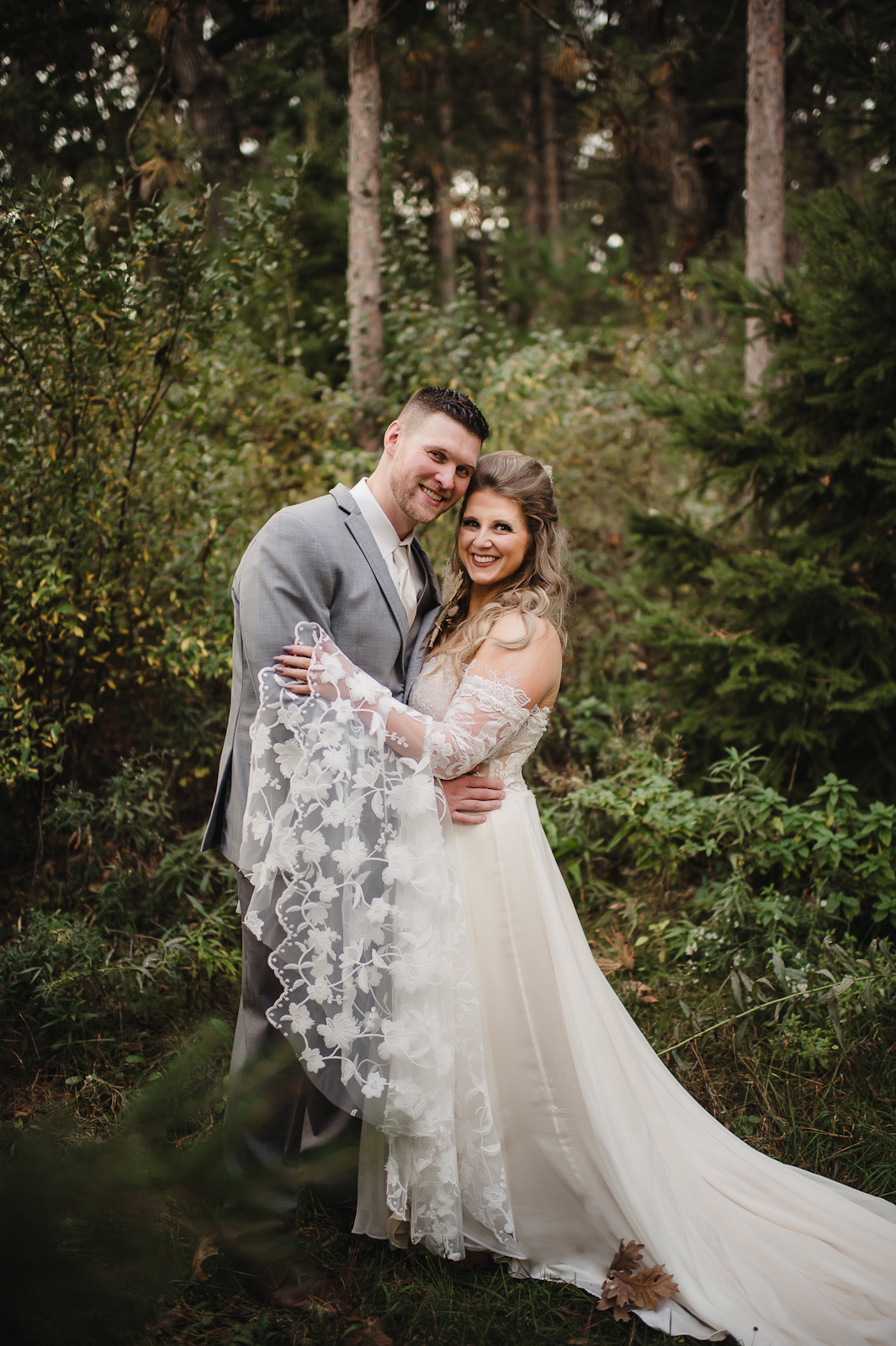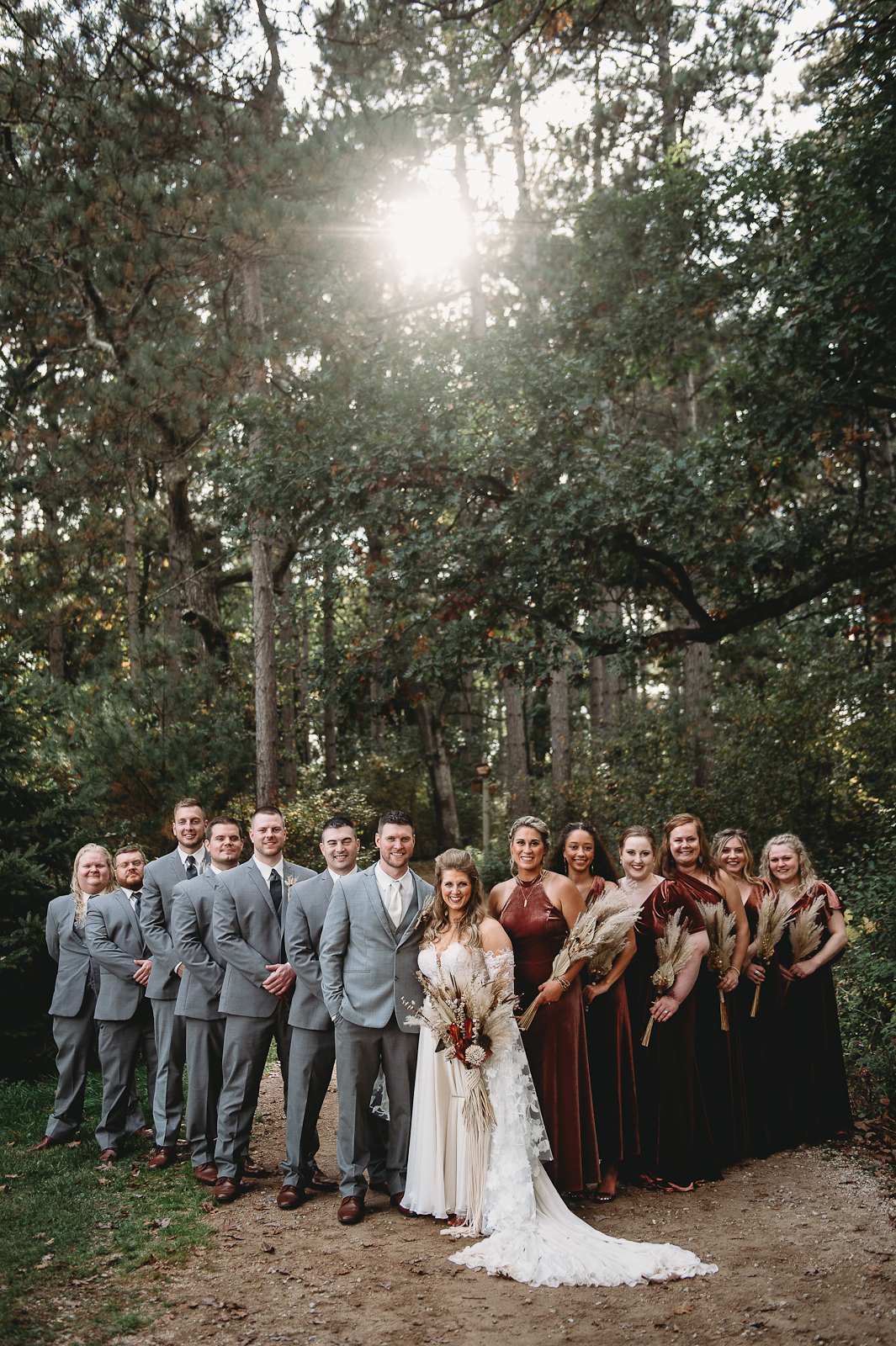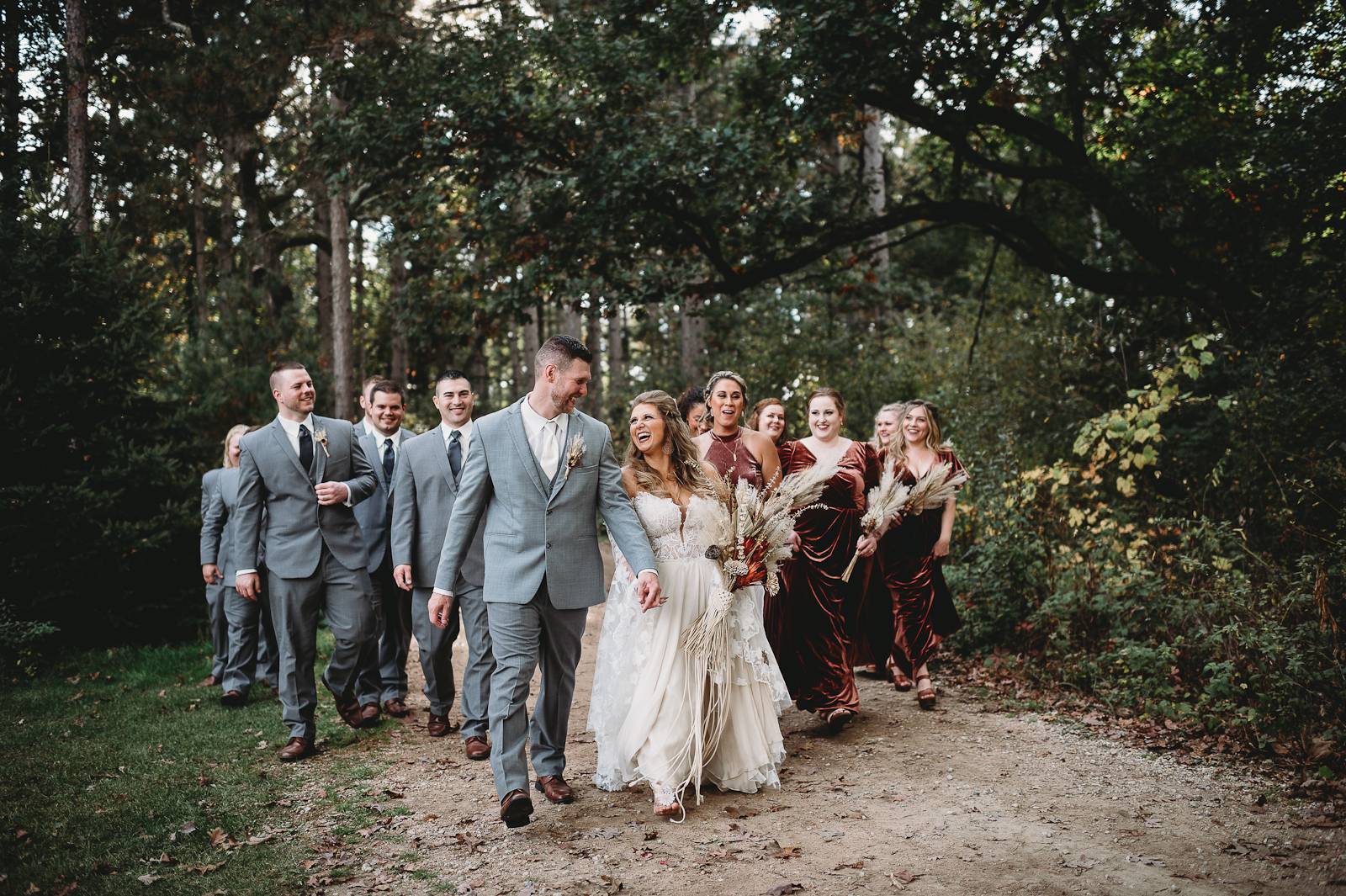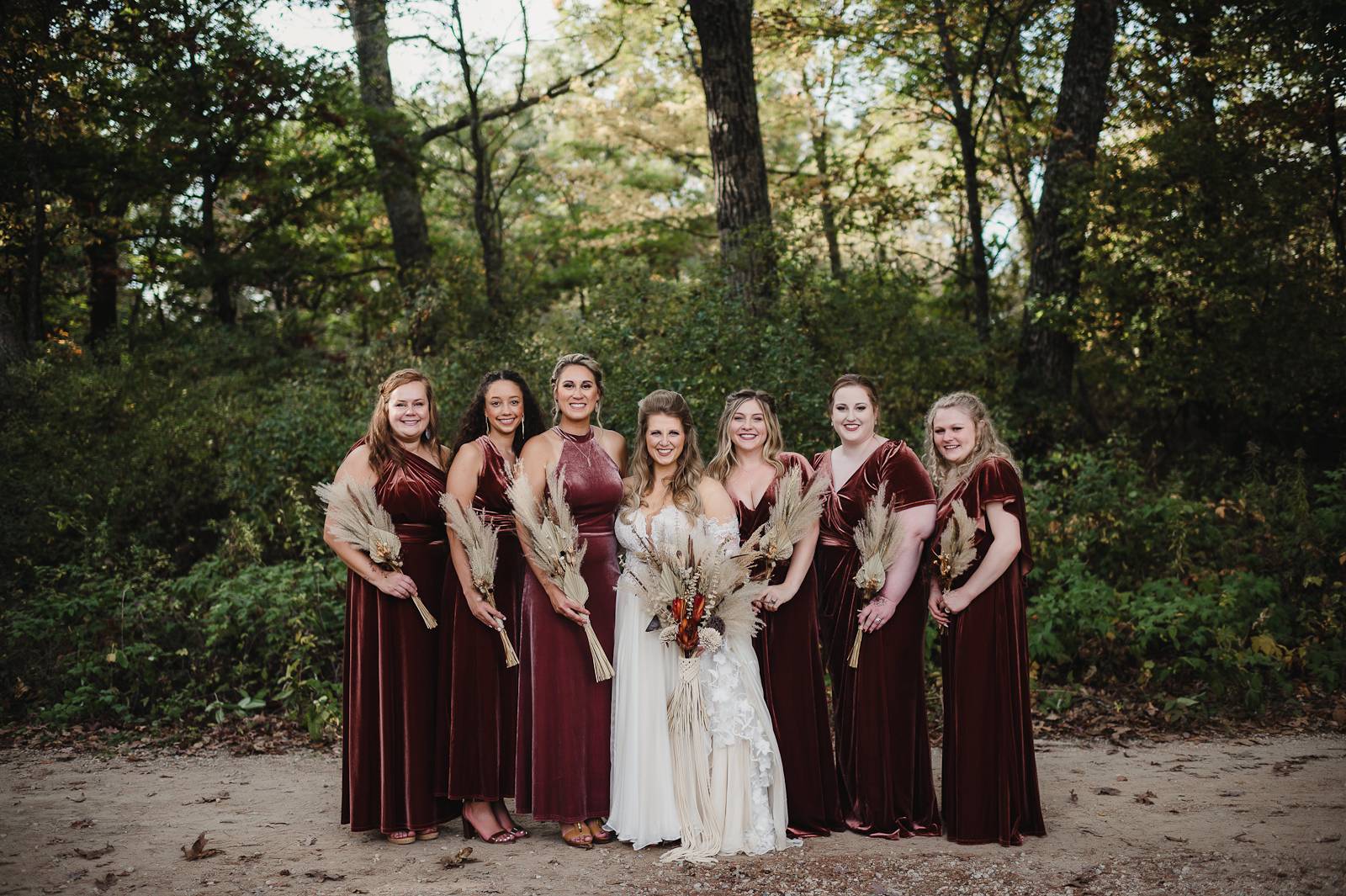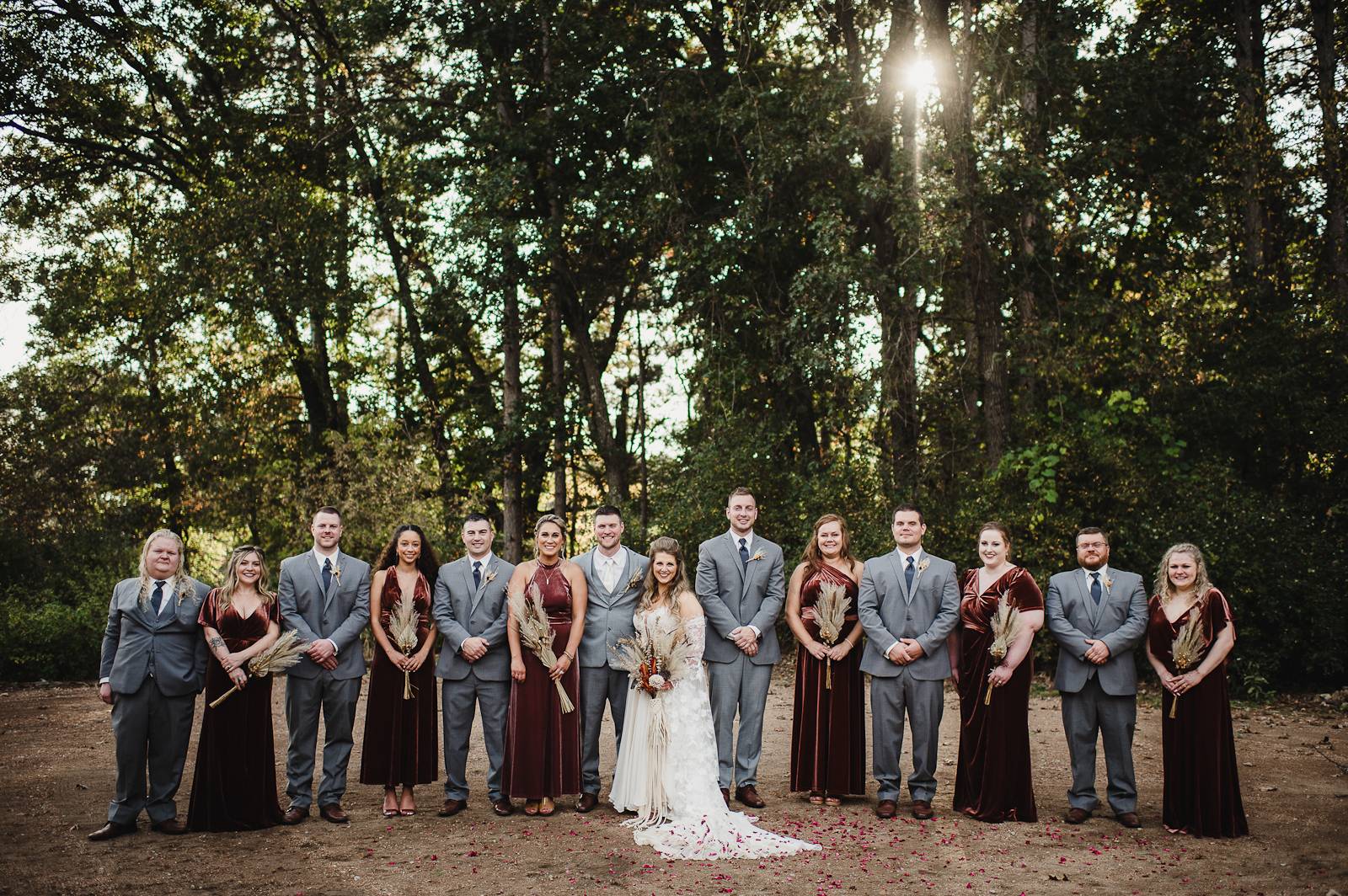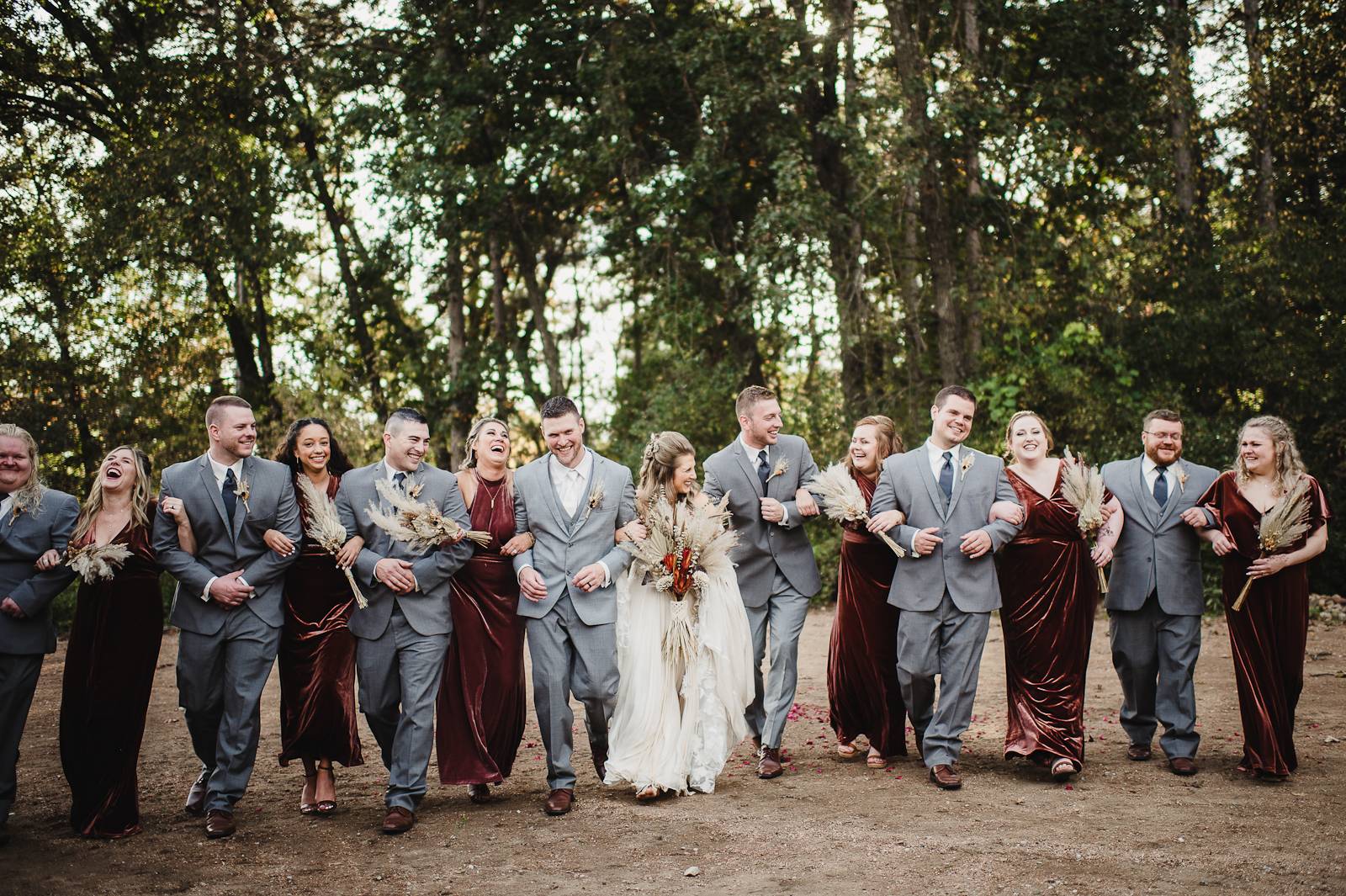 DID YOU INCLUDE ANY PERSONAL TOUCHES OR DIY ELEMENTS?
I decided early on in planning that I wanted to be barefoot for the entire wedding day. I was going to purchase a pattern for my Oma to crochet some barefoot sandals, but my mom and Oma surprised me with beautiful barefoot sandals that were made from my Great Grandma's curtains.
The rug that we stood on during the ceremony came from the Netherlands from my Great Grandma.
Caribou Bay has a large ladder that we used as a memory ladder to display loved ones from both sides who are no longer with us.
Coffee for the reception was scooped with an antique scoop from my Great-Grandma on my dad's side.
I purchased clear acrylic sheets from a local hardware store, painted the back with a terracotta paint, and then used vinyl as well as paint pens to create my signs.
My mom hand-dyed cheesecloth for table runners used for the sweetheart table, wedding party tables, as well as for the napkins.
My mom built the wooden wedding arbor that was used to hang our macrame backdrop for the reception.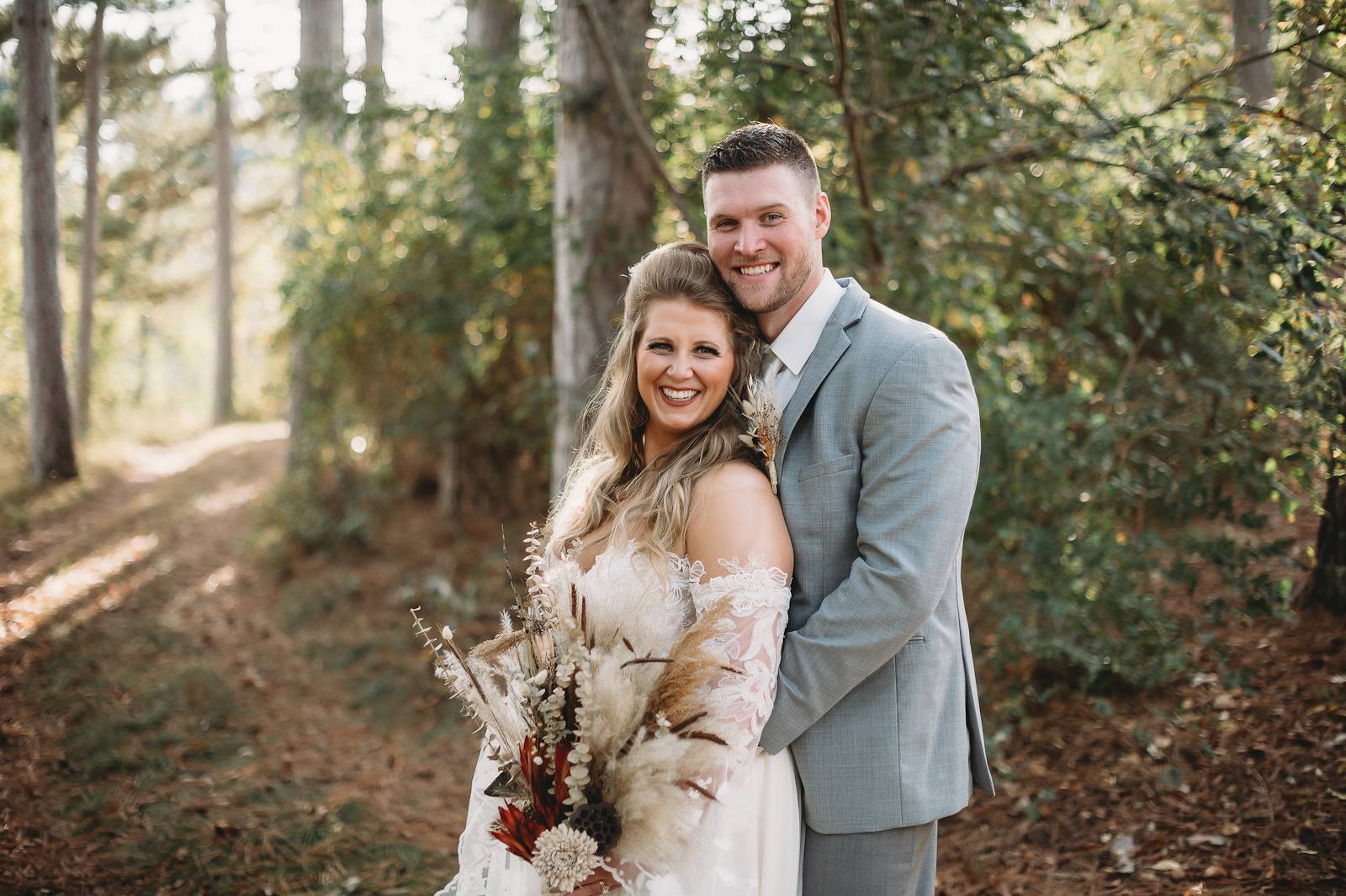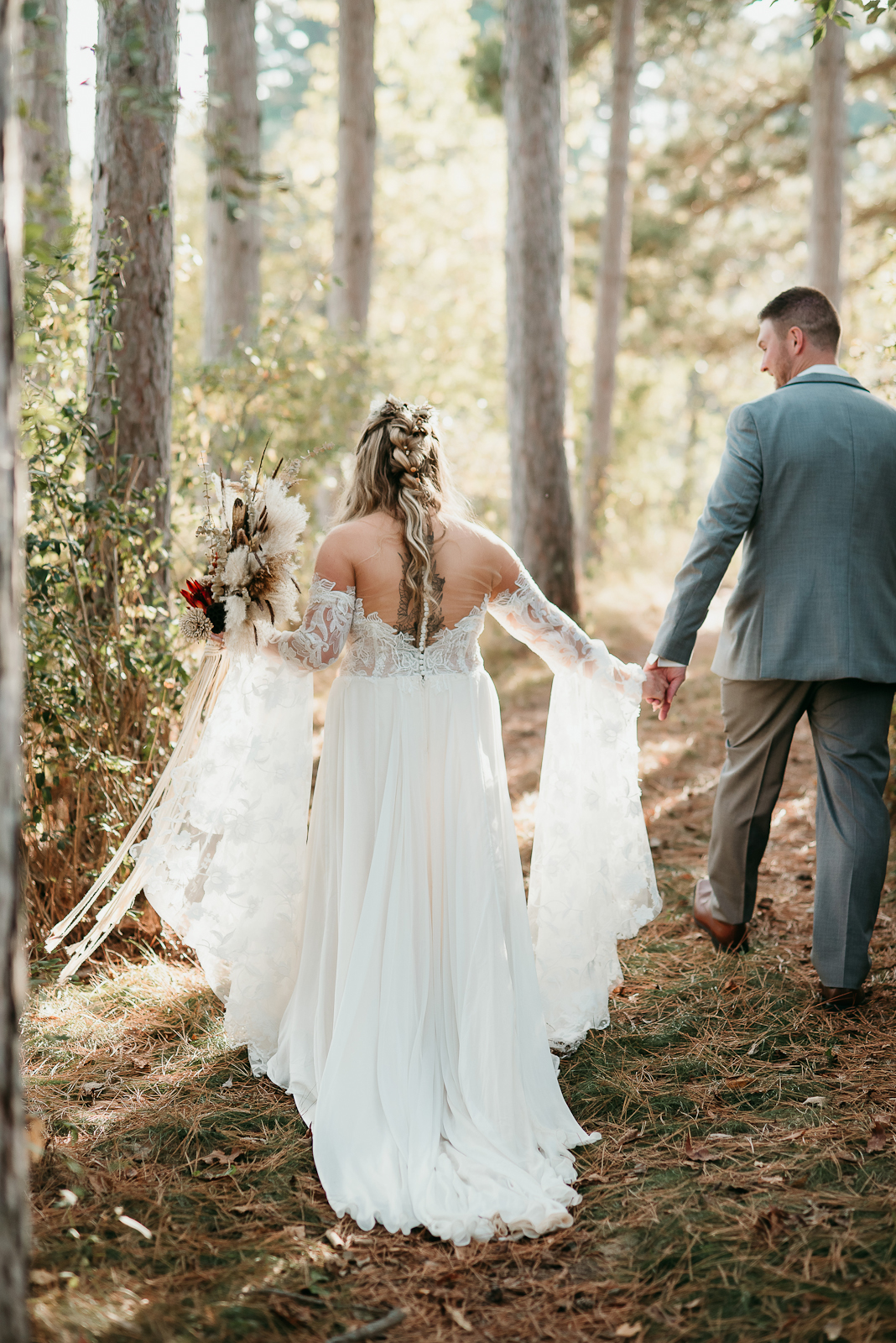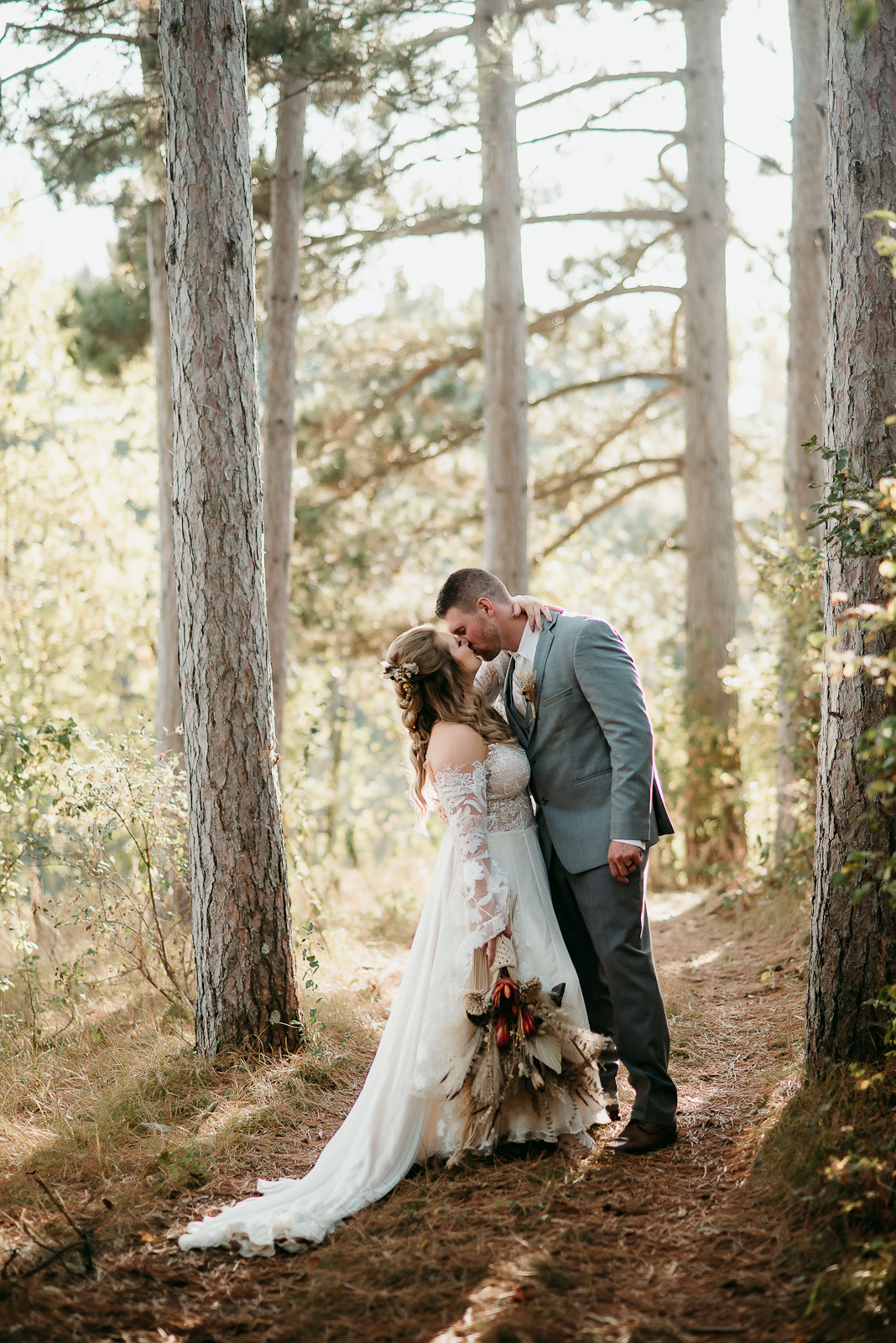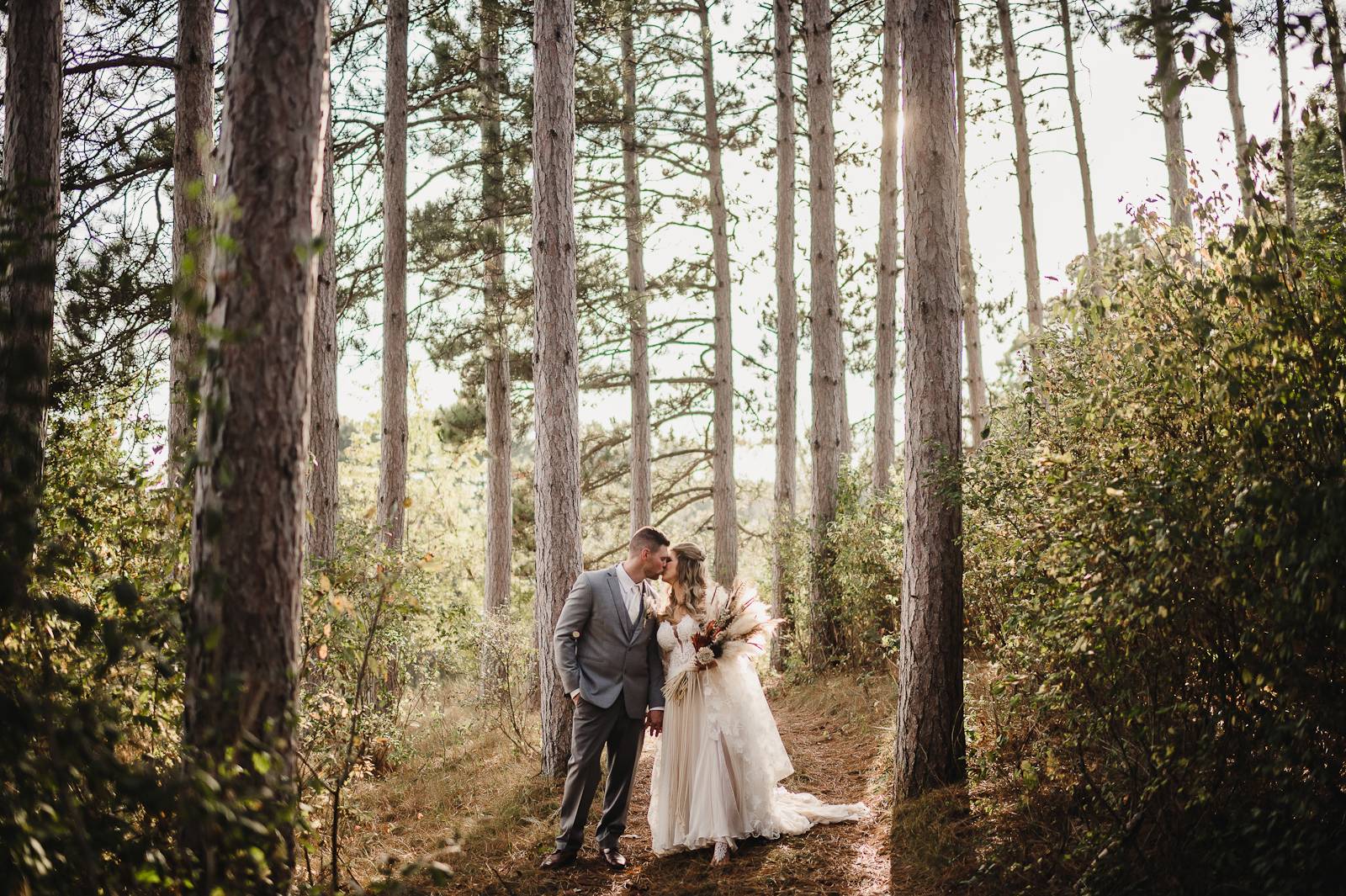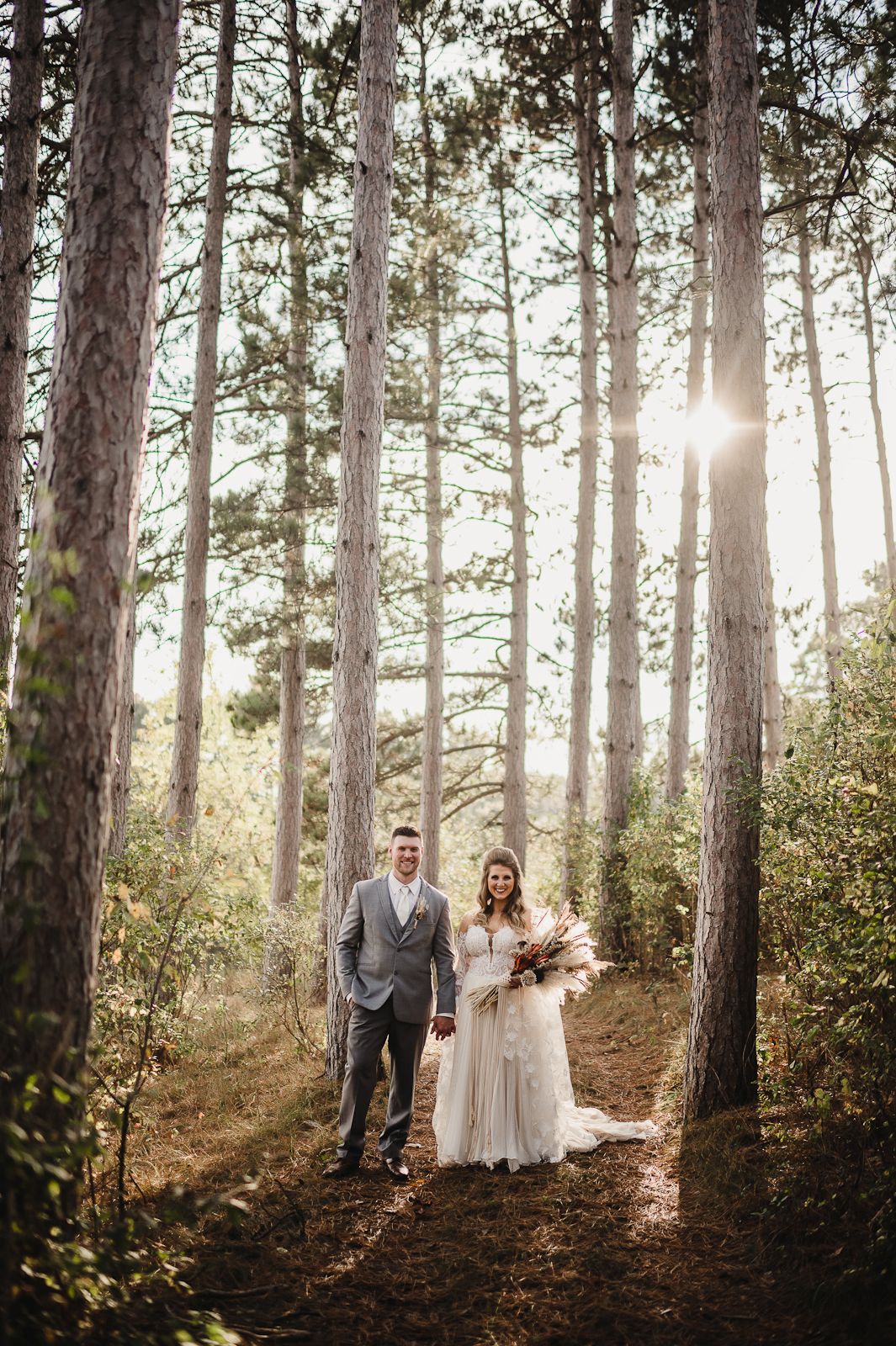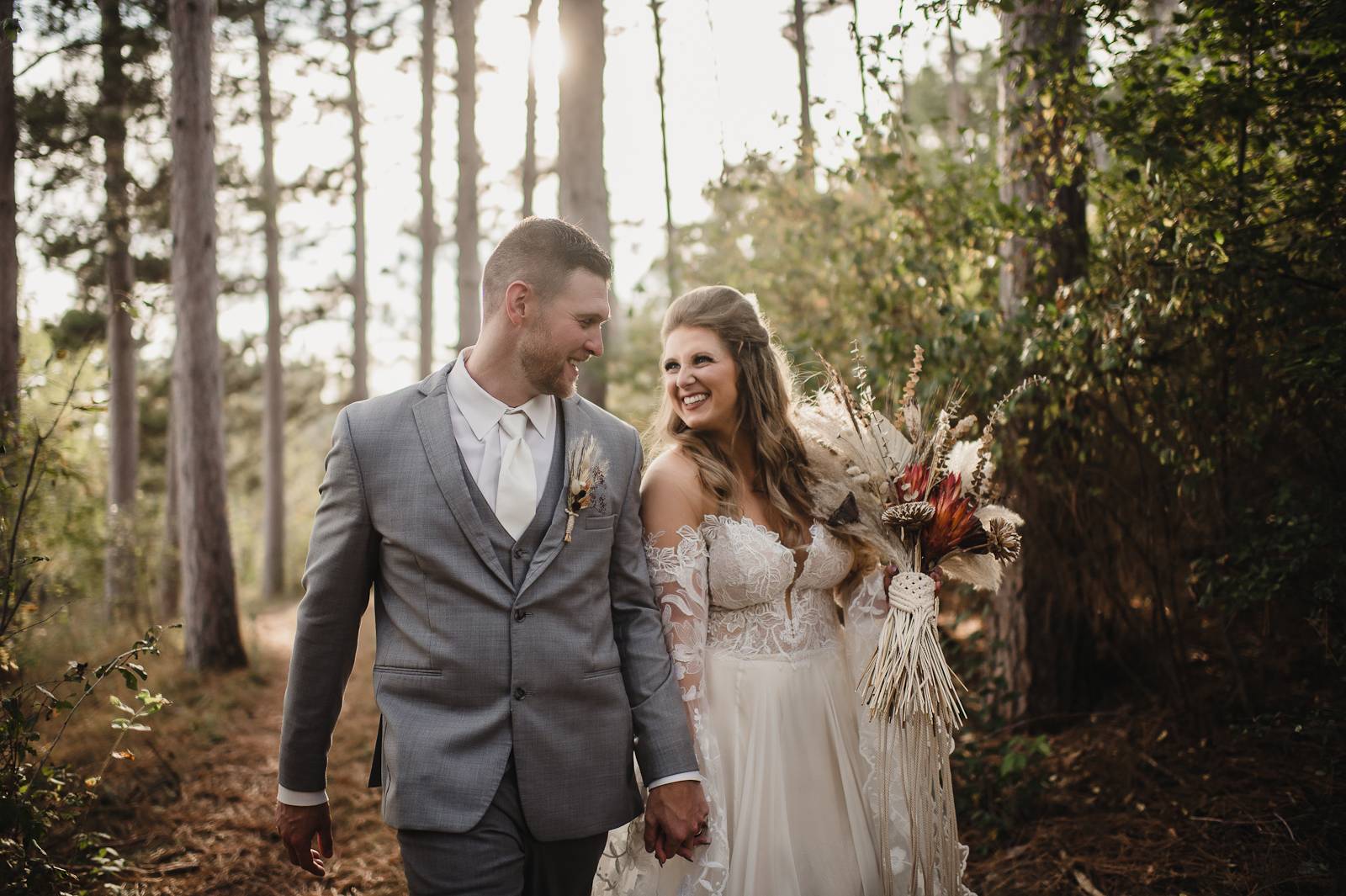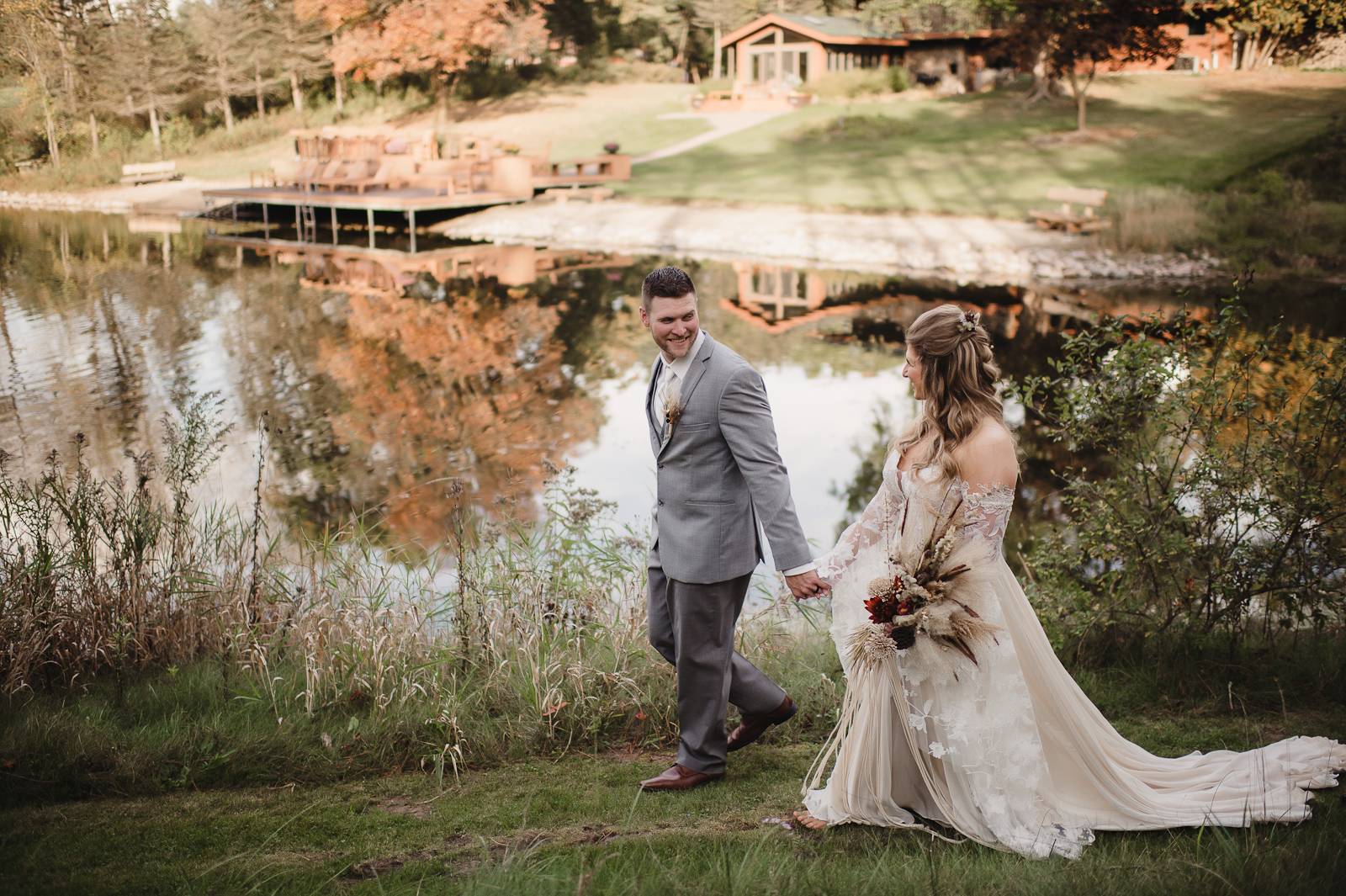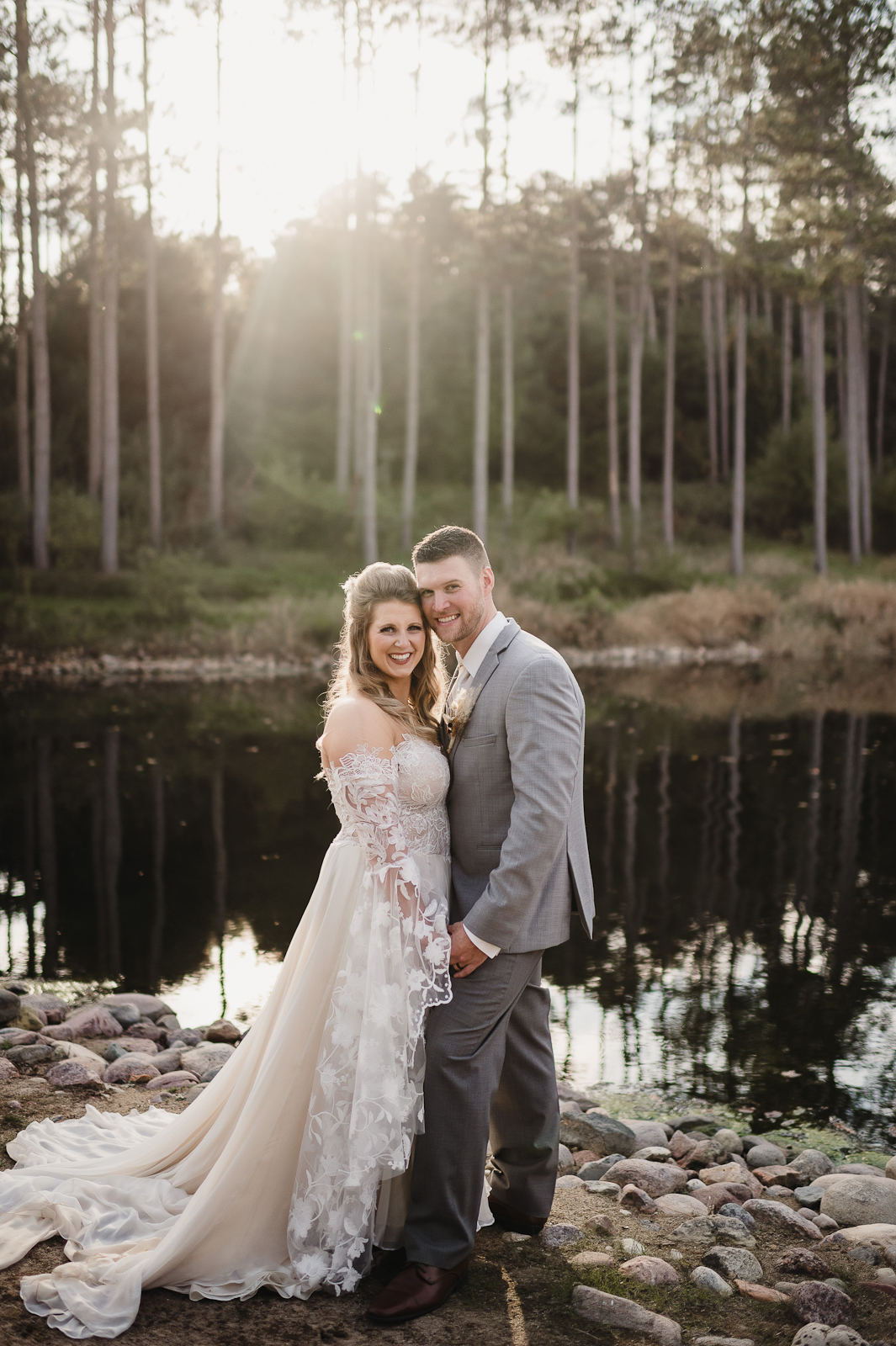 WHAT WAS YOUR FIRST DANCE SONG? HOW IS IT SIGNIFICANT TO YOU AS A COUPLE? We had such a hard time finding a song that seemed to fit us! I absolutely loved this acoustic version of "The Best" by Bailey Rushlow. Her voice gave me chills, and I could not wait to share it with Lukas when I heard it. It seemed fitting since it's about finding the best person for one another, and that's exactly what we have with each other.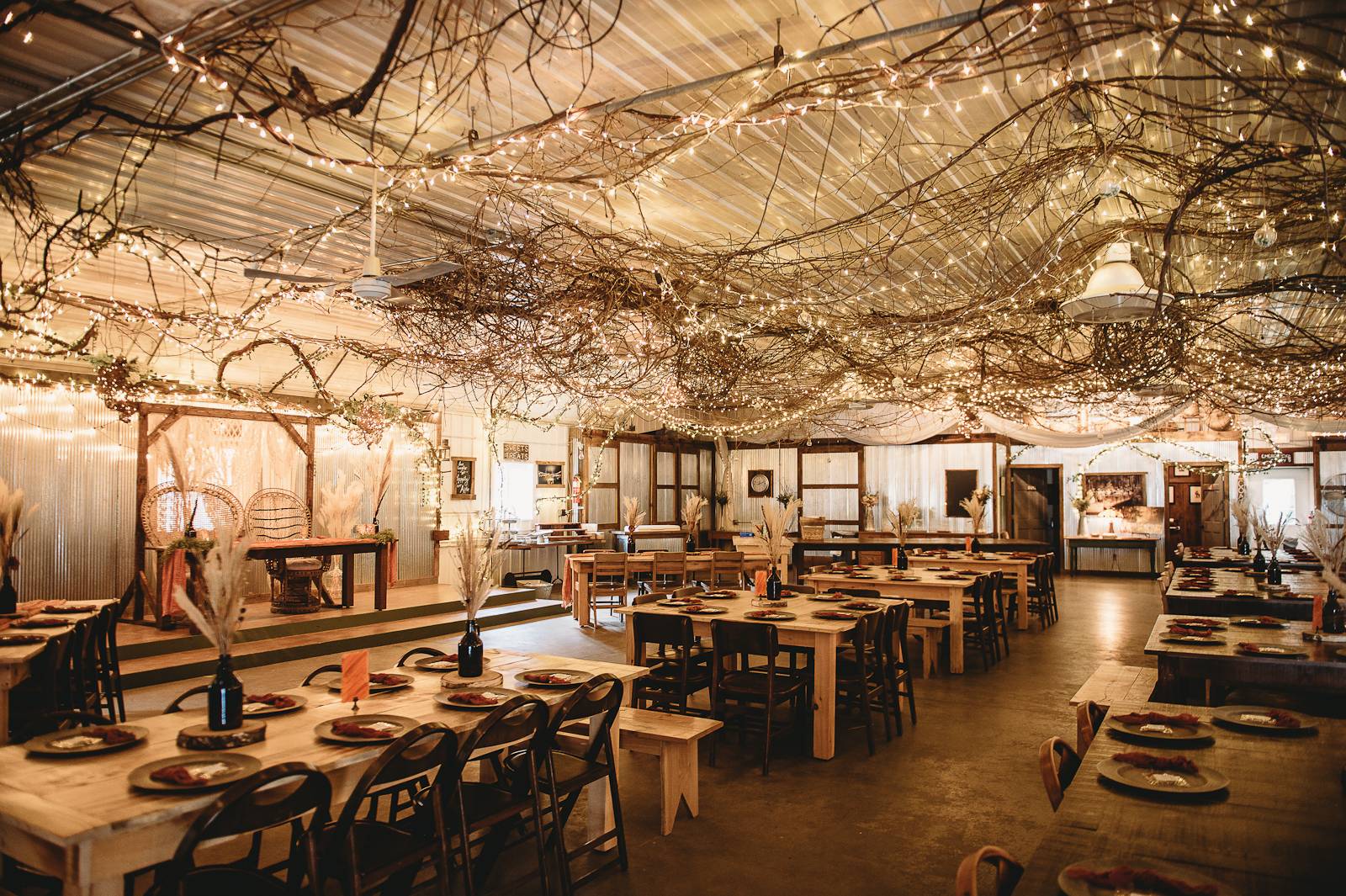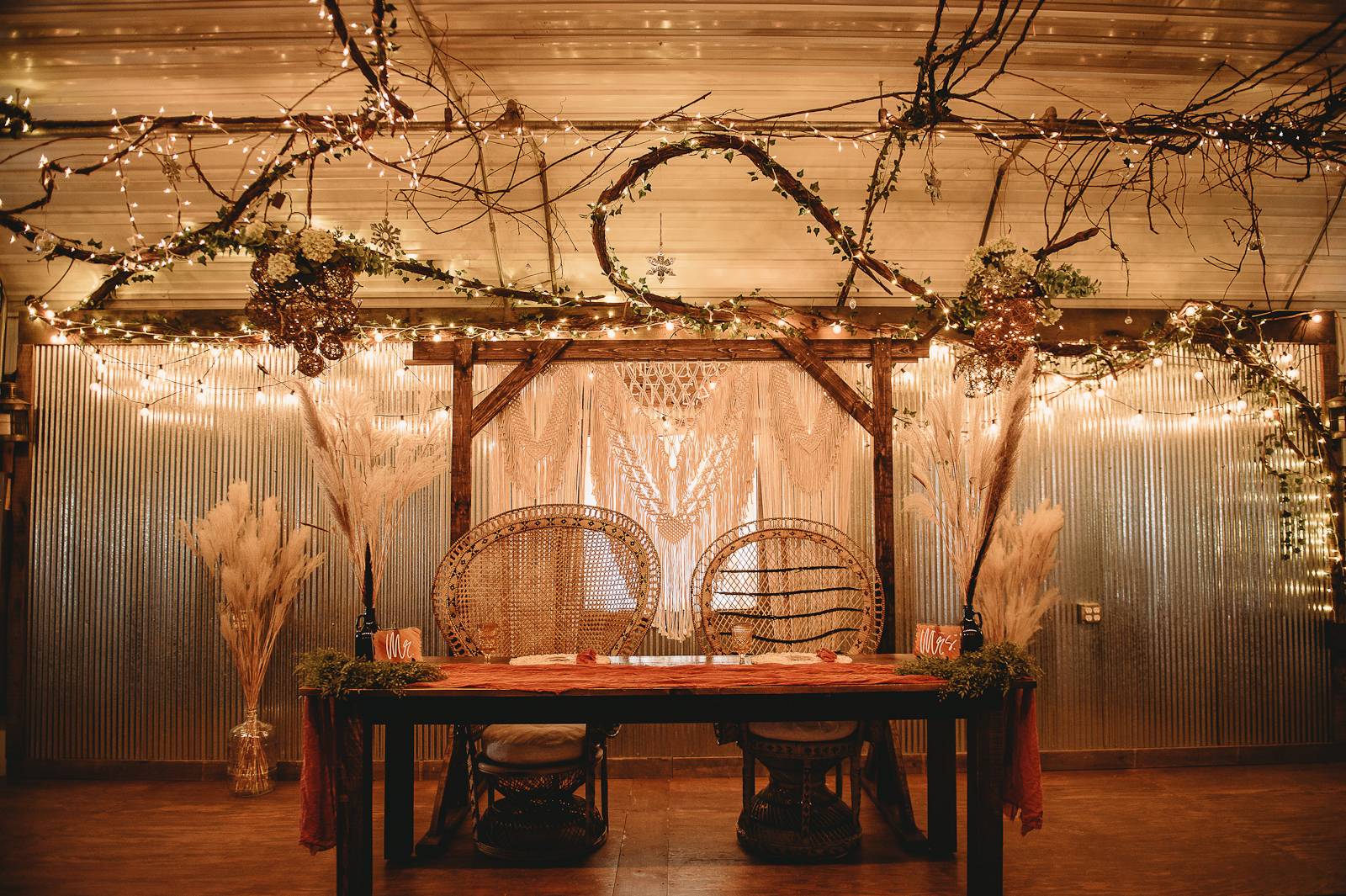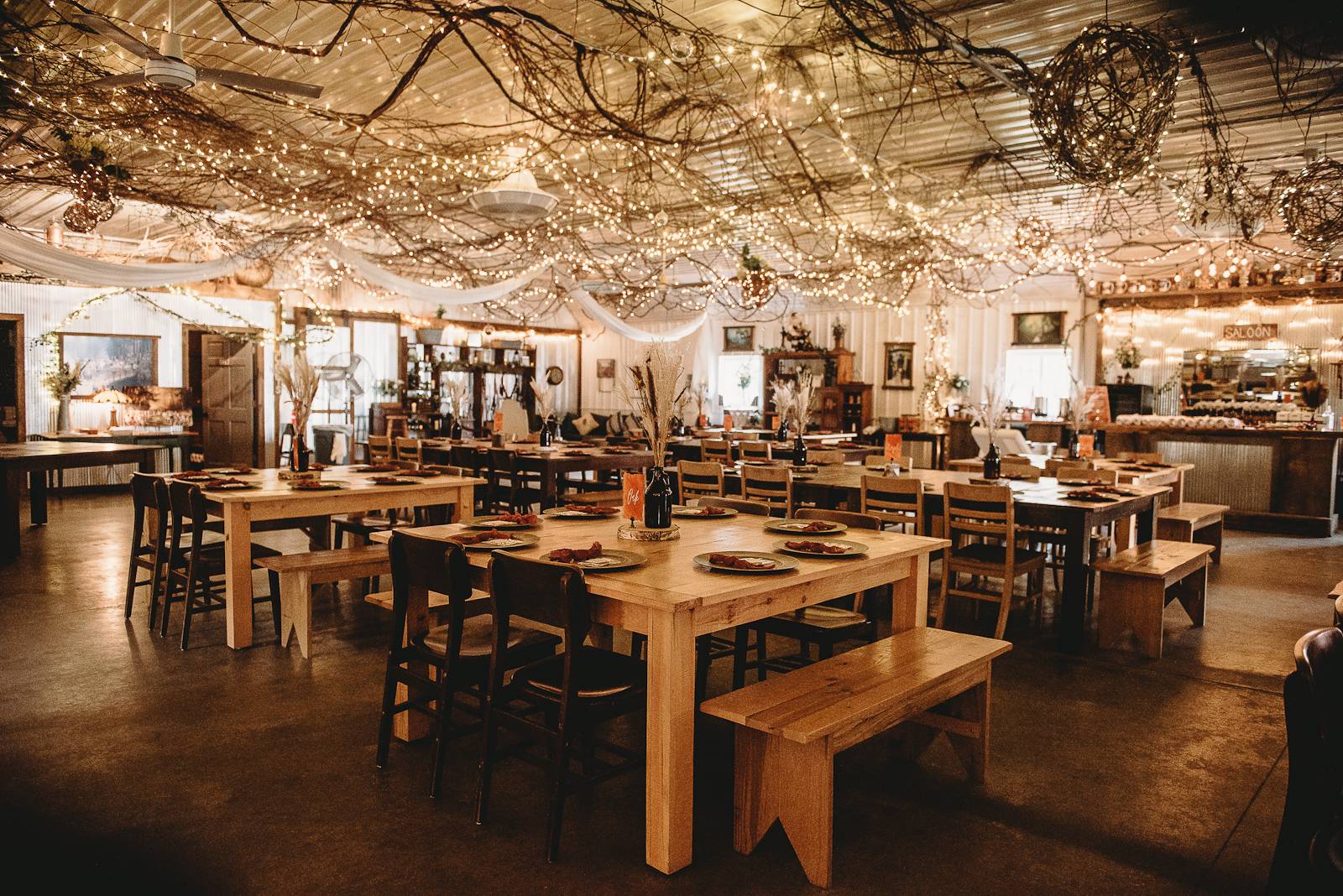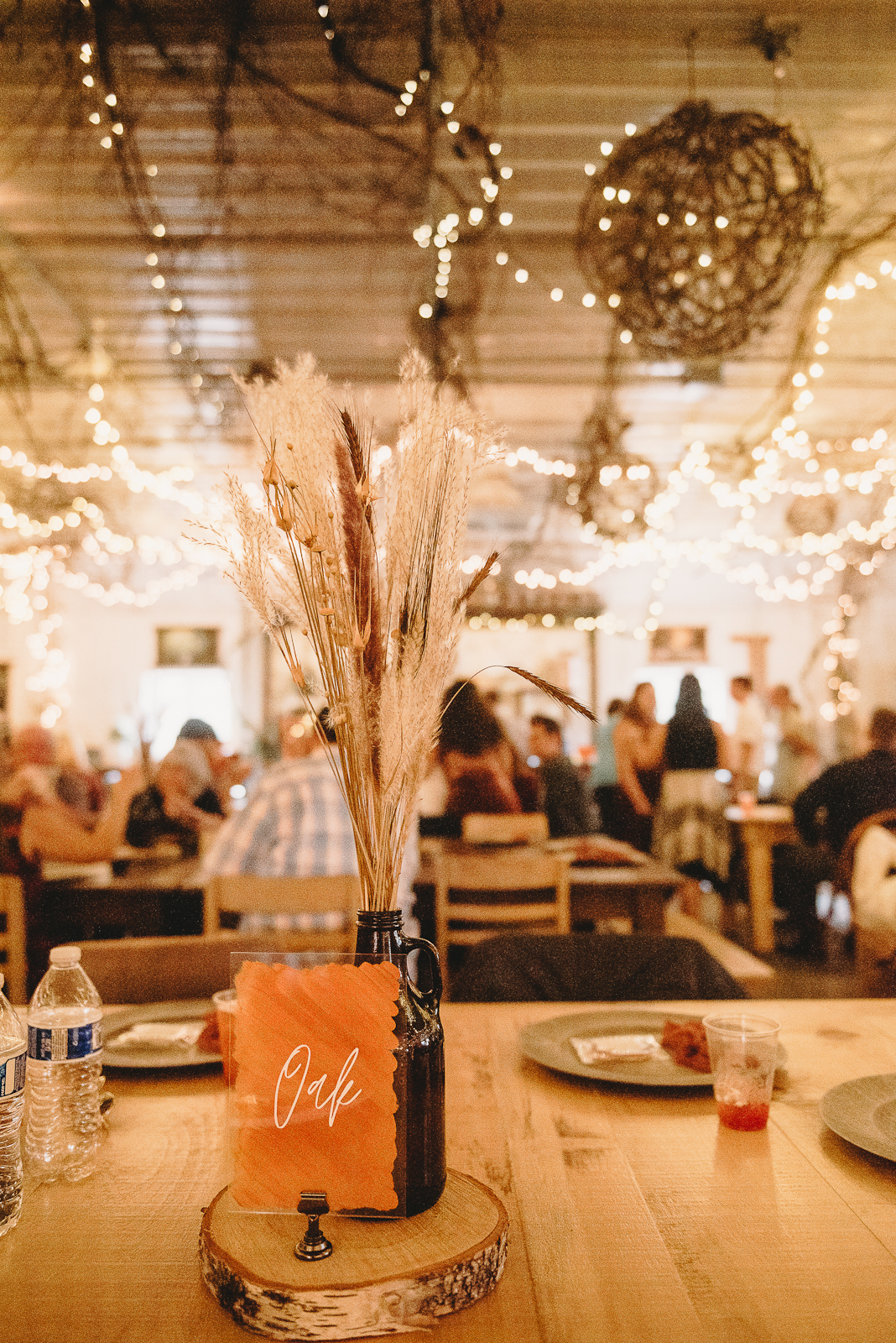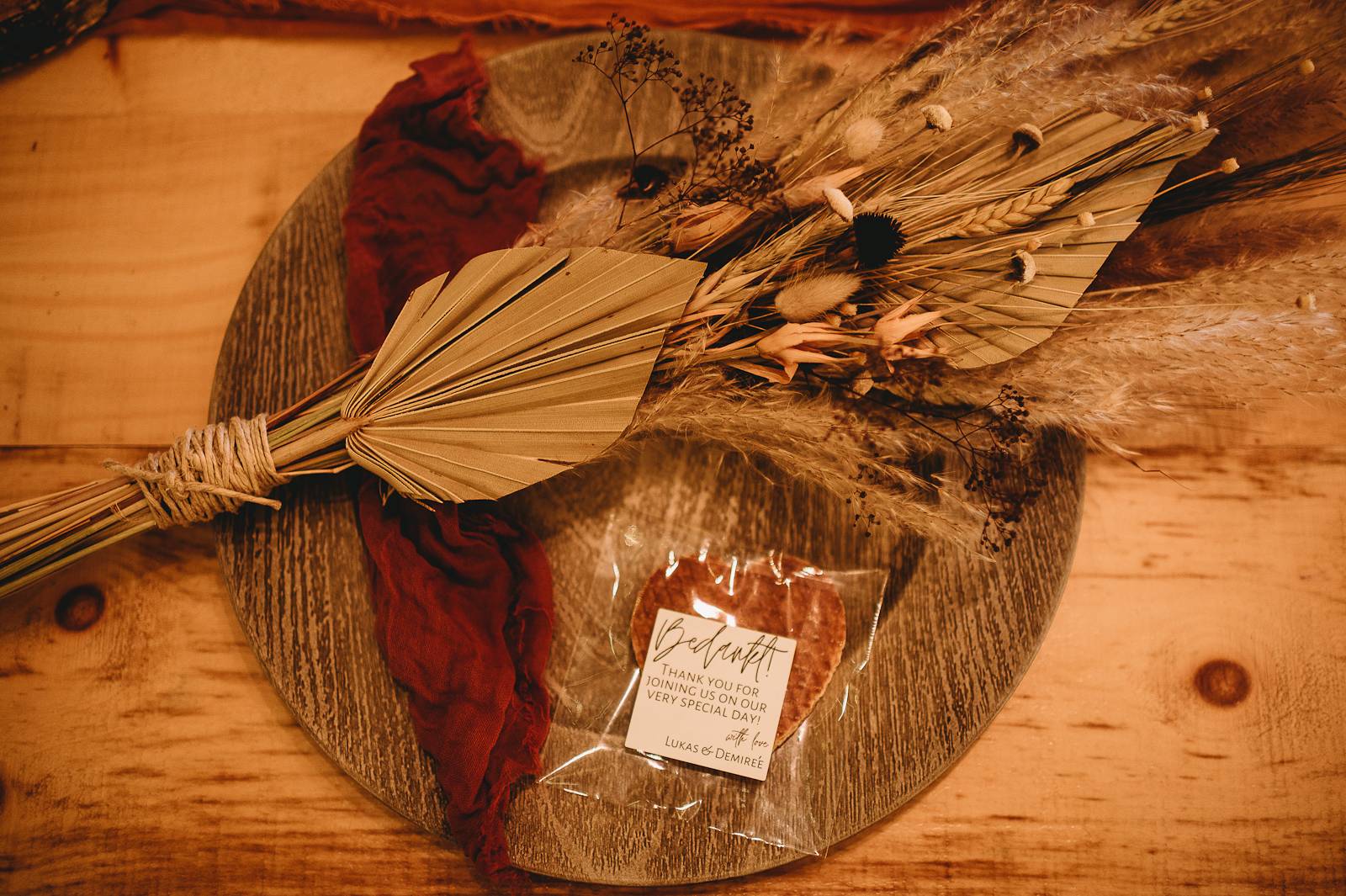 WHAT MADE YOU LAUGH? WHAT MADE YOU CRY? WHAT WERE THE MOST MEMORABLE MOMENTS?
My aunt Gigi was our officiant for the wedding. I loved having a close family member lead the ceremony who was able to bring in stories that brought both laughs and happy tears.
I highly recommend doing a first look with your dad! This was such a special moment I shared with my dad, and his reaction is something I will never forget - we both shed tears!
My mom surprised me with a ring that has been passed down now for 4 generations. This was such a touching moment between us.
There were both tears and laughs during the father-daughter dance and the mother-son dance. I sat in the crowd watching Lukas dance with his mom instead of at our sweetheart table so that I could enjoy watching them together and take it all in.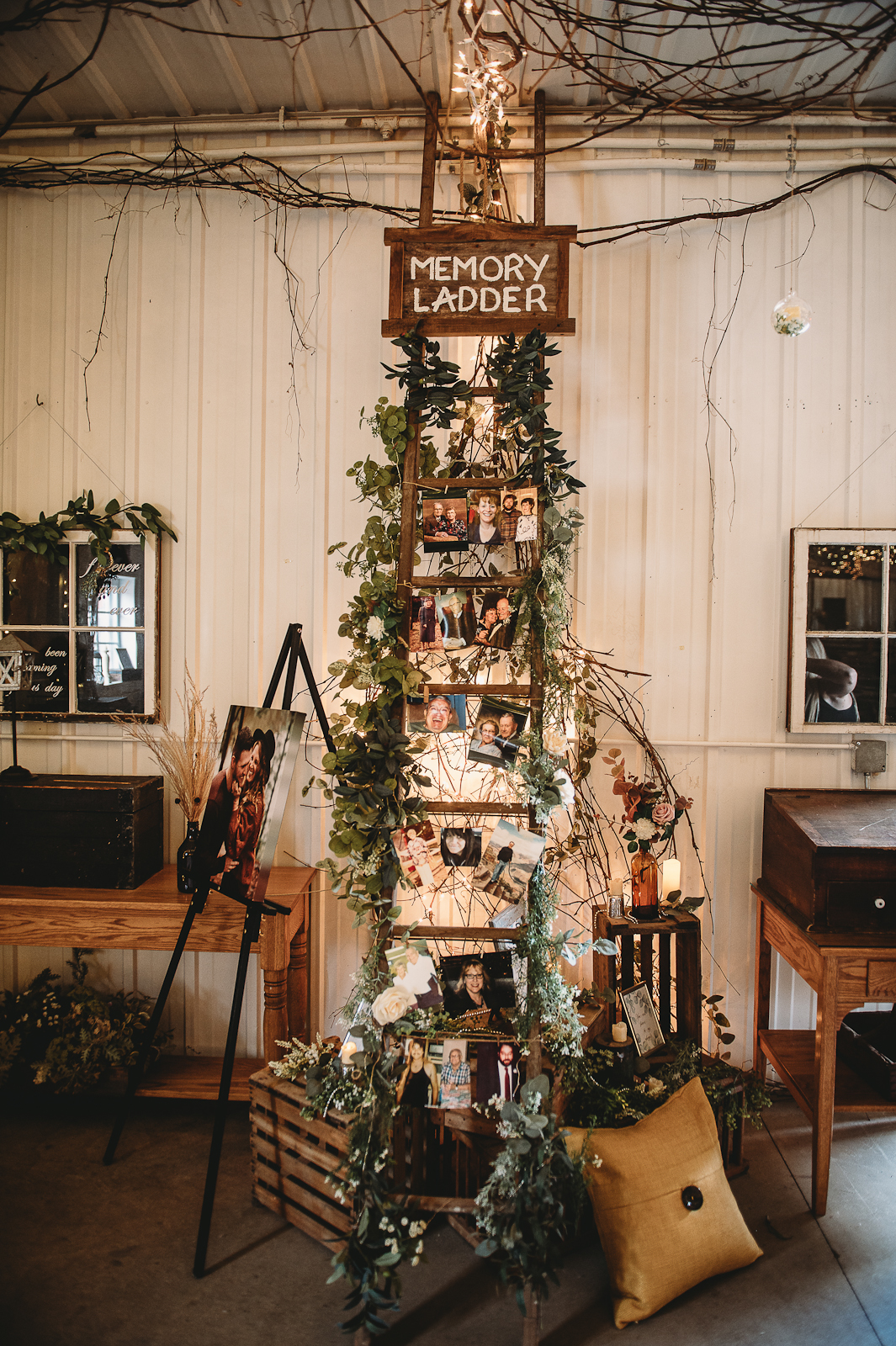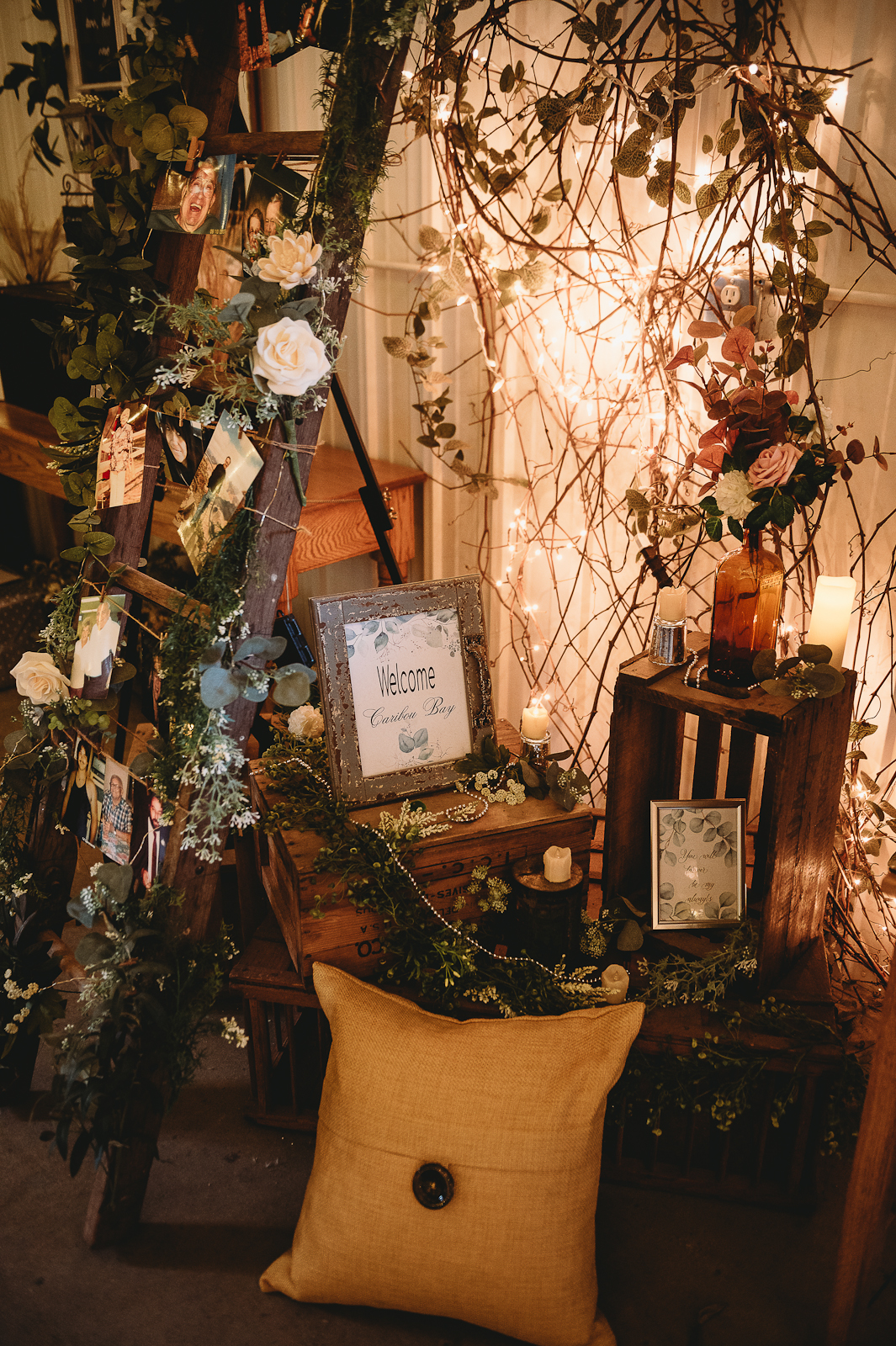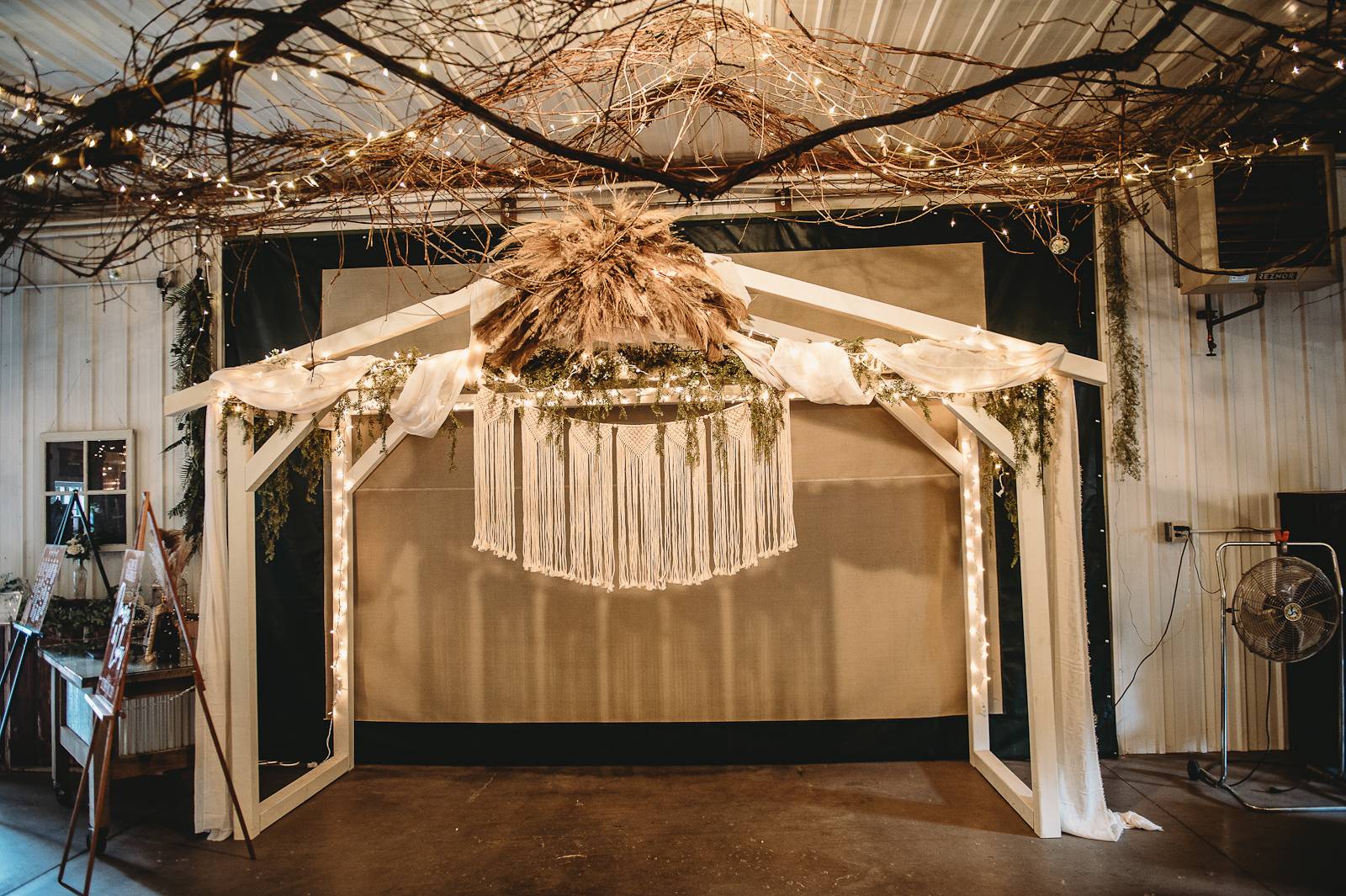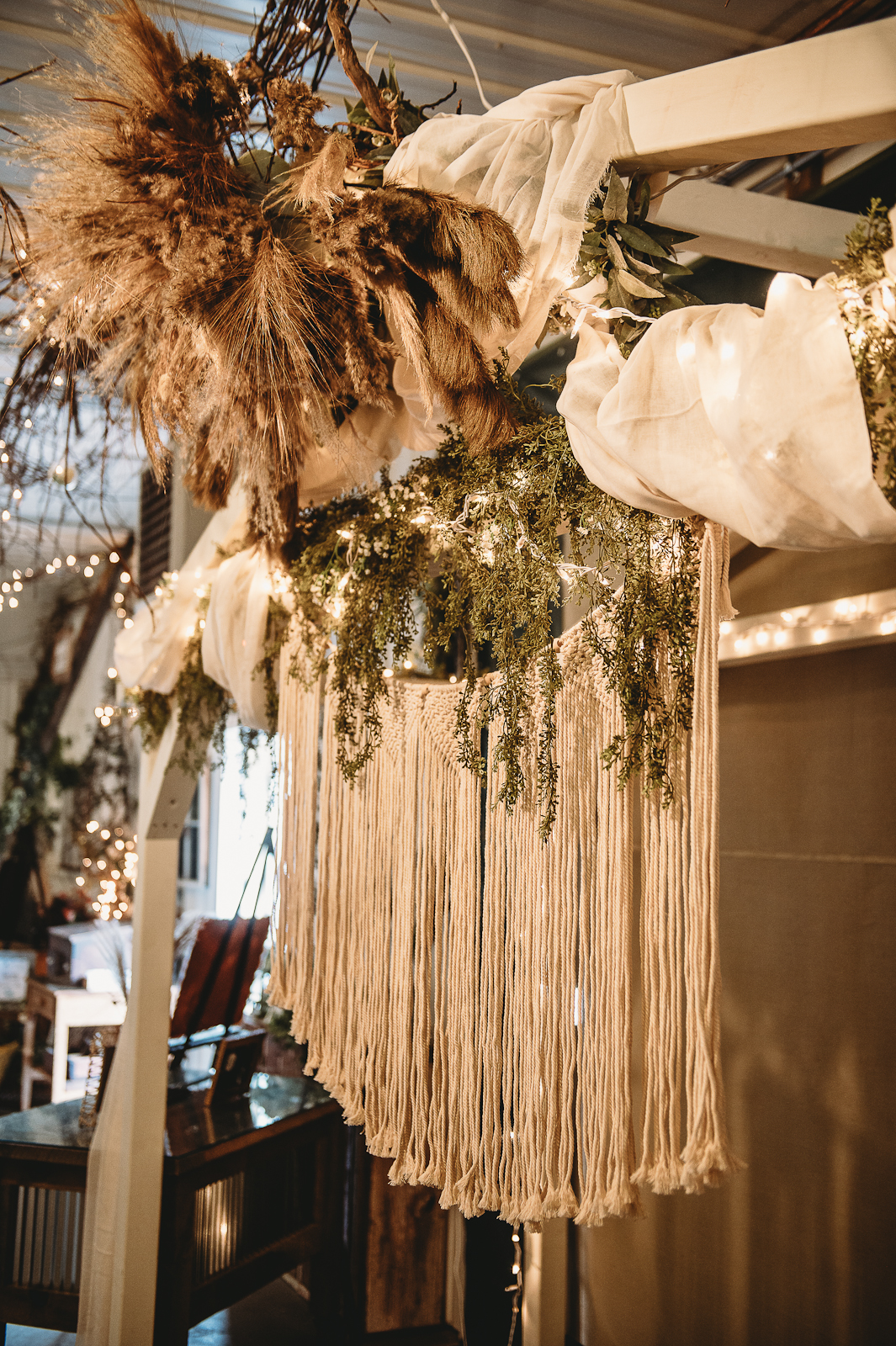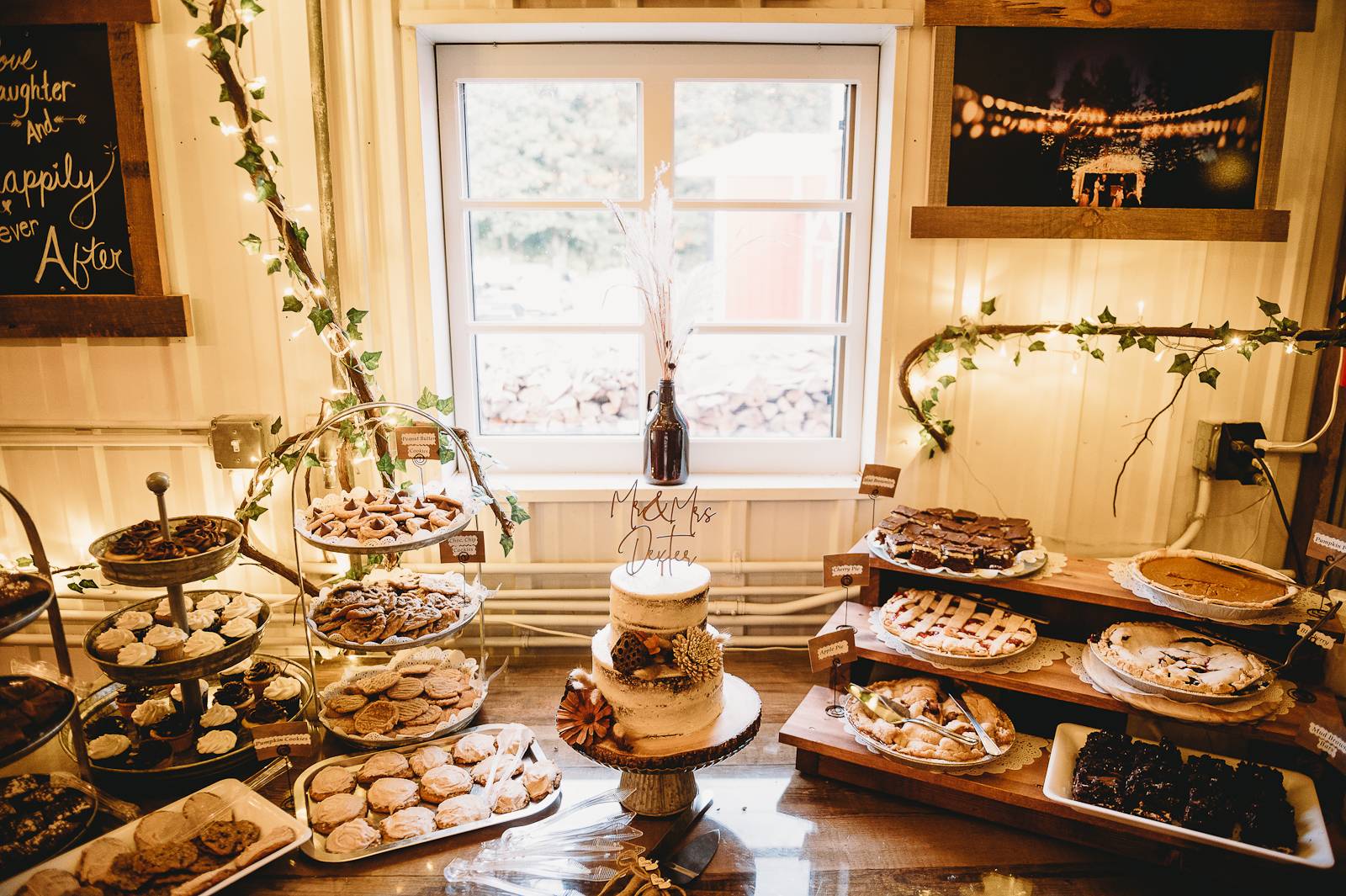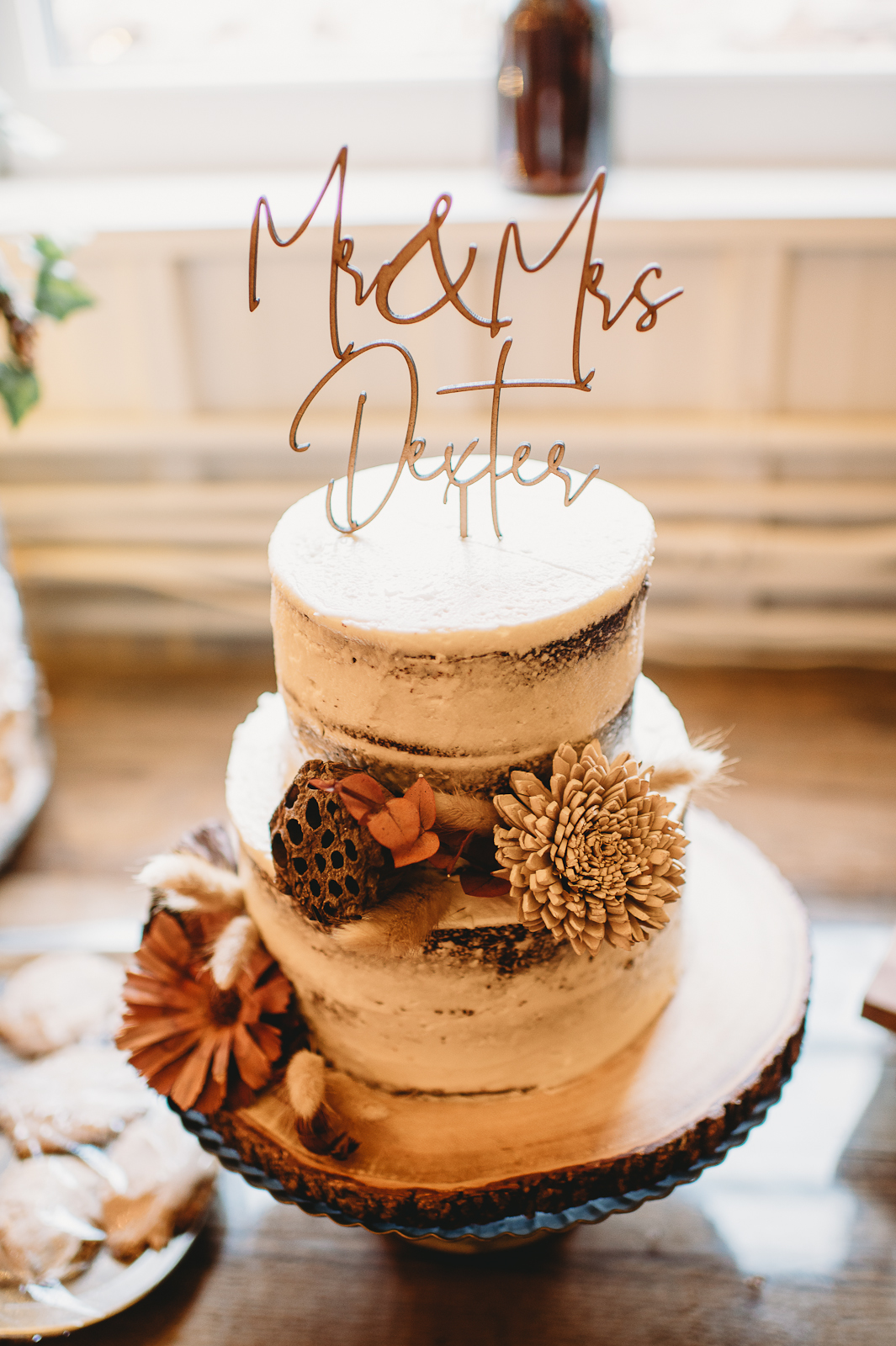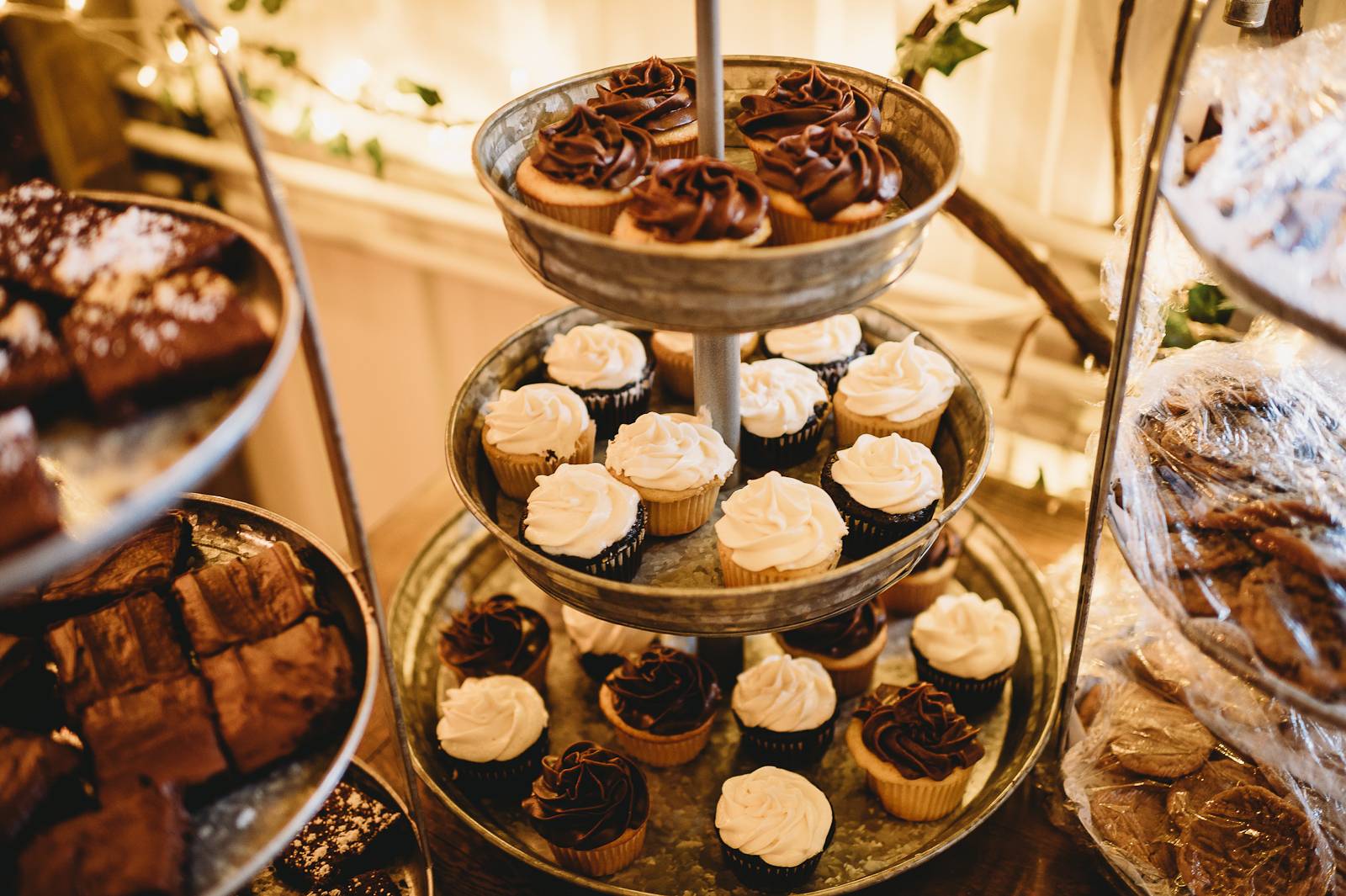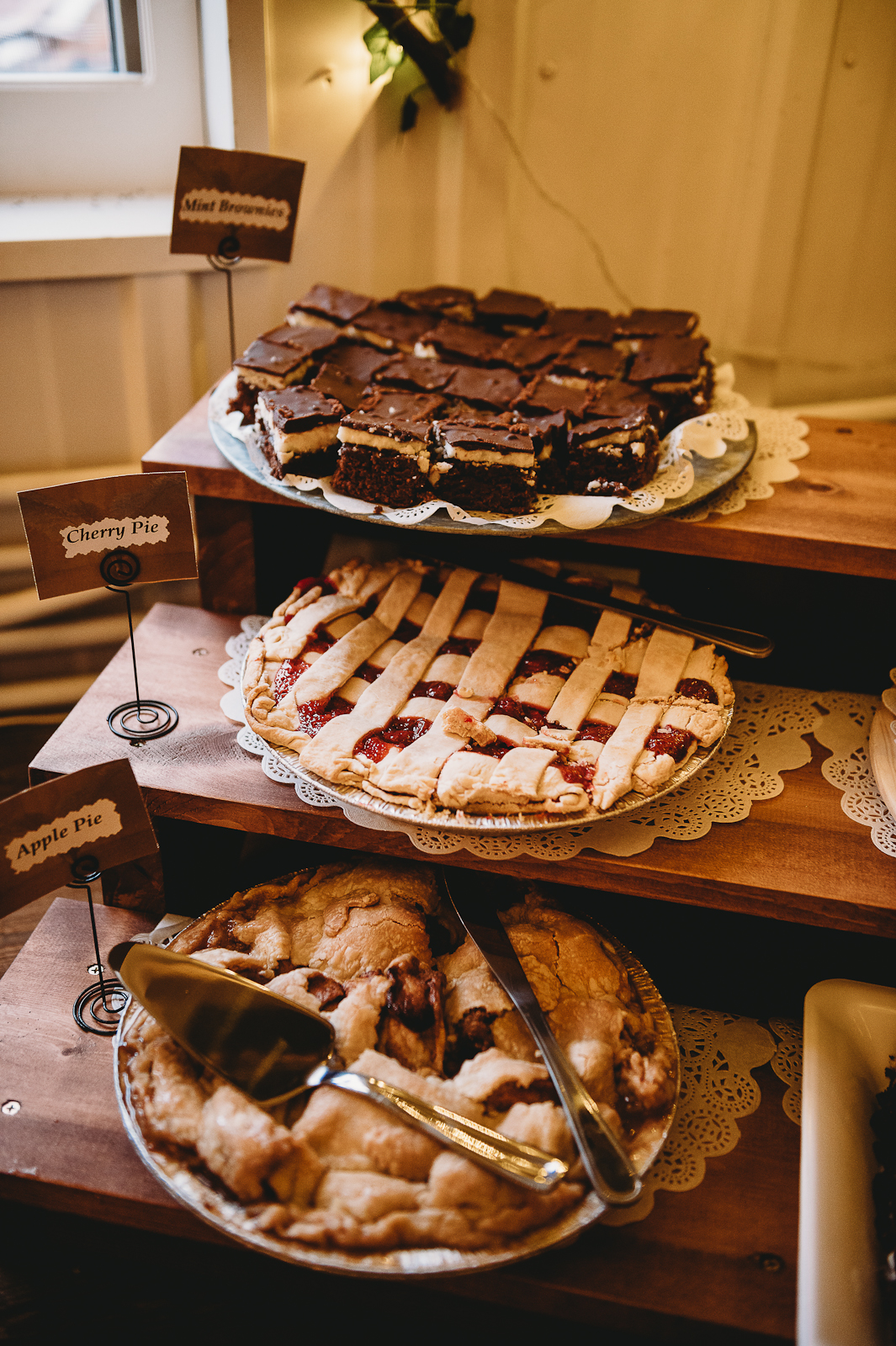 IS THERE ANY ADVICE YOU'D GIVE TO OTHER COUPLES PLANNING THEIR WEDDING? Try not to compare yourself to what others are doing! Every wedding is uniquely different, so don't forget to incorporate personal touches. I loved having our ceremony and reception at the same location, which made it less stressful. I wanted to start my wedding earlier in the evening so that we weren't rushing through photos, so we started our wedding at 3 pm, and even then, I feel like the day went so fast!
WHAT PLANNING TOOLS HELPED YOU THE MOST? I joined a couple of wedding groups on Facebook for brides getting married in 2021, and this helped me so much with planning! I also joined groups specifically for my boho theme so that I could get ideas.