Today's wintery, real Madison wedding captured by Zelora Images Photography, is one full of romance and personal touches. Ann and Matt's classy and fun reception at the Madison Club incorporated a live band, ice cream, and delicious catering provided by Madison Club, themselves. Their big day prioritized family, friends, romance, and a whole lot of fun. With Ann's gorgeous gown from Vera's House of Bridals and transportation provided by Presidential Limousine Service, read more about this special day and our beautiful couple below.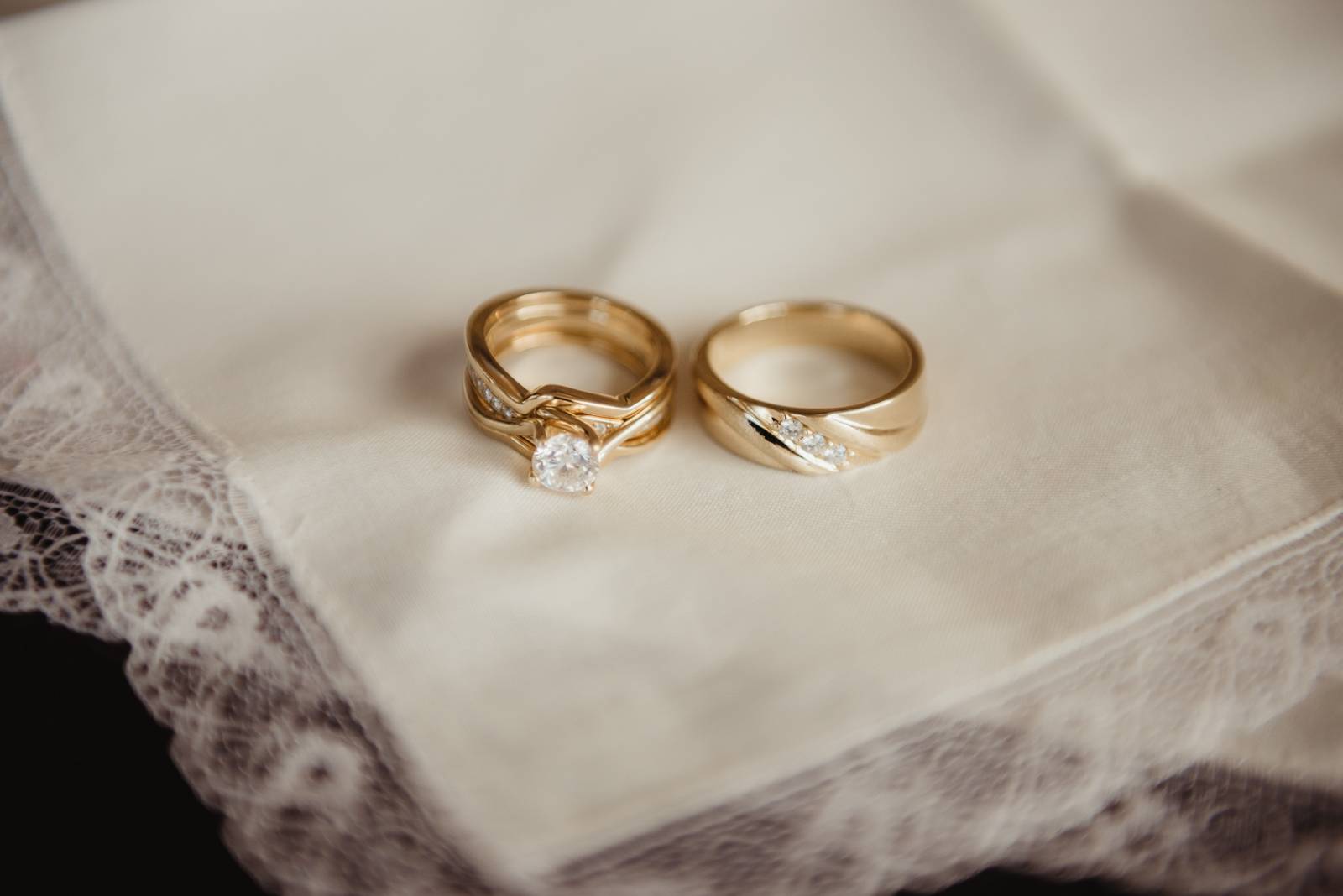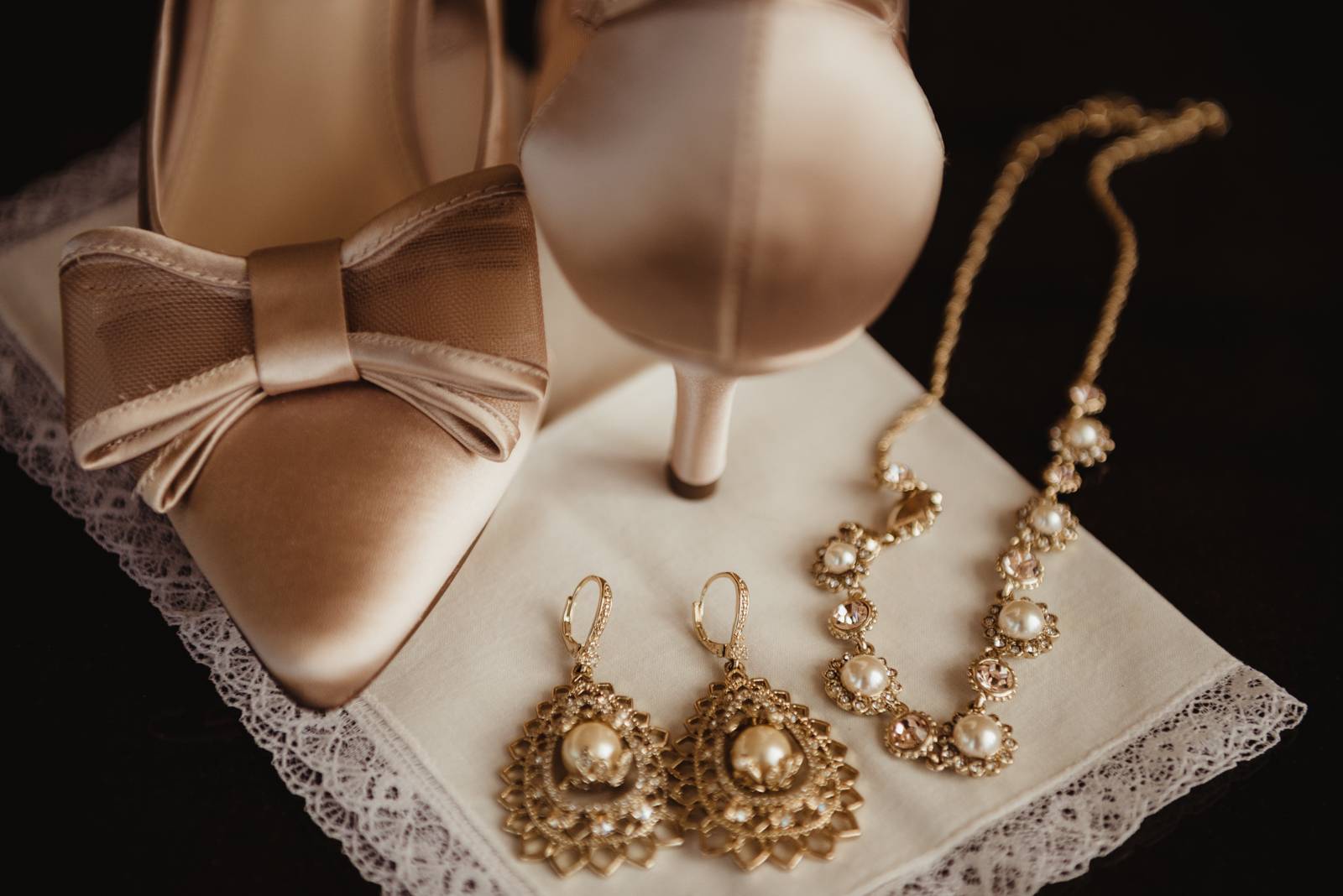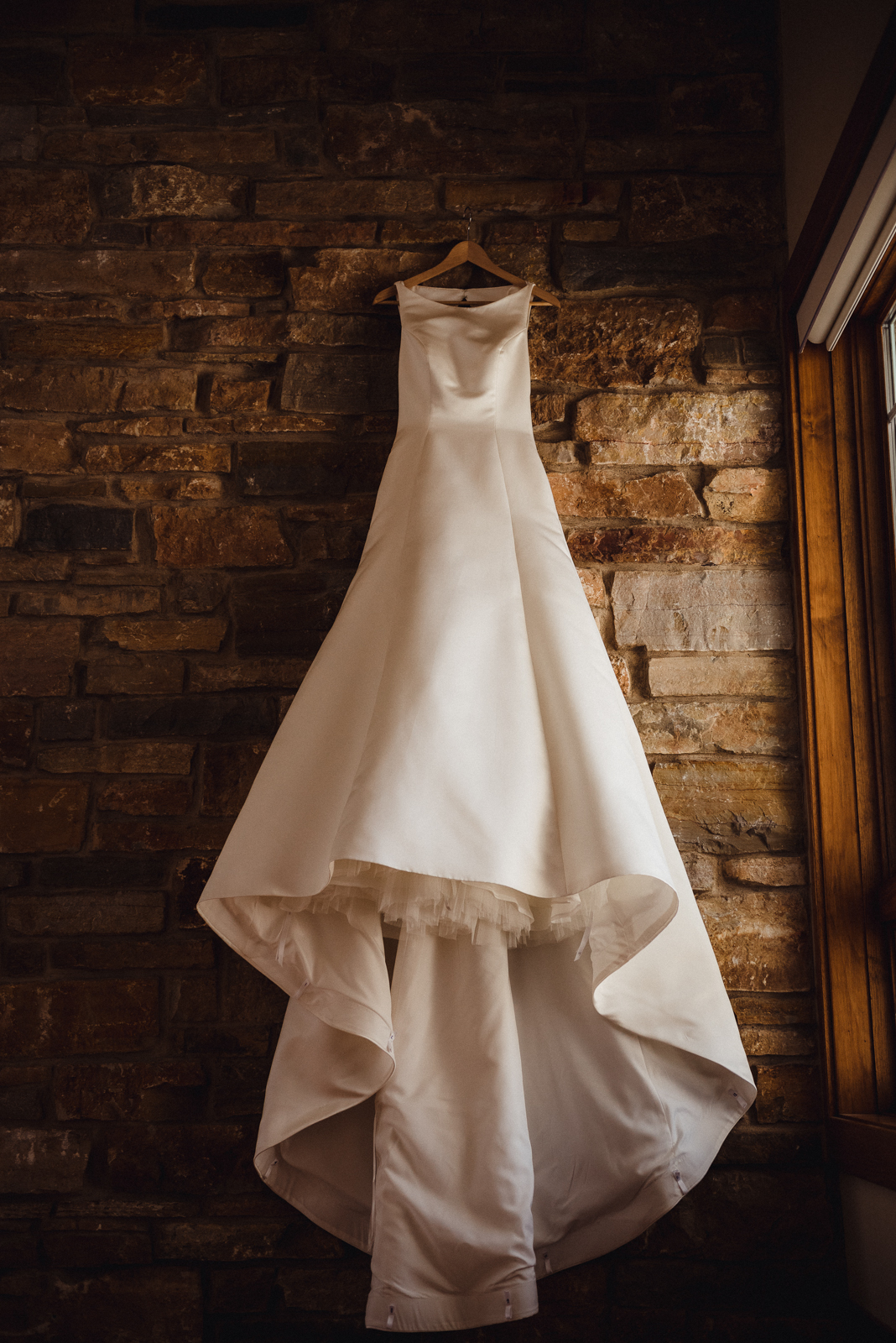 WEDDING DATE: 12/8/2018
HOW DID YOU MEET? We met two weeks into our freshman year at Carthage College. A friend I knew from high school introduced my friend group to the friend group Matt was a part of. The first time we hung out was a movie night in a friend's dorm laughing over bad jokes and funny YouTube videos.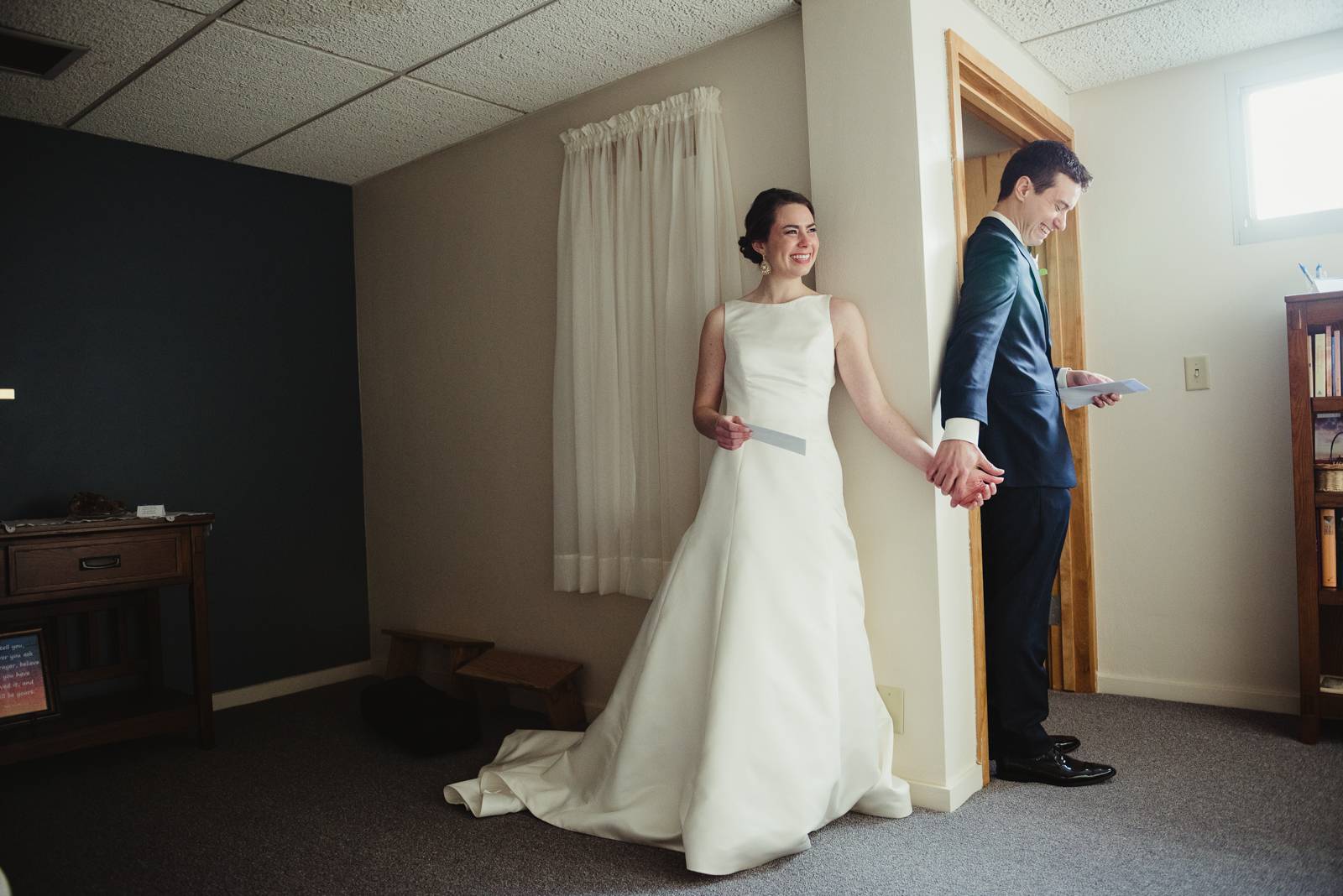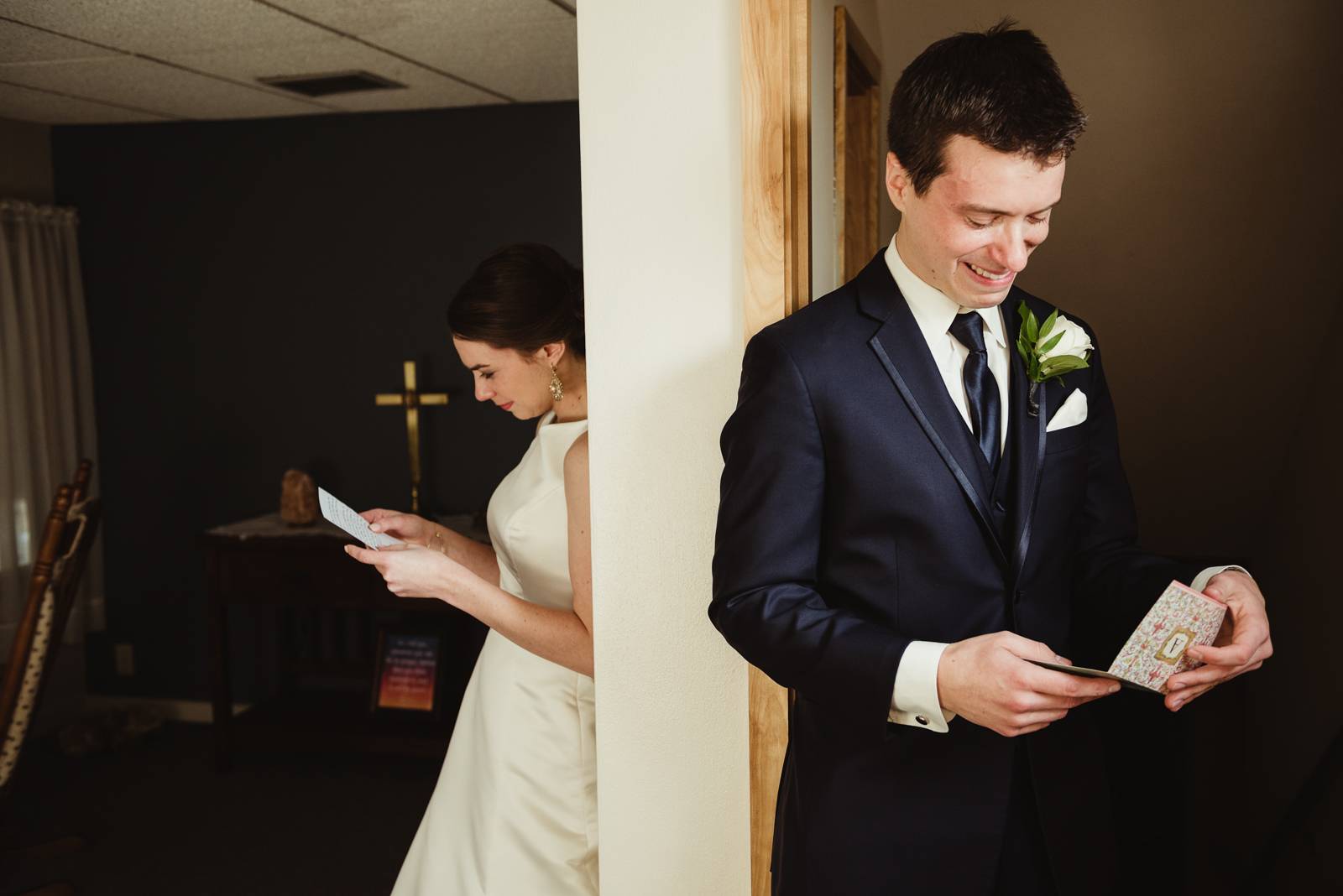 HOW DID YOU KNOW YOU HAD FOUND "THE ONE"? For me, I always knew that Matt was special and different compared to my other guy friends, even before we started dating. I remember telling my parents I had met the nicest boy in the whole world. As we dated, spending time with him was always an adventure, and eventually, he became my best friend. Our life goals were aligned, and I didn't want to walk through life without him.
From Matt's side, he said, "I was on vacation with my parents a few years into dating Ann. My parents asked me if we would get married, and I replied: "I'm not sure." My dad rephrased the question to "Could you image living life without her?" And that put it into a different perspective for me where I realized that not being with Ann was not an option.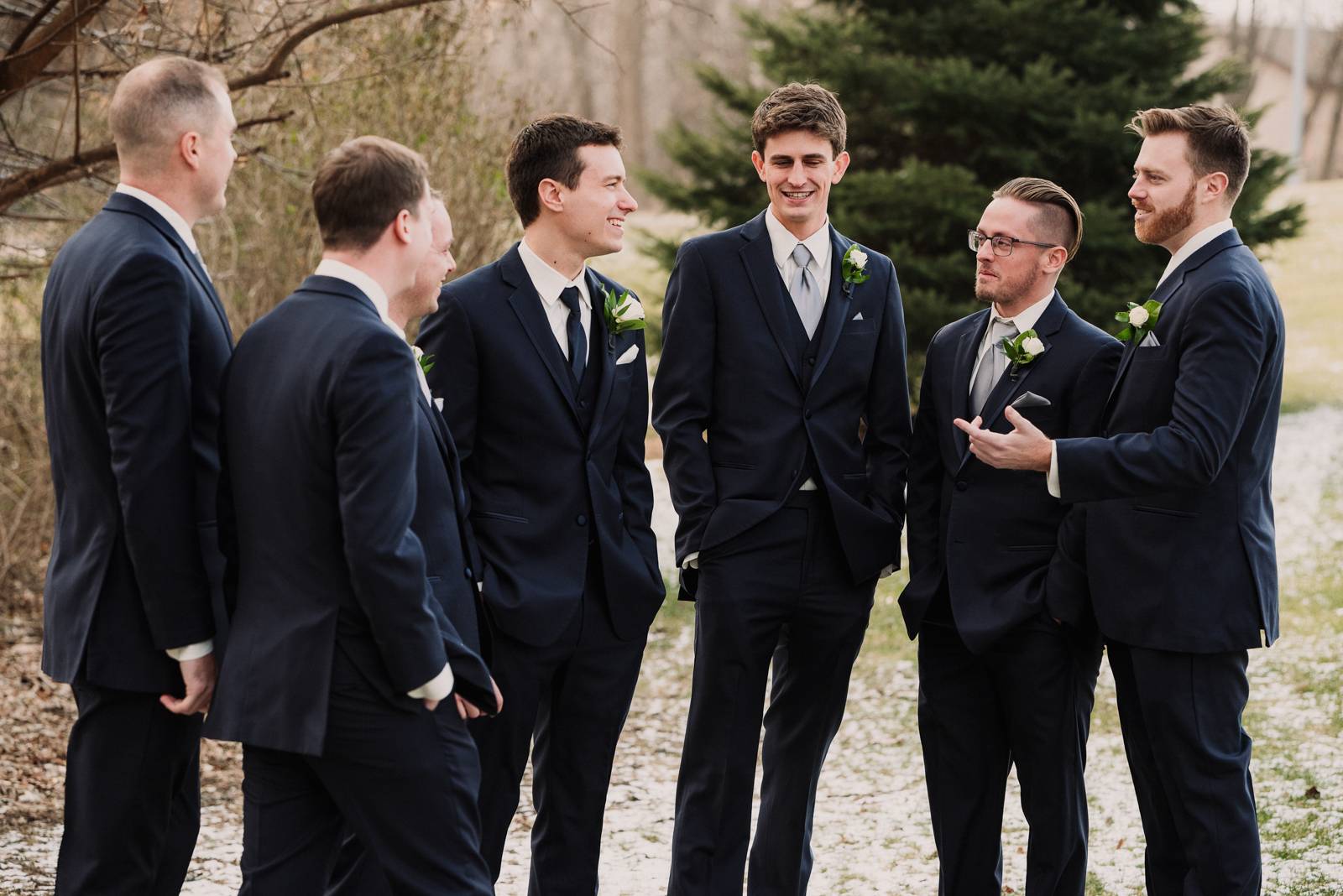 TELL US ABOUT YOUR PROPOSAL: Matt says, "One day after work, Ann and I headed to the State Capitol building for what she thought was a volunteer event. When we arrived, the organizer (who I had already worked everything out with) told us we got our time wrong and arrived too early. We were about to leave and come back when he said, "Well, if you have some time to kill, I might be able to get you on a private tour of the Capitol." We passed because we had been on a tour before, but he replied, "Most people have...but have you ever been on the special tour that takes you to the very top?" Even though Ann is afraid of heights, her curiosity got the best of her, and she agreed to go with me to the top of the Capitol building. With the best view in Madison, I got down on one knee and asked her to marry me.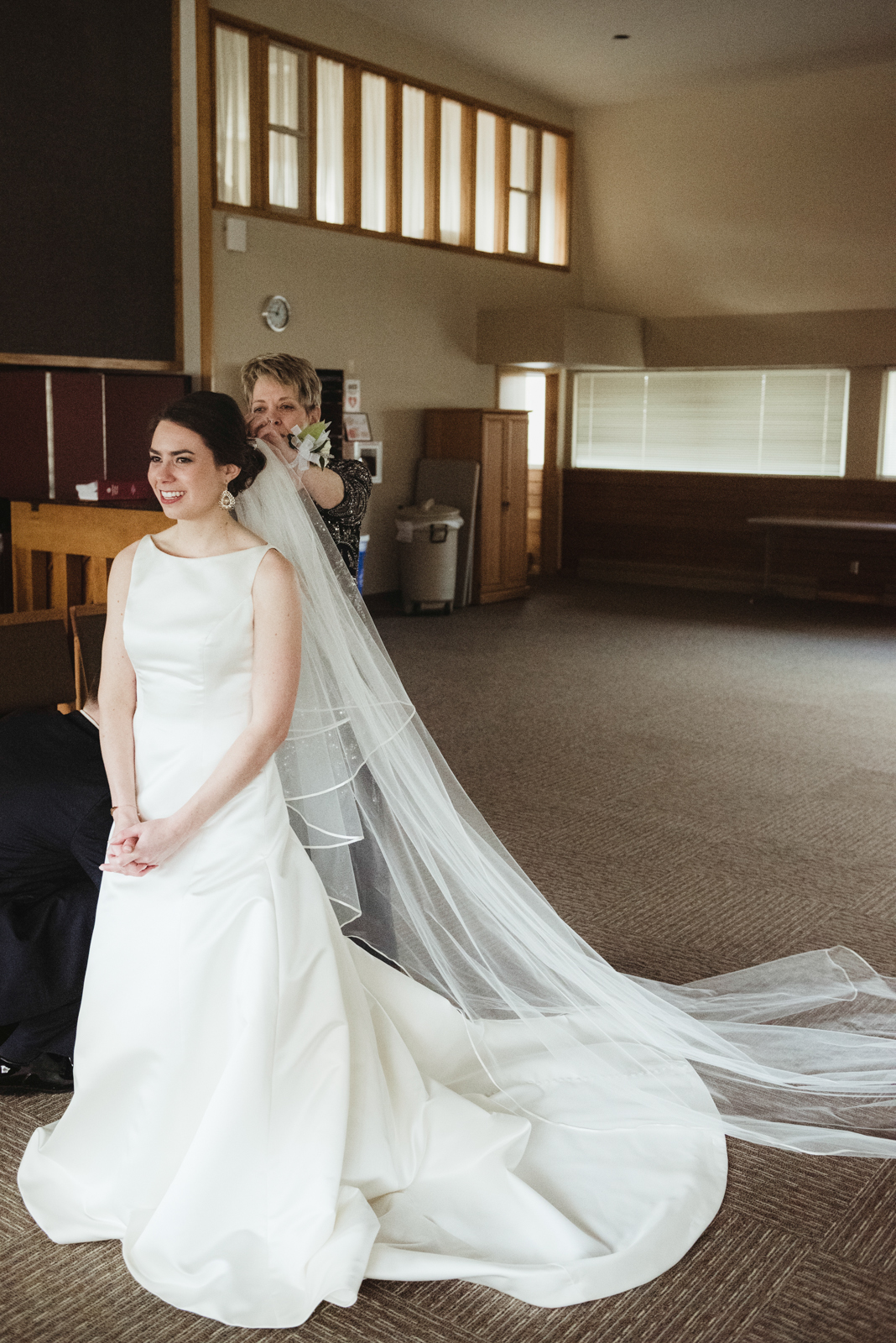 TELL US ABOUT FINDING YOUR DRESS: My mom and I are seamstresses, so we originally went dress shopping to look at styles and were thinking about sewing my dress after I found a look I liked. The more I tried on dresses, the less I wanted to sew my own (and see all the imperfections), and the more I wanted to buy one. We stopped at many bridal boutiques, including Brandi's Bridal, Brides N'Bells, David's Bridal, and Vera's House of Bridals. While at Vera's, I found a dress that I really liked but wasn't ready to commit. The sales lady was so patient as I switched between dresses second-guessing myself and asked me great guiding questions to envision myself in each dress on my big day. I went home that night without buying a dress, but thinking a lot about the ones I had tried on. After a good night's sleep, I realized that I had found the dress and scheduled my appointment to say yes to the dress!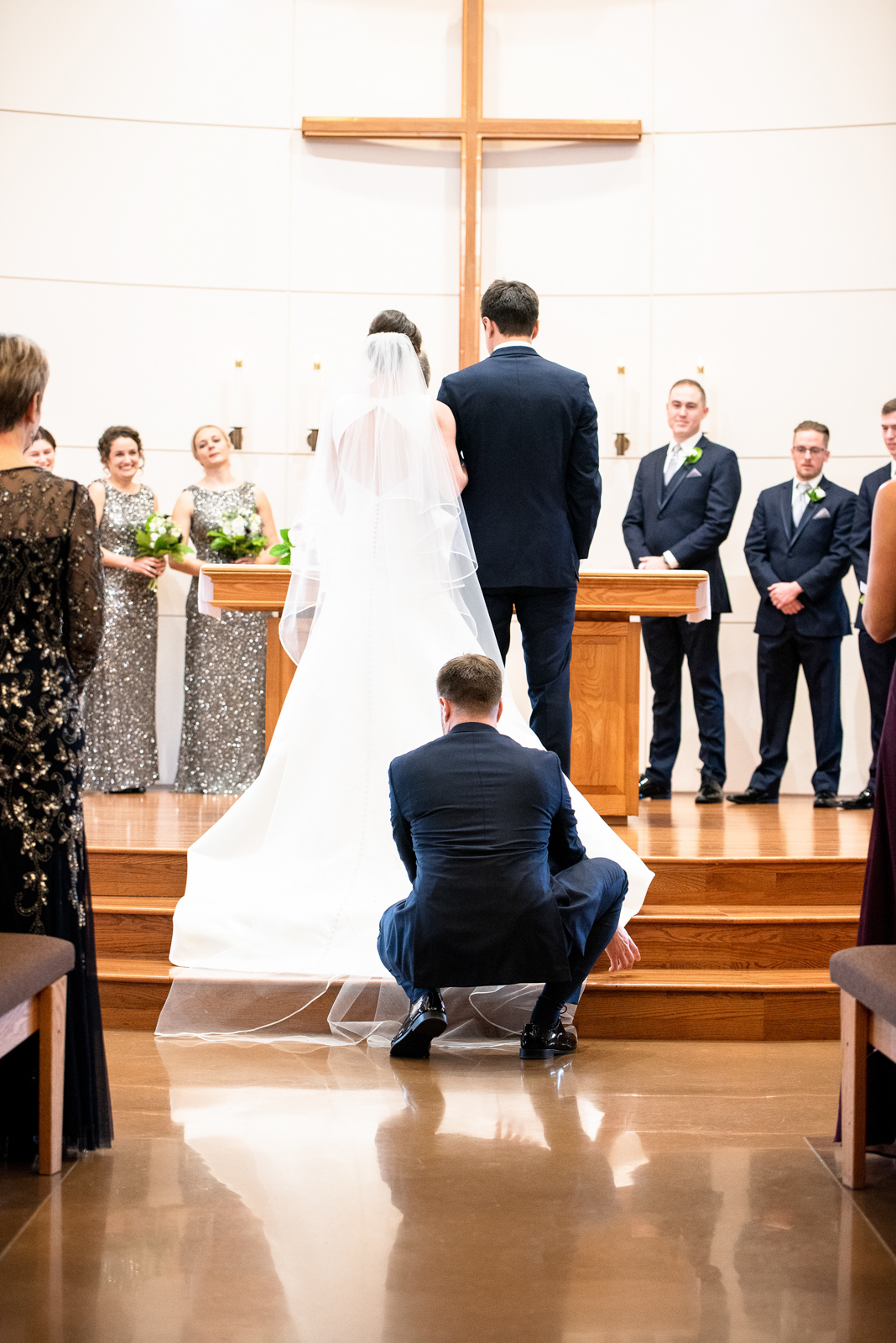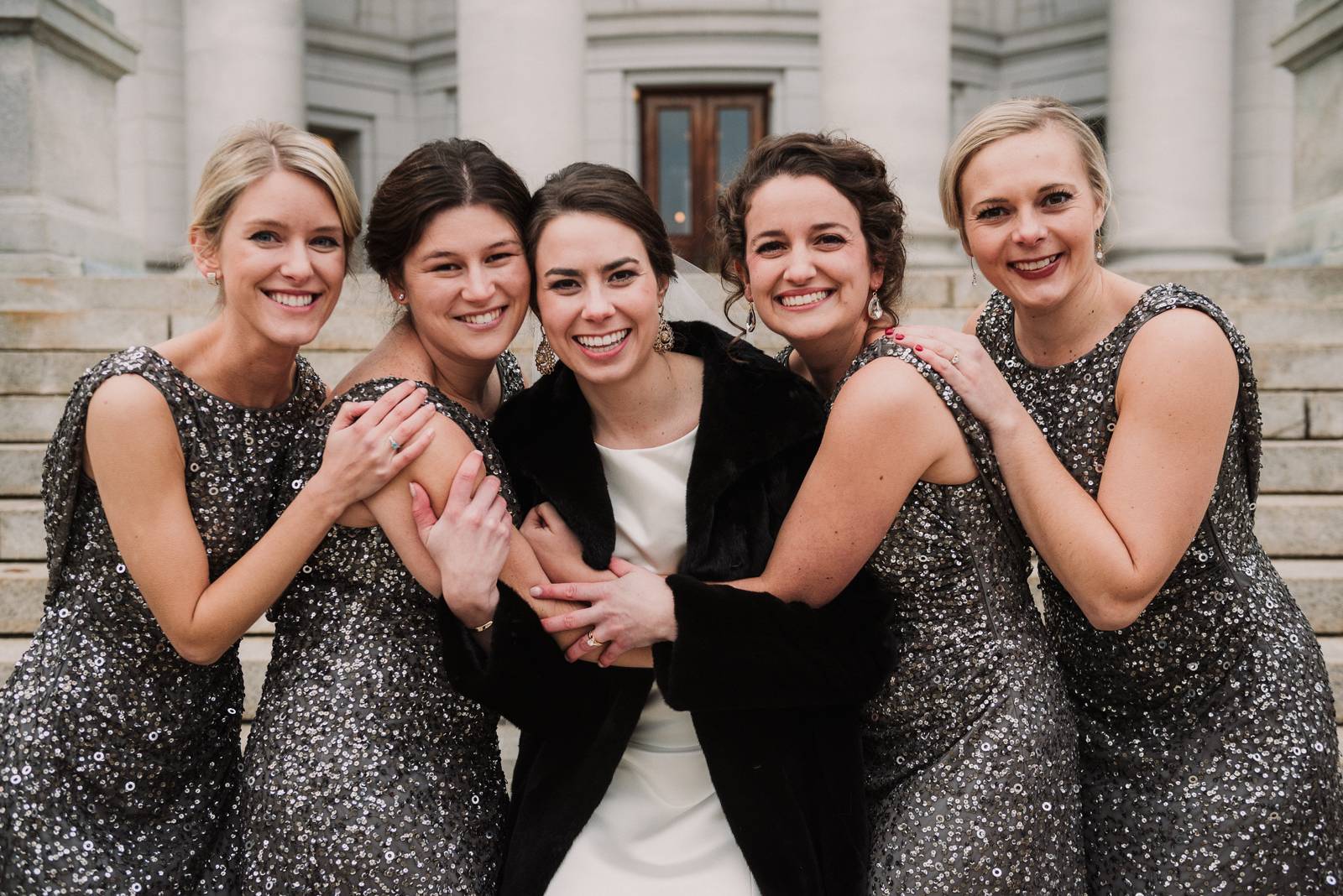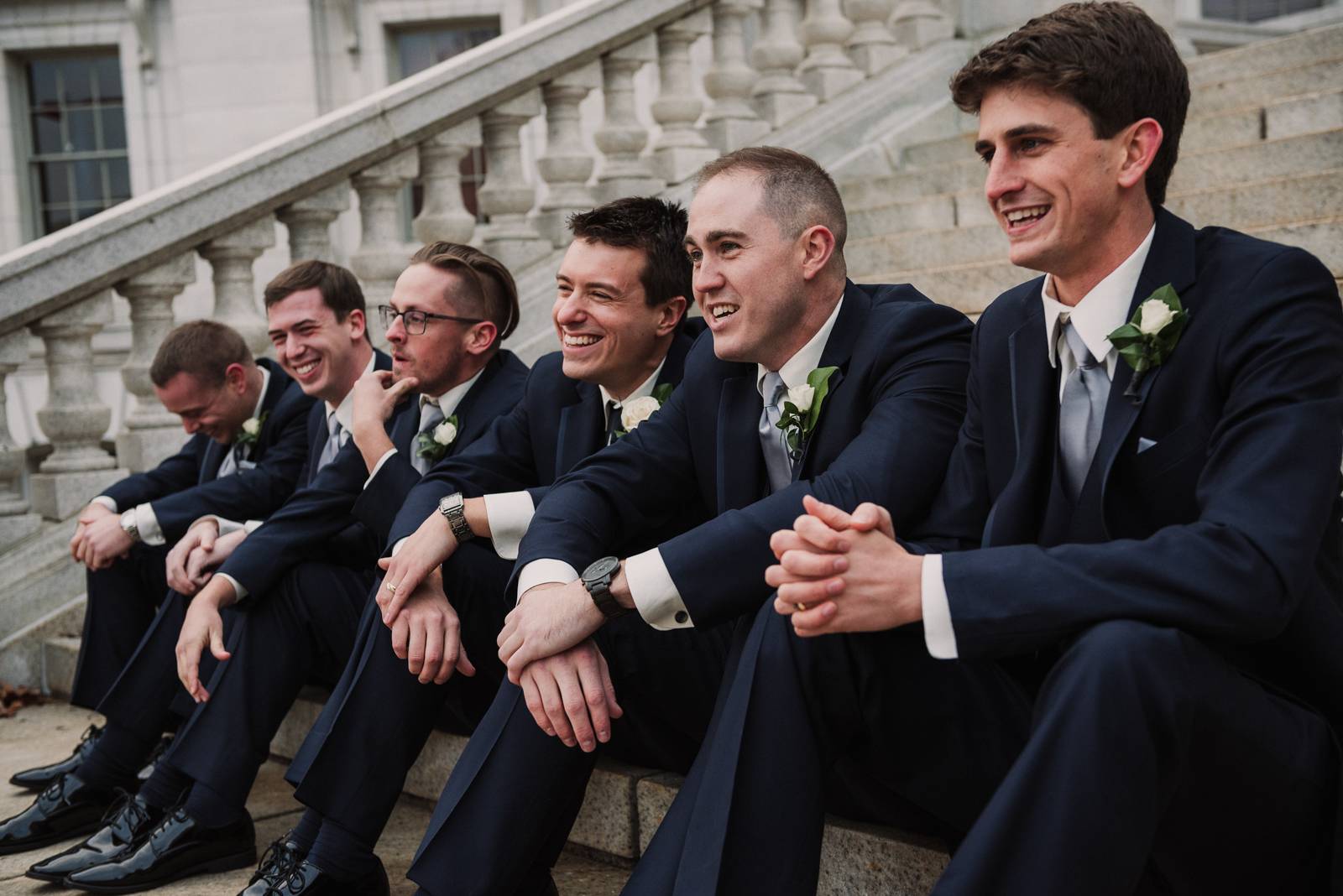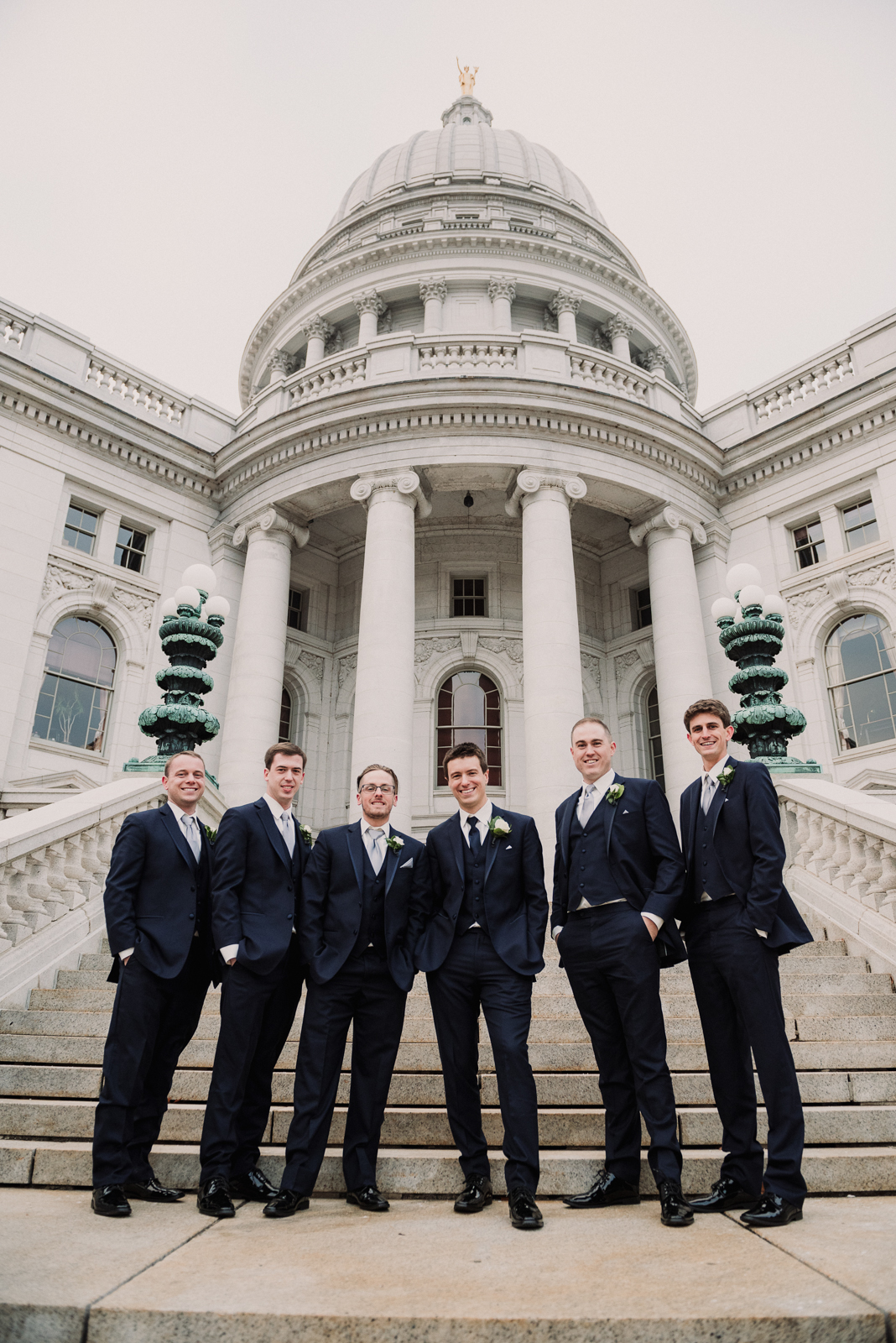 HOW WOULD YOU DESCRIBE YOUR WEDDING THEME/STYLE IN FIVE WORDS OR LESS? Classy, Heartfelt, Romantic, Energetic!
WHAT WAS YOUR WEDDING COLOR PALETTE? Graphite, Navy Blue, with Blush accents.
DESCRIBE YOUR WEDDING FLOWERS: White stock flower, white roses, blue thistle, and mini purple calla lilies.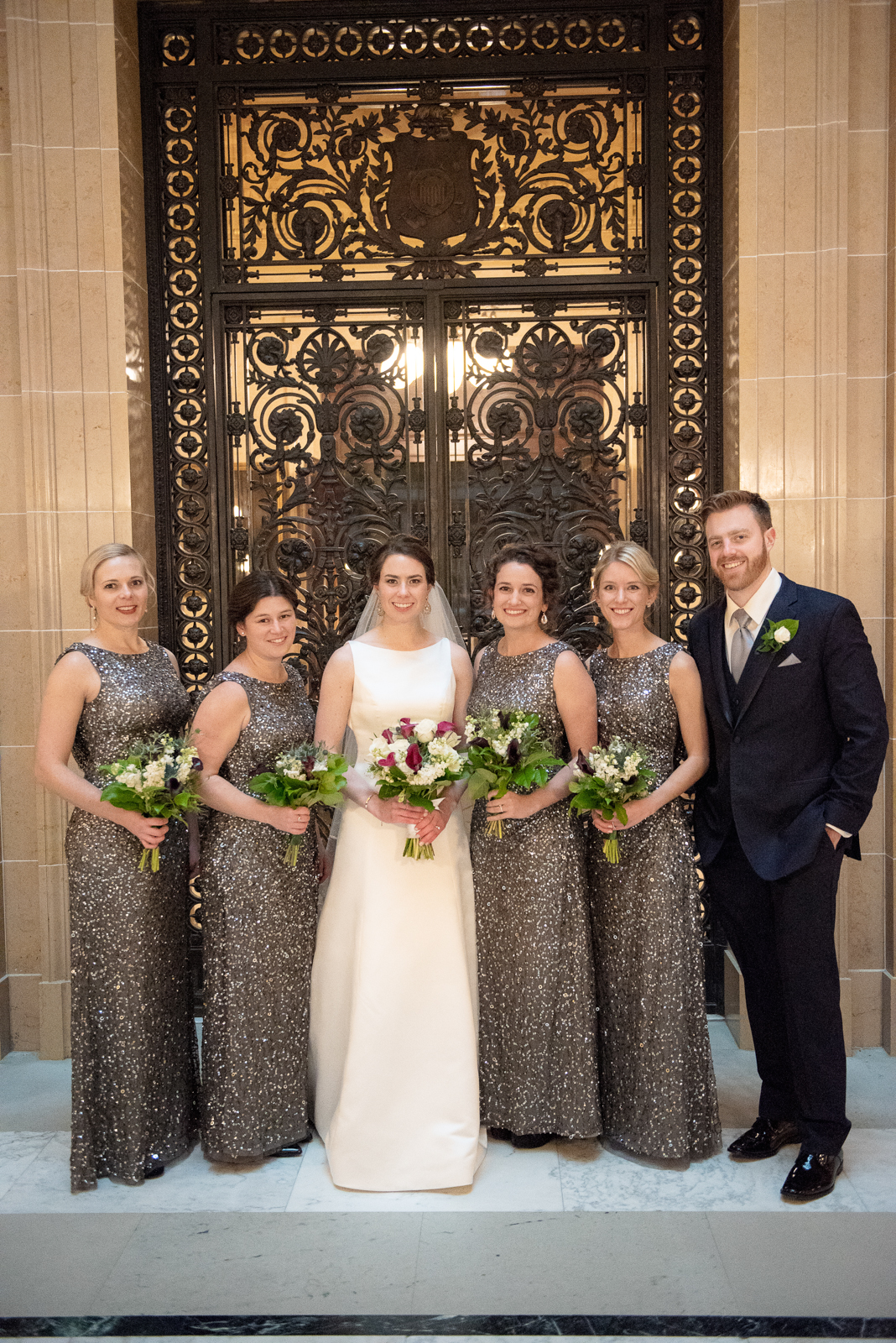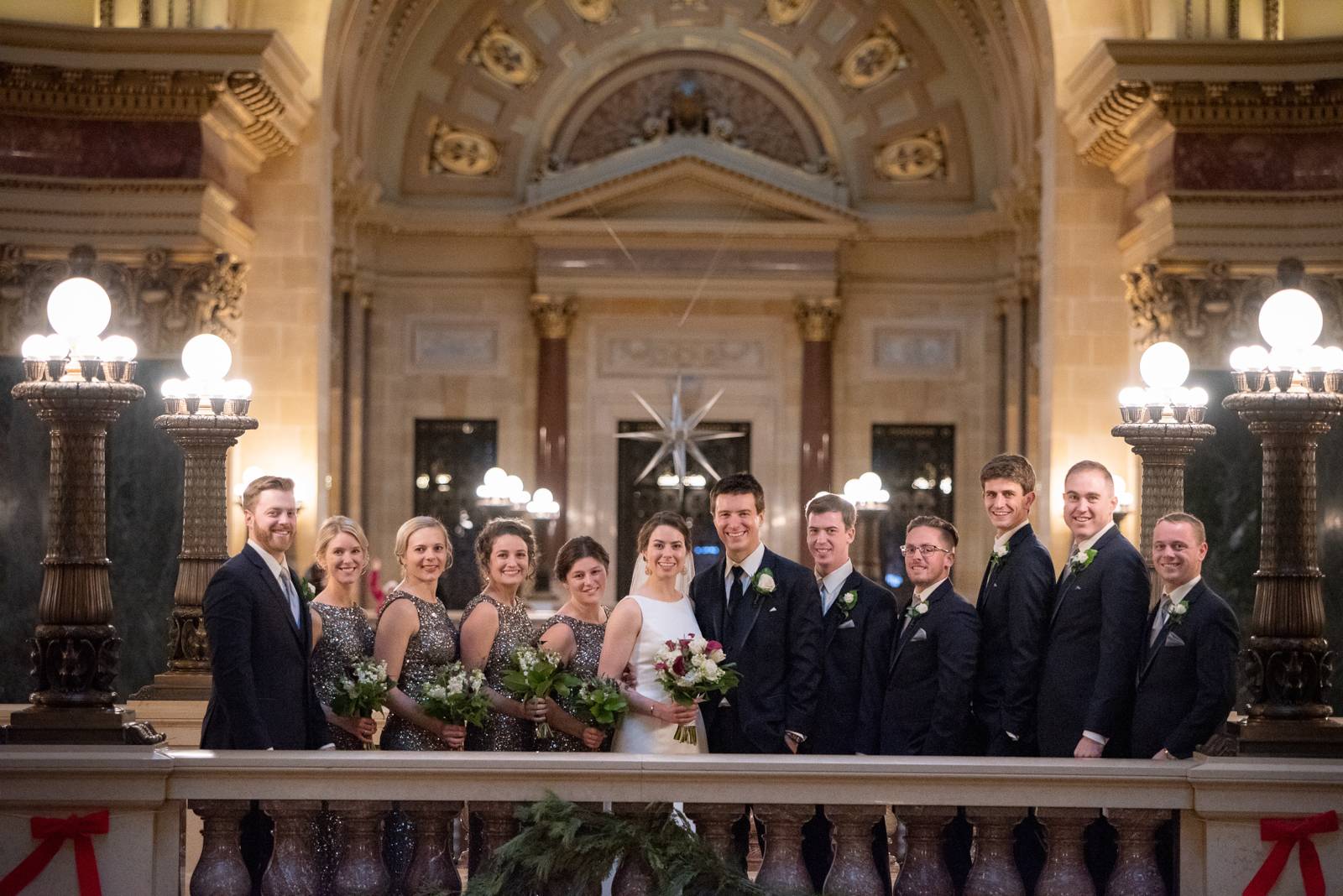 WERE THERE ANY PERSONAL TOUCHES OR DIY ELEMENTS? We had many various personal touches as well as DIY elements. First off, my mom and I created all of our table centerpieces. Luckily, the Madison Club had beautiful decorations up already for Christmas, and we didn't need much. To make our centerpieces, we cut sumac branches from my uncle's farm, spray painted them white and then cemented them into globes from Habitat ReStore that would keep the branch upright on the table. The handkerchief I used was the same one my mom used on her wedding day. Something significant to Matt and I was using our own baptism candles to light our unity candle, and also serving communion to all of our guests. My older brother, Robert, and I have always been close, and he served as my man of honor. Lastly, one of our groomsmen was in the Peace Corp and wasn't going to end his term of service until a month before the wedding. This reason was ultimately why we got married in December because it was more important for Matt and I to have all our family and friends there than to have a fall wedding, which had been my original goal.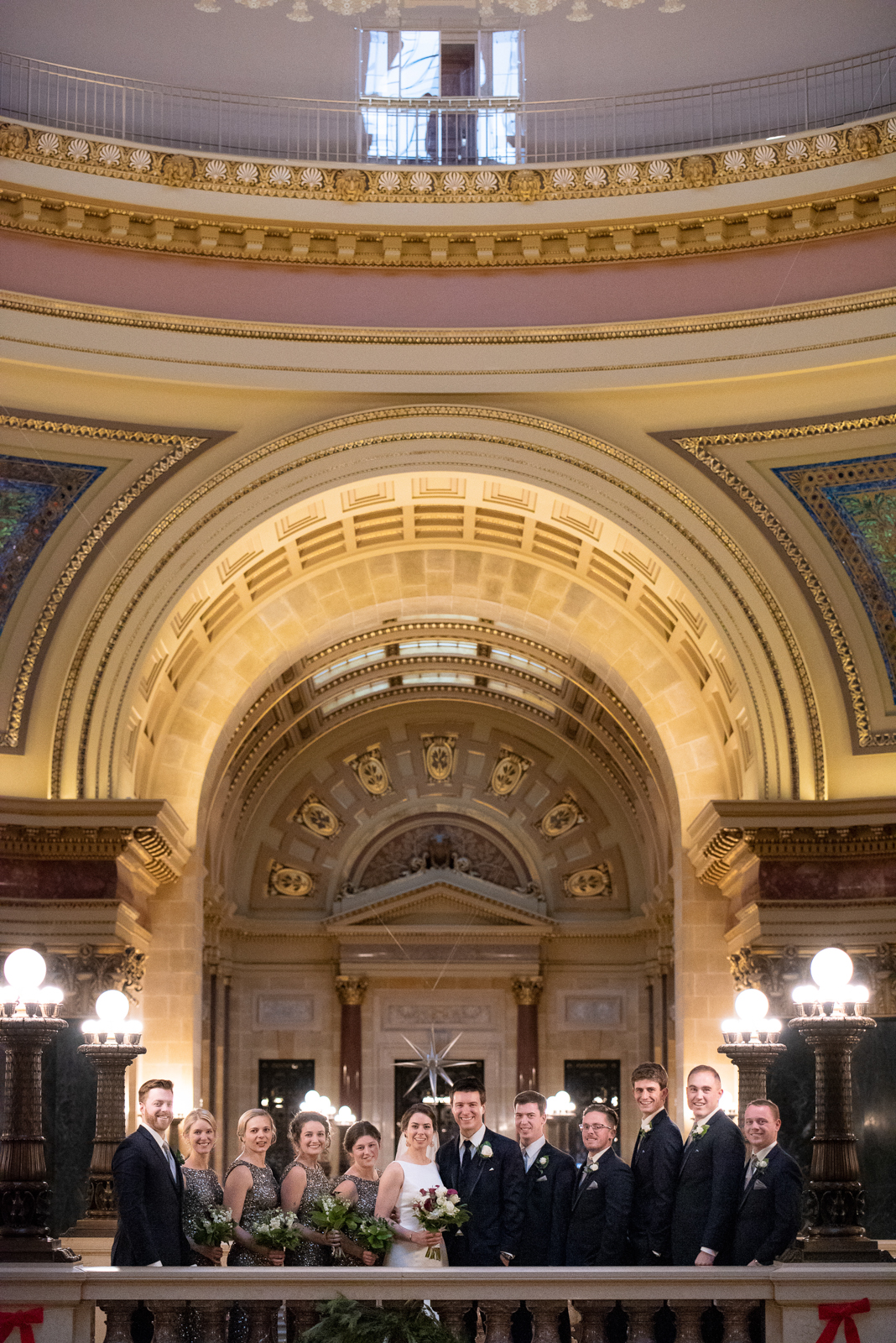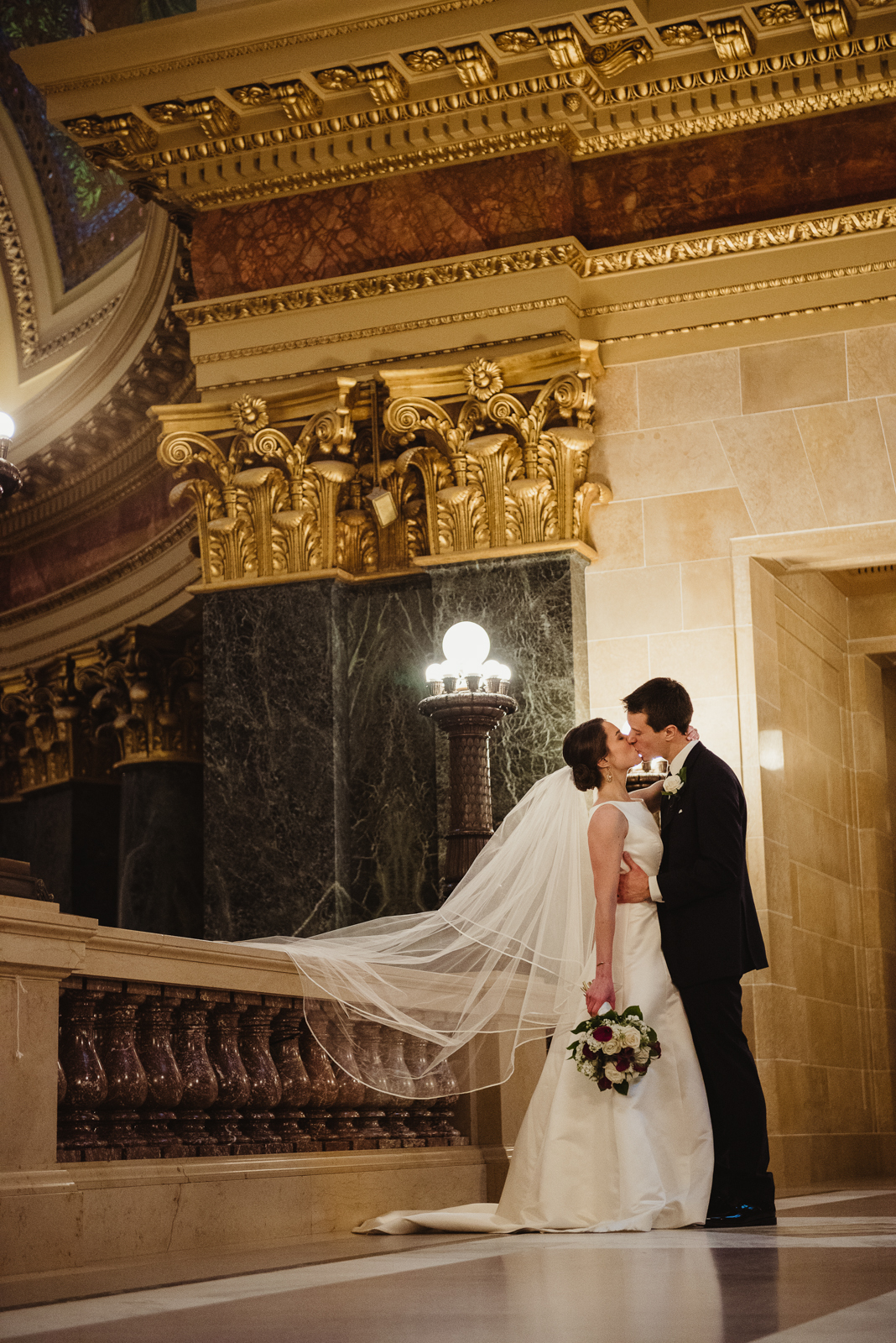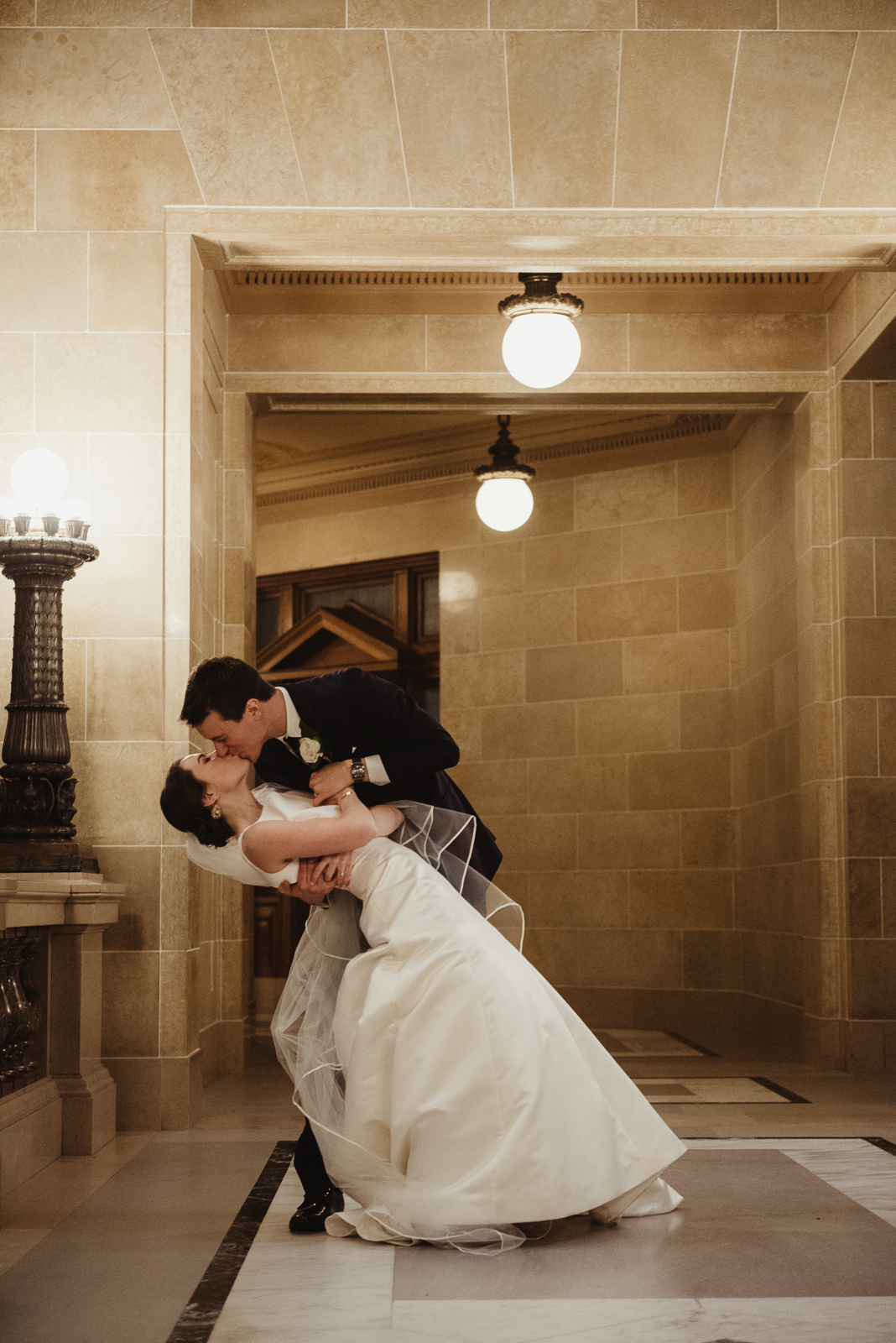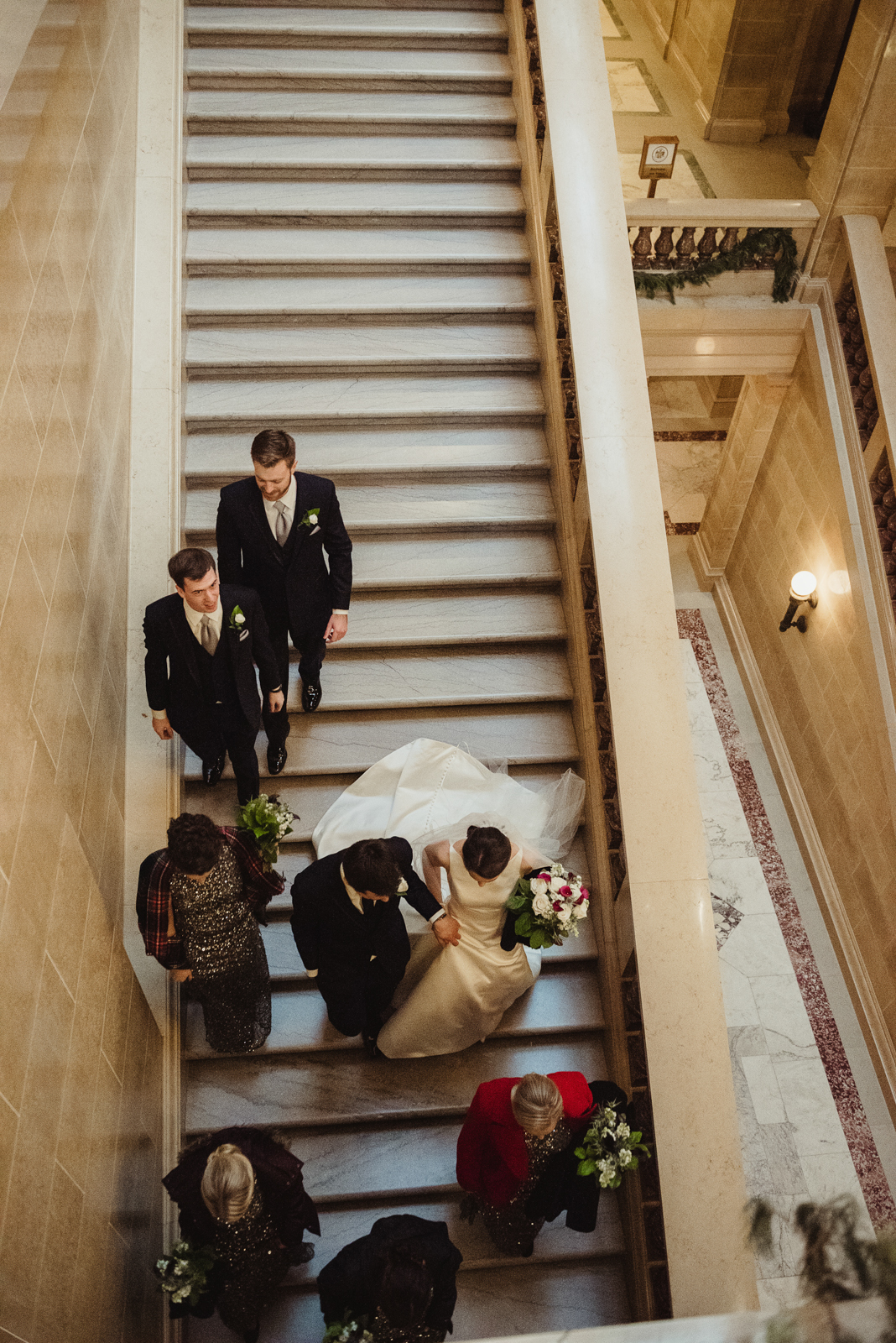 WHAT WAS YOUR INSPIRATION/DESIGN CONCEPT FOR YOUR OVERALL CEREMONY AND RECEPTION DECOR? Reception décor was inspired by forests in the winter, with a romantic touch.
TELL US ABOUT THE FOOD, DESSERT, AND ANY SPECIALTY BEVERAGES ON THE MENU: The Madison Club provided all food & beverage! As appetizers, we had crab cakes, flatbreads, and meatballs. For the main meal, they served sesame garlic sirloin and lavender honey chicken, and topped the night off with late-night pizza! Matt's favorite dessert is ice cream, so we worked with the Chocolate Shoppe in Madison to get their ice cream truck for our reception; it was perfect! Every guest got an ice cream ticket and was able to order from 12 different flavors served in a dish or a cone. It was a hit with our guests and the Chocolate Shoppe so easy to work with!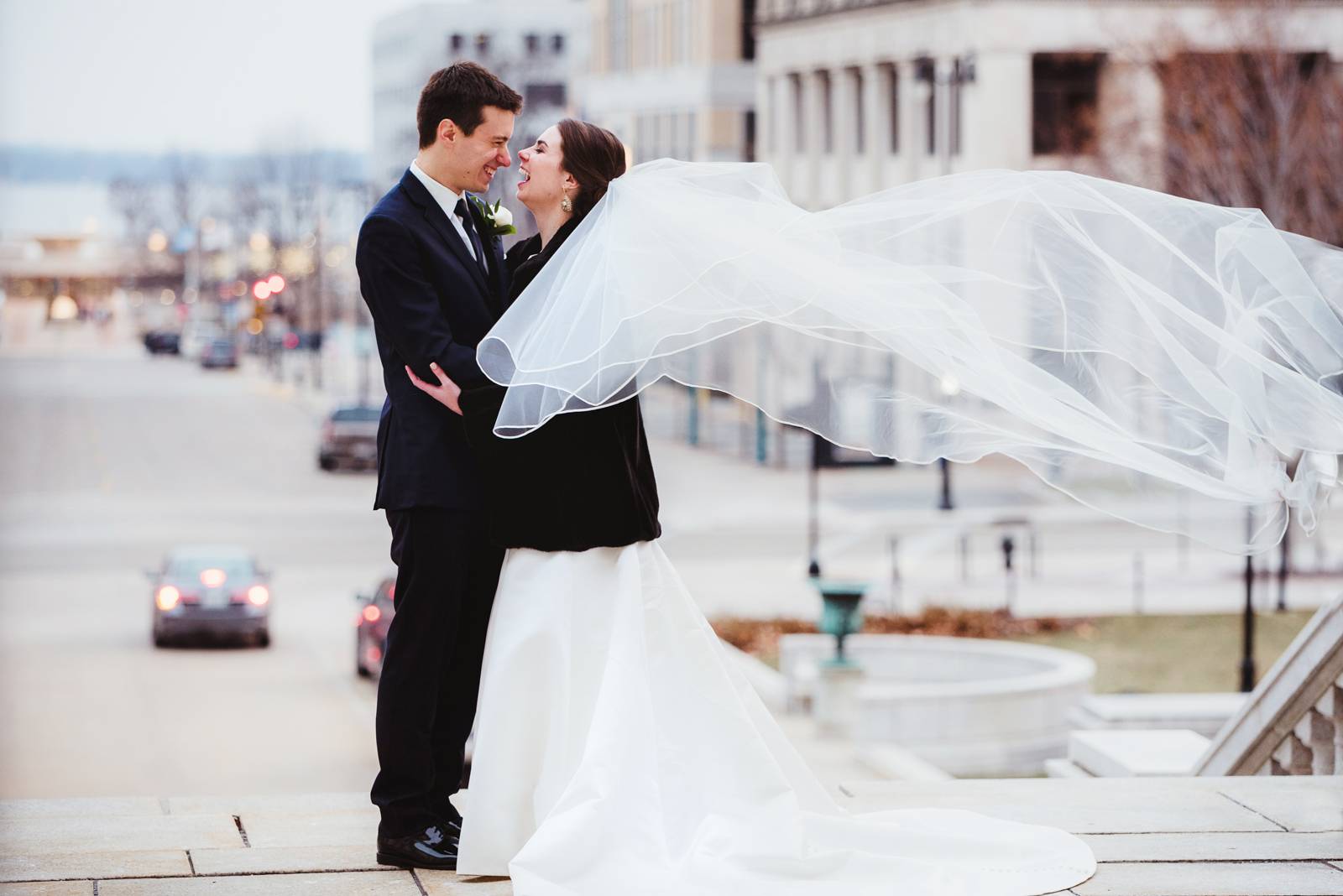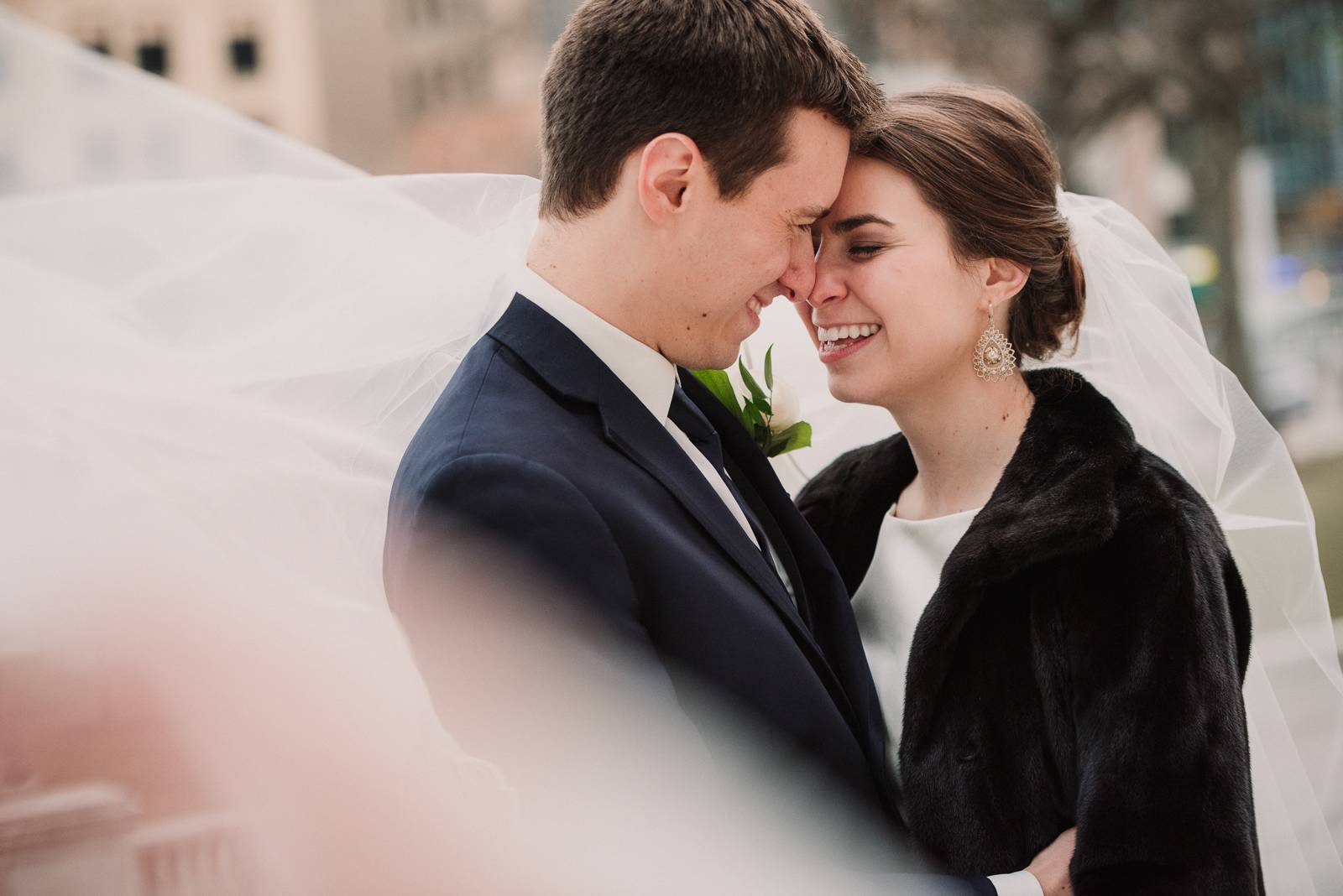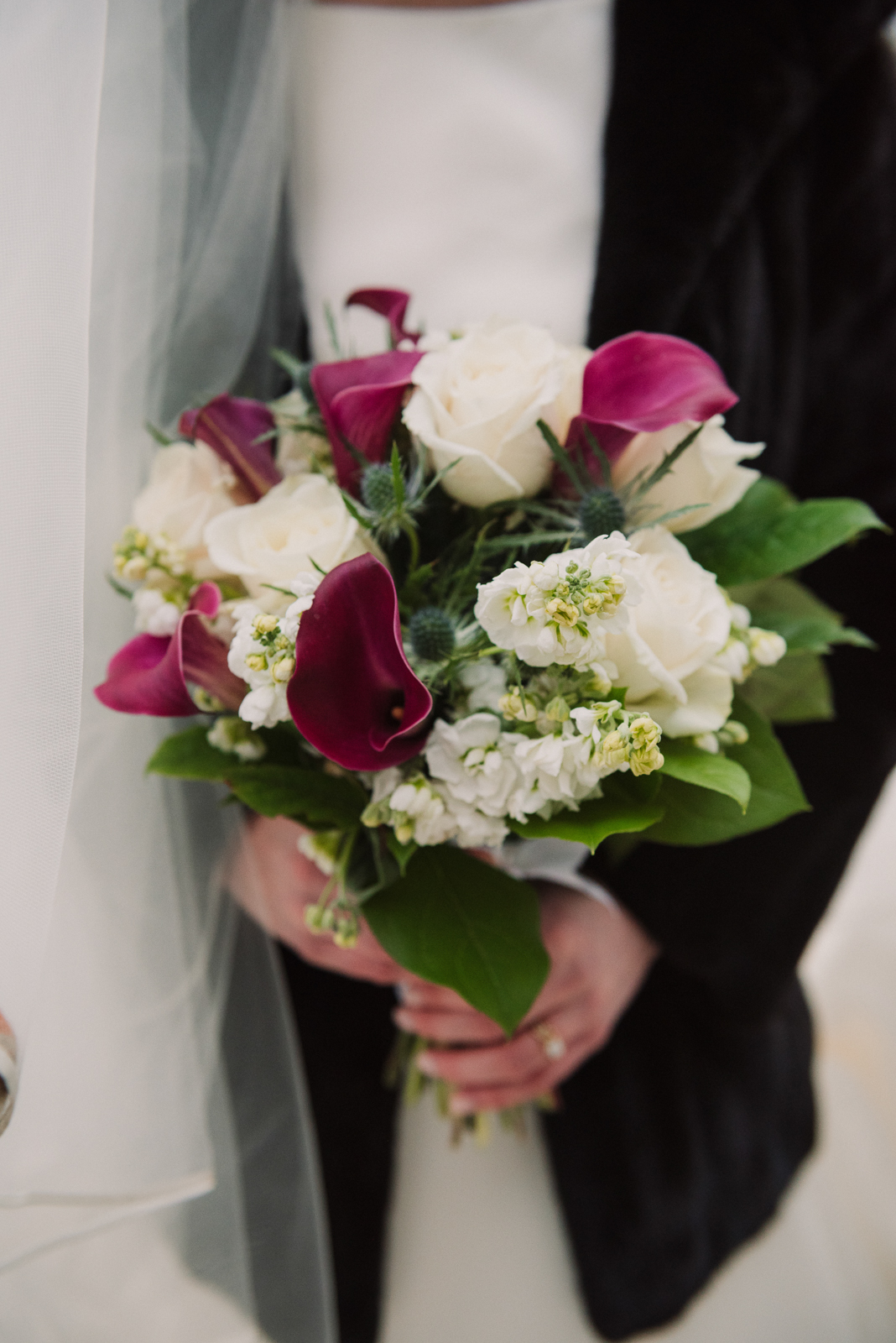 WHAT WAS YOUR FAVORITE MOMENT FROM YOUR WEDDING? The ceremony was one of the highlights of the day, but our favorite moment was when the band started playing for the first time for our first dance song. Matt and I had never heard them live, and we were a little nervous if they would live up to the hype, but boy did they ever! I remember being so excited and just looking at Matt and whispering, "they are so good," and then turning to the lead singer and yelling, "you're so good!"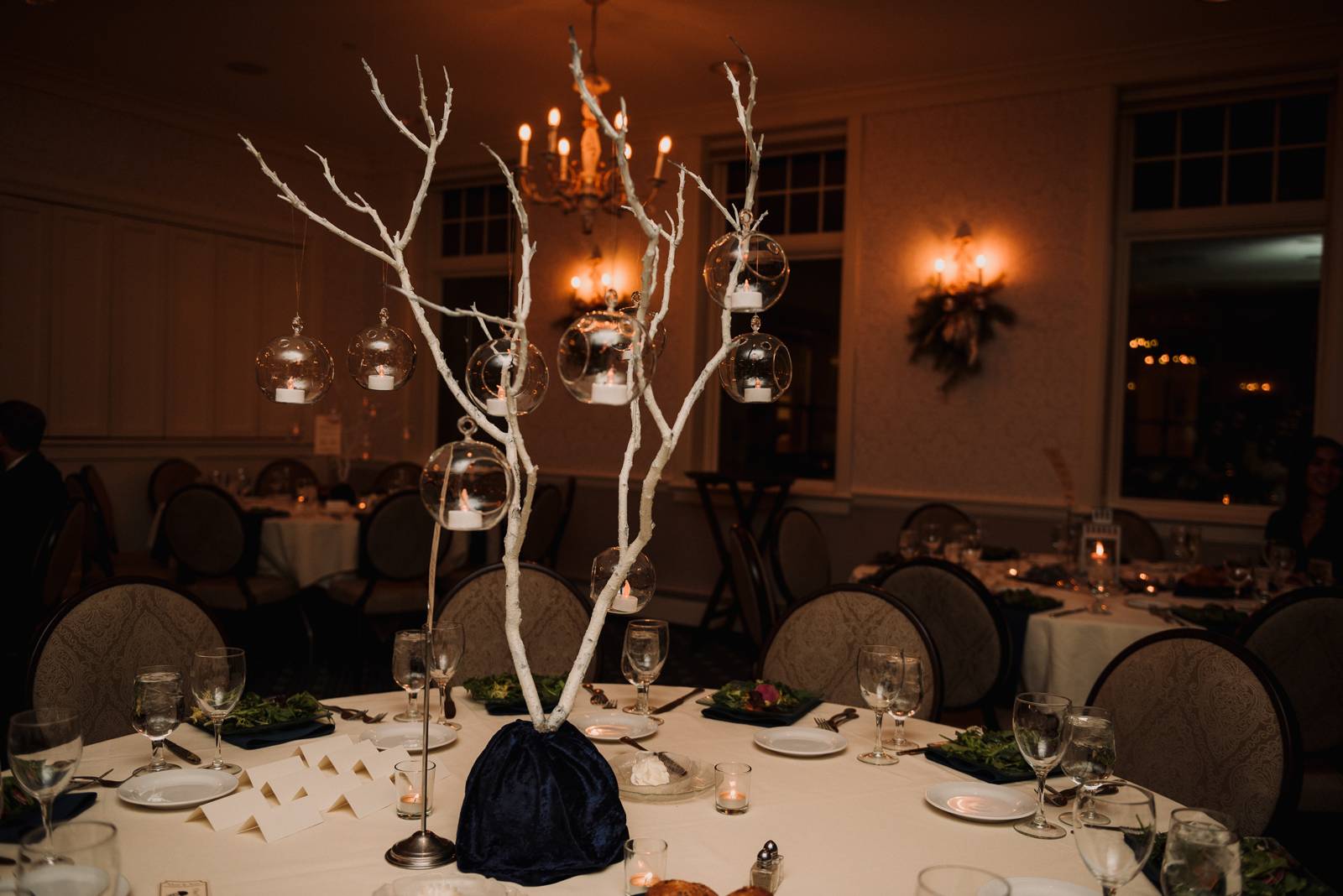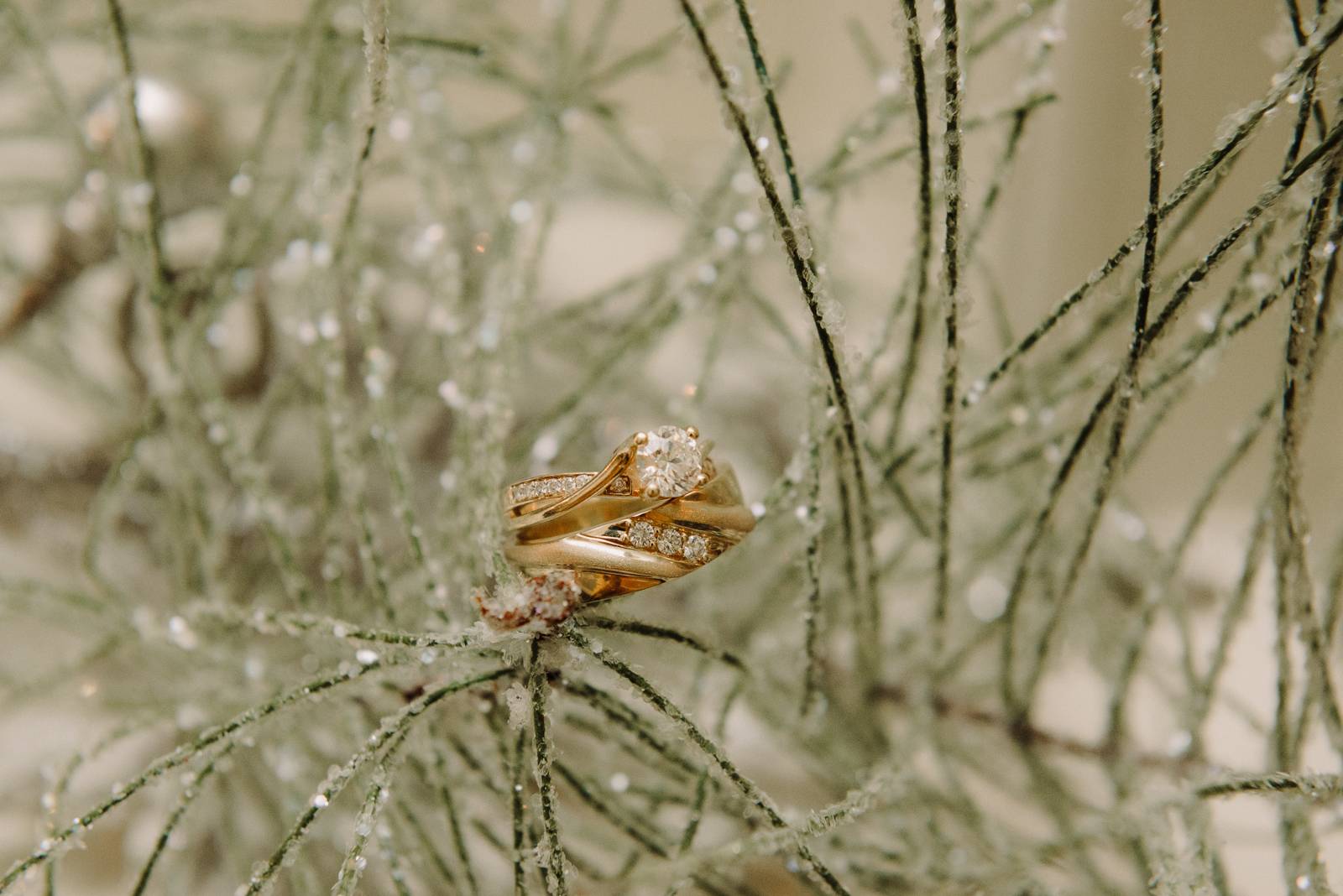 TELL US ABOUT YOUR HONEYMOON PLANS: We took a trip the August before our wedding to Peru to visit our friend in the Peace Corp, and we treated that as our honeymoon. We went to Machu Picchu, surfing in Huanchaco, and spent time exploring Lima. Right after the wedding, we went to Sundara Spa for three days. It was a wonderful way to disconnect from technology and enjoy the first few days of marriage and relax after the busy wedding weekend. We plan to take our official honeymoon over our one year anniversary but haven't planned that yet.
WHAT DOES LIFE LOOK LIKE AFTER THE WEDDING? We finally moved in together, which has made the whole marriage experience really fun. It's so nice not having to coordinate schedules anymore to see each other. We've enjoyed cooking together, starting a TV series, and making our place our own.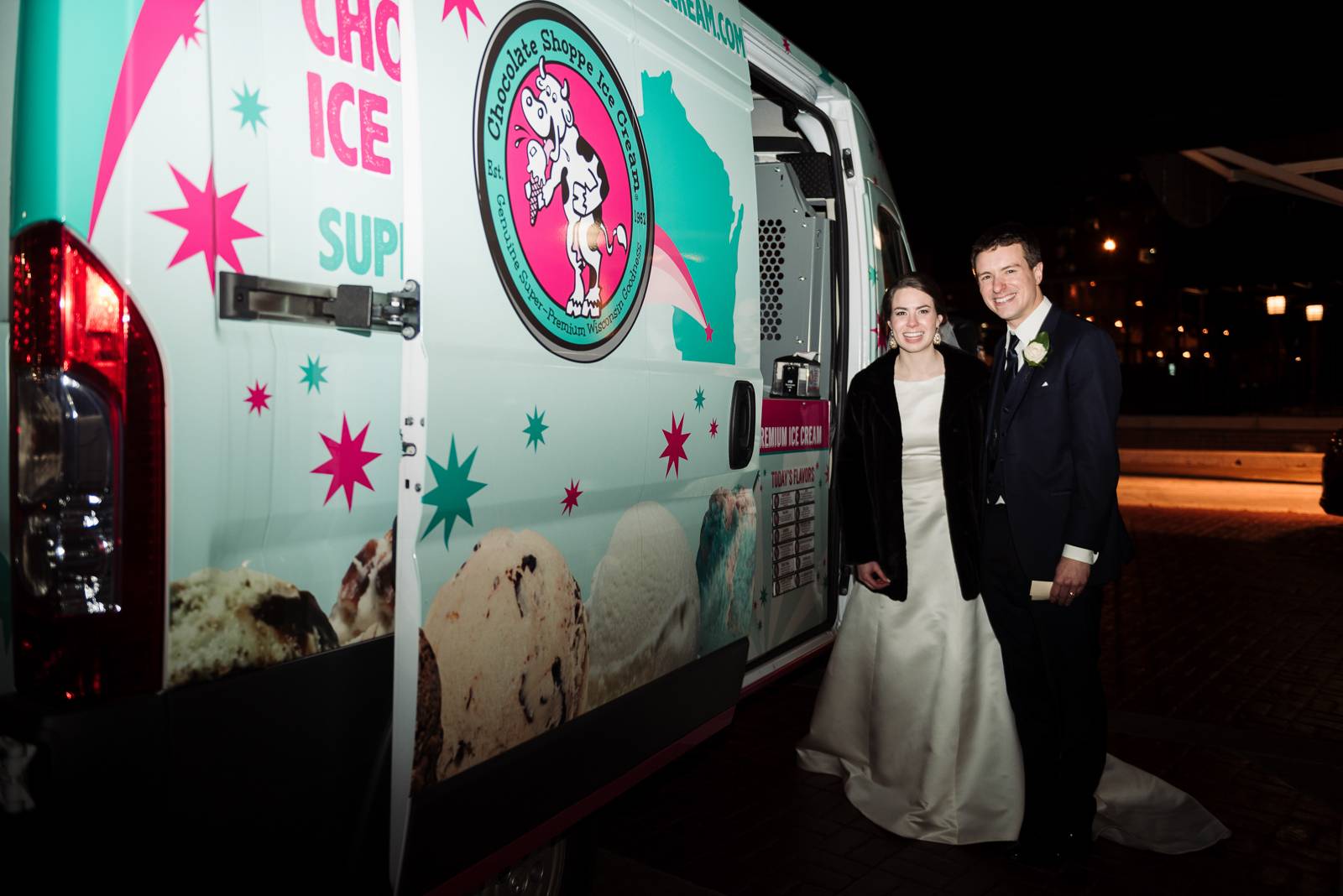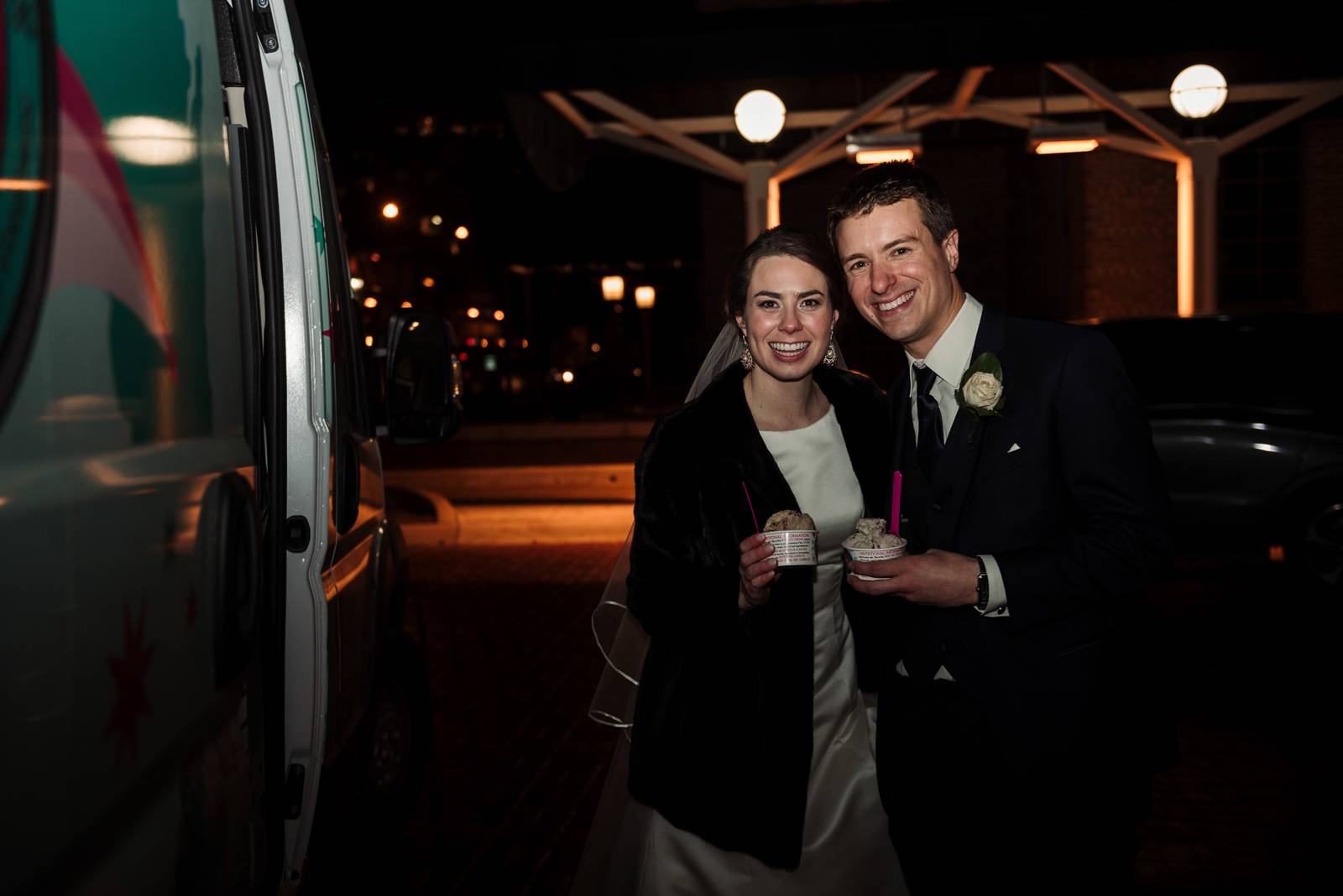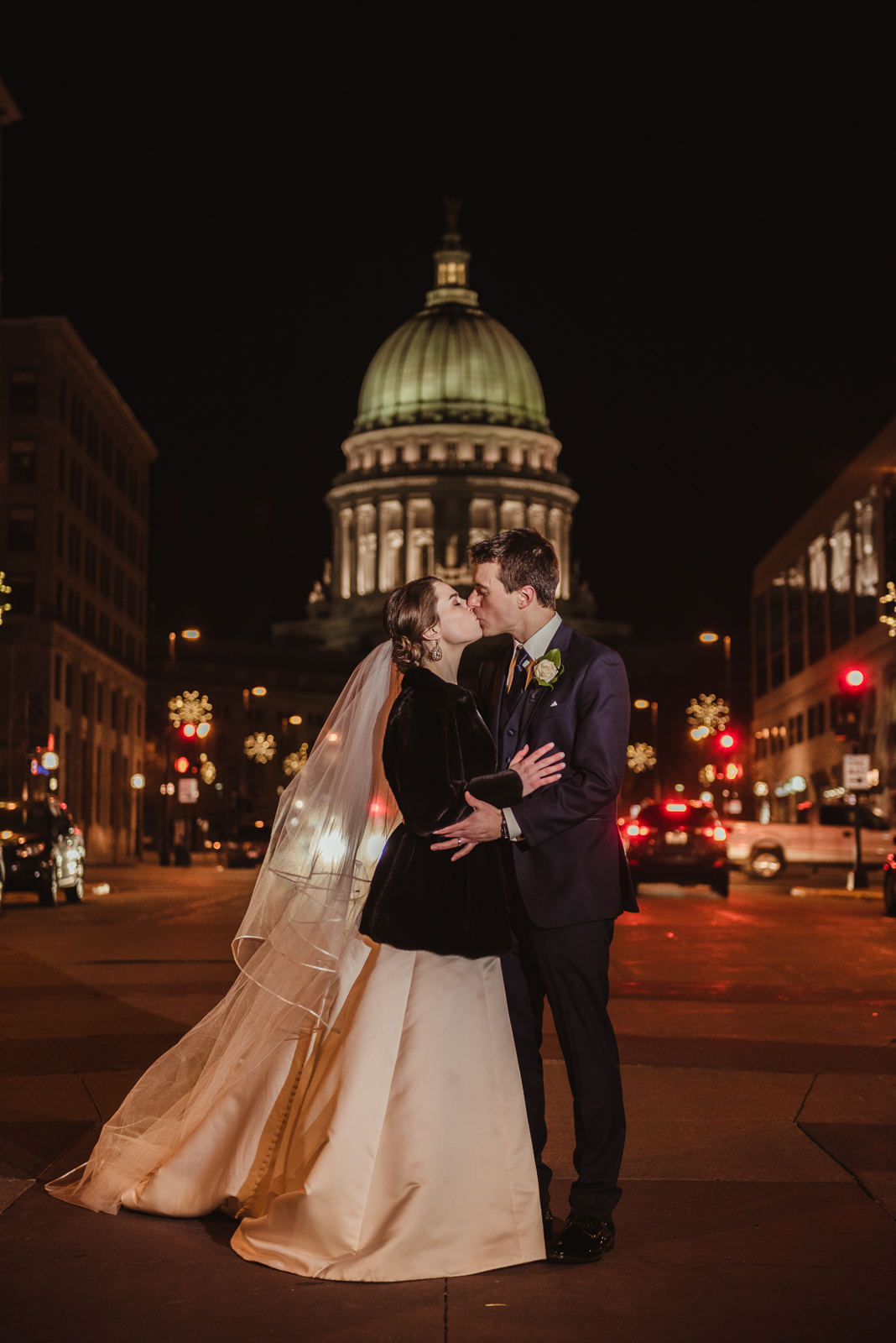 ANY WEDDING PLANNING REGRETS OR SOMETHING YOU WOULD DO DIFFERENTLY? No regrets, I just wish the day didn't go as fast as it did. Matt and I didn't sweat the small stuff; we didn't do party favors or a lot of small details that other couples excel at. Instead, we focused on how we wanted the day to be a celebration and a big dance party. Keeping our end goal in mind and remembering that the little stuff didn't matter because we were getting married was really helpful to keep us on track.
IS THERE ANY ADVICE YOU'D GIVE TO OTHER COUPLES PLANNING THEIR WEDDING? Write down five words you want to describe your wedding and keep referencing those during the planning process. If what you're thinking of isn't reflected in those words, don't do it. Also, know your priorities. For us, it was a live band even if it meant we had to give up some other things to stay in budget.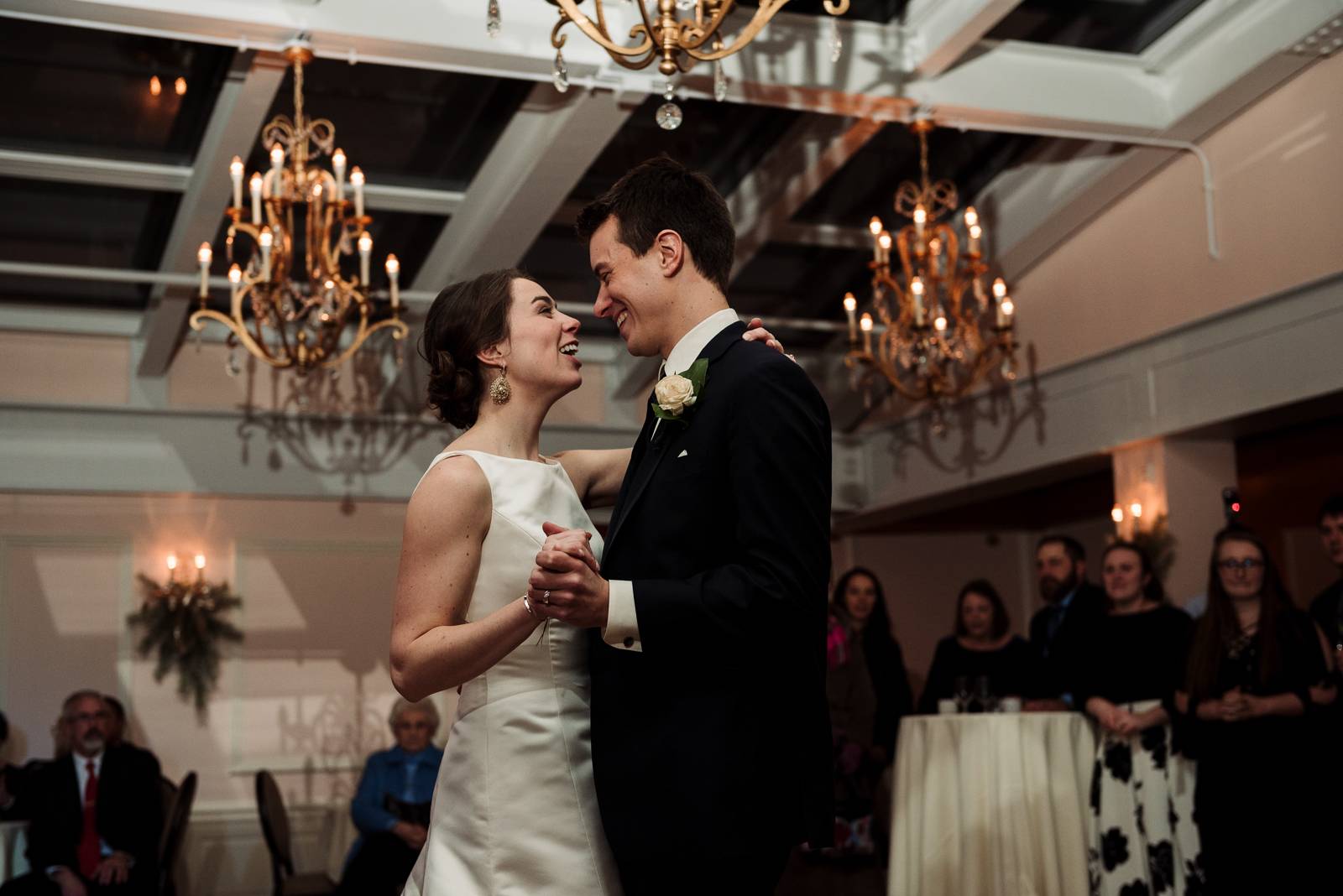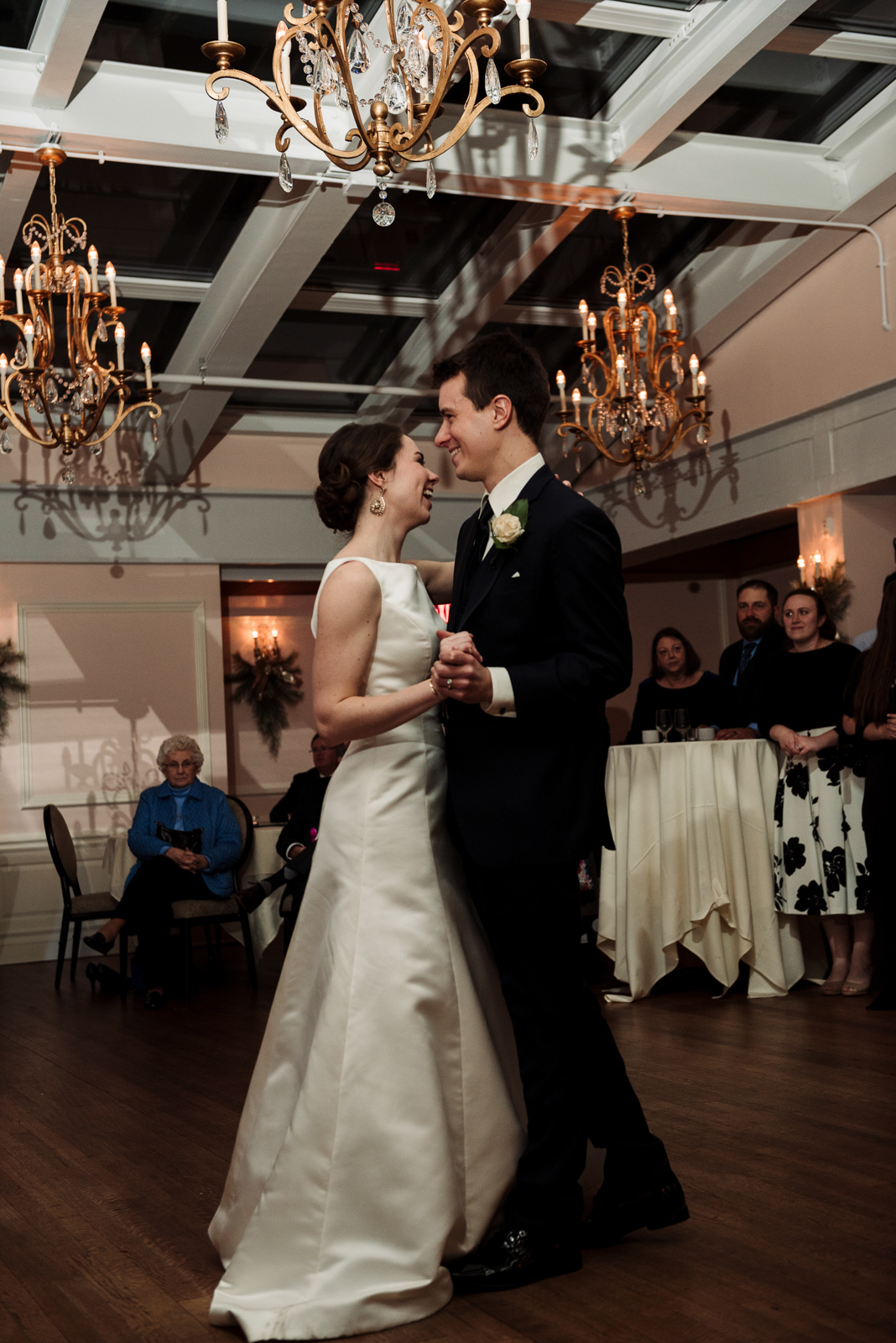 For more Wisconsin wedding inspiration, enjoy visiting our other blog features!