Whether you're about to get engaged, just said "yes," or are shopping for the perfect wedding band, buying rings is such an exciting time in the wedding process! It's probably an understatement to say choosing a ring can feel like a big decision. After all, it's a piece of jewelry that you're likely to wear forever, so you want it to look and feel right. From ready-to-wear to custom design, there are countless gorgeous options for metals and gemstones to make you and your partners wedding rings uniquely yours.
From knowing diamond shapes to timelines and tips from local jewelers, today's blog is packed with all things rings! Let's dive in and find some gorgeous inspiration along the way!

DIAMOND SHAPES
1 | OVAL | bold, unique + sophisticated

2 | ROUND, 6MM | traditional, classic + timeless

3 | ROUND, 7MM | traditional, classic + timeless with impact

4 | PEAR | traditional with a trendy vibe

5 | PRINCESS | traditional with a modern edge

6 | EMERALD | risk taker with a love for retro

7 | CUSHION | feminine and romantic

8 | MARQUISE | a flair for the dramatic
TIMELINE
2 MONTHS BEFORE:
Shop for and purchase wedding rings.


OR confirm ring design if choosing custom-made.


1 MONTH BEFORE:
If custom, approve or make changes to the 3D prototype followed by final tweaks.

0-4 WEEKS BEFORE:
1 DAY BEFORE:
Ensure the rings are in a safe place and set aside for wedding day.

DAY-OF:
Give rings to photographer for detail shots and then to a designated person or wedding party member prior to ceremony.
TIPS + THINGS TO CONSIDER
Discuss with your fiance if you want matching bands or other personalization like a unique metal, textured finish, or custom engraving.





Decide if you want custom-designed or ready-to-wear.




Always work with a reputable jeweler you can trust. Click here for some of our top local recommendations!



Ask your jeweler for metal recommendations that suit your job and lifestyle.




Be sure to have your jeweler explain the cut, color + clarity so you get the quality of gemstone you desire.



Ask your jeweler about conflict-free certification on your gem purchase.





Get tips on cleaning, care + warranties for replacing stones or the entire ring in case of loss.




Continue with basic cleaning + getting your settings checked regularly.


Your ring cost will vary depending on the metals and gemstones chosen, so be sure to have a budget and vision in mind and bring all your Pinterest inspo to your appointment.



Check with your insurance agency to get the rings added to your renters or homeowners policy.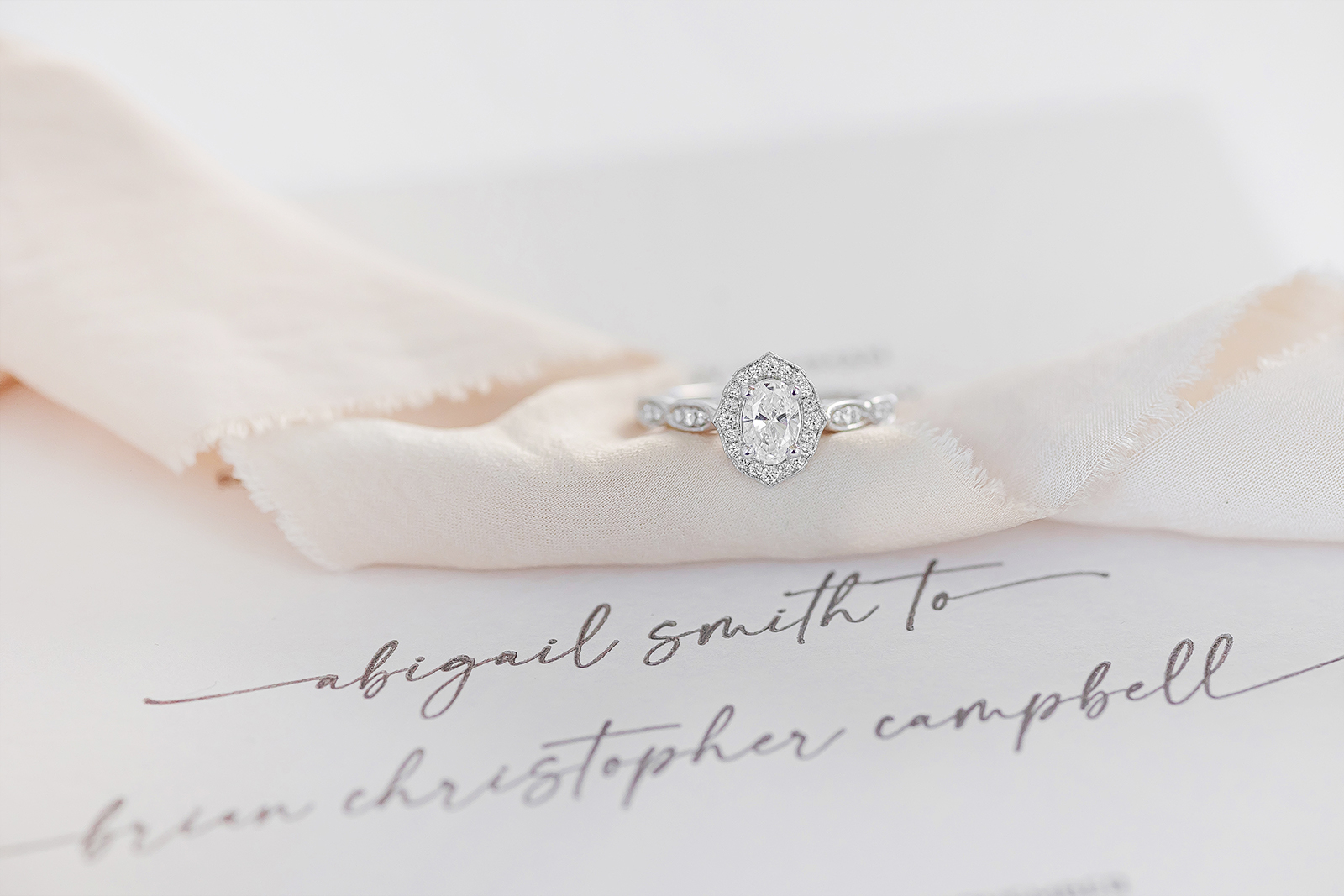 CLEANING YOUR RING
Daily ring wearing means that it needs a good cleaning from time to time. Bring your ring back to that sparkly brand new look with a professional cleaning from your jeweler. Be sure to give them the information on ALL of the stones in your ring when you take it in to help ensure no damage is done.
For cleaning in-between taking it to the pros, DO NOT use any chemical cleaner as it could cause permanent damage. Your jeweler will typically give you a safe ring cleaning solution, or you can combine a few drops of gentle dish soap into a bowl of lukewarm water and soak your jewelry for five minutes. Gently clean around the stone and behind the settings with a soft-bristled toothbrush. Then wipe dry with a soft cloth.
There is ONE STRICT EXCEPTION with Opals: remember that opals should never be submerged in water. Use a very soft, dampened cloth with warm, soapy water to wipe clean, and speak with a local professional jeweler for a more thorough cleaning.
Click here to browse our favorite Madison, Wisconsin, area jewelers. Happy ring shopping!