Nestled on five wooded acres just 25 minutes north of Madison, Wisconsin, Whispering Pines Event Center provides a picturesque and rustic wedding location like none other! Formerly an abandoned Lutheran church, this beautifully renovated venue features stunning original brick walls and a solid-wood beam ceiling reminiscent of Frank Lloyd Wright. The owners worked with a designer to create an open-concept space on one level that is entirely handicap accessible, featuring modern restrooms, a state-of-the-art sound system, beautiful bar, and much more! Whispering Pines prides itself on its unique full weekend wedding package and transparent pricing - we can't wait for you to learn more about this Vendor in the Spotlight below!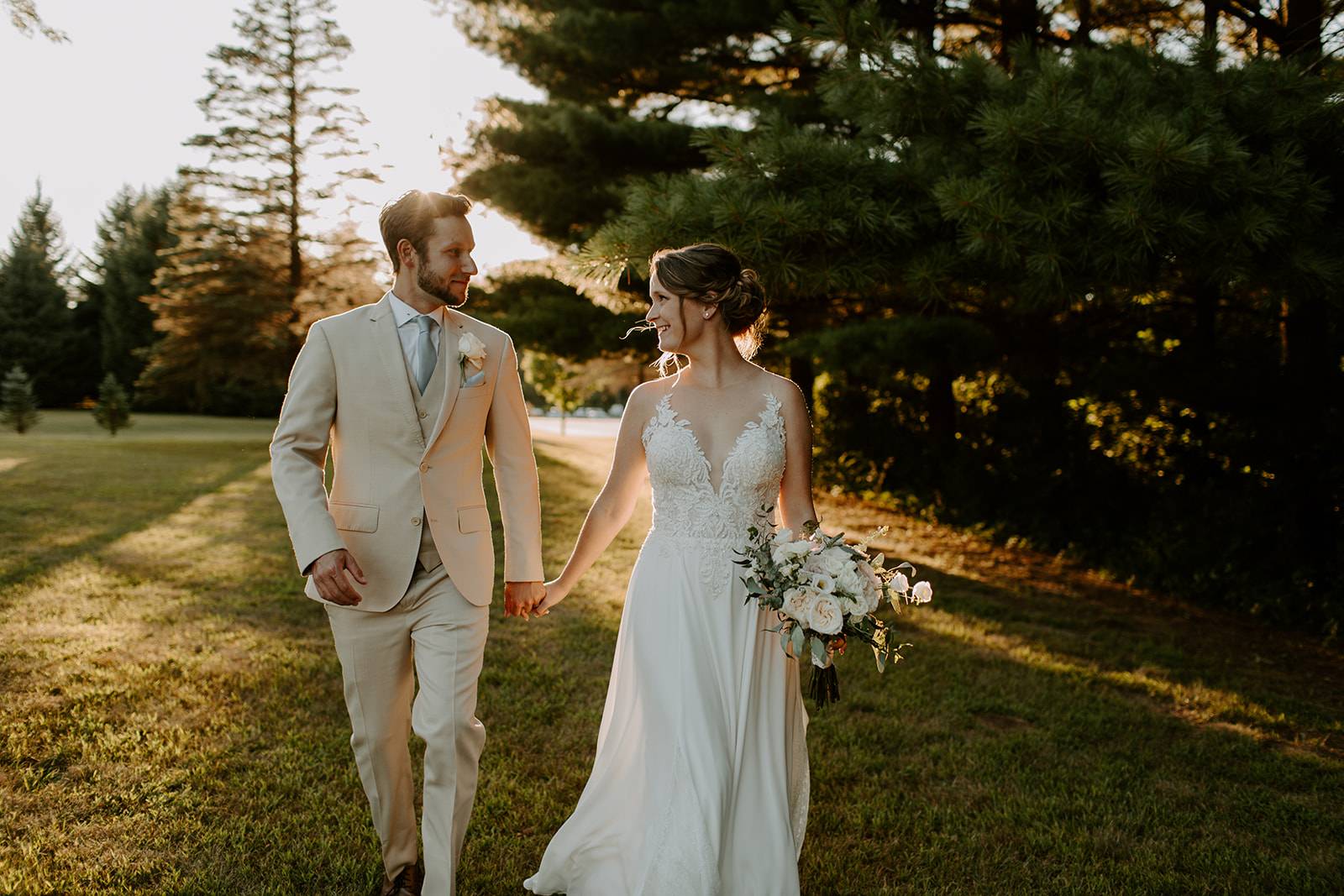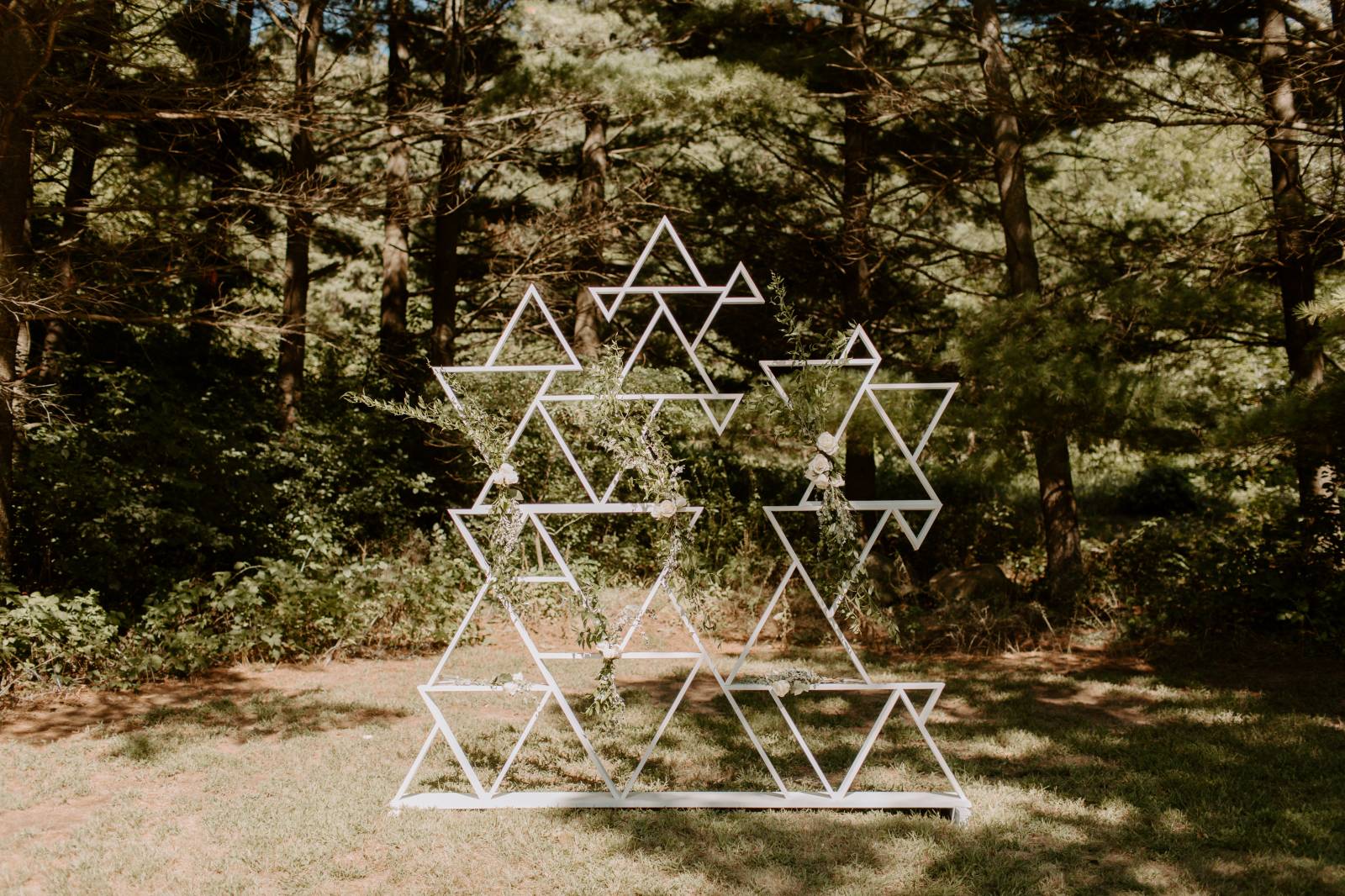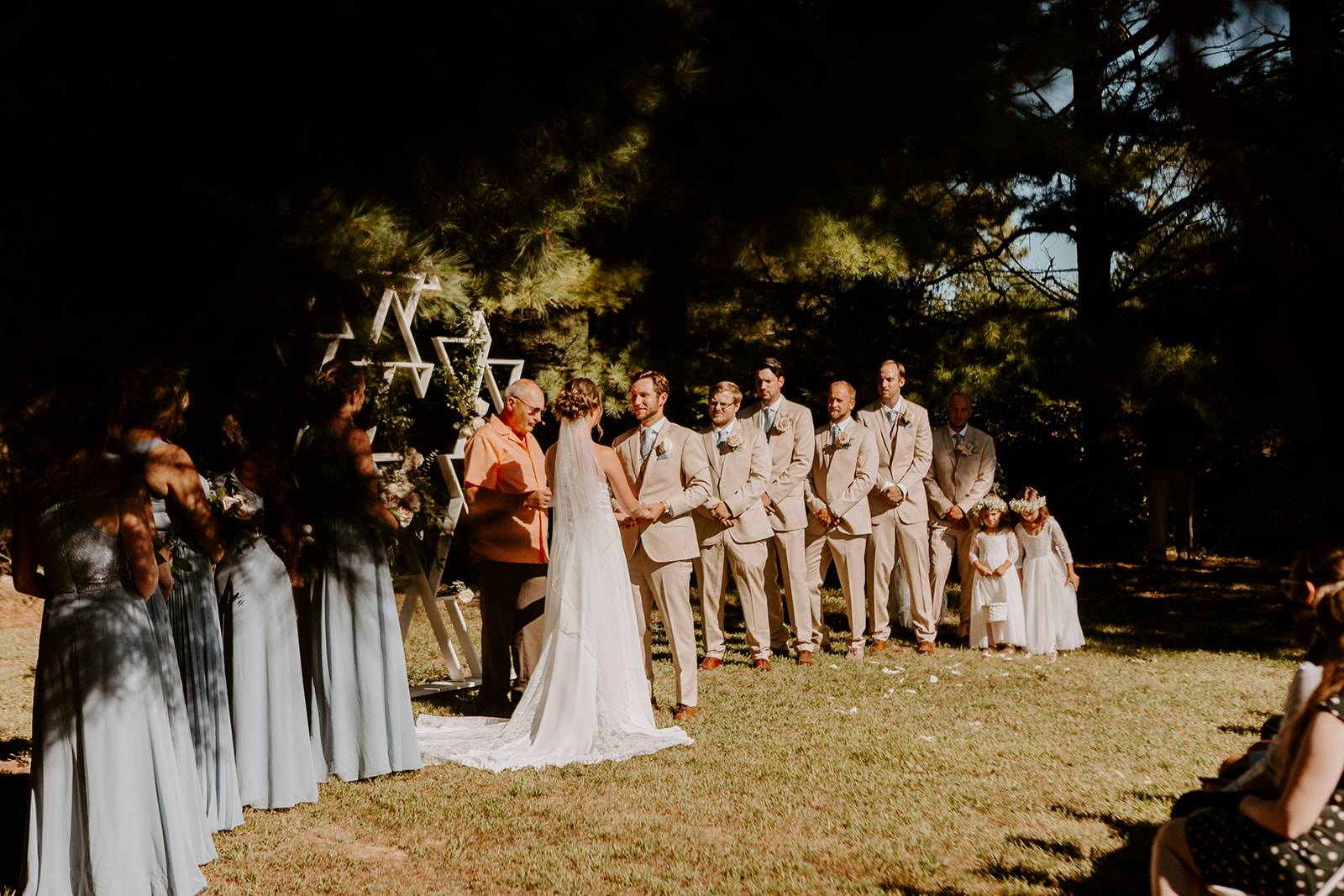 TELL US ABOUT YOUR BUSINESS AND WHAT YOU OFFER: We offer a unique space for couples looking for their Wisconsin wedding venue! While wedding barns have a steady following, many couples are looking for a rustic venue without the barn structure, and their options are much more limited. We're proud to offer a picturesque venue with plenty of outdoor space for a ceremony, an indoor capacity of up to 300, a large patio with an outdoor gas fireplace, heat, air conditioning, a bridal suite, plenty of parking, and much more. Beyond these amenities and a beautiful building on 5 acres, we offer an experience to our couples that is difficult to find in our area.
Inspired by our daughter's wedding, where we had to set up the morning of and bring all of her gifts and centerpieces back to the hotel with us on the shuttle bus that night, our full-weekend package allows our couples to enjoy their wedding day to the fullest. You don't need to worry about setting up because that's done on Friday, and you don't need to worry about packing up and being gone by midnight. Many of our couples even take advantage of this option to have their rehearsal dinner on-site on Friday night!
As a family-owned and operated business, Scott and I work with our couples personally throughout their planning process. We are present before, during, and after their event to ensure that everything goes smoothly. We know that nobody we could hire would care as much about our couples and their wedding day as we do. They and their families often start their weekend as friends, and by the time they leave on Sunday, they feel like family. It's the fantastic people we meet that we enjoy the most!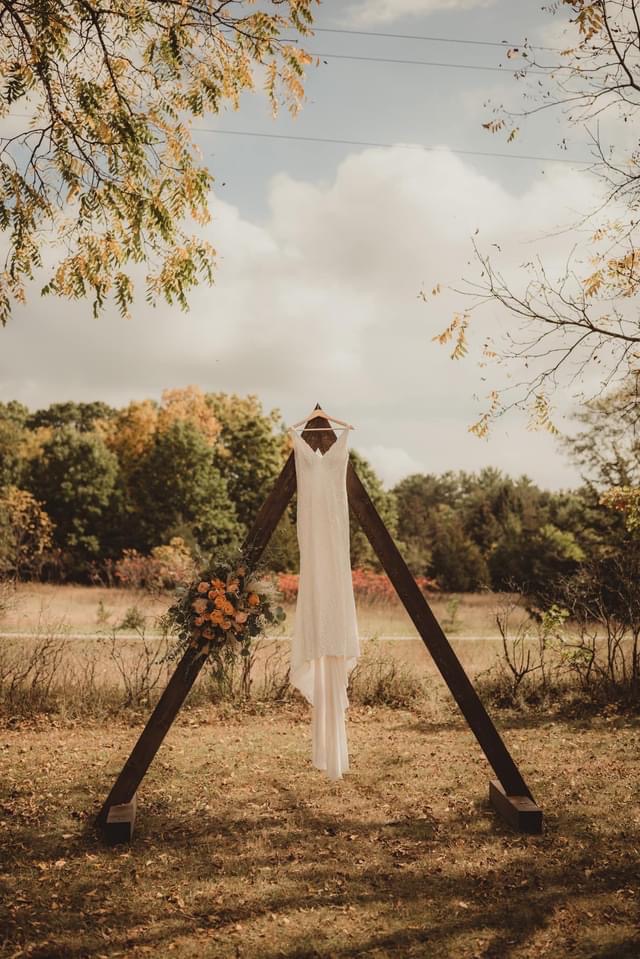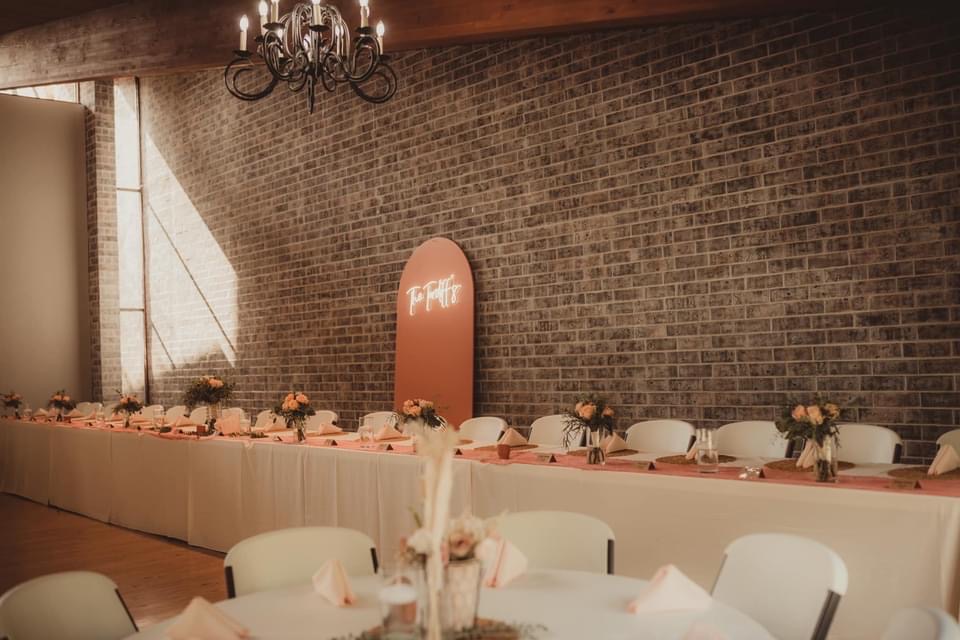 TELL US ABOUT YOUR JOURNEY STARTING YOUR BUSINESS: We are drawn to neglected buildings that need some love, imagination, and a lot of hard work. Transforming the space with your own hands is incredibly rewarding, and it's something we love to do.
Whispering Pines was formerly a Lutheran church abandoned for over four years. We were familiar with the structure, straight out of the '70s with orange carpeting throughout, church pews, alter, and a fantastic pipe organ. It was nothing like most "old churches," more like a unique Frank Lloyd Wright-style building with beautiful cedar support beams and exposed brick. With these features, I fell in love. Once people came together to pray, celebrate, and even mourn, it only seemed fitting that the space be transformed accordingly. Many guests attend weddings who tell us that they were married in the church many years earlier, which is so special to us!
We just happened to be helping our daughter in her quest to find a wedding venue at the time someone approached us about buying the old church. We were struggling to find something that offered the entire weekend, had heat and air conditioning, was 100% handicap accessible (for her friend in a wheelchair), and was also within her budget (and ours!). Our youngest was moving out of the house at the time, and we needed something new to keep us busy as empty-nesters, so we dove right in! It took 6-8 months to remodel and a few brave couples to give us a start, but we were off and running. At least for six months until Covid struck, that is!
Only a few minor features of the church remain today, and our favorite is the church bell from the early 1900s on top of the building. Our couples and their guests love hearing the church bell toll as the wedding ceremony comes to an end, and the two share their first kiss as spouses. Not quite as exciting but unique nonetheless, we repurposed the former alter top, and it is now the top of our outdoor gas fireplace. The 1905 cornerstone from the original Bethel Lutheran Church (which was part of the alter) is now built into our bar.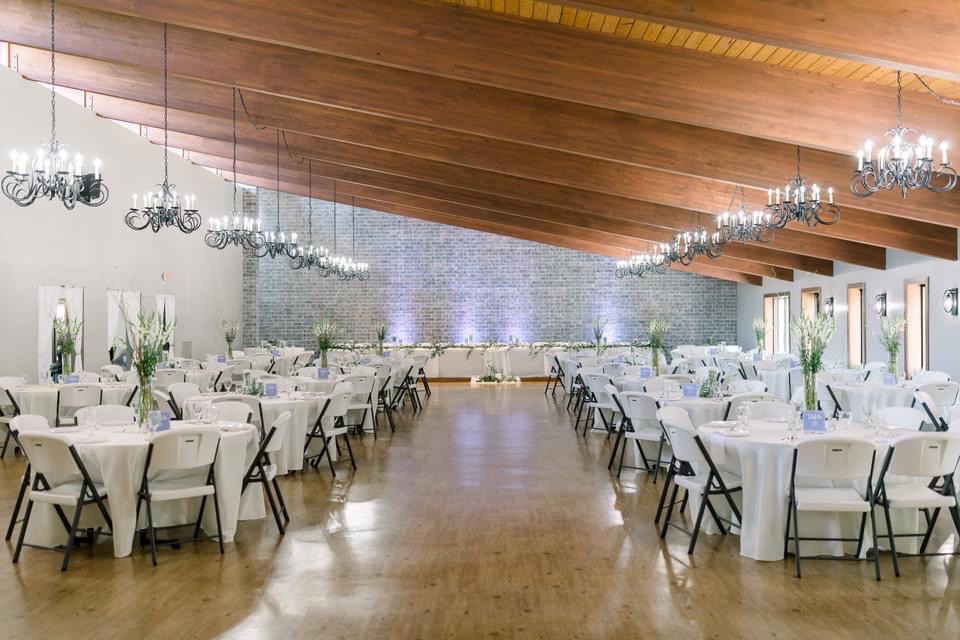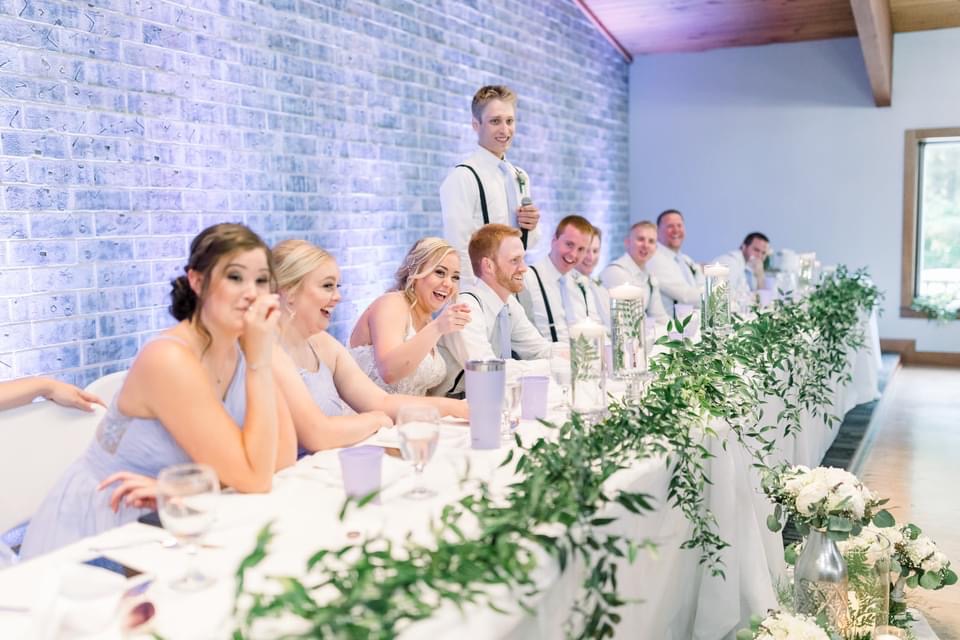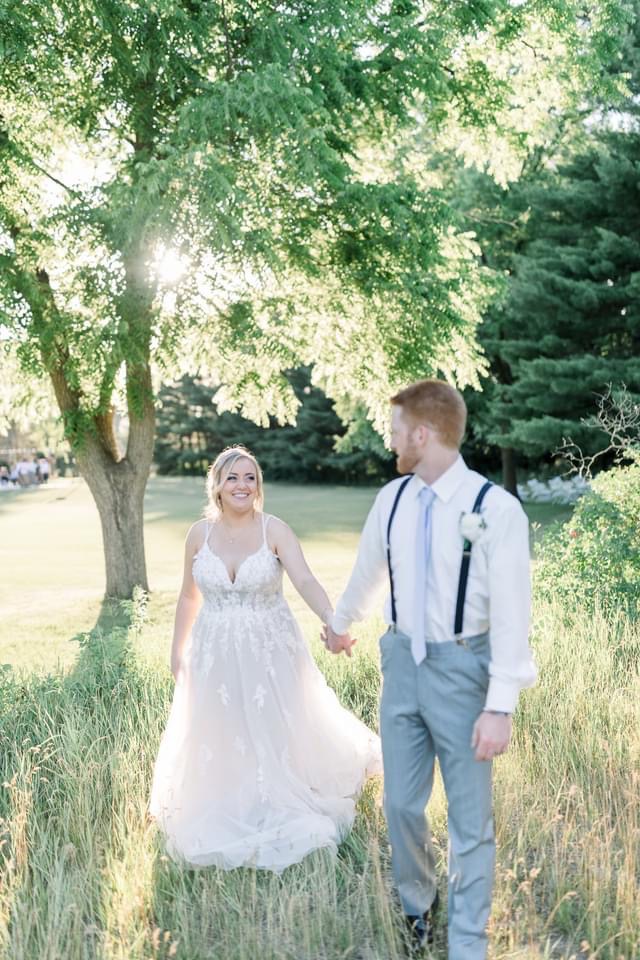 WHAT SETS YOU APART FROM OTHER VENDORS IN YOUR INDUSTRY? We're really proud of our full-weekend package. It allows us to get to know our couples and their families well, which drives us to do everything possible to make their day perfect. I can't say it enough - our couples love this, and so do we!
We're also really proud of the family atmosphere we create by handling all communication with our couples prior to their wedding and being on-site personally throughout. Additionally, we strive to provide transparent pricing with no surprise fees. With the exception of sales tax and the extra cost of the full-weekend package, everything is included in our base pricing - including our bartenders. The last thing any couple wants to see days or weeks before their wedding is additional costs that they didn't anticipate or budget for. I'll gladly light candles, fill water glasses, set out the cupcakes, or dismiss tables if that's what it takes to make the day go smoothly, and we won't charge a dime to do it.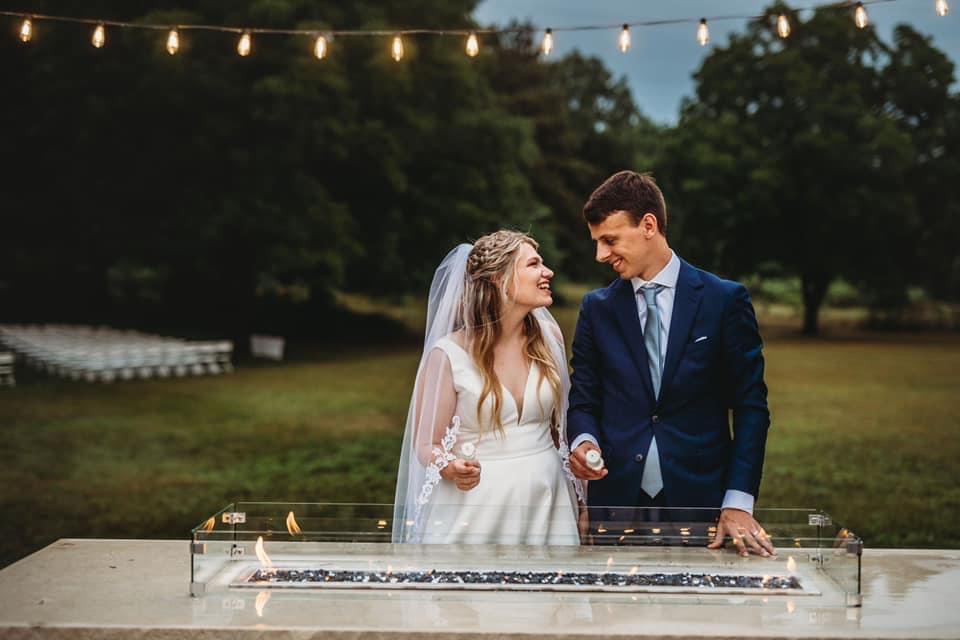 WHAT DO YOU LOVE MOST ABOUT WORKING IN THE LOVE INDUSTRY? This is easy: we love the people we meet. Sometimes it's the couple themselves, and sometimes their parents, a sister, an uncle, or all of the above! It seems like we meet someone extraordinary at every wedding. In our few short years of business, we've met people from all over the world, from all walks of life, and learned so much in getting to know them. Even for an introvert like myself, this is the very best part of what we do. And as a bonus, weddings are the happiest of events and everyone (well, almost everyone) is happy to be there with us!
We also LOVE watching each couple bring their own personal touch, hobbies, and interests into their special day. It's always amazing to me how they find ways to incorporate these things into their decor, their ceremony, and their reception itself. They are so creative, and no two weddings are the same.