Paige and Vincent's outdoor ceremony in the vineyard at Over the Vines, was picture perfect with beautiful sunny skies on a Fall October day. Complete with a charming and true Wisconsin rustic barn wedding reception with tall ceilings and sparkling chandeliers as guests dined beneath with a feast from Wisconsin wedding caterer, Gaylord Catering. Adorned with DIY details like the eco-friendly floral centerpieces, and an escort card display made of barn wood doors, it's the type of celebration you're bound to love with The Wedding Flashers sharing it all right here!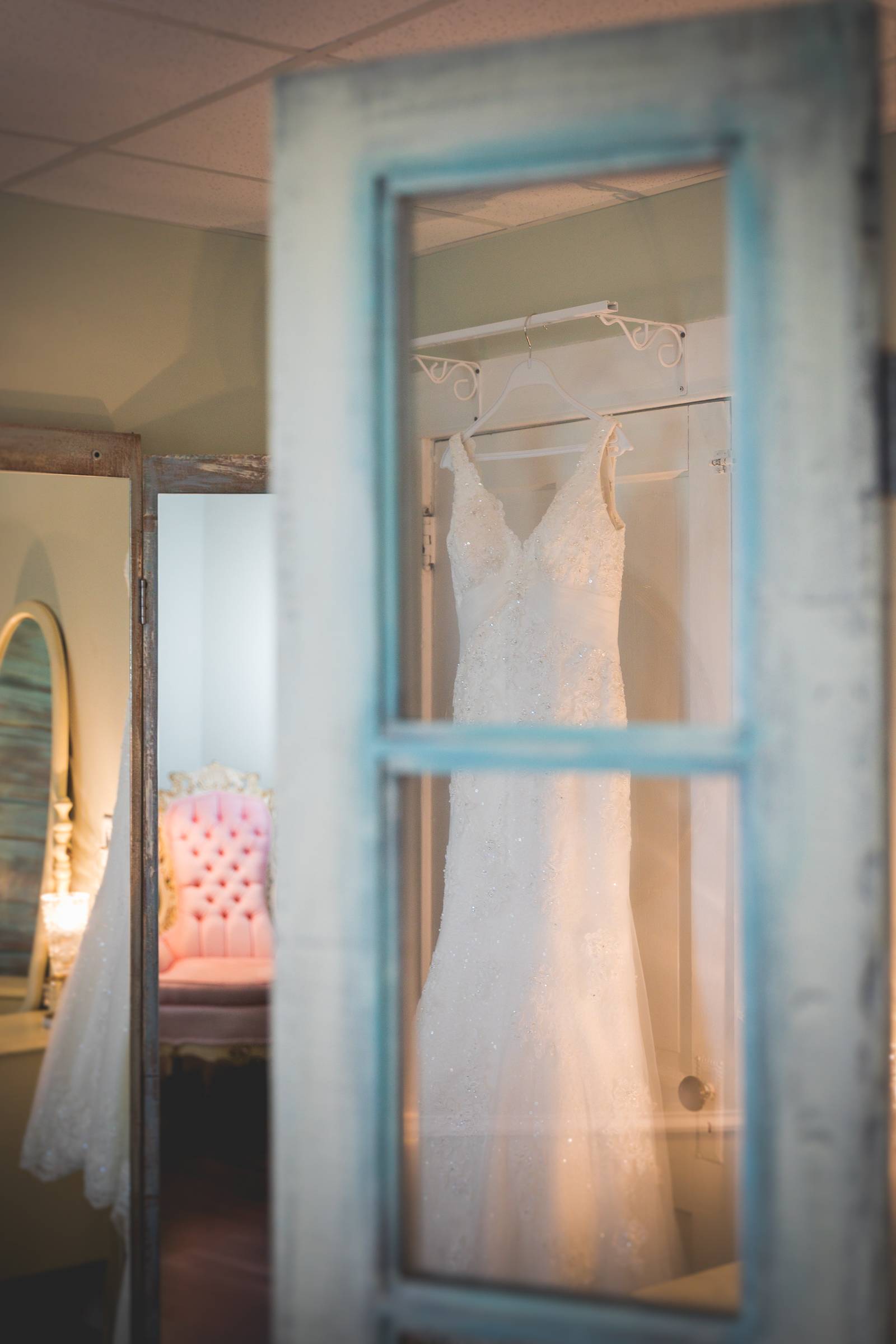 WEDDING DATE:10/21/17

HOW DID YOU MEET? We met through mutual friends at a summer BBQ, knew each other for years prior to dating. We remained friends throughout the years but Super Bowl 2016 was the start of our relationship.
HOW DID YOU KNOW HE/SHE WAS "THE ONE?"
Vincent: I can't say there was one specific event or decisive moment that determined she was "the one." It was an accumulation over time of experiences that we shared together and realizing she is my best friend. That I couldn't see anyone else by my side for the rest of my life.
Paige: I think the moment for me is when we were sitting on the couch one day when I asked if he would move in. It had only been a couple months at that time, but I knew I could not see myself with anyone else. That moment is when I knew he was "the one."
TELL US ABOUT YOUR PROPOSAL: My plan of proposing to Paige and what actually happened were two different stories. I picked a sunny Sunday afternoon in July to propose. I decided to take Paige on a nice walk on the Naperville Riverwalk, which she was a little resistant on doing at first. But with a little convincing, we drove out to Naperville. We started off the afternoon by grabbing a little lunch and then began our journey down the Riverwalk. My idea was to find a spot on the Riverwalk, by a waterfall or gazebo....... to propose. Through our time walking I did find a couple of perfect spots to pop the question but ran into one big problem that I did not anticipate. For starters, I am not one for being the center of attention or being in front of big crowds. At this time in July, Pokemon Go was a very popular thing to do and the Riverwalk must have been a hot-spot for it. There were hundreds of people scattered throughout the Riverwalk in search of Pokemon. At this point, I kept on delaying my time to shine because I didn't want to share our moment with every Pokemon hunter out there. We eventually finished our walk and ended up stopping at a bar for a couple of drinks. I thought maybe this is all I need is a little liquid courage. Time passed and Paige was ready to head back home, so we began our walk back to our truck. The whole time I was telling myself I am not leaving here until I ask her to marry me. It was now or never! Standing by our truck on the sidewalk, I got down on one knee and asked her, "Will you marry me?" She said, "Yes" and the rest is history.
TELL US ABOUT FINDING YOUR DRESS: My mom and I went to several places to look for a dress. Then we went into a boutique and the person had my mom pick out a few dresses and I had a couple of dresses to pick out. We met and the first dress my mom picked out for me I loved. She knew my style, even I didn't know my style. I tried it on and fell in love. I knew that was the perfect one. Thanks, Mom!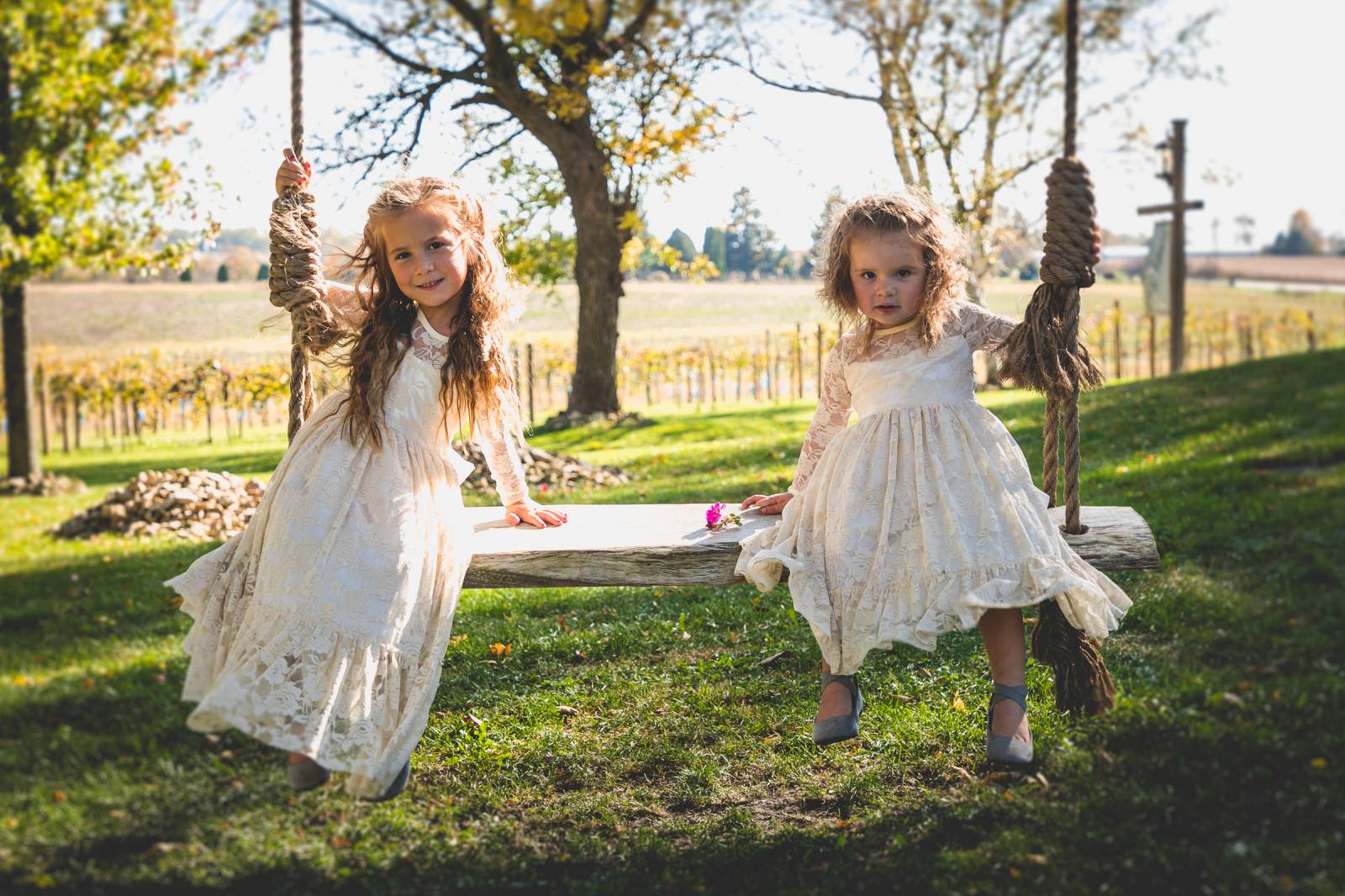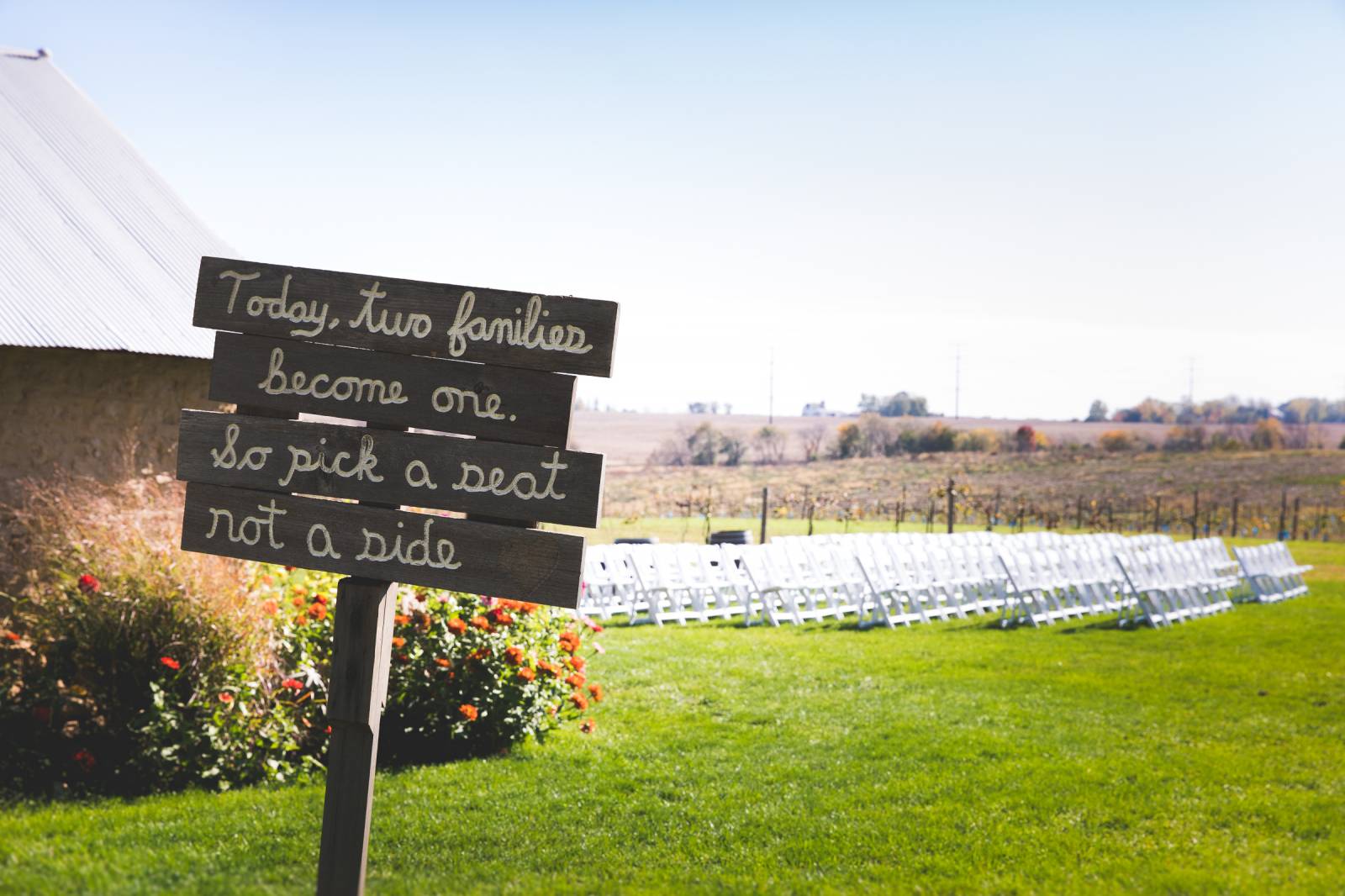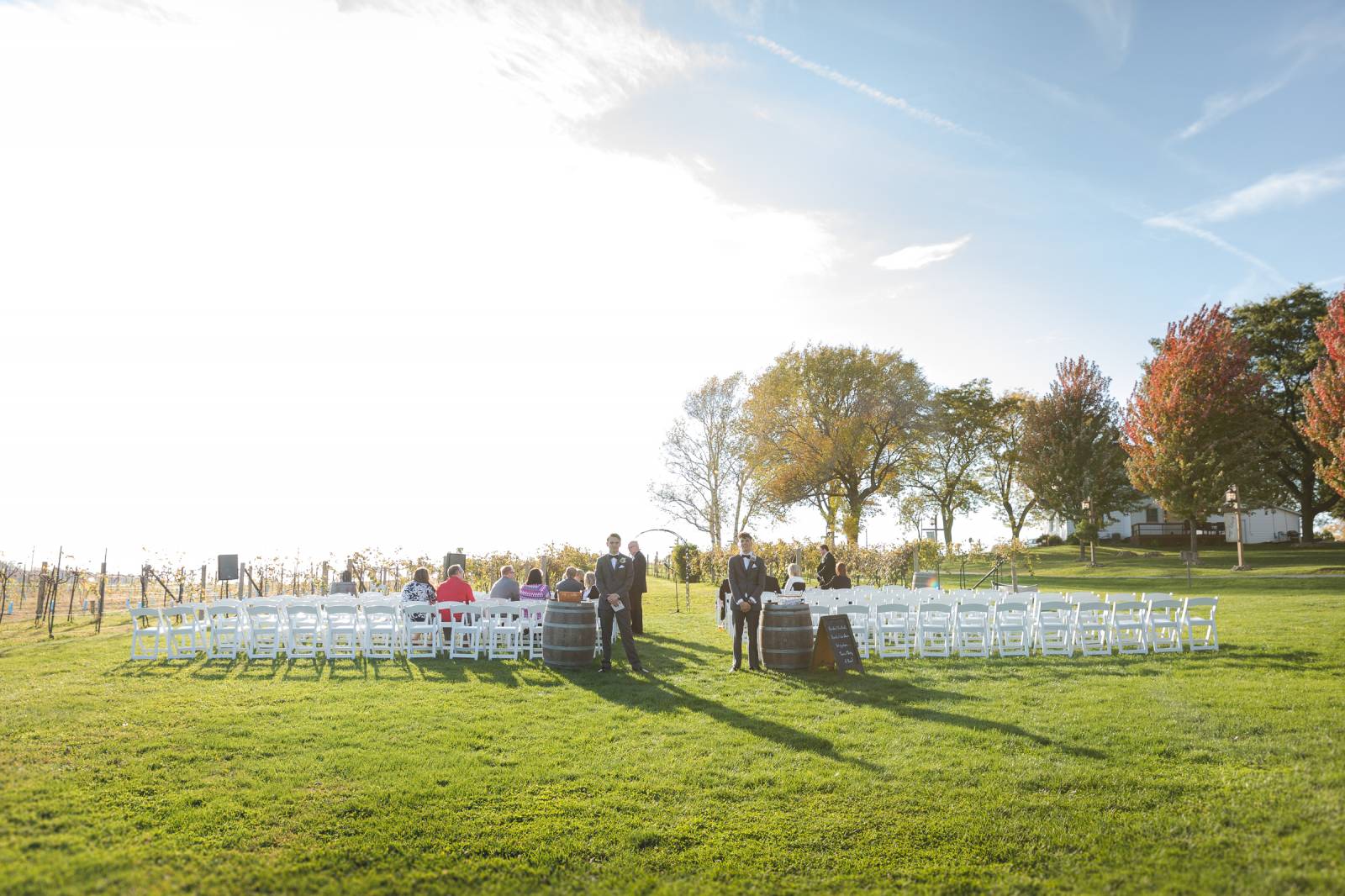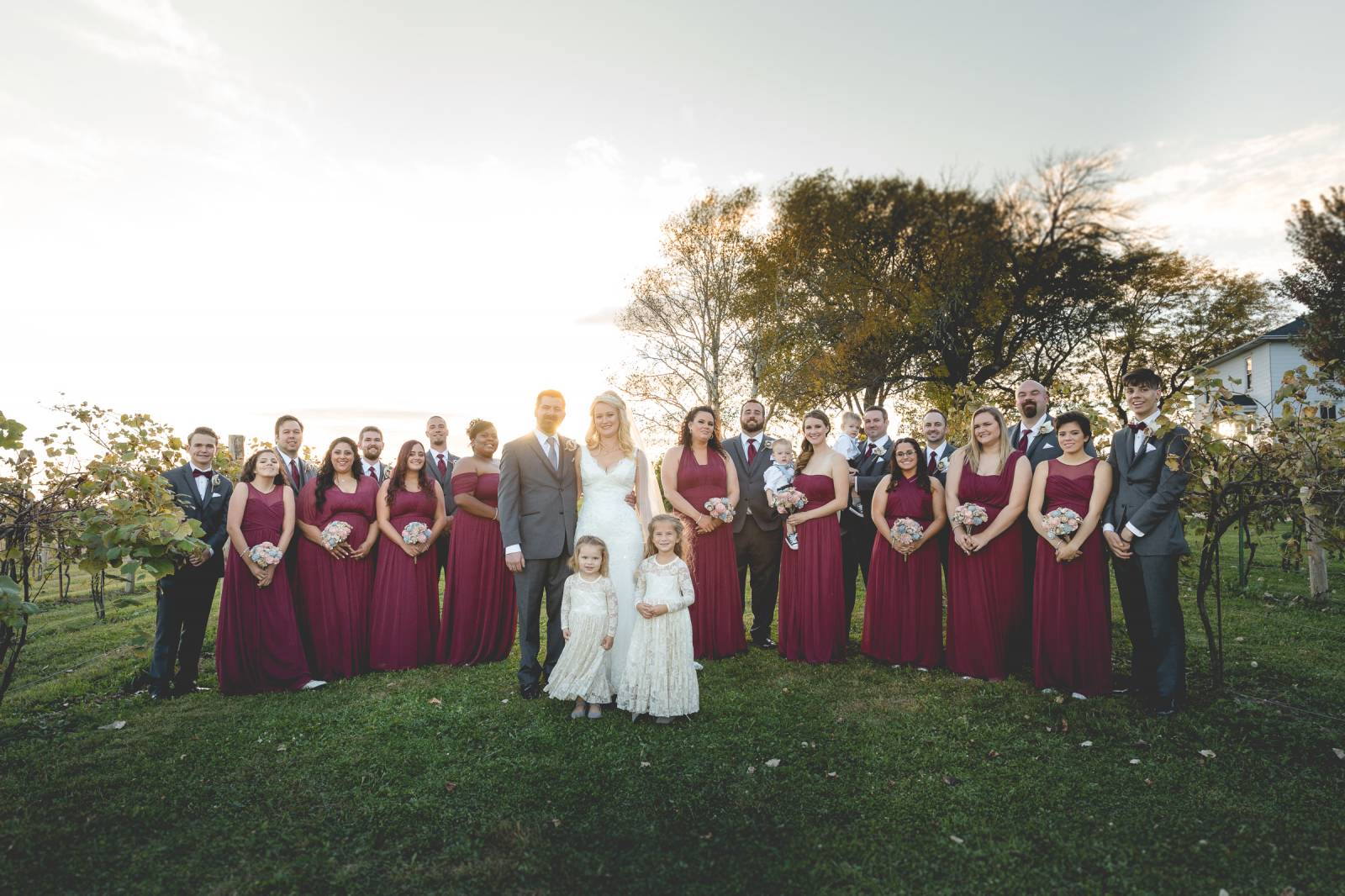 WERE THERE ANY PERSONAL TOUCHES OR DIY ELEMENTS? We had plenty of DIY elements to our wedding. All of the centerpieces and bridesmaid's gift boxes were designed and made by us. The cupcake and cake stands were made out of old wood pallets.
DESCRIBE YOUR WEDDING FLOWERS: Handcrafted, recycled wood and paper flowers by EcoFlowers with soft pinks, browns, light blue and white baby's breath.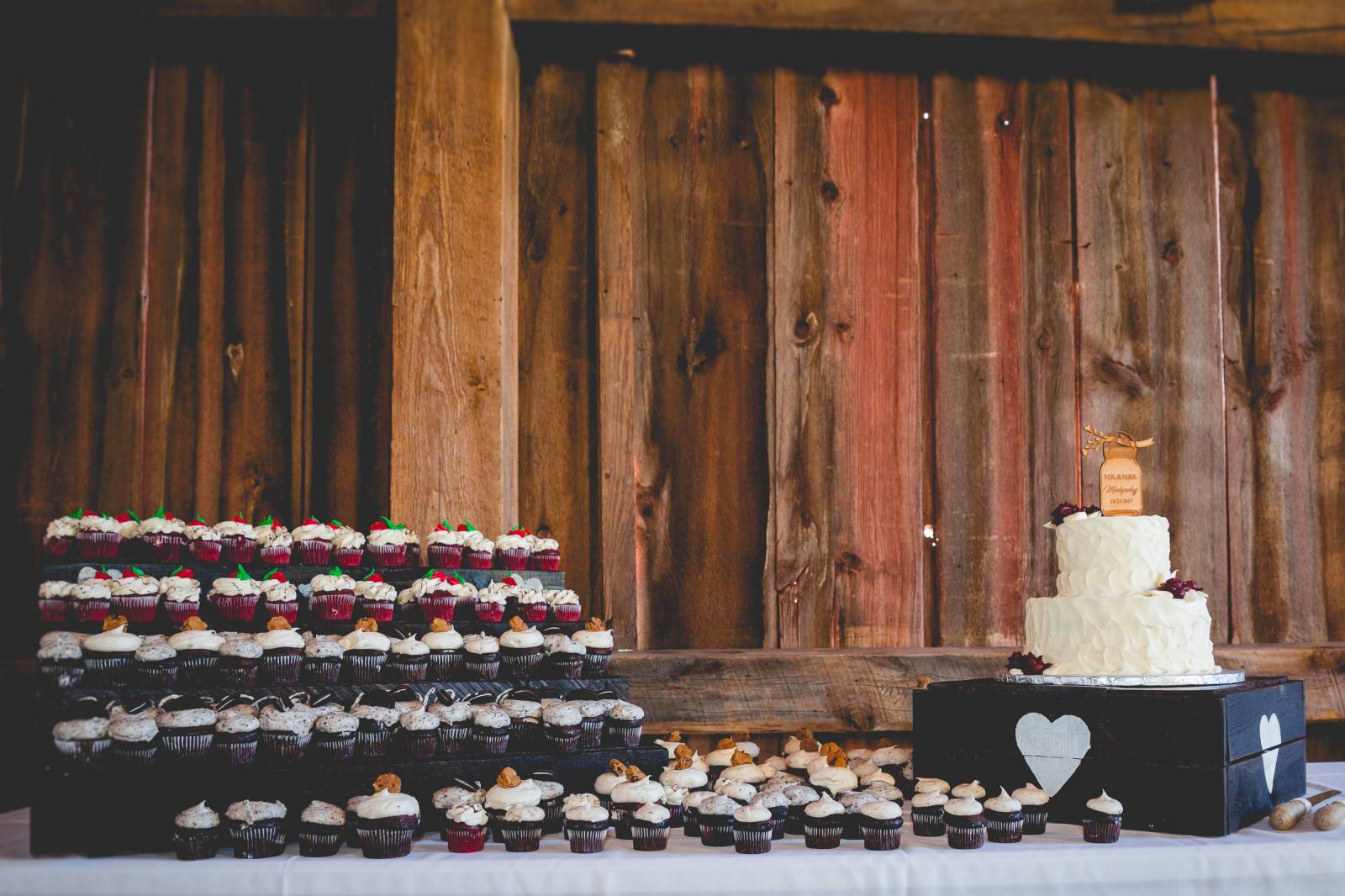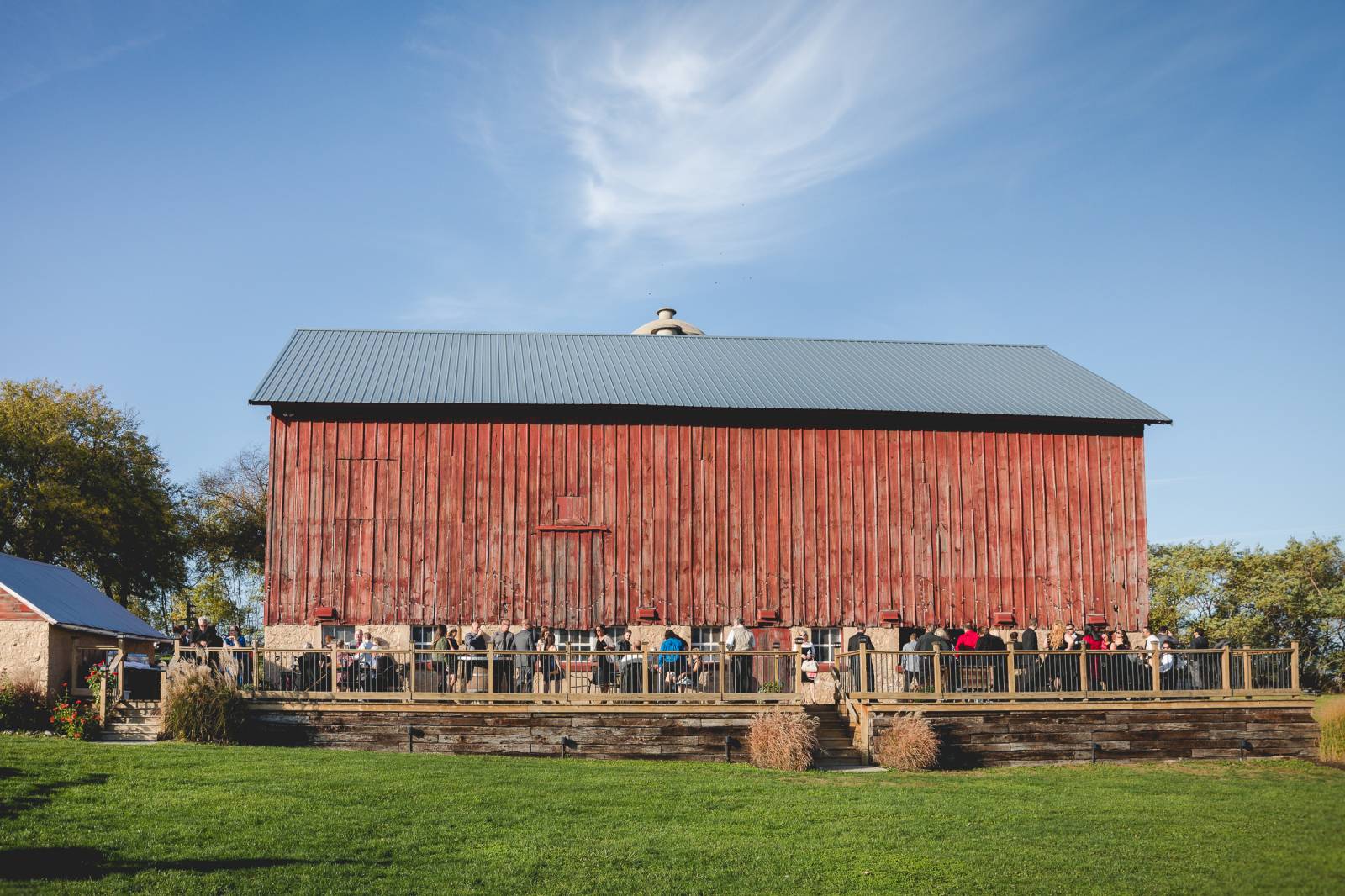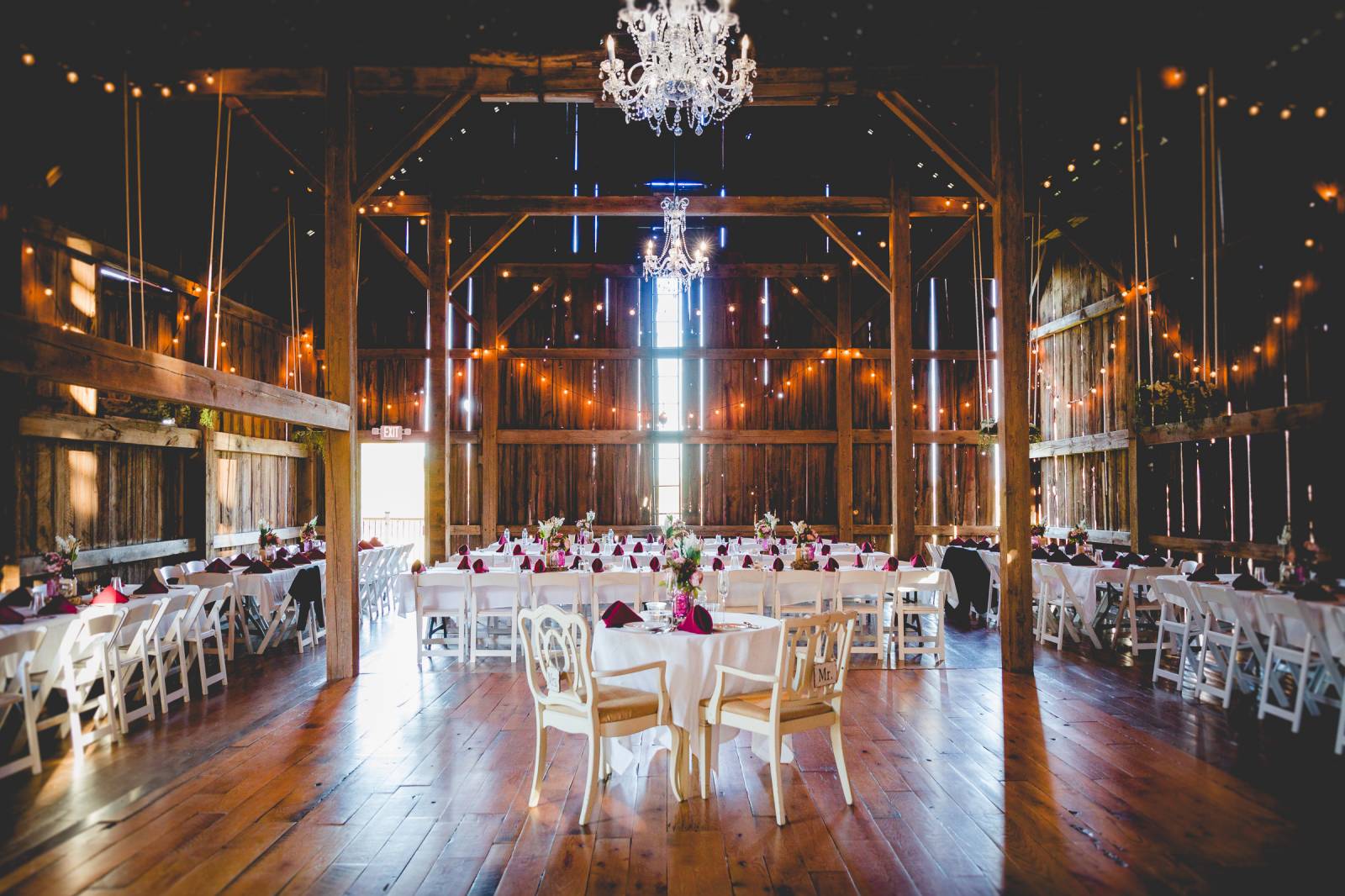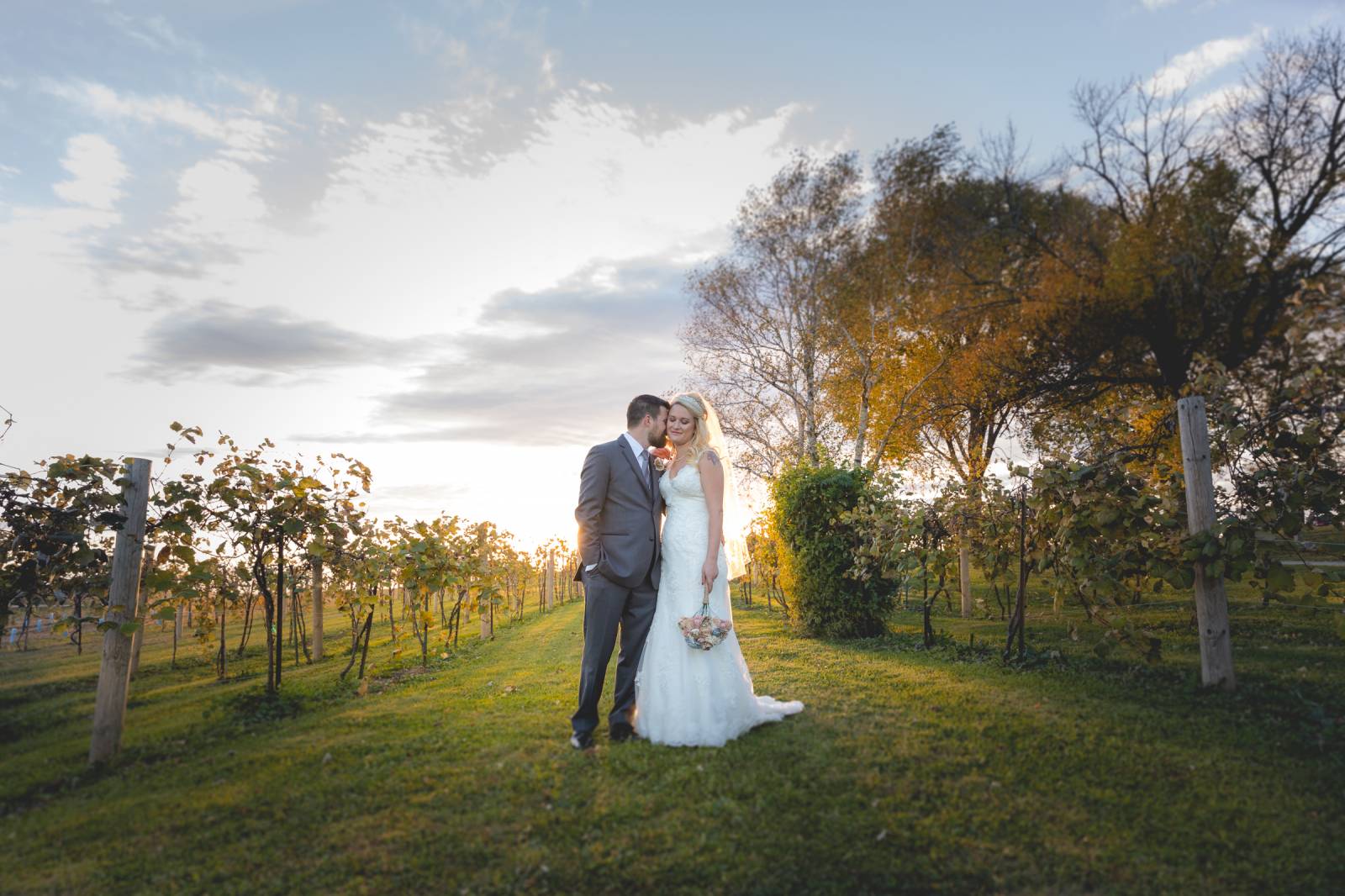 WHAT WAS YOUR FAVORITE MOMENT FROM YOUR WEDDING?
Paige: When we both took a moment away from the party and walked through the vineyard, just the two of us looking back on what an awesome wedding we planned. (And Vincent crying when he saw me for the first time walking down).
Vincent: It wasn't a moment but the day in general. Our wedding day was at the end of October, which in Fall, the forecast means cold and rainy. But we took a gamble with an outdoor wedding and won. The day was filled with sunny skies and 70+ degree weather with all the Fall colors surrounding the venue. Couldn't ask for a more picture perfect day.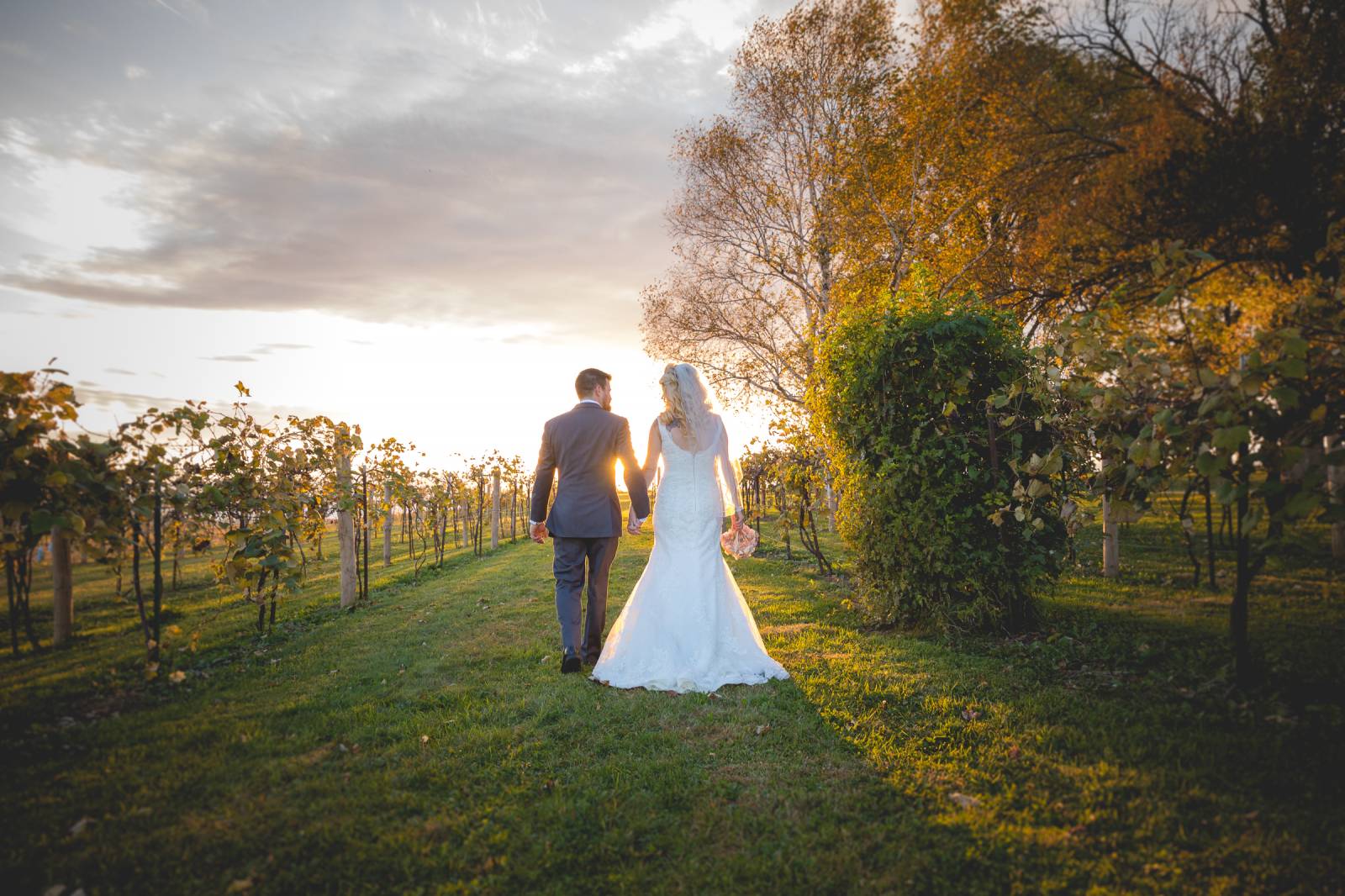 TELL US ABOUT YOUR HONEYMOON PLANS: Our honeymoon started off flying into Miami and staying in Miami Beach for a night. Then renting a convertible Mustang and driving down to Key West for a week.
WHAT DOES LIFE LOOK LIKE AFTER THE WEDDING? Busy, planning new adventures for ourselves. Really, nothing has changed as much for a couple beside her last name.
IS THERE ANY ADVICE YOU'D GIVE TO OTHERS PLANNING A WEDDING? Create your unique personal style into your wedding from doing DIY projects. You learn so much about your partner from doing wedding planning together. Compromise on everything.