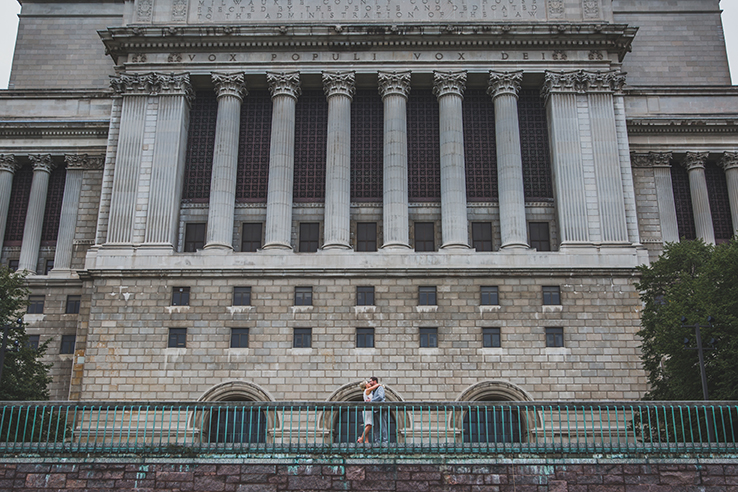 The most intimate of wedding elopements featured today, took place in the heart of downtown Milwaukee of Lisa and Sam's celebration. These images were shot by Emily of McNiel Photography, who spent an entire Friday with the couple and just their closest family as they said, "I do," at the Milwaukee County Courthouse. "I am happy to say I got a lot of that one-on-one time with my husband due to how we designed our day and I'll cherish so many of those intimate moments because of that," says Lisa.
Followed by simple, yet beautiful candids, the day ended with cold Wisconsin craft beers and a private cozy dinner at Sanford Restaurant. The next day, the couple held a larger soiree to toast with friends and family at Firefly.
WEDDING DATE: 09/30/16
HOW DID YOU MEET? We met briefly 5 years ago in Janesville, WI at a local bar. However, it wasn't until months later that I ran into him again, working at a different bar, that we exchanged numbers.
HOW DID YOU KNOW HE WAS "THE ONE?"? We spent a year living in different cities, Sam in Milwaukee, me in Janesville. We saw each other every weekend for over a year before I decided to make the move to Milwaukee and move in together. I moved into his tiny 1-bedroom apartment for 5 months before we could find a bigger place. This was a big adjustment going from sharing only a few days month to sharing every free minute we had together, and doing it in minimal space. And we did it flawlessly. It wasn't until after we found a larger apartment, offering us more space that I realized how amazing it was that we not only didn't kill each other, but made it through with even more love and appreciation for each other. That's when I knew he was a keeper. I could see how our future together would be able to accommodate and mold to the changes of lives.
TELL US ABOUT YOUR PROPOSAL: We had already started planning the wedding. So it wasn't completely unexpected. Although the sentiment that he put into his proposal was more than I could have dreamed of. I came home to find my dining room table full of flowers and him sitting amongst them. As I went over to join him, he gave me a big smile and asked me to sit. He went on to say that as he tried to find the perfect place and time to propose, he kept coming back to our home. Having been there for exactly a year, he was focused on all of the memories we had already made there and was looking forward to all of the memories yet to come... with marriage, kids, and our future family. It was only fitting to start it all off with the proposal right in the heart of our home.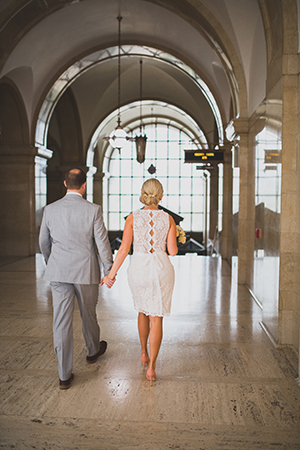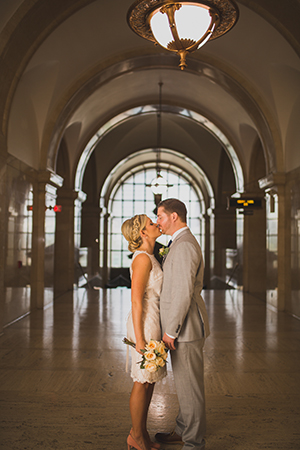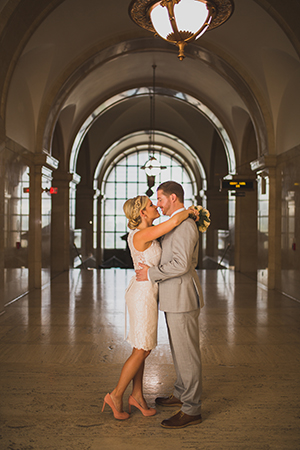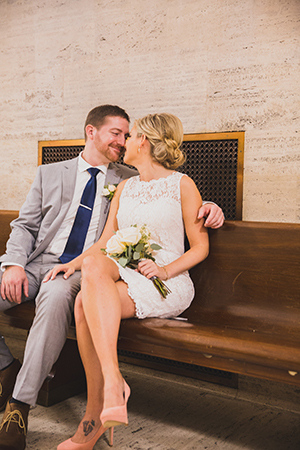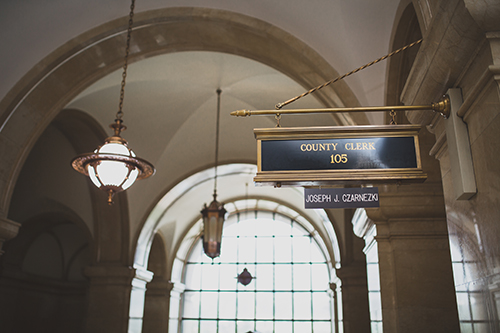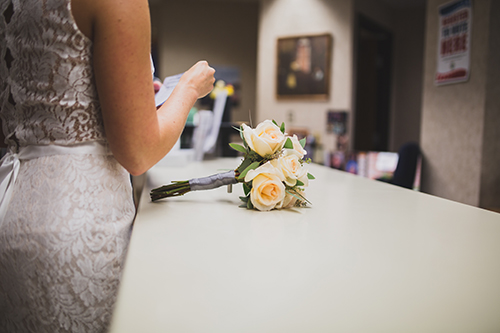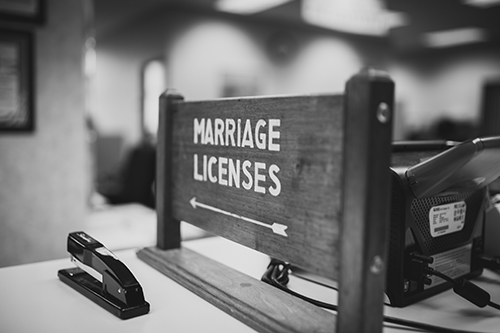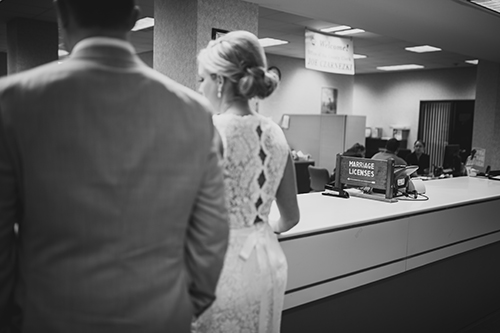 TELL US ABOUT YOUR DRESS: We wanted an intimate a courthouse wedding. With that said, I was looking for a shorter dress, to avoid dragging a train through the courthouse. I loved the look of a simple lace, pencil skirt and ended up finding it at Savvy Bride. They had more than a dozen dresses that fit what I was looking for. I fell in love with the lace back and the sweetheart neckline in the front. It was an easy decision and I ordered the dress that very day. Plus, it was considered to be a bridesmaid dress, which saved me both cash and time (delivery).
Savvy Bride was a big help, pulling dresses for me ahead of time (knowing what I was looking for) and then getting my order in asap with rush delivery to meet my time frame. It was easy and I was appreciative for that. I had the dress tailored in around my hips and knees. I have a rather large booty and the dress was designed with more of a straight-line. I wanted it to hug my figure, so I had it taken in to add more definition to my curves.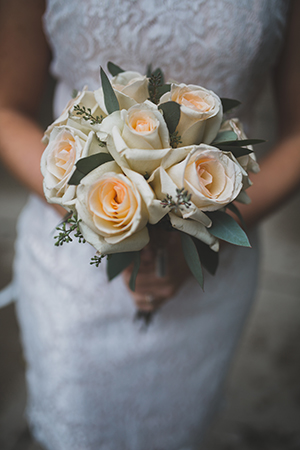 DESCRIBE YOUR WEDDING FLOWERS: They were a soft blush arrangement that helped us keep a little more of that romantic charm while in the courthouse. I just loved the way the blush looked against his gray suit and the fall colors too. Unfortunately, I can't tell you what flower they were.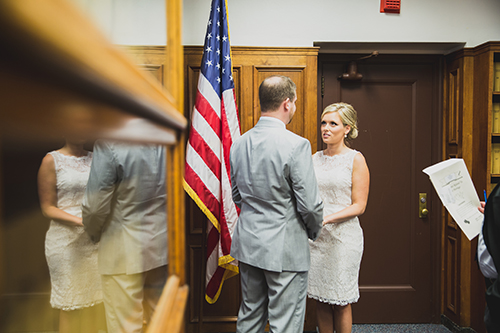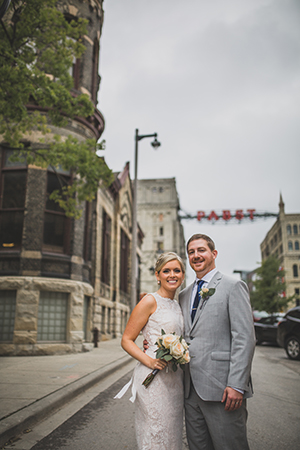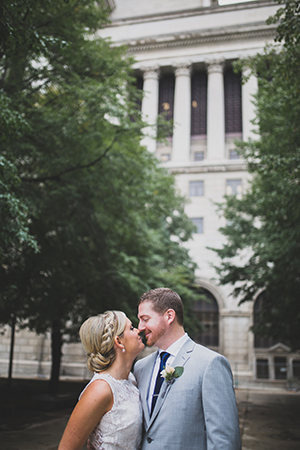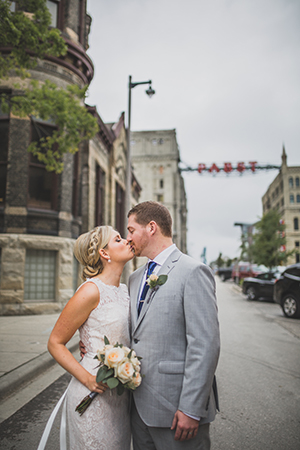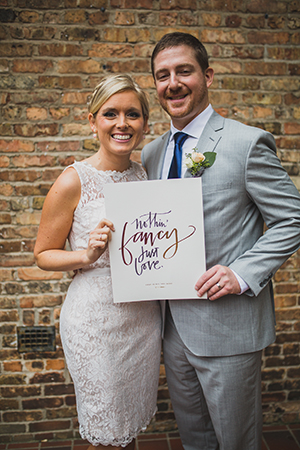 WHAT WAS YOUR FAVORITE MOMENT FROM YOUR WEDDING? First, I want to say that my favorite THING about my wedding was the fact that it was so intimate. I've heard so many couples say that their favorite moment was when they got the opportunity to take photos with just the bride and groom, giving them some of their only alone time together that day. I am happy to say I got a lot of that one-on-one time with my husband due to how we designed our day, and I'll cherish so many of those intimate moments because of that. I will say that one of my unexpected favorite moments was in the courtroom. People typically have to go to the courthouse for paperwork, licenses, and things that are otherwise NOT very fun. So when our family walked into the courtroom all dressed up, everyone turned to look at us. We quickly sat down in the last row and waited for the judge to call our name. Once our name was called and we headed down to the front of the courtroom, people started clapping and yelling out 'Congratulations!' I couldn't help but feel overjoyed with the spontaneous love coming from this room full of strangers. It was amazing.
DID YOU USE USE ANY SPECIALTY DECOR OR DIY ELEMENTS? No. We had a private dinner at the Sanford that night with just our immediate family - which is just beautiful as is. We followed up with a larger reception the next day, Sat Oct 1st, held at the Firefly Bar & Grill in Wauwatosa, WI. It was a casual party with family and friends and again, the venue is already set up beautifully.
One special addition was provided by Emily at McNiel Photography. She was with us for most of the day on Friday, capturing our time spent at the courthouse and celebrating with our family immediately after. We had asked her to provide us with a handful of edited photos that we could then print out on Saturday morning and place around the reception for our family and friends at the Firefly. We wanted them to feel part of our day too, providing them with the first look into our courthouse wedding, just 24 hours earlier. Emily went above and beyond and was able to provide us with a full gallery of photos to pick from as well as a slide show to music. It was a hit! Our family and friends loved the photos set around the reception and enjoyed being able to see the slideshow, feeling like there were there with us on our special day.
Here are a few photos courtesy of the bride's friend, Robin Kopec, at their reception the following day at Firefly in Wauwatosa.