The rain couldn't put a stop to Megan and John's moody, intimate jewel-toned summer wedding at The Edgewater from being the magical day it was. Stunningly captured by Copper Antler Photography, this adventure-loving couple said, "I do," surrounded by an abundance of rich florals and iconic Madison views. Featuring daffodil*parker, Velvet Rentals, A La Crate Rentals, and Nothing Bundt Cakes, enjoy all of the bold ethereal details from their June celebration below!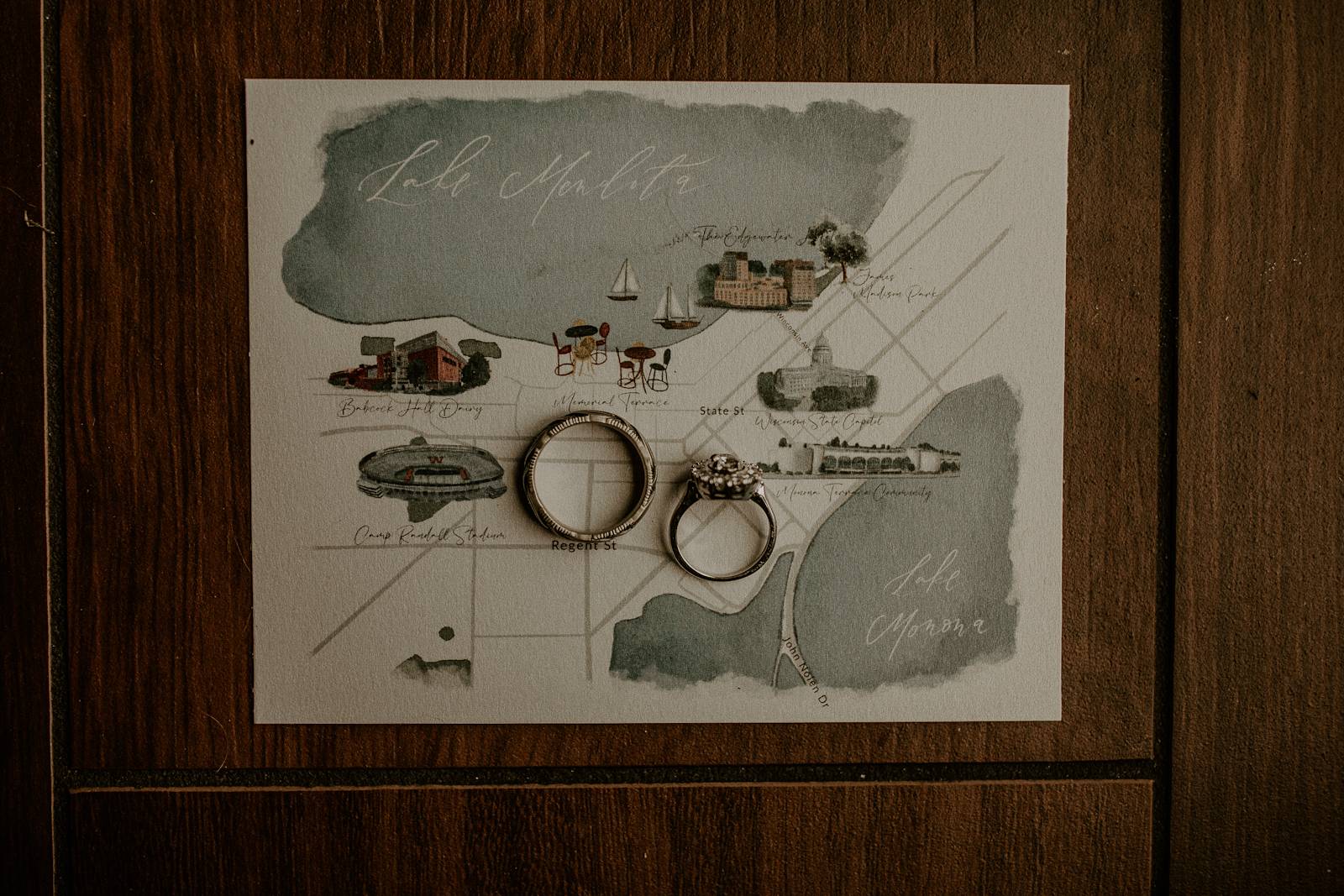 TELL US ABOUT YOUR LOVE STORY! John and I were introduced through a popular dating app. After a few weeks of chatting back and forth, we decided to finally meet. Our first date consisted of a full 8 hours visiting the Humane Society, petting puppies at a local pet store, skiing on Tyrol Basin's blustery slopes, and ending with a warm cup of rich hot chocolate. Little did I know that our jam-packed, adventure-filled first date would set the bar for the rest of their lives together!
Since then, we've been connected at the hip, exploring many states and a few countries, becoming scuba certified, and tackling sailing lessons on Madison's very own Lake Mendota. Our joy of adventuring has bonded us, and we are committed to a lifetime of love, fun, and happiness.
On a crisp fall day, John and I hiked at Wildcat Mountain State Park. When we hiked to the top, he asked me to be his wife! We shared many happy tears and a cup of delicious hot chocolate.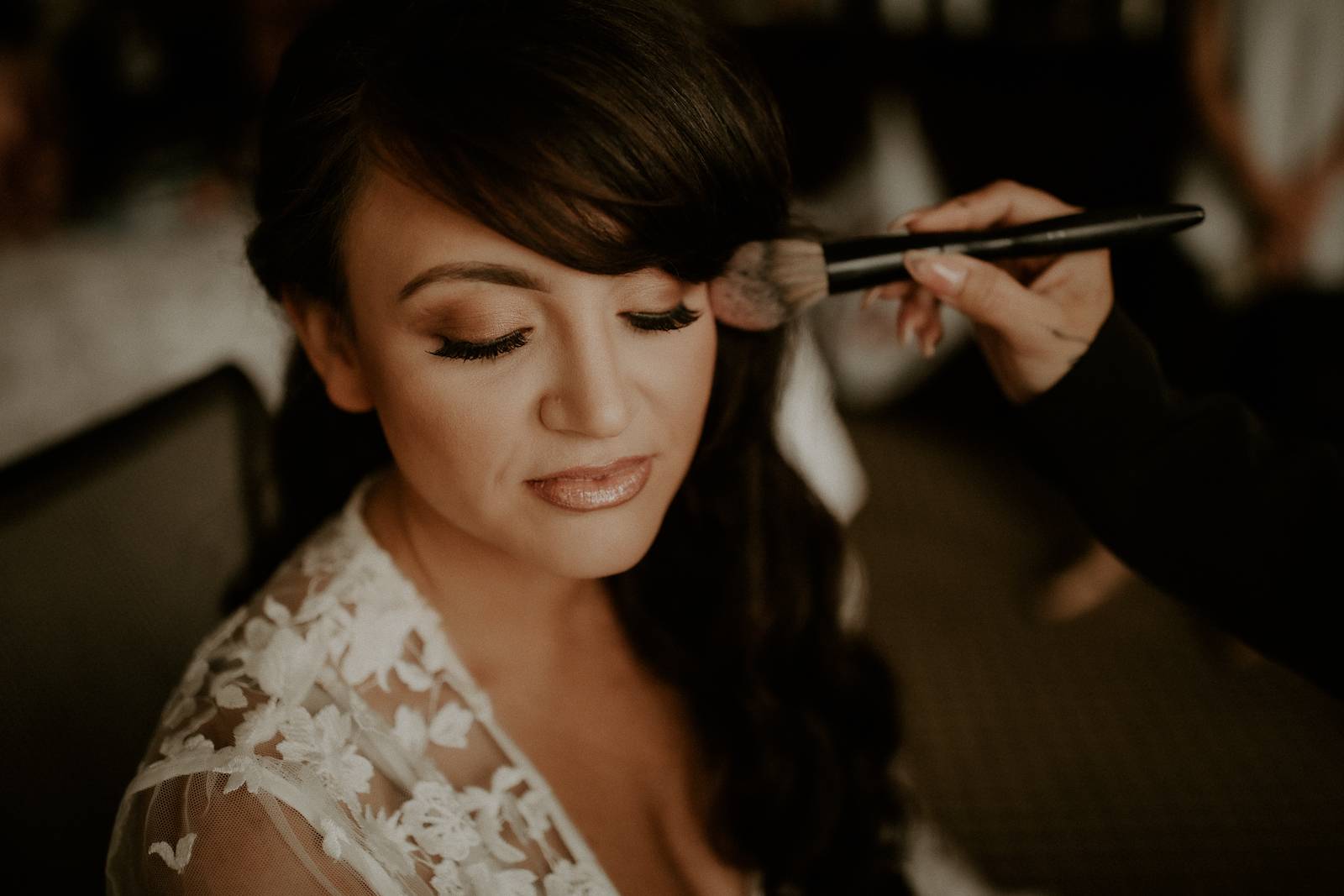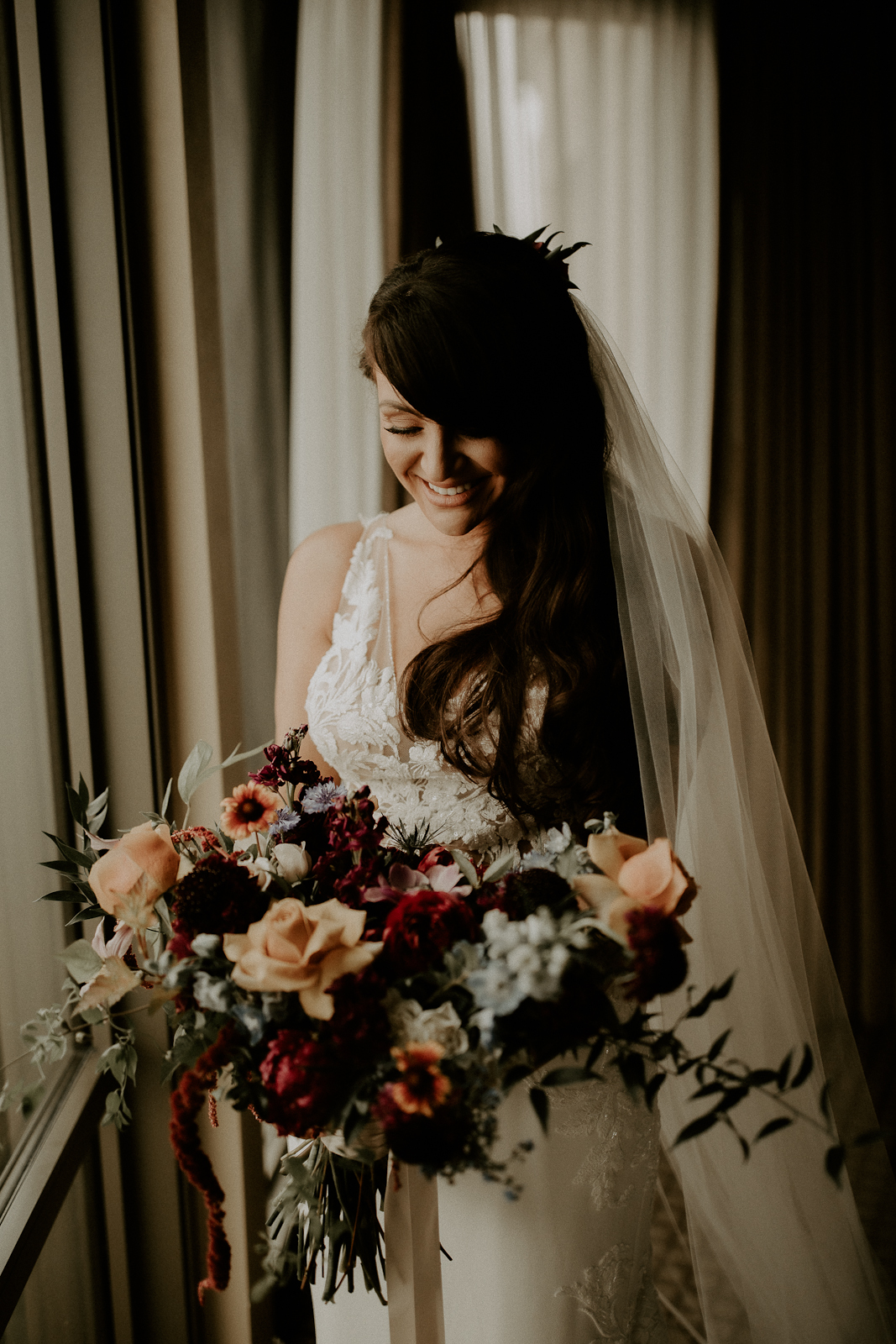 WHAT WERE YOUR WEDDING MUST HAVES?
1. VENUE: It was important for us to have a small intimate wedding, so, finding a space that fit our guest list and our taste just right was difficult. When we toured the Edgewater Sky Bar rooftop, we knew it would be perfect! Since I grew up in Madison, it was such a joy to be married surrounded by so many iconic Madison views.
2. PHOTOGRAPHER: The most consistent advice we received was, "hire a good photographer," so we did! Alicia at Copper Antler Photography was the best with all the moody vibes and modern, timeless flair. She delivered us a wedding gallery not only filled with beautiful portraits but many perfectly captured candid shots that we will treasure for a lifetime.
3. FLORIST: Both John and I share an interest in plants, particularly flowers. Taking advantage of an opportunity to be surrounded by beautiful blooms was a must for us, and daffodil*parker did not disappoint!
4. DAY-OF-COORDINATION: We worked with Mary Beth at Whispy Moss Events, and she was AMAZING. Incredibly professional, punctual, organized - all the things you want in a wedding coordinator. We got an idea a few months into planning how much work it would be on the day of our wedding if we chose to coordinate it ourselves. We really wanted to enjoy the day and be completely hands-off and Mary Beth allowed us to do that.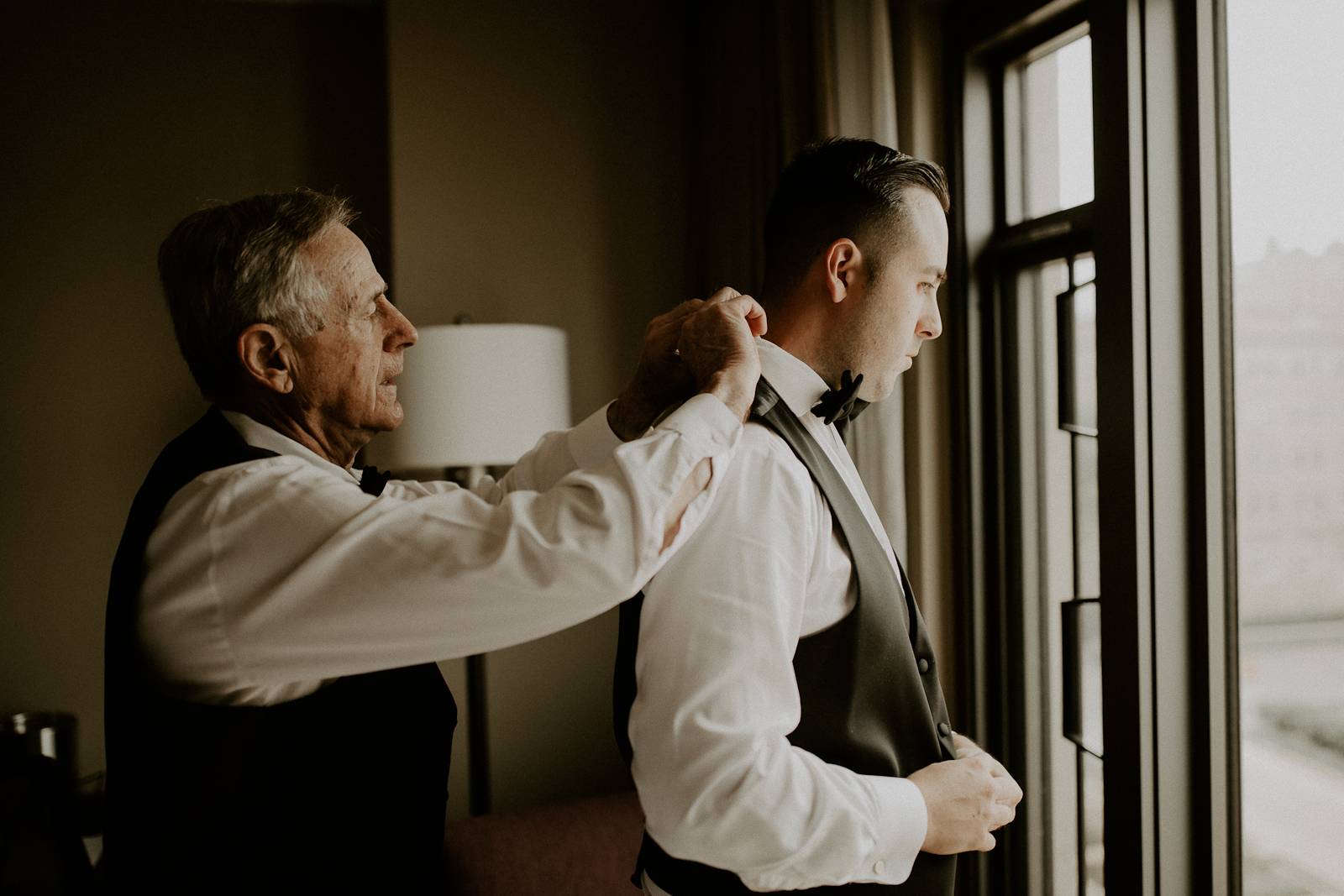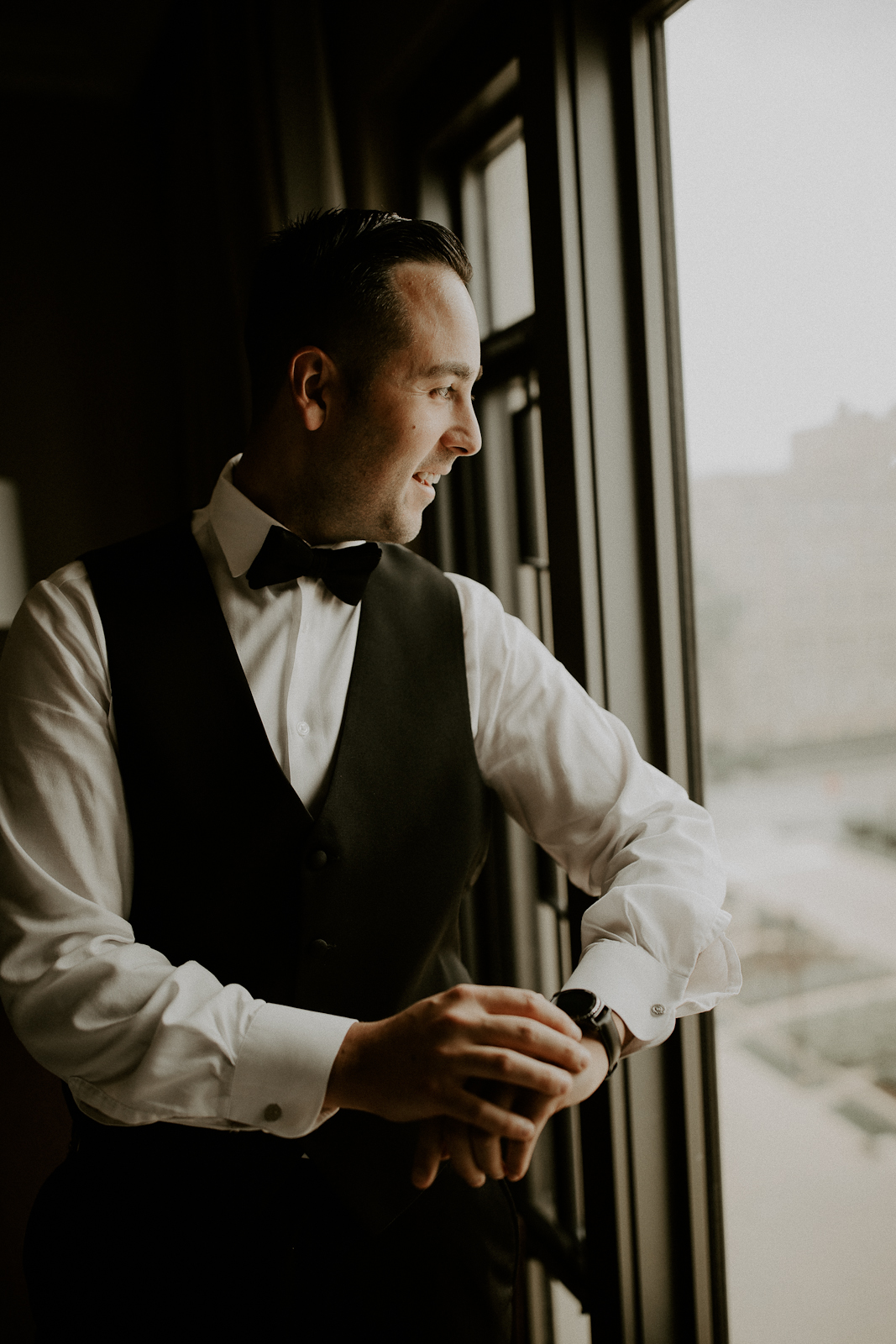 DESCRIBE YOUR WEDDING ATTIRE: I wore a 2019 Enzoani Noelle gown. Since it was so detailed, I wanted to keep my accessories minimal. I wore my mother's tennis bracelet, large studded earrings from Olive + Piper, and daffodil*parker made a beautiful floral hairpiece that I wore just above my veil.
John and his father rented their tuxes from Men's Wearhouse in Madison. He chose a modern slim-fit tux with black shoes, a white dress shirt, and a black bowtie. Their tuxes were paired with jewel-toned boutonnieres.
We chose a champagne/nude colored mix-match style of dresses for the ladies. They each had a choice of whichever style they felt most comfortable. I loved how the different shades and textures came together to make our own unique combination from Bella Bridesmaids and Revelry.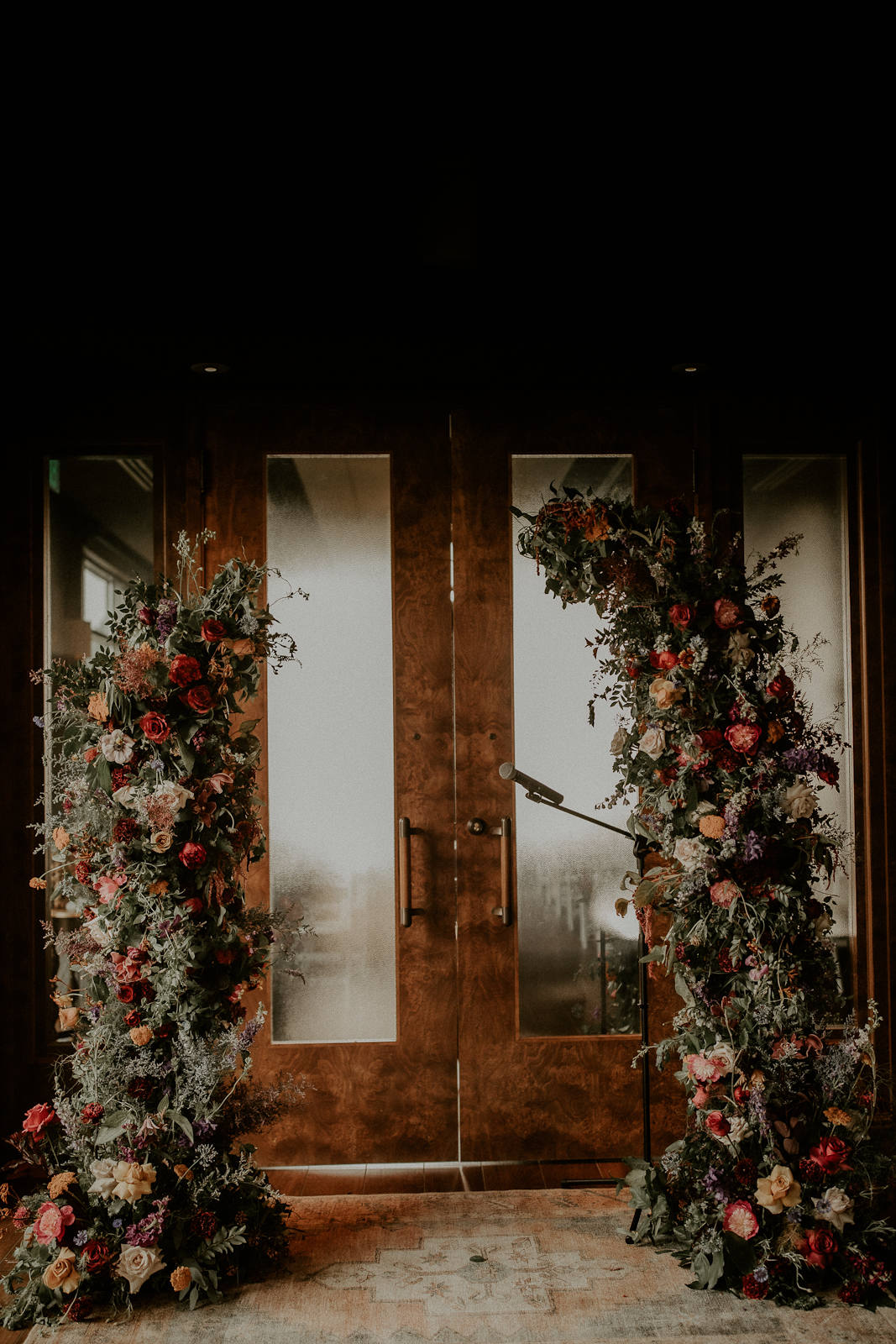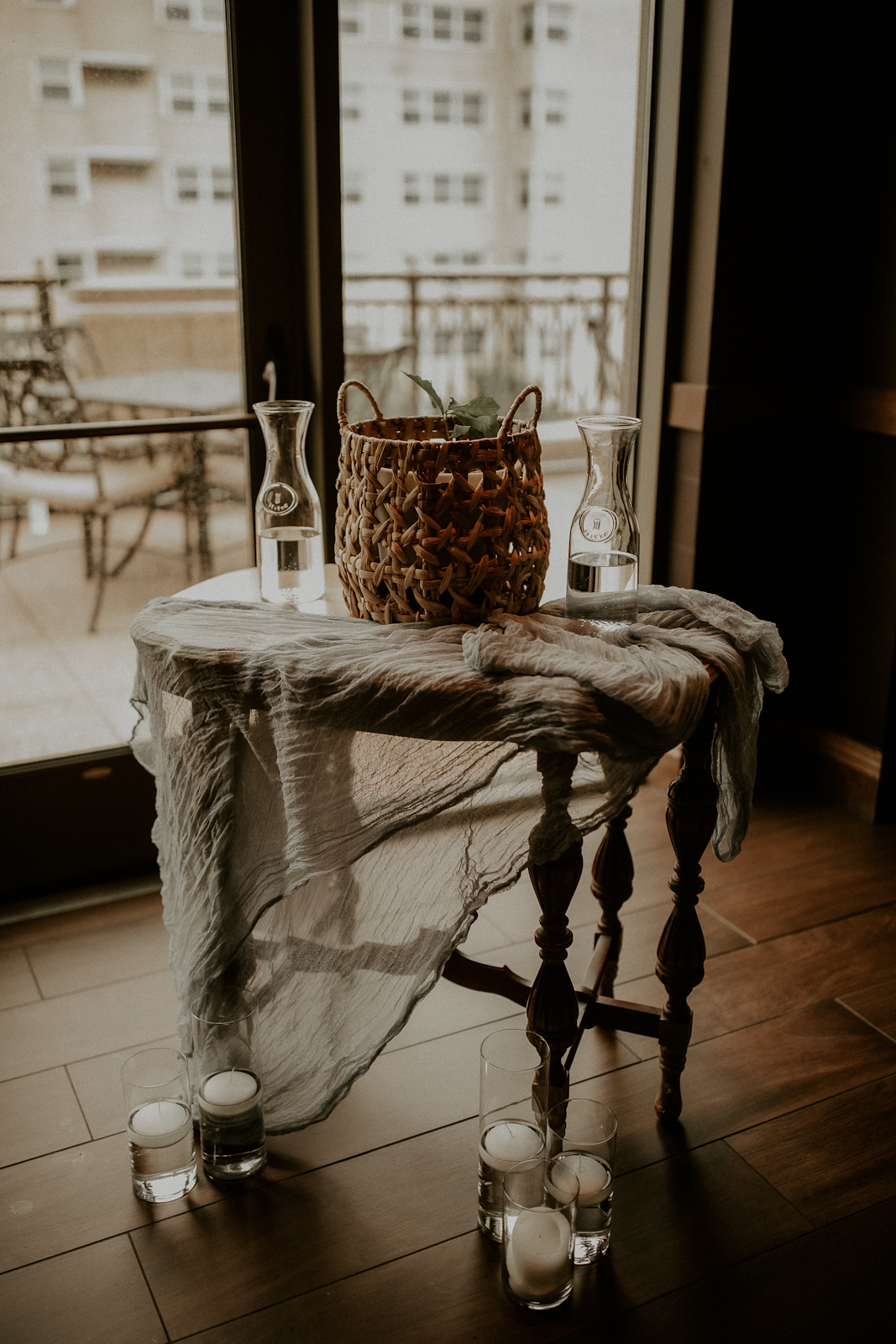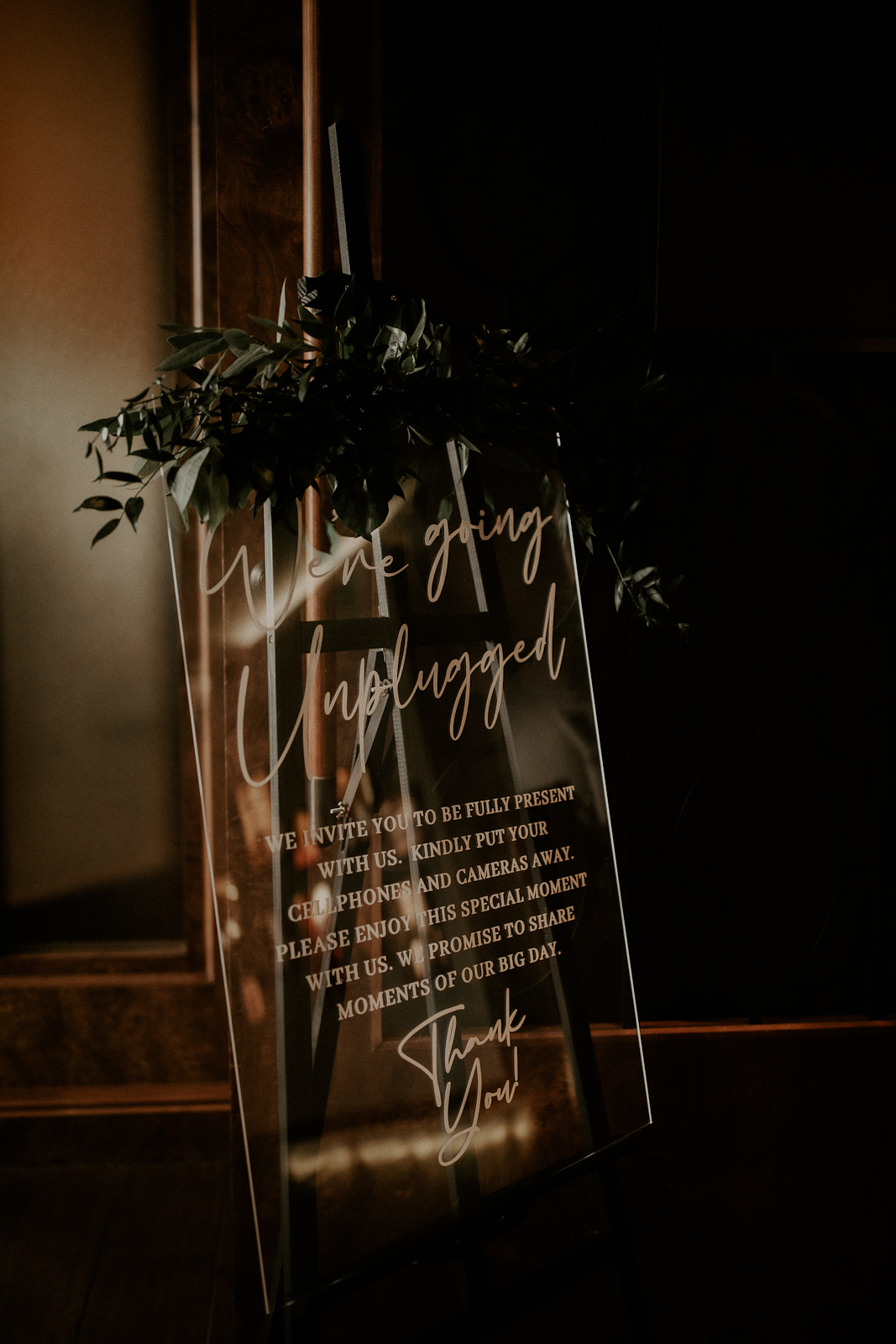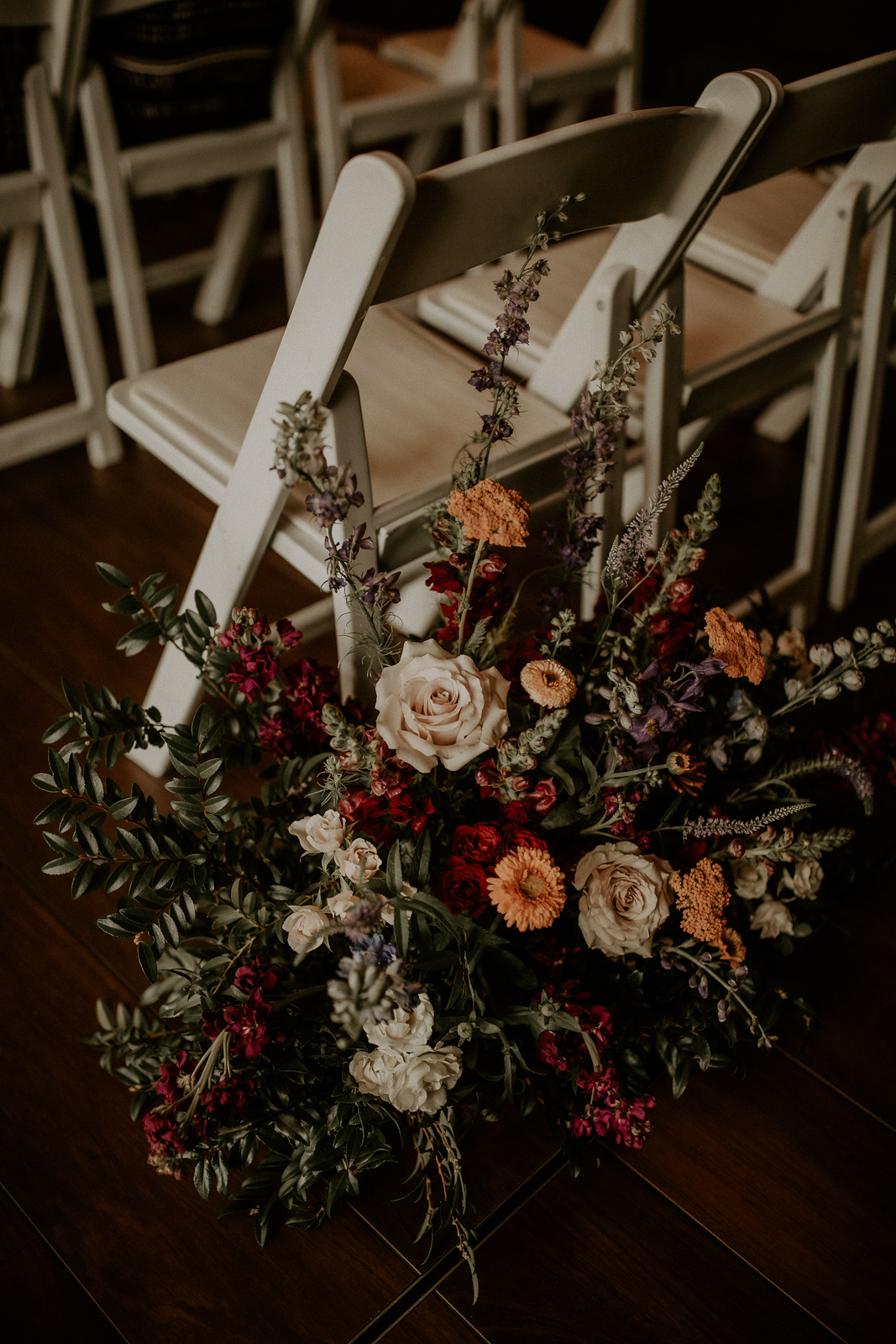 DESCRIBE YOUR WEDDING THEME/STYLE IN 5 WORDS OR LESS: Timeless Modern Ethereal
WHAT WAS YOUR WEDDING COLOR PALETTE? Bold summer jewel tones.
DESCRIBE YOUR WEDDING FLOWERS: Our wedding colors were all in the florals. We purposefully left a blank slate so that the florals would stand out the most in our decor. We wanted bold summer jewel tones, and the arch daffodil*parker created not only made a visual impact in our ceremony and reception spaces but being surrounded by so many flowers made us feel like a million bucks on our most memorable day. Cream and pink roses, fuchsia peonies, burgundy scabiosa, a mix of cone flowers, delphinium, amaranthus, clematis, and more made up our beautiful blooms.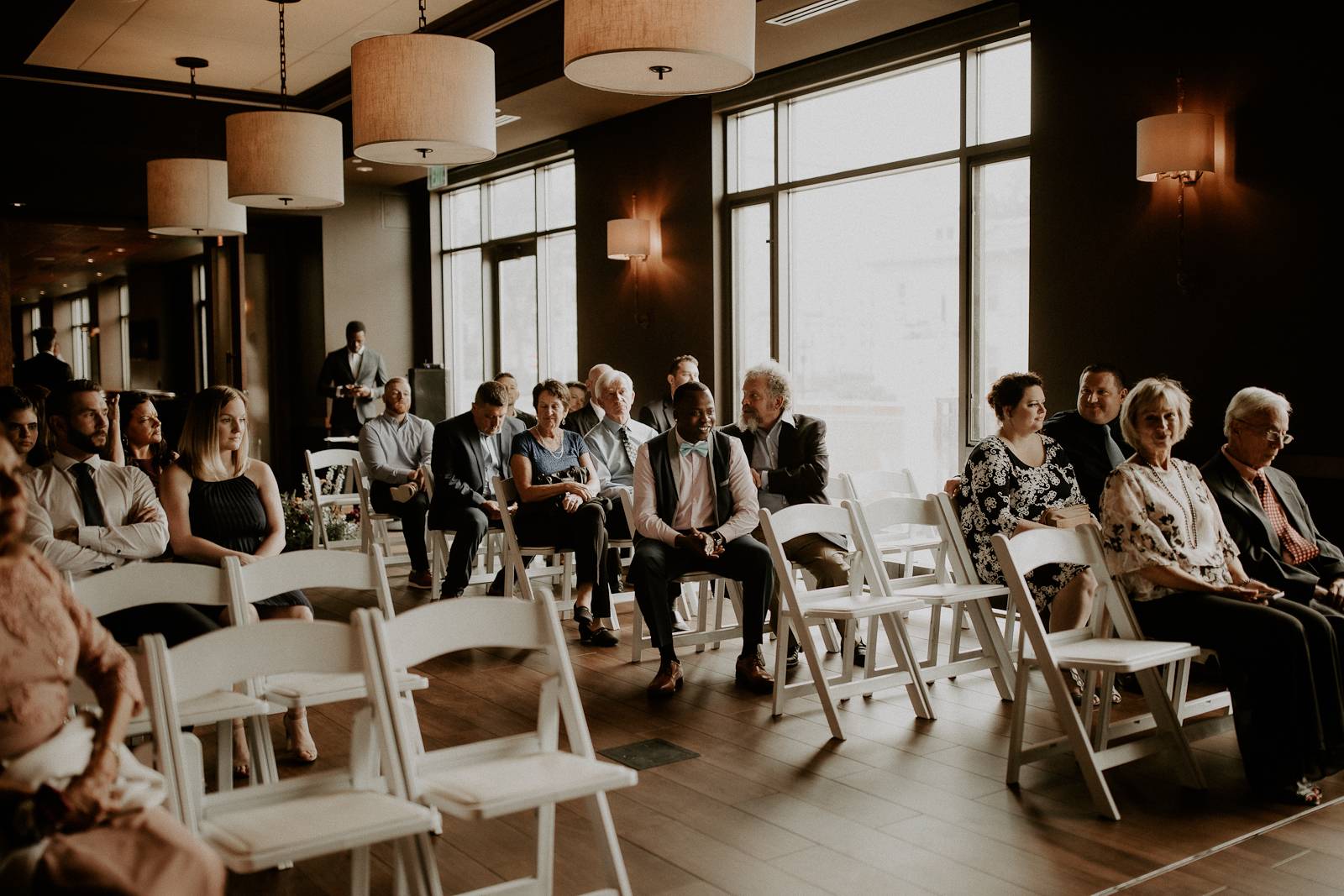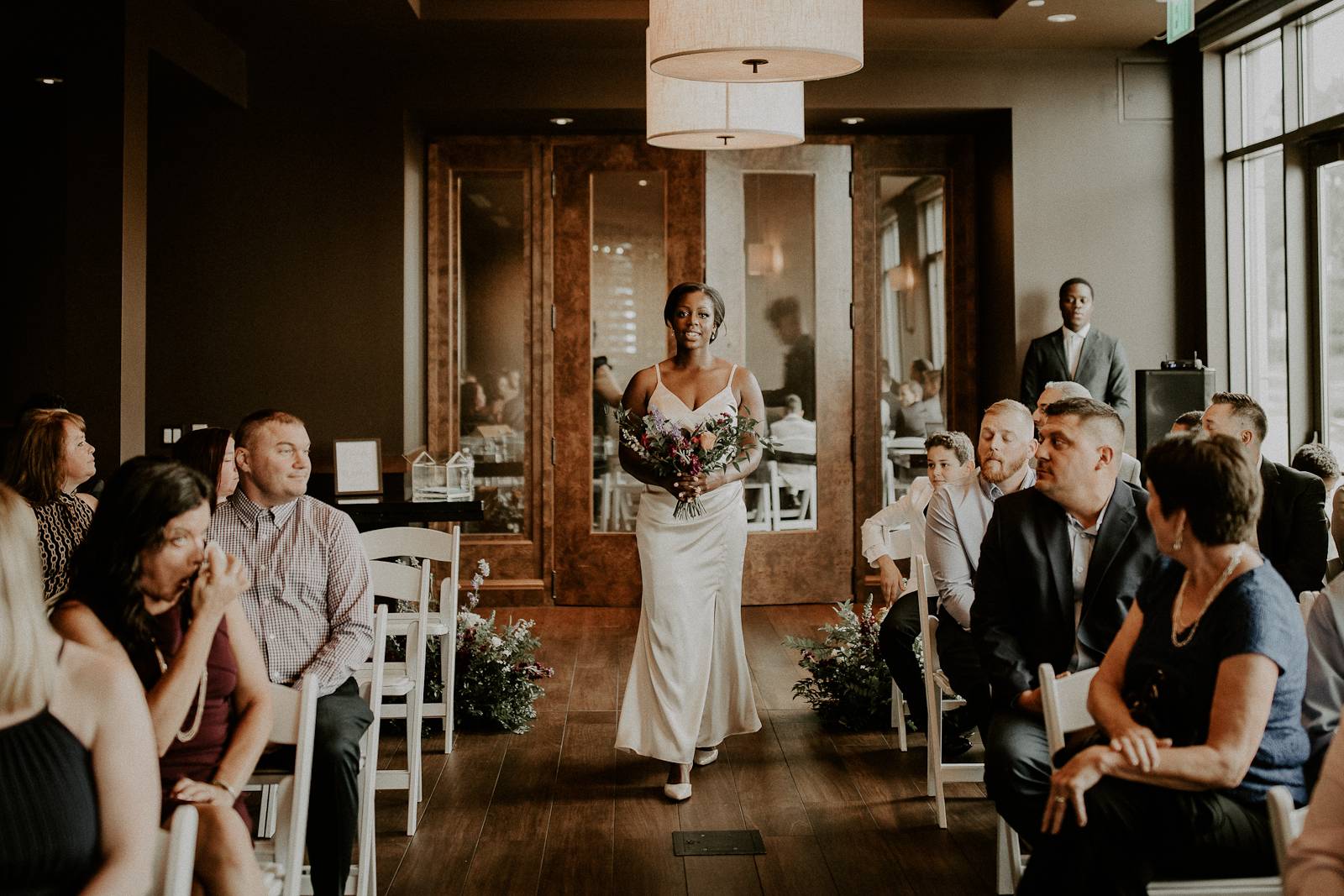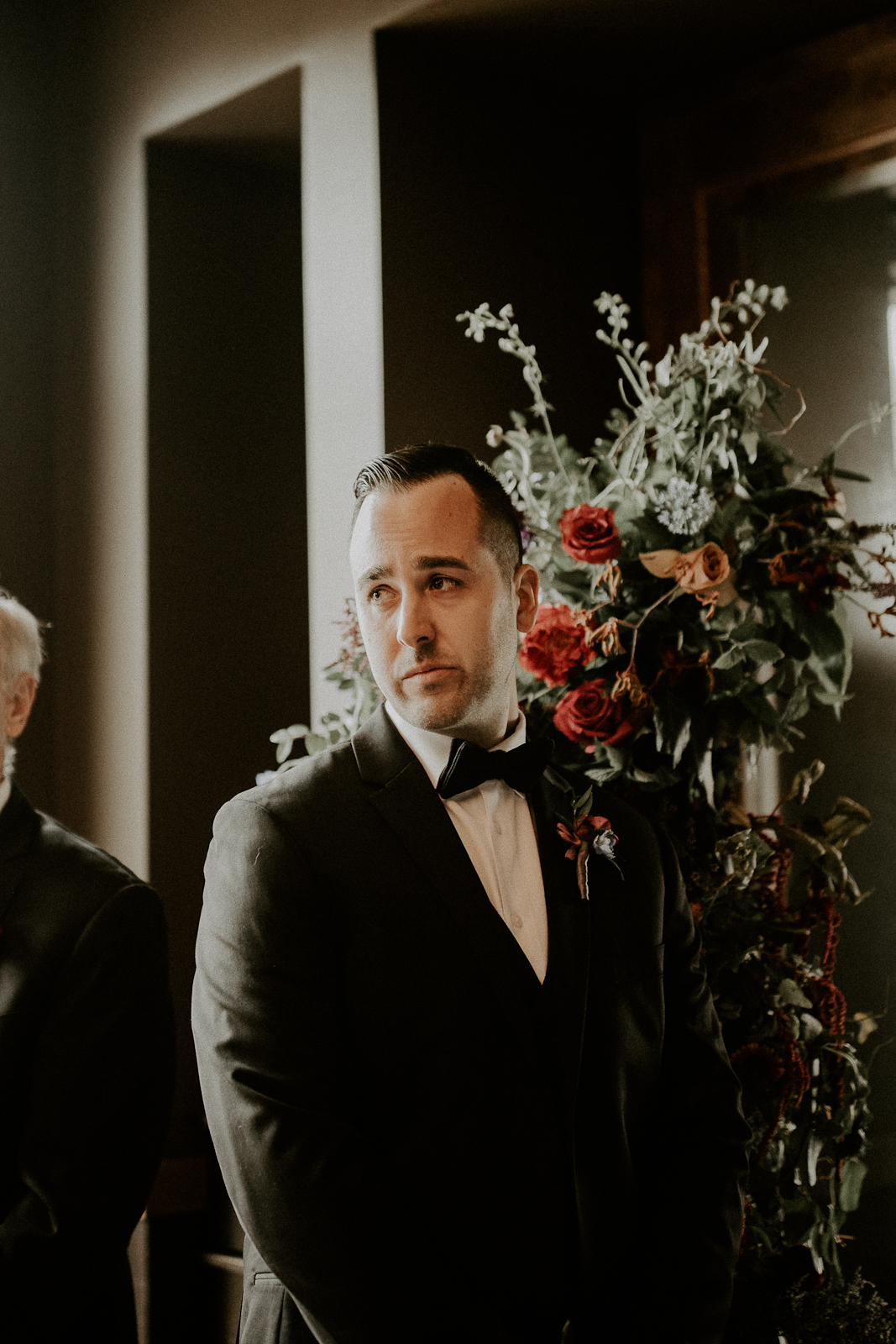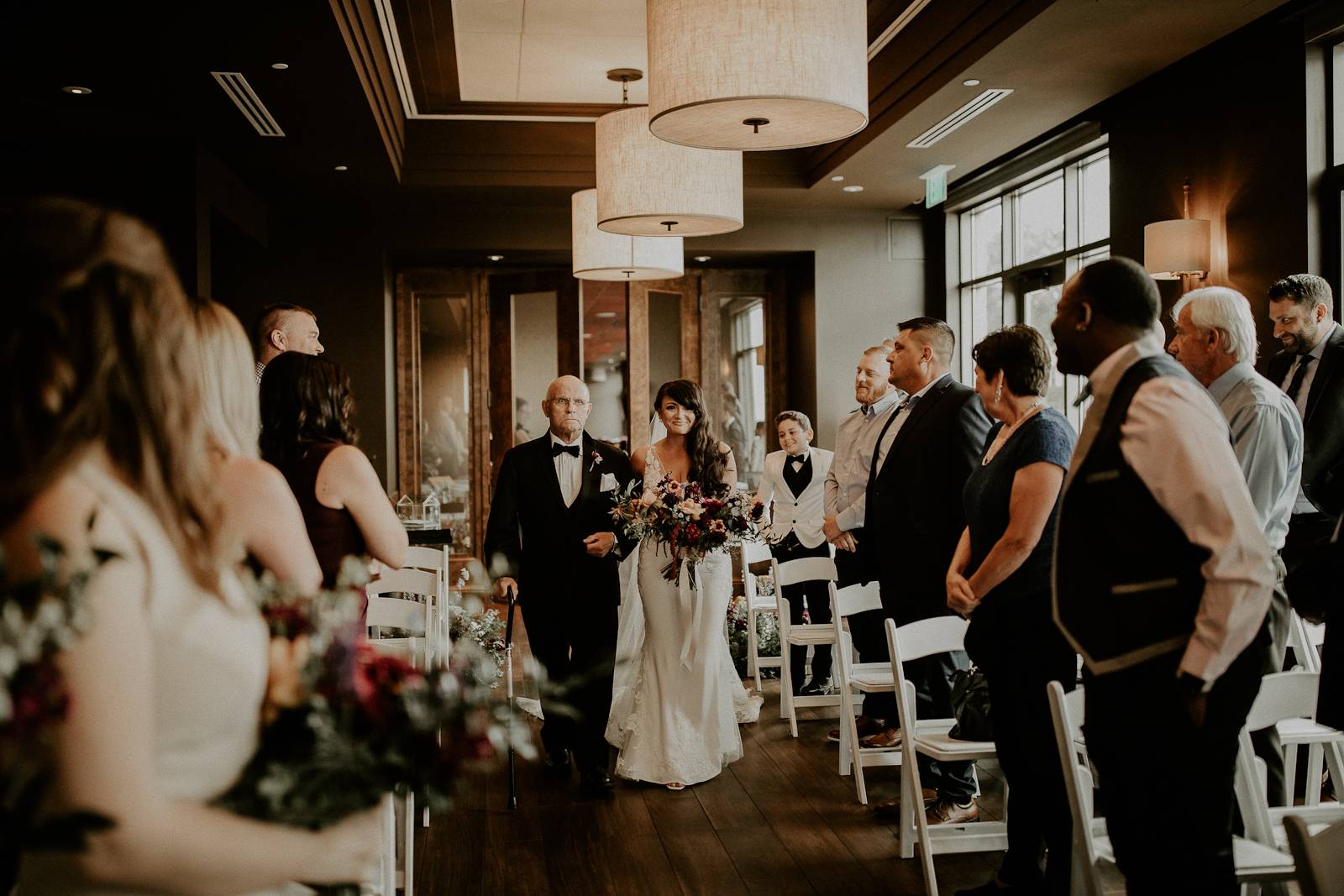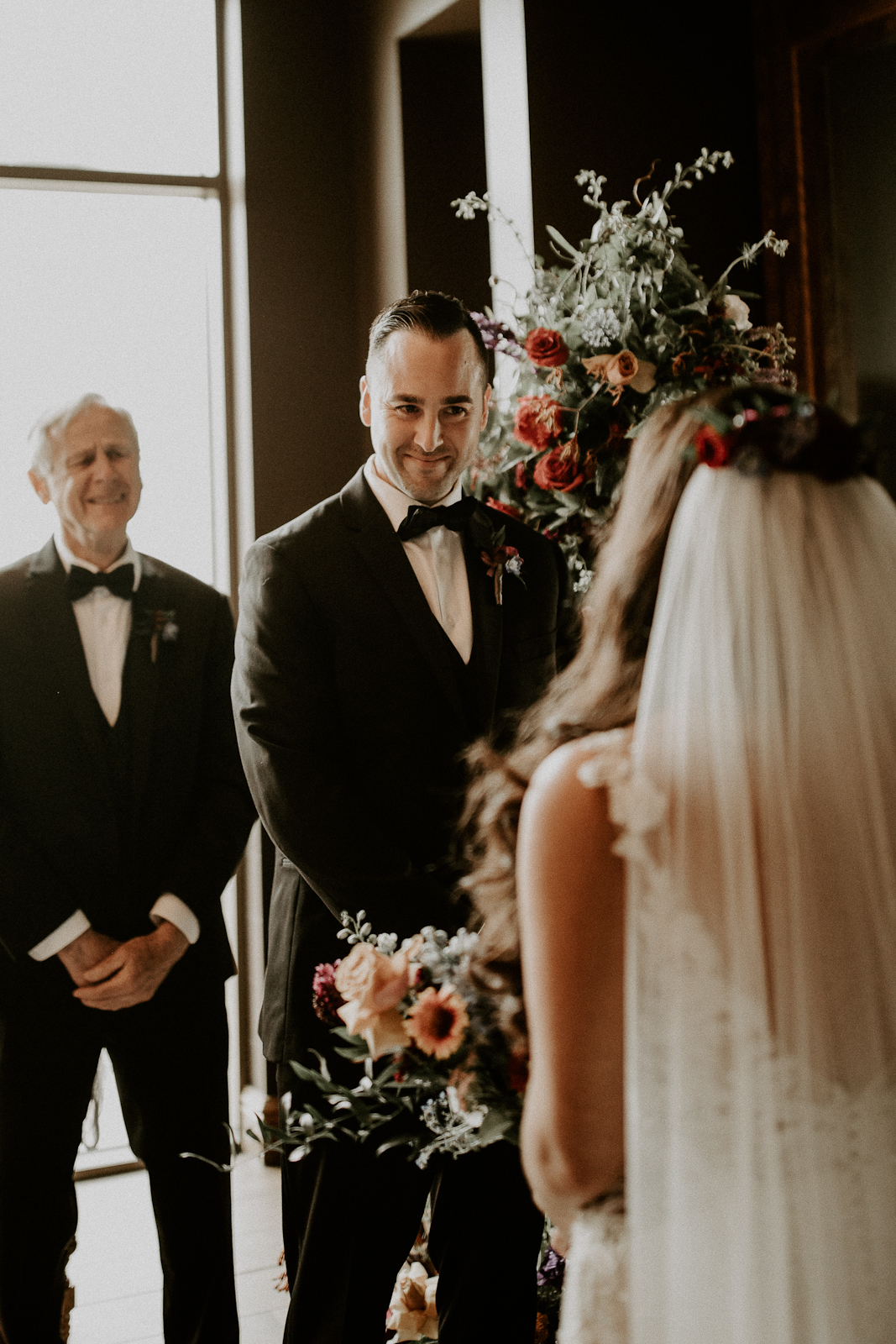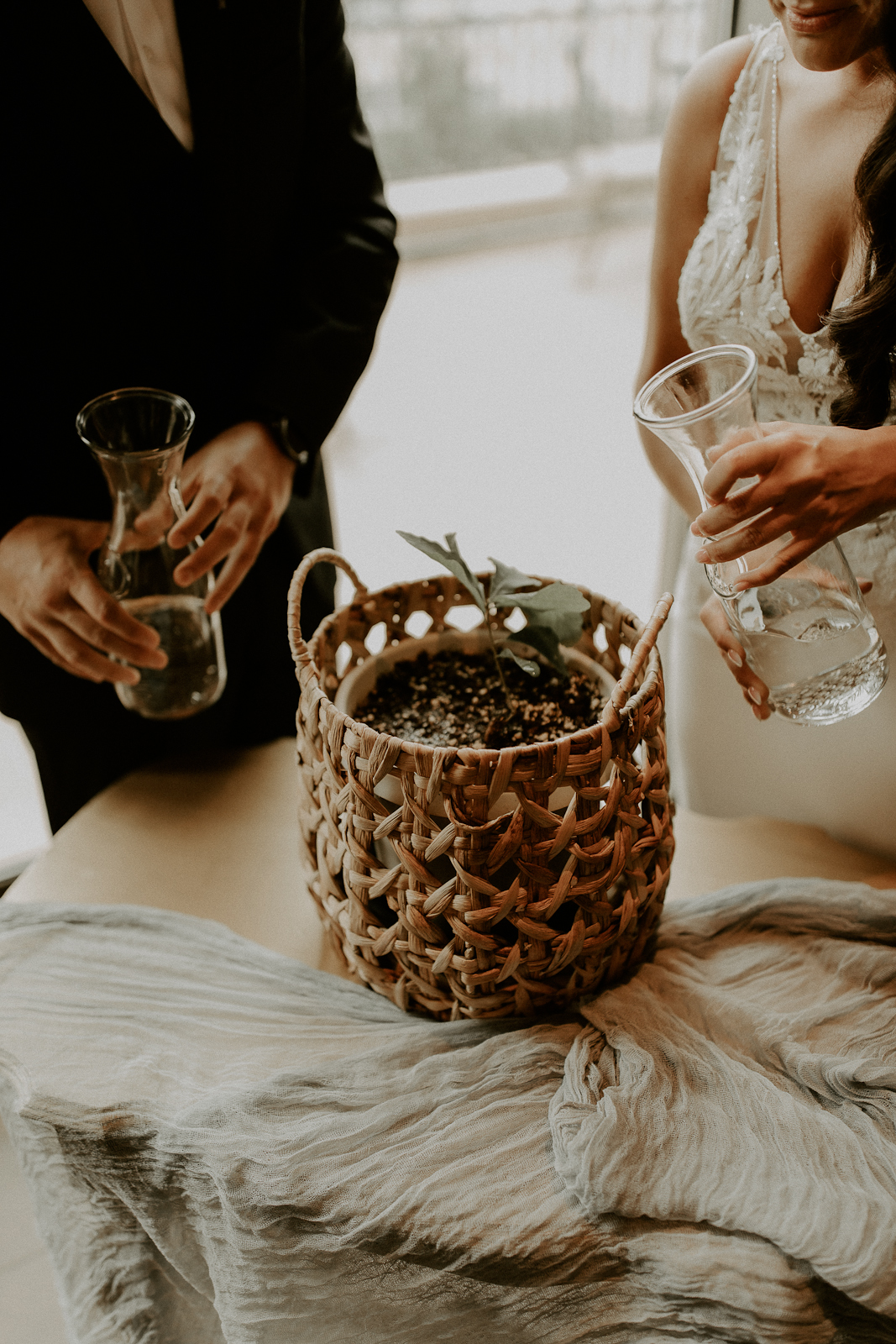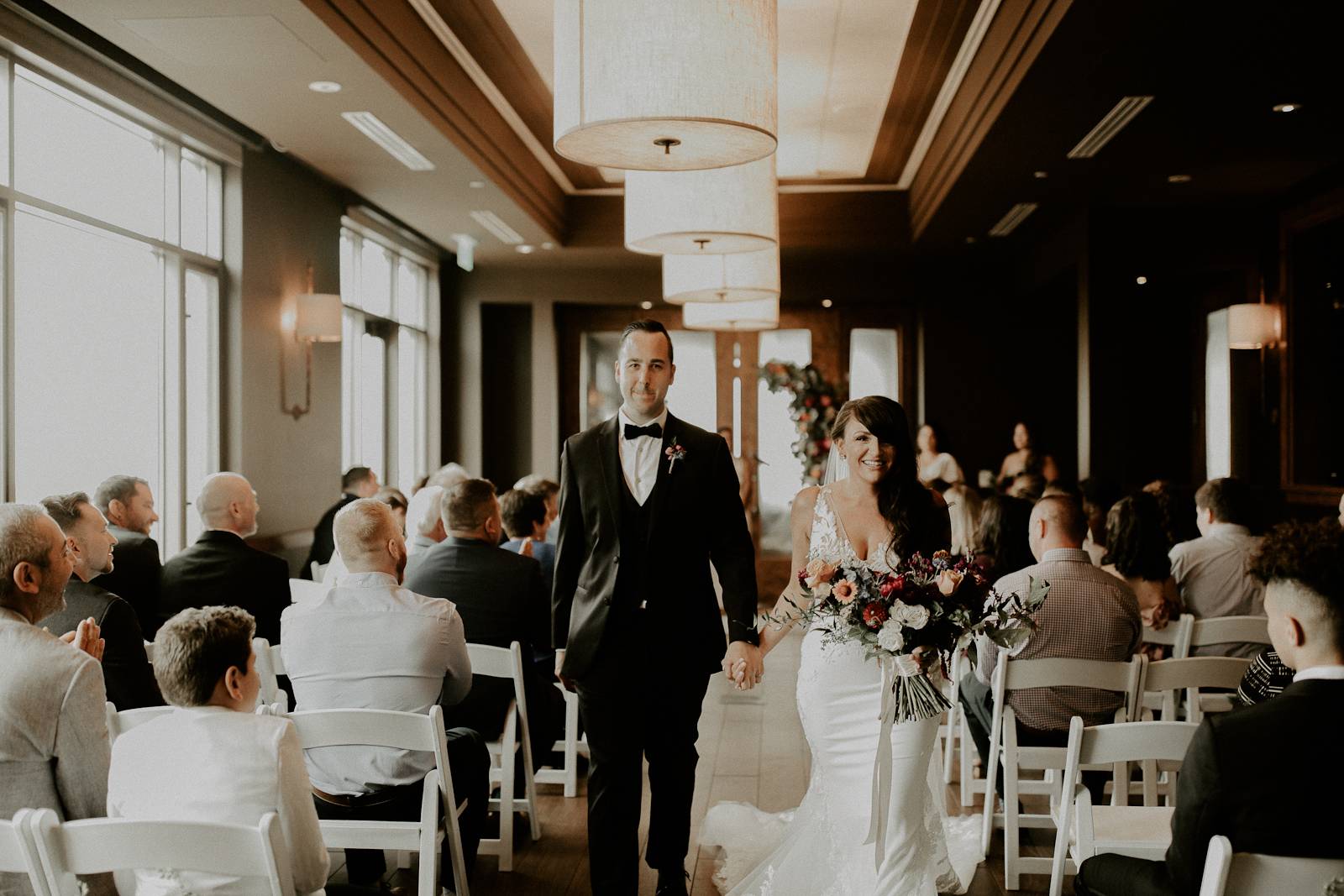 SHARE ANY UNIQUE DETAILS THAT STAND OUT: I loved how our invitations turned out! We had a line drawing of the Edgewater hotel placed on the front of the invite and a map of our beloved Madison Isthmus on the back of the detail card with all our favorite places marked. All the inserts were tied together with vellum paper and wax sealed with dried florals. Dual Arrow Designs did all our hand-lettered envelopes, which we paired with vintage Wisconsin stamps.
TELL US ABOUT THE FOOD, DESSERT, AND ANY SPECIALTY BEVERAGES ON THE MENU: Each guest was greeted with a glass of champagne for a post-ceremony celebration and to kick off cocktail hour! The Edgewater Hotel offers a wonderful banquet menu, and we still hear compliments to this day about how excellent the food was!
- Sous-vide sliced tenderloin with potato-gruyere paves and paved leeks with a red wine reduction
- Pan-seared chicken breast, potato puree, and fennel pollen-dusted carrots
- Seasonal vegetable pasta with fresh pecorino
For dessert, we served several different flavors of Nothing Bundt Cakes' bundt-inis. They were all so delicious, and we ate cake for days!
WERE THERE ANY PERSONAL TOUCHES OR DIY ELEMENTS? In addition to curating our invitations, I also created all of our signs: table numbers, menus, etc. With the help of a close friend and her Cricket, she helped create the welcome and unplugged ceremony signs.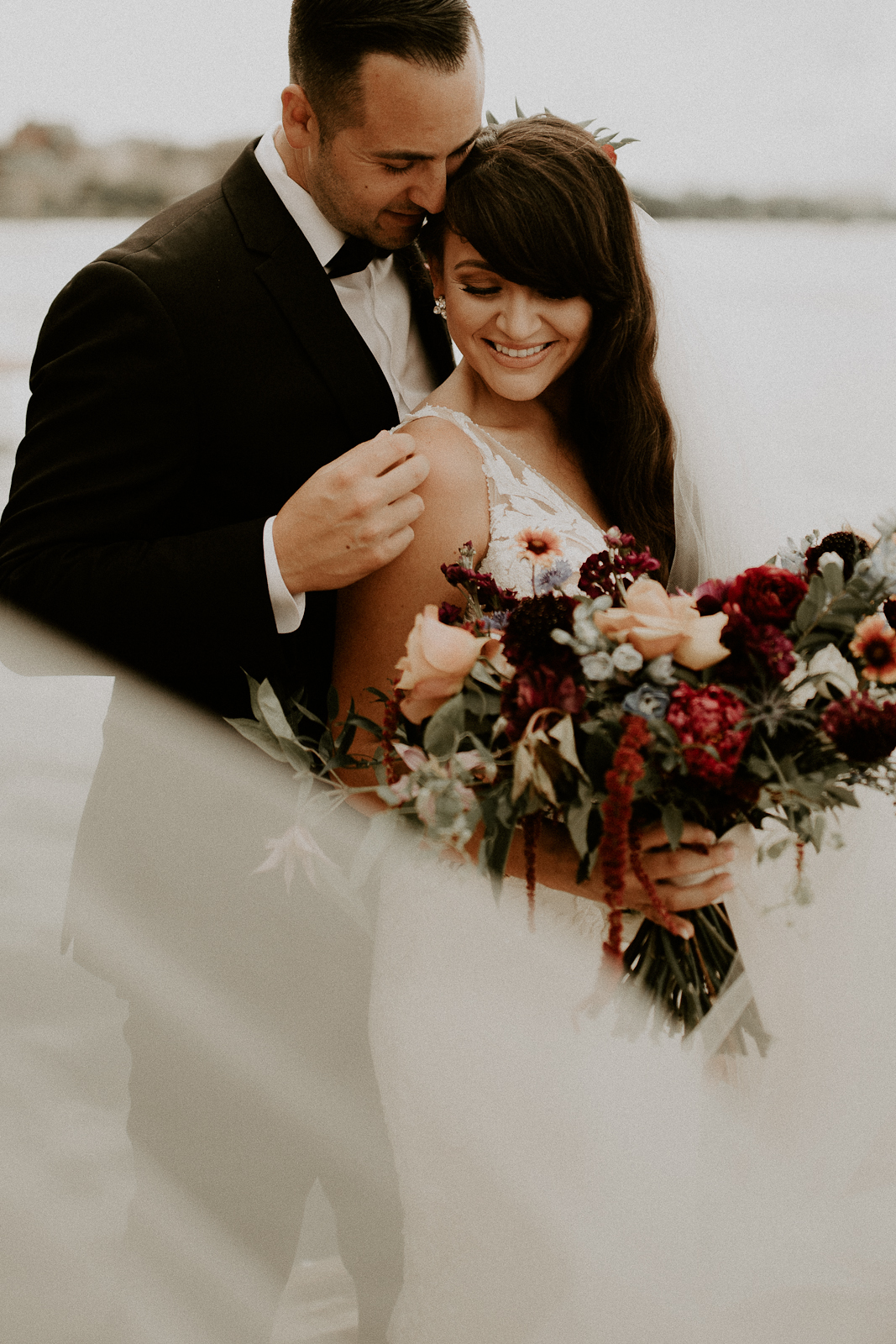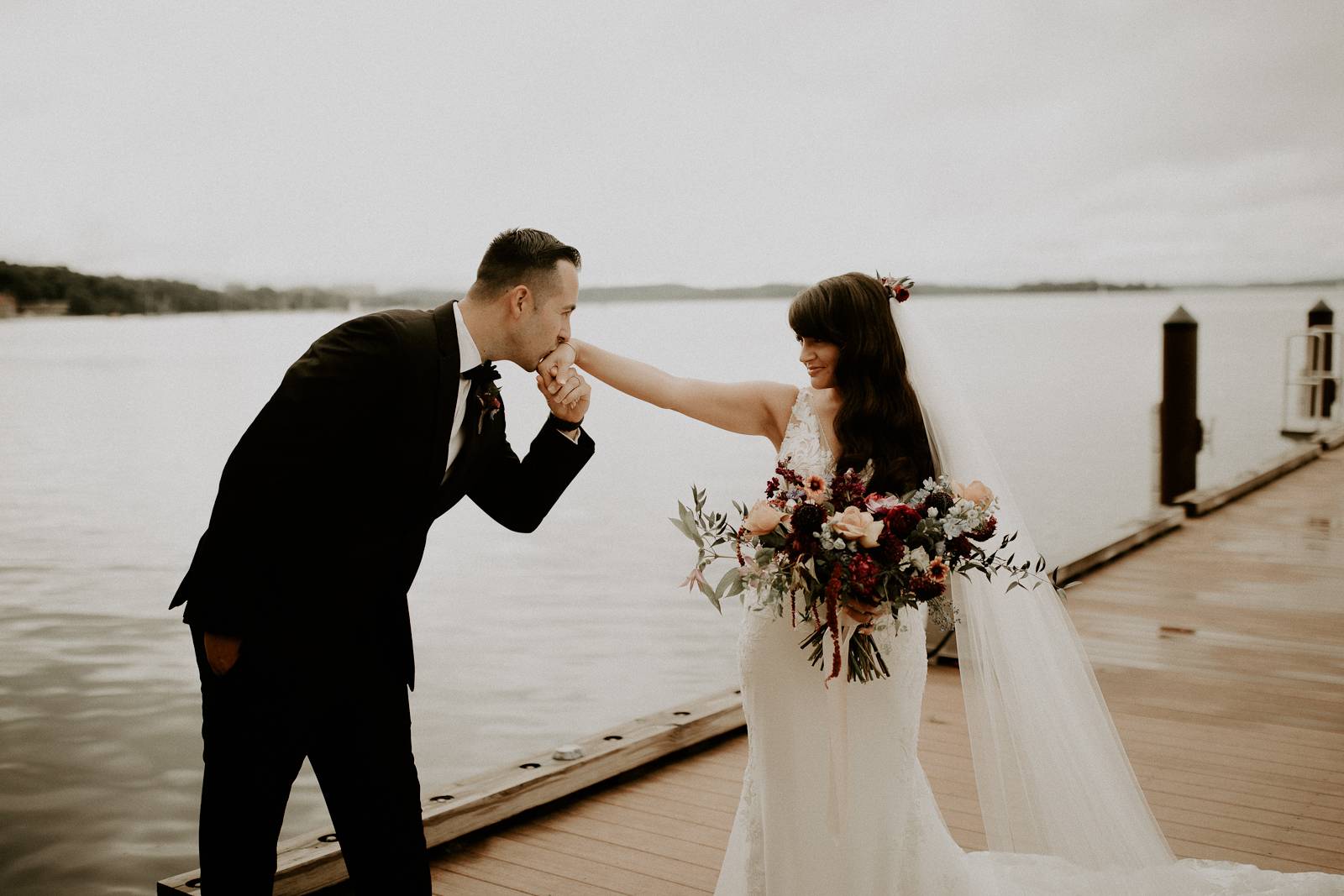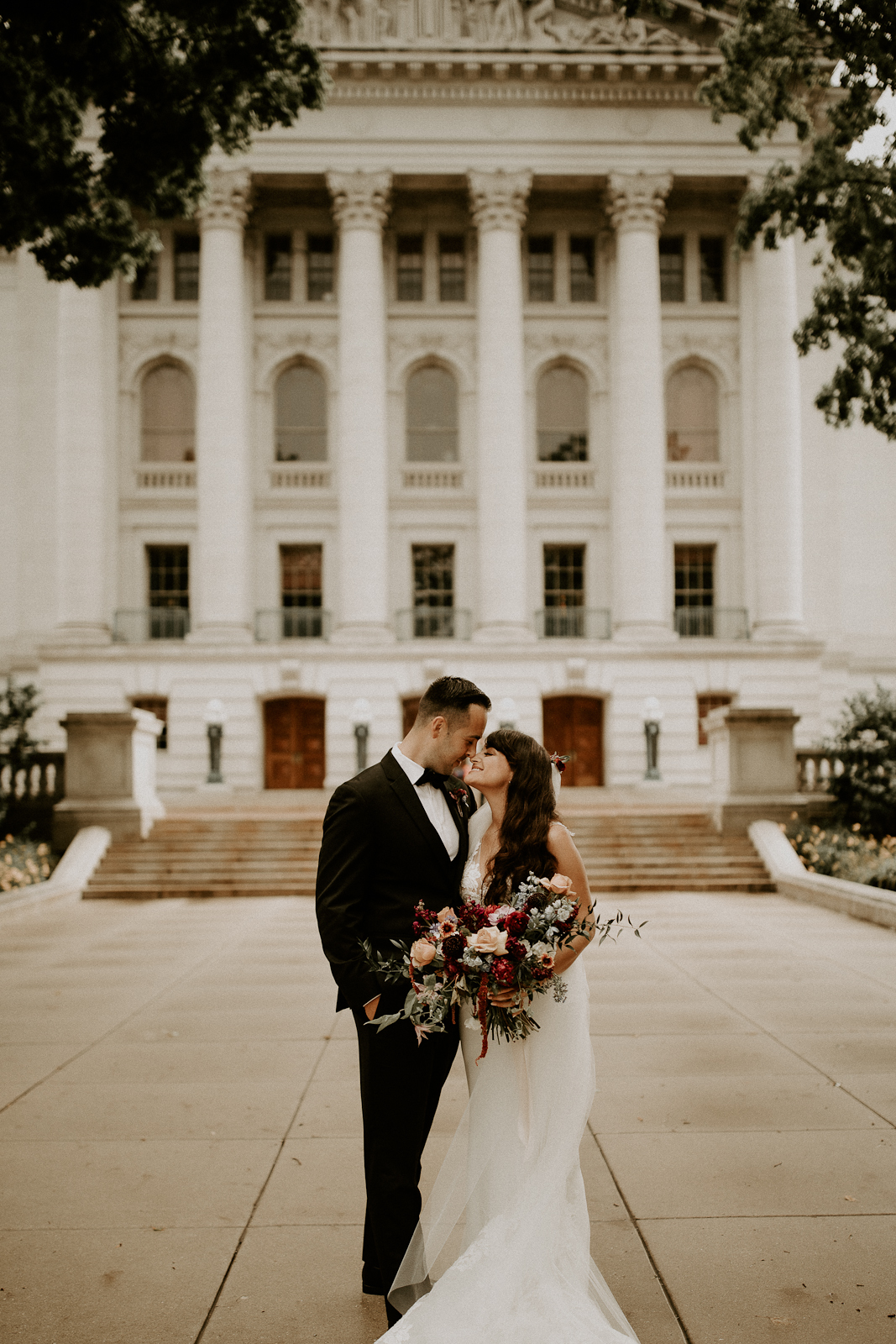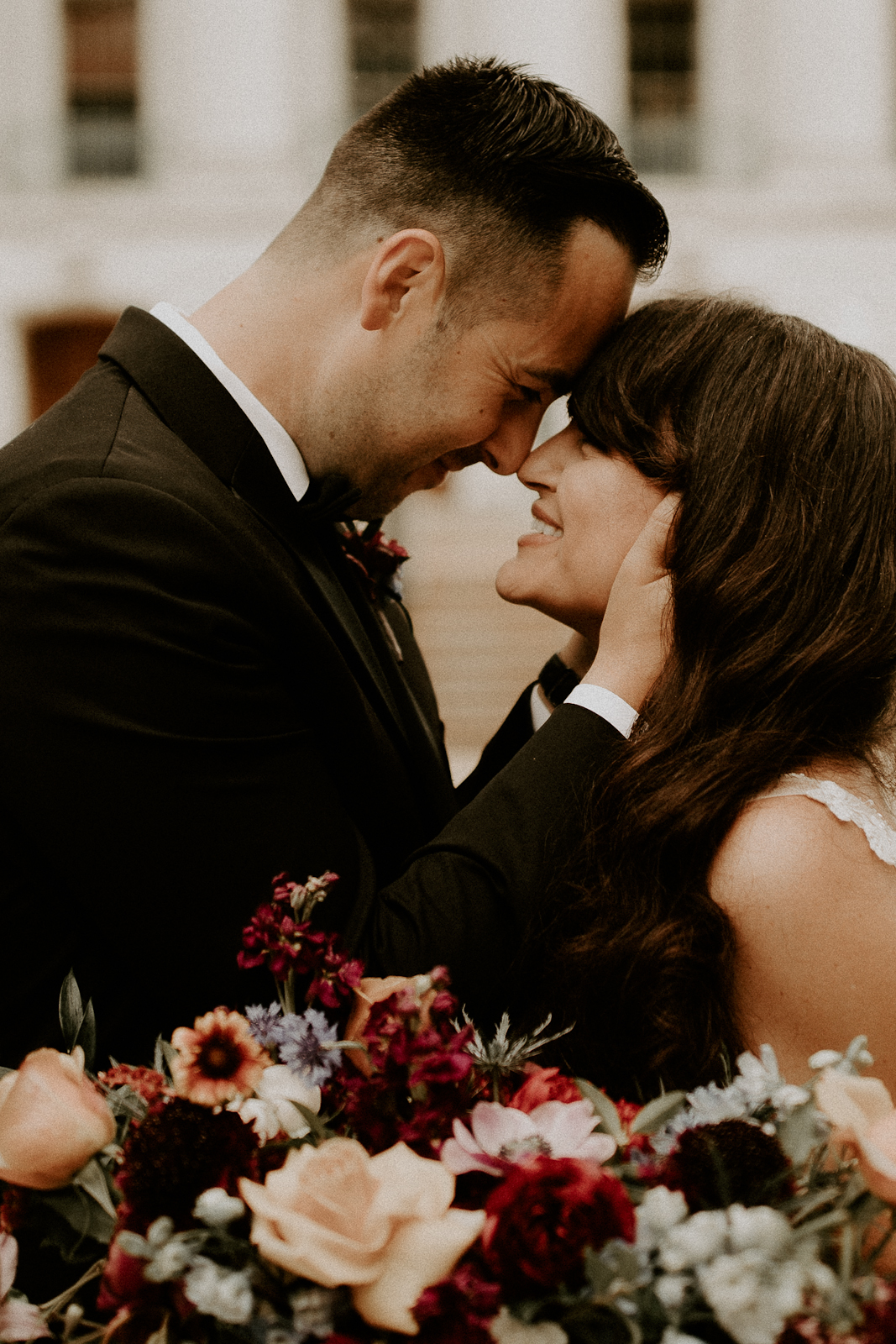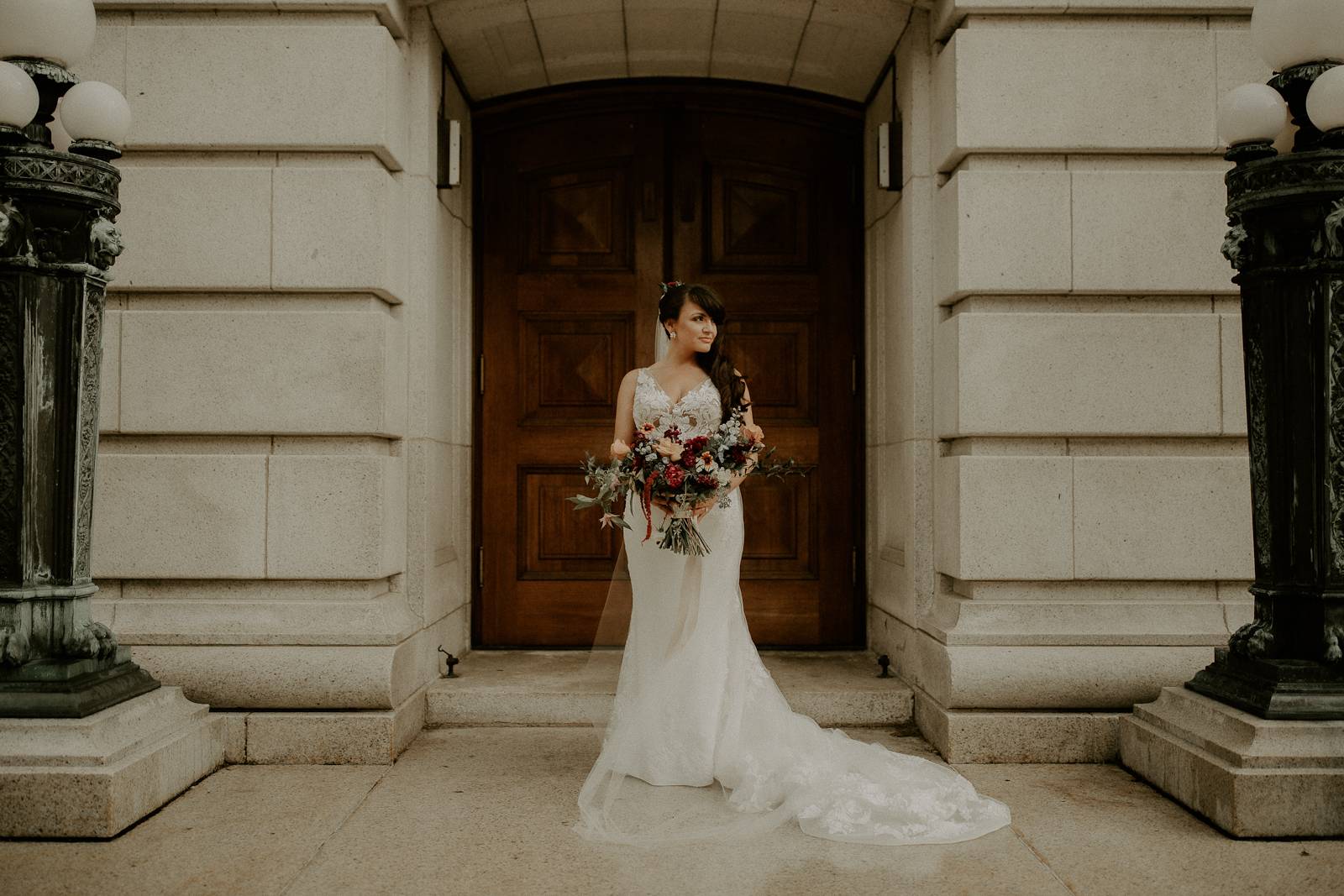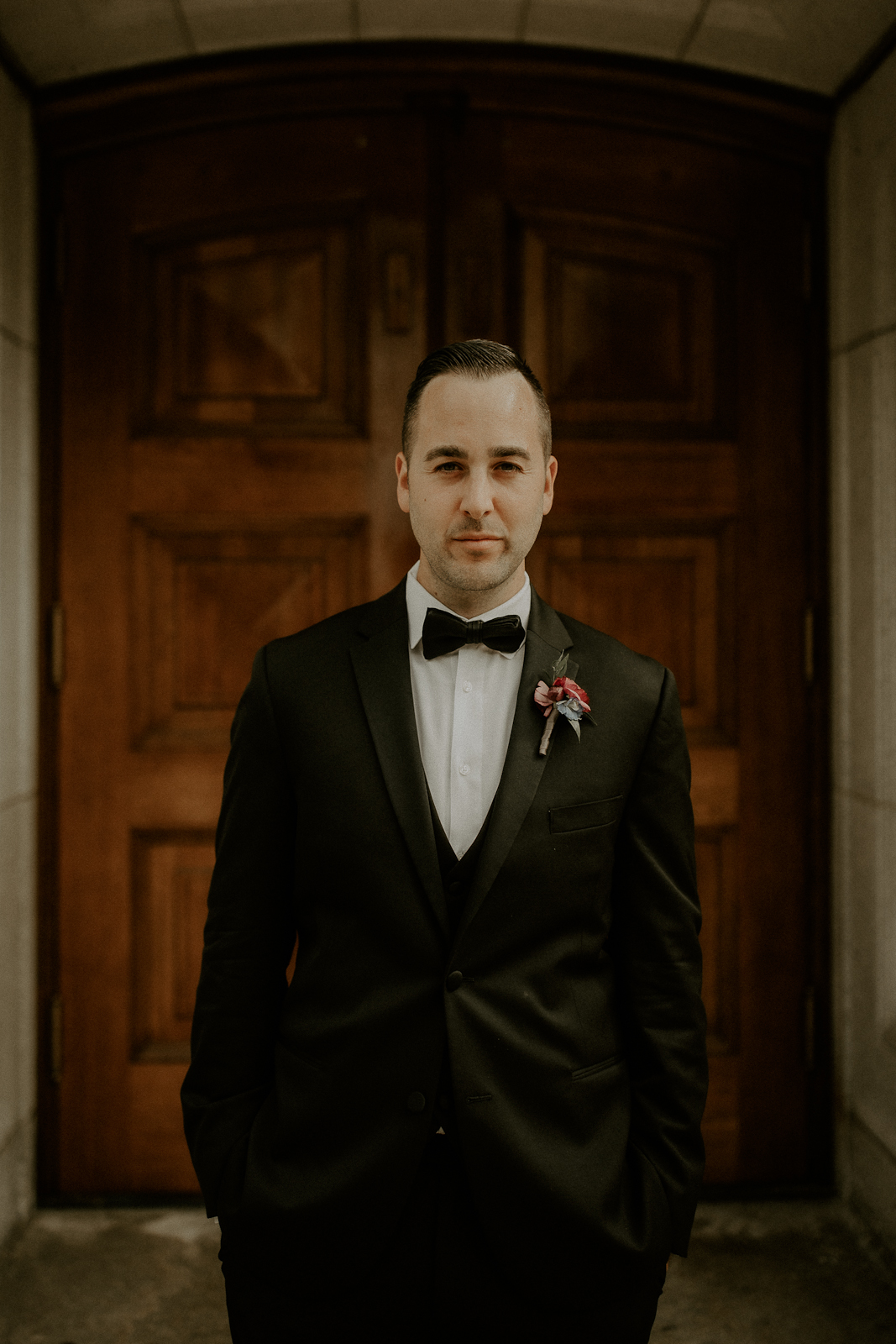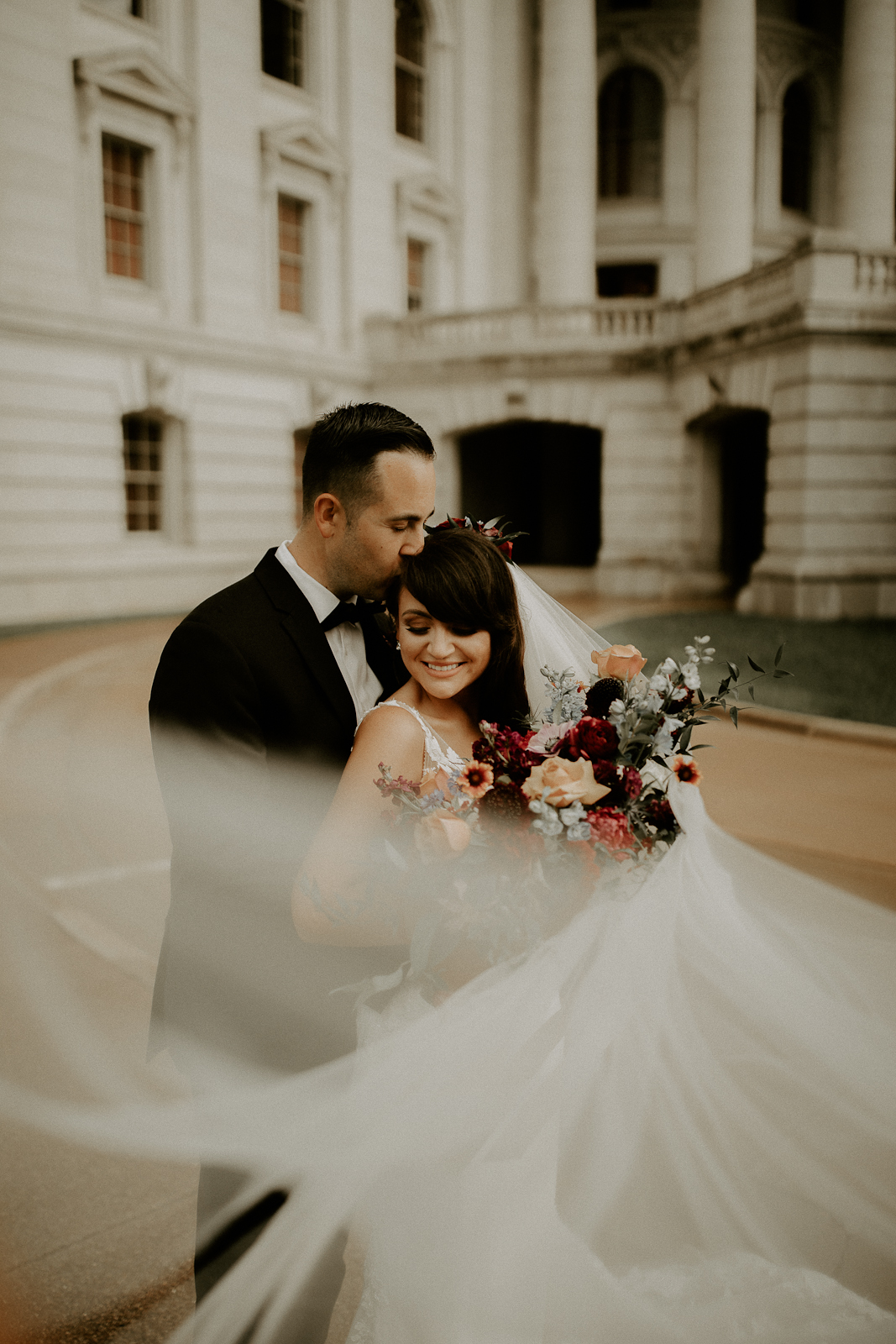 WHAT WAS YOUR FIRST DANCE SONG? HOW IS IT SIGNIFICANT TO YOU AS A COUPLE? Our dance song was "I Got You" by Jack Johnson. It's one of the many songs on our Sunday morning playlist we've been building since we've been together.
WHAT MADE YOU LAUGH? WHAT MADE YOU CRY? WHAT WERE THE MOST MEMORABLE MOMENTS? We struggled to find the right songs. It's easy just to pick a song but still have parts of it not be relatable to the couple. John was very particular throughout the process, and then one evening, he sent me "All of Me" by John Legend. He said, "this is my song to you." So this is the song I walked down the aisle to. It was the most emotional part of the day.
Another memorable moment was our maid-of-honor speech, given by my sister. It couldn't have been written more beautifully, nor could I have laughed harder. The genuine happiness and love we felt throughout the day were so consuming. I hope each bride experiences that on their own wedding day.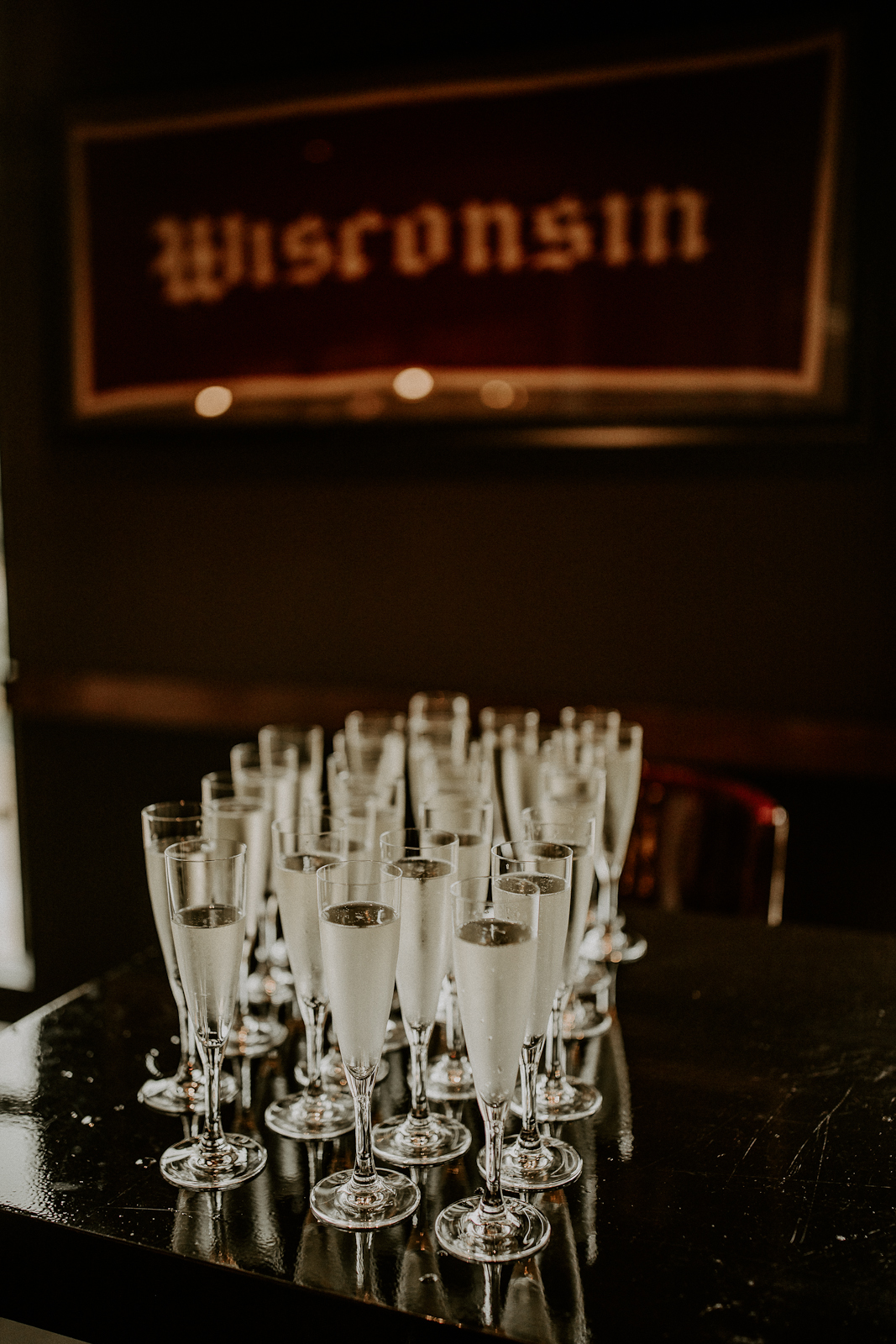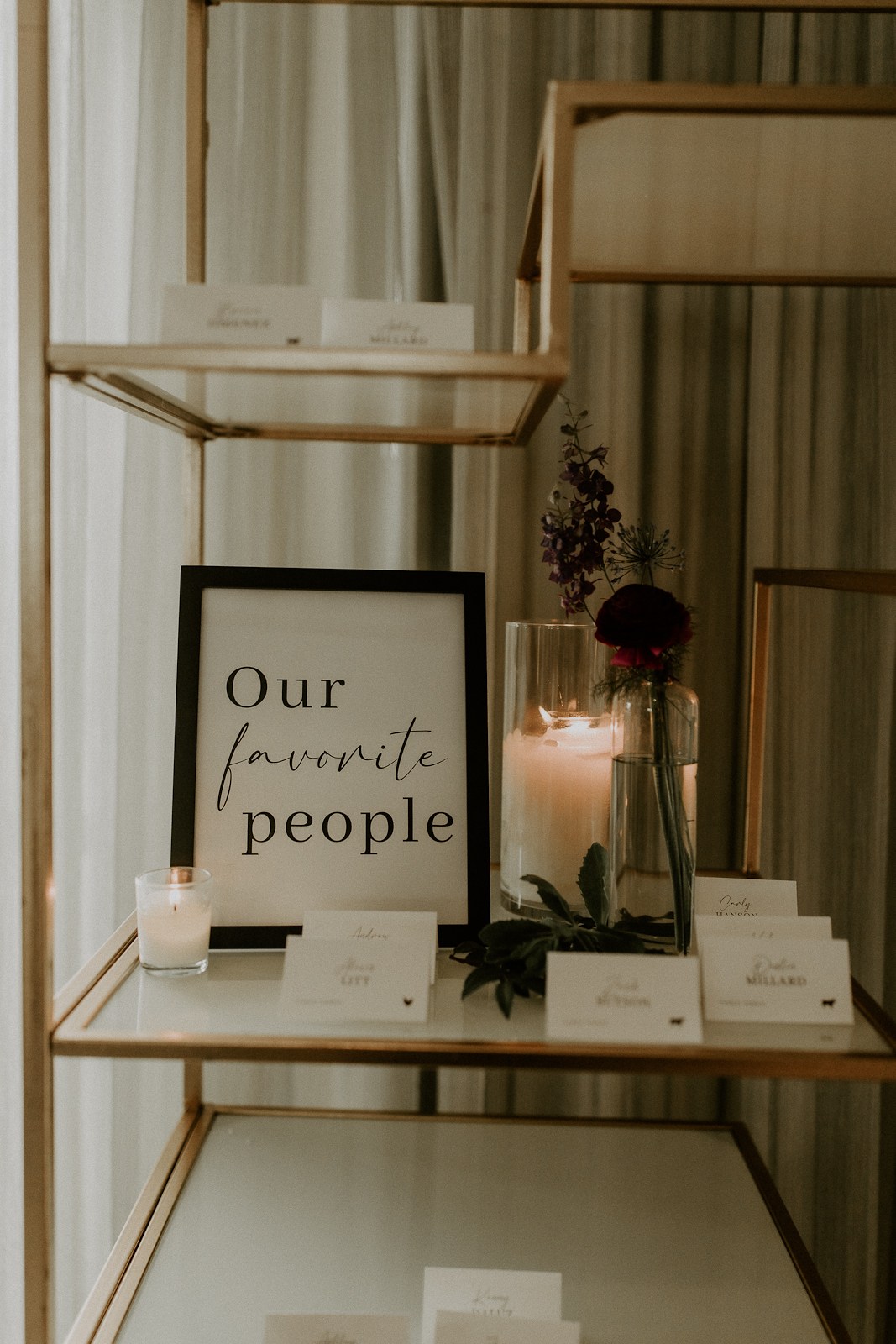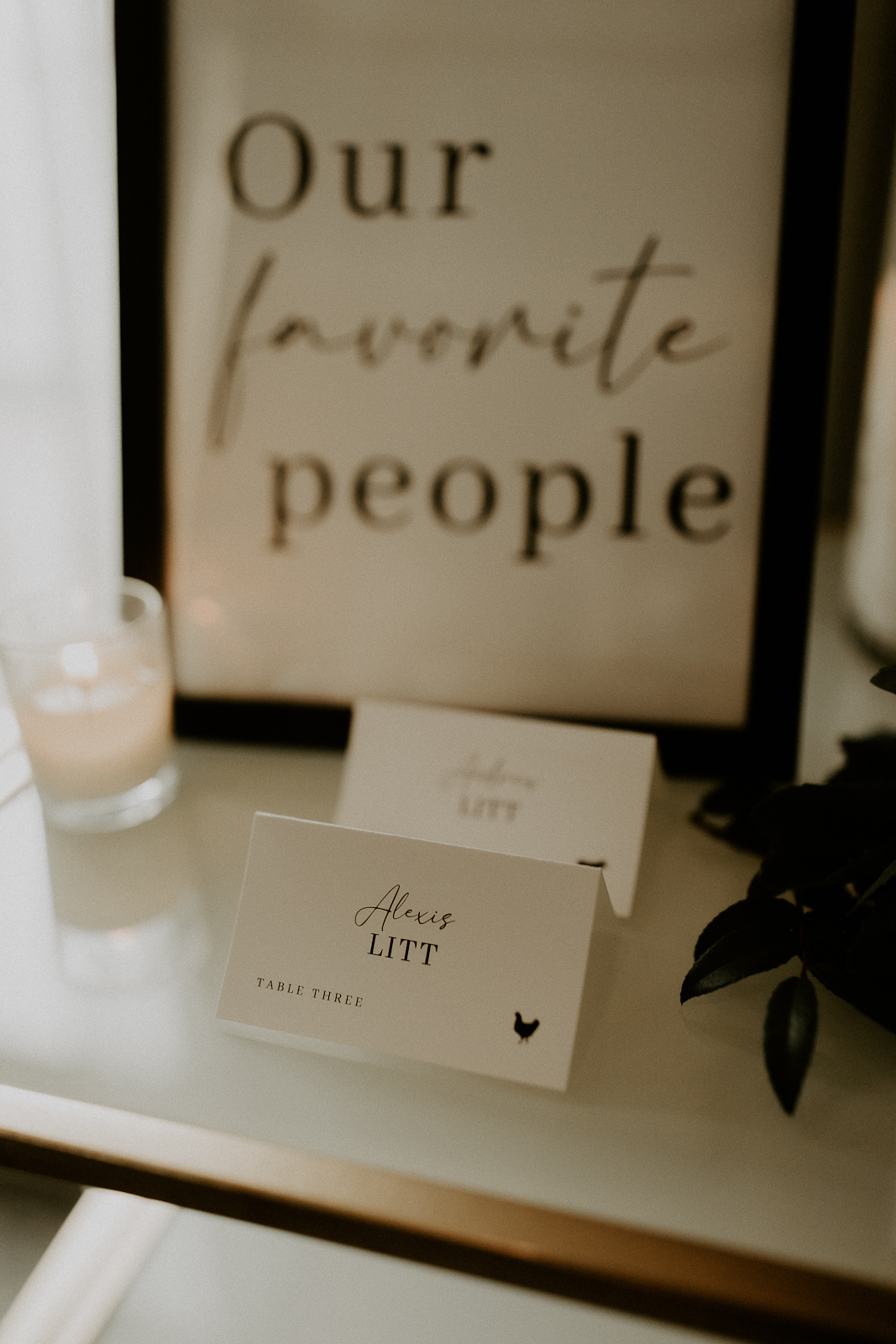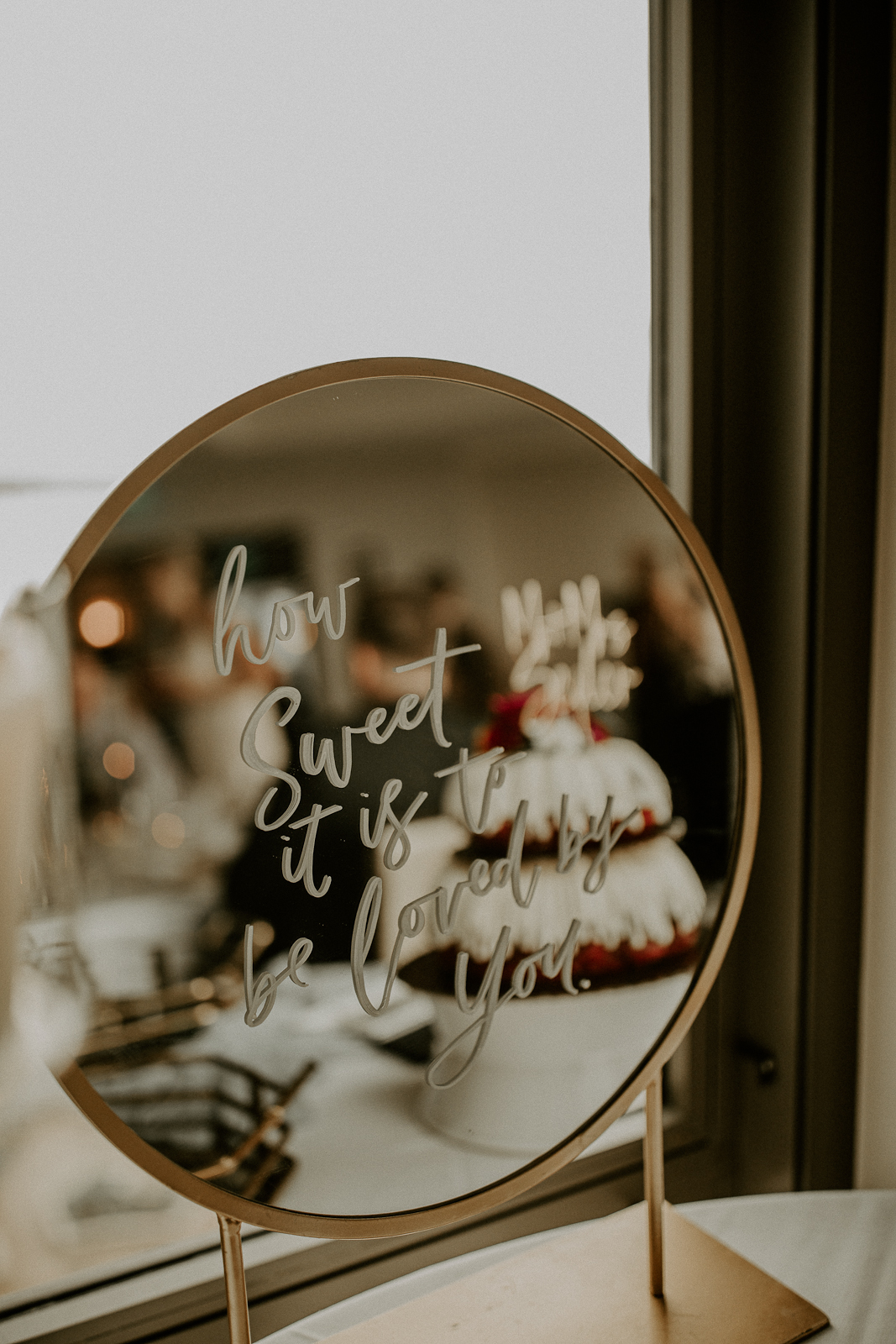 ANY WEDDING PLANNING REGRETS OR SOMETHING YOU WOULD DO DIFFERENTLY? Be happy with your rain backup. I wasn't emotionally prepared for rain, and mother nature decided to pour only during our ceremony. We moved everything indoors, which I really struggled with, but our ceremony turned out gorgeous. The small space made the moment much more personal and intimate, and the storm made its own acoustics. I wouldn't change a thing!
IS THERE ANY ADVICE YOU'D GIVE TO OTHER COUPLES PLANNING THEIR WEDDING? Don't sweat the small stuff, and don't forget to celebrate each other throughout the process!
WHAT PLANNING TOOLS HELPED YOU THE MOST? The WedPlan Madison wedding expo! That is how we found our photographer, Copper Antler Photography.
WHAT DOES LIFE LOOK LIKE AFTER THE WEDDING? For our honeymoon, we explored Sedona, The Grand Canyon, Lake Powel, and Zion National Park! Since then, we've been taking sailing lessons to prepare for our own sailing journey. Someday, when we feel confident, we hope to sail in the Caribbean!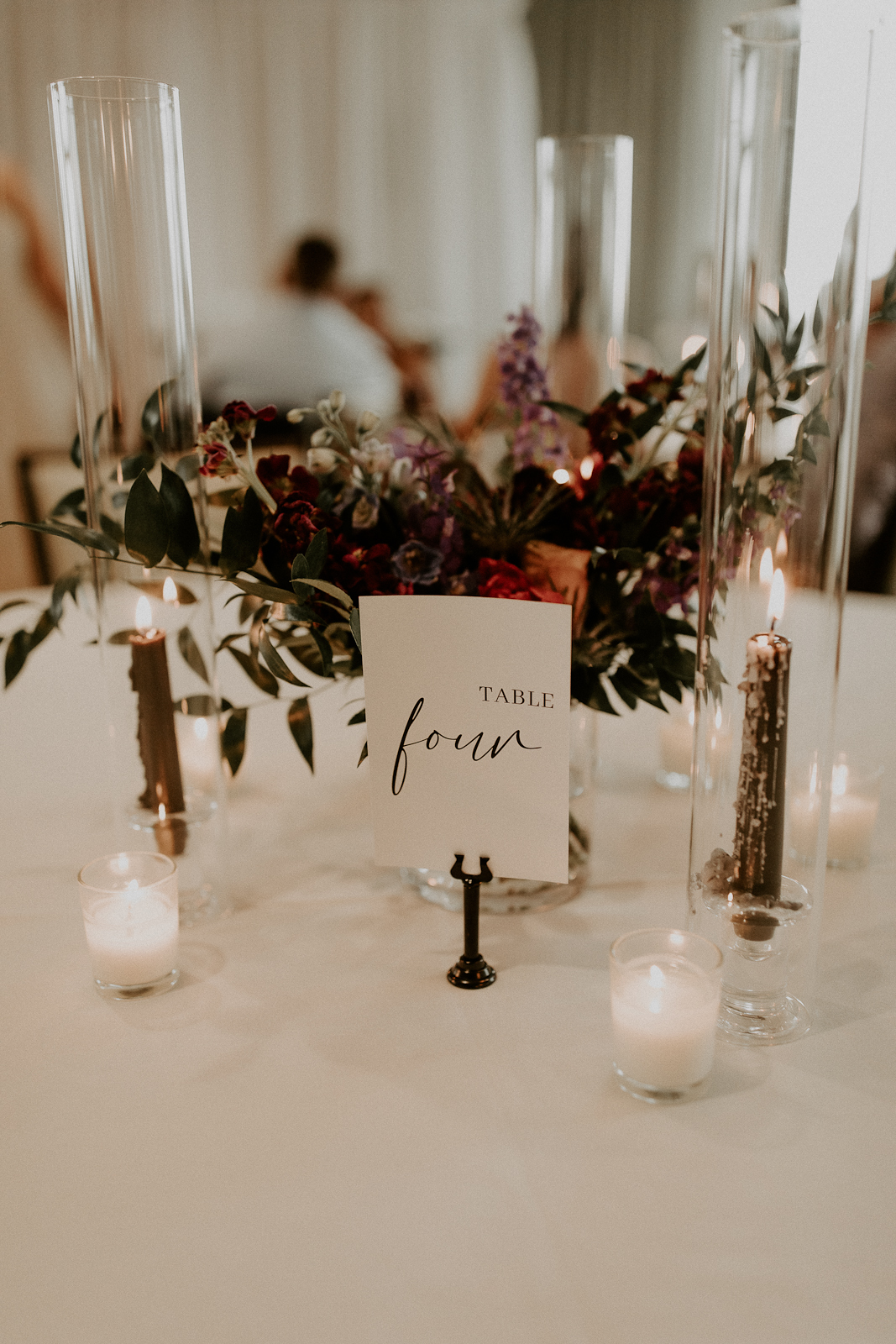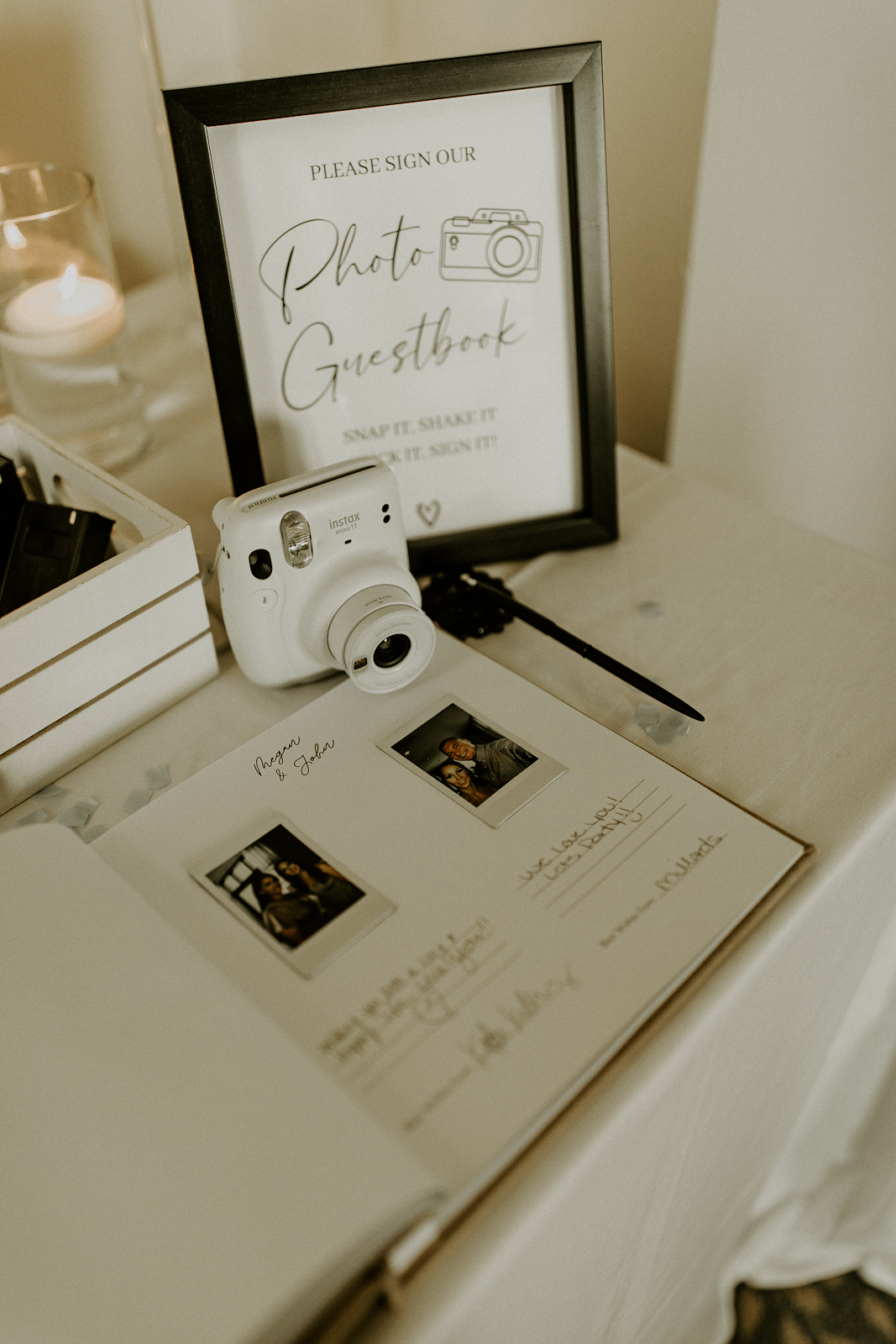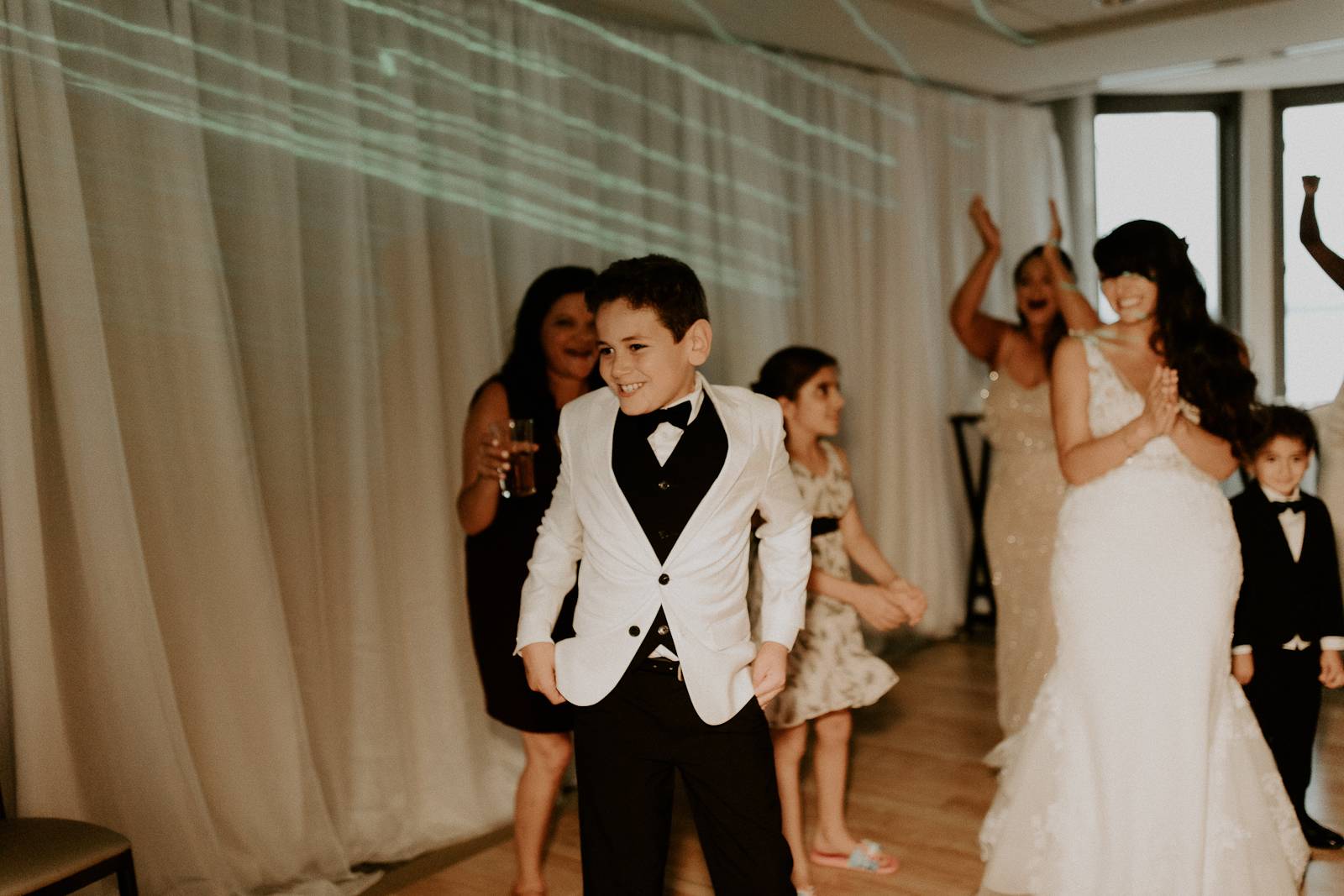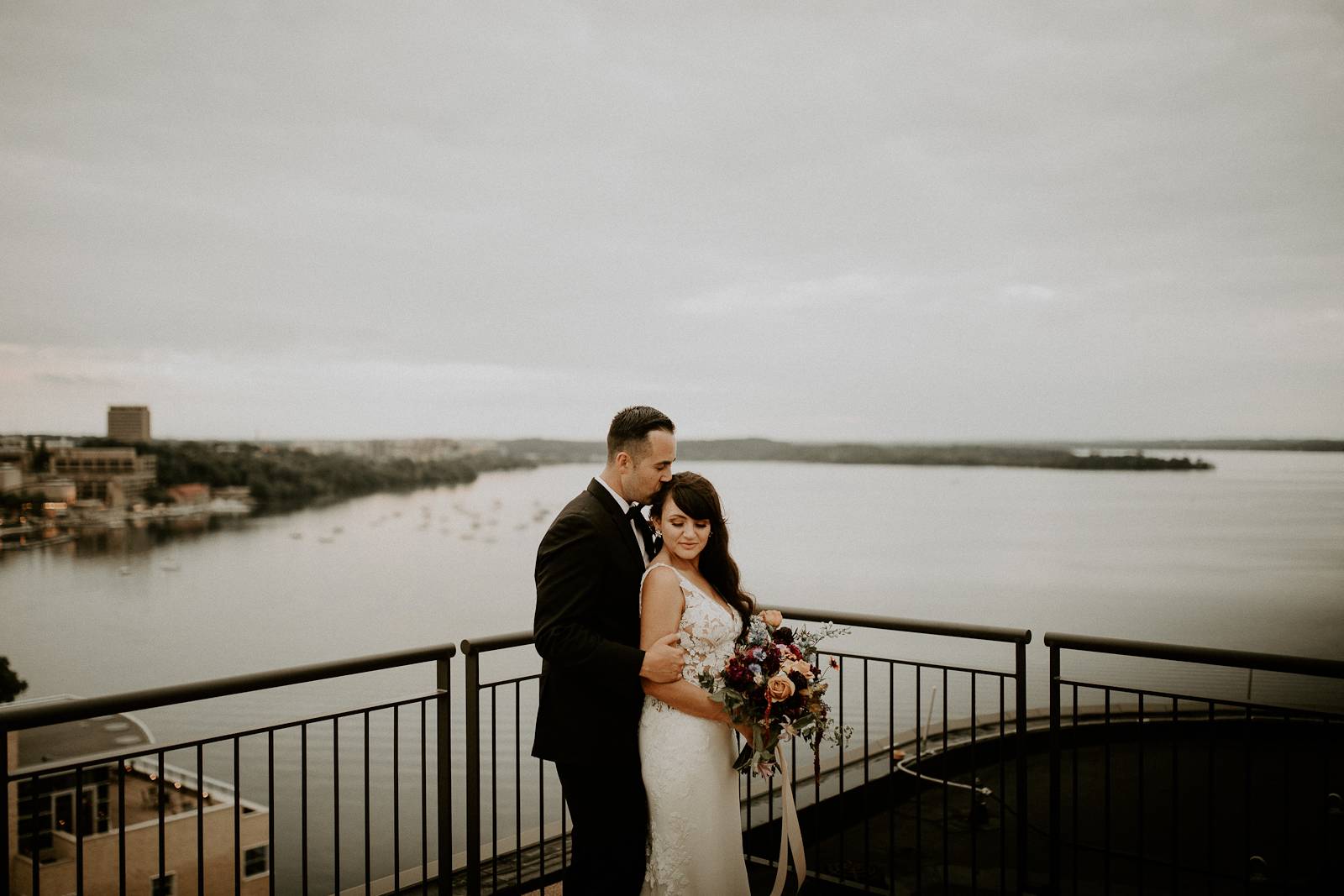 For more Madison area wedding inspiration, head to the WedPlan blog!