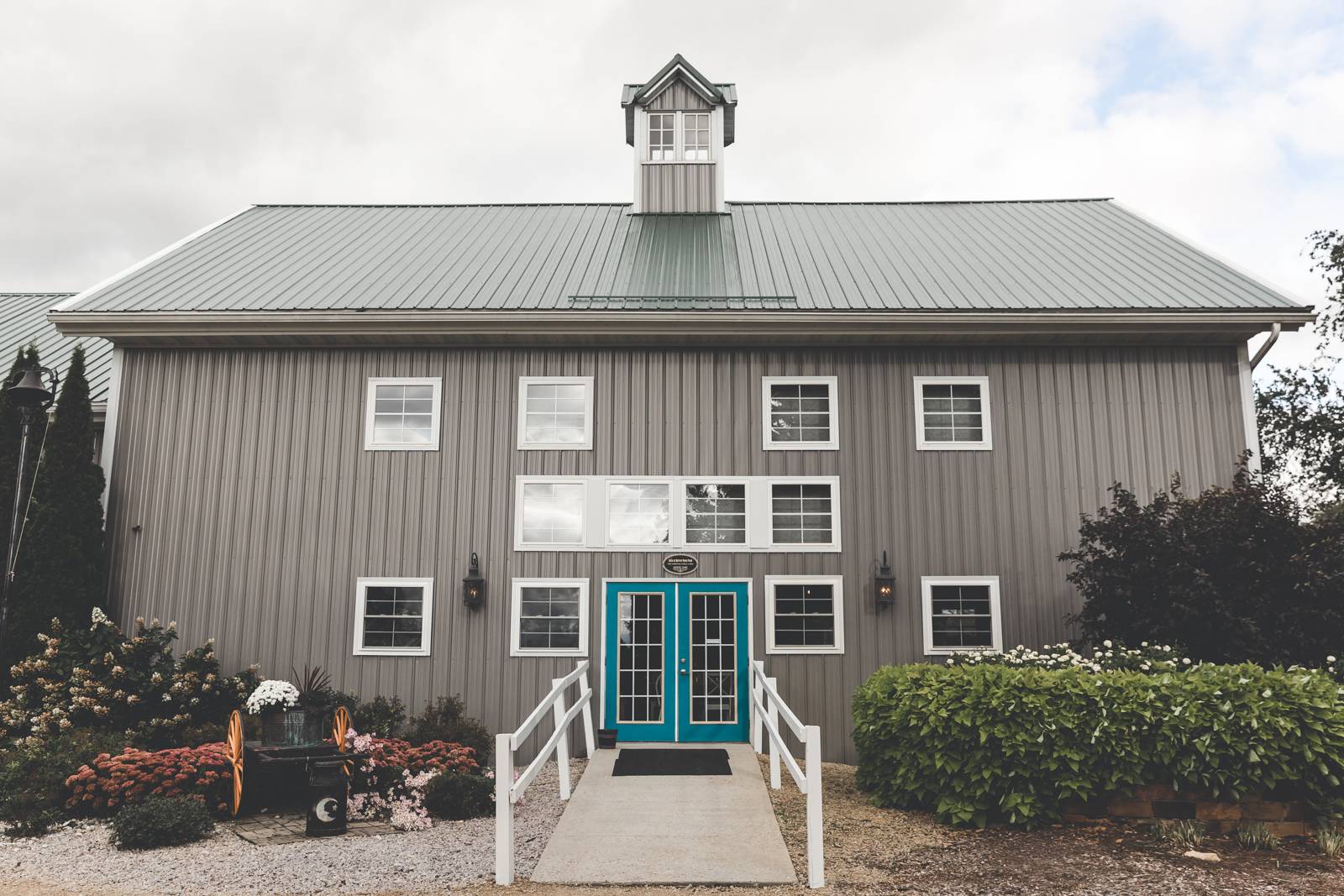 WEDDING DATE: 09/21/2018
HOW DID YOU MEET? Shane and I met through mutual friends when we were both home from college over summer break. I worked with Shane's best friend, and he set us up.

HOW DID YOU KNOW YOU HAD FOUND "THE ONE"? It didn't take long, that's for sure! Only a couple of months in, we both knew that we couldn't imagine our lives without each other. Our goals for what we want in life are almost identical. We share the same morals and values. We truly are best friends, that is something we had never experienced before. We knew it was special.
TELL US ABOUT YOUR PROPOSAL: I graduated from college in May of 2017 and was moving back to the Madison area for a job. Shane and I packed up all my belongings over the weekend and decided to have a "day date" the following Sunday. It was the first beautiful day of the Spring so we drove around listening to music with the windows rolled down. Shane pulled into a local State Park. We got out and were exploring when I turned around to find Shane on one knee. Simple, but it explains our relationship to a T and was a memory we'll always cherish.
TELL US ABOUT FINDING YOUR DRESS: I found my dress at Brandi's Bridal Galleria in New Glarus, Wiscosnin. I had been trying on all lace gowns and finding nothing that I loved. My consultant suggested I try on a crepe material and brought it into the fitting room with the last round of dresses. The dress was NOTHING like what I thought I wanted. I was sure there was no way I would like something so simple and form-fitting. Despite that, I tried it on and was in tears immediately. I unexpectedly fell in love with the dress. It was perfect.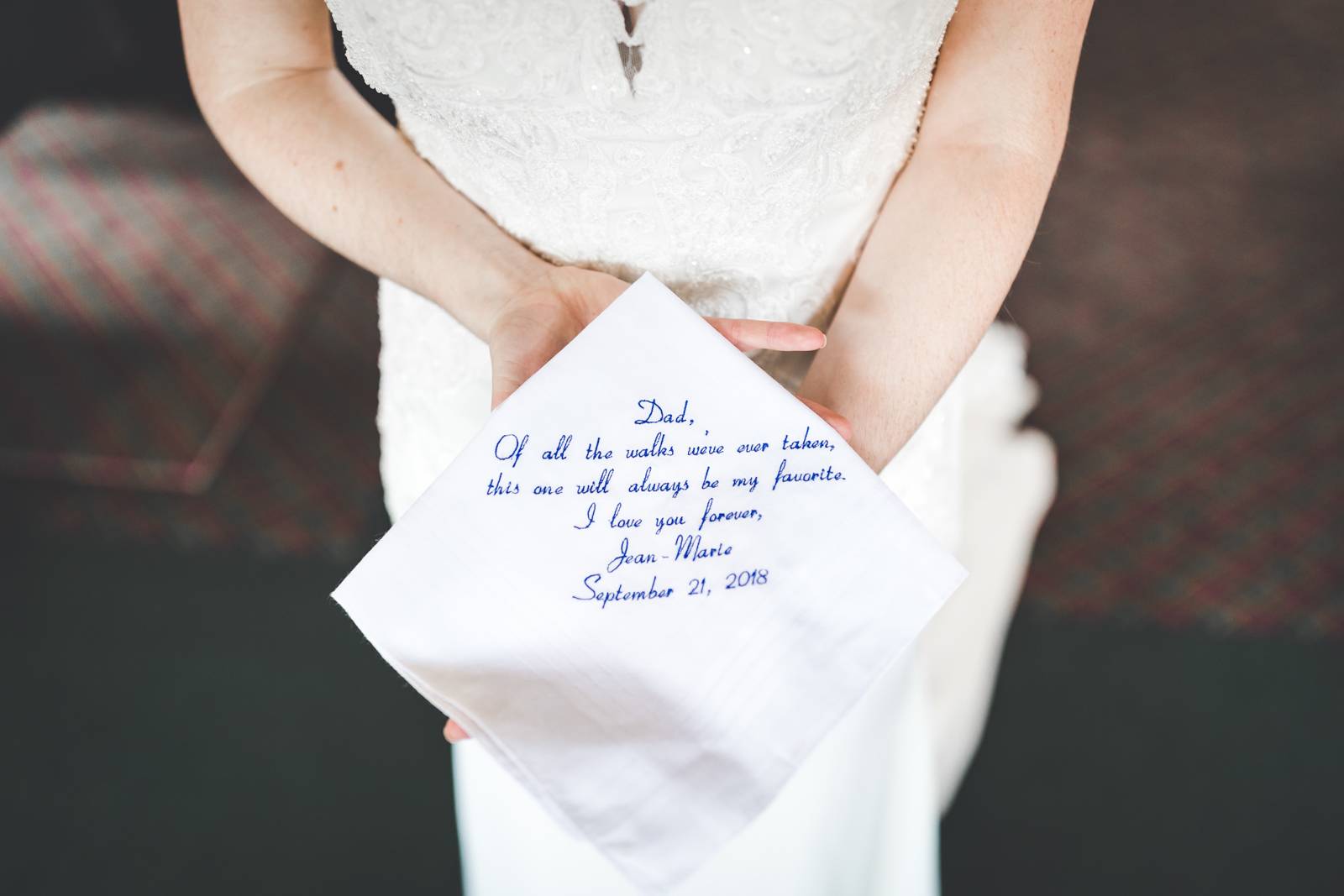 DESCRIBE YOUR WEDDING FLOWERS: My bridal bouquet was loose ivory and white flowers styled with lots of greenery. My florist did a beautiful job bringing to life about five different photos I showed her. My bridesmaid's bouquets were all loose greenery with baby's breath, simple but stunning.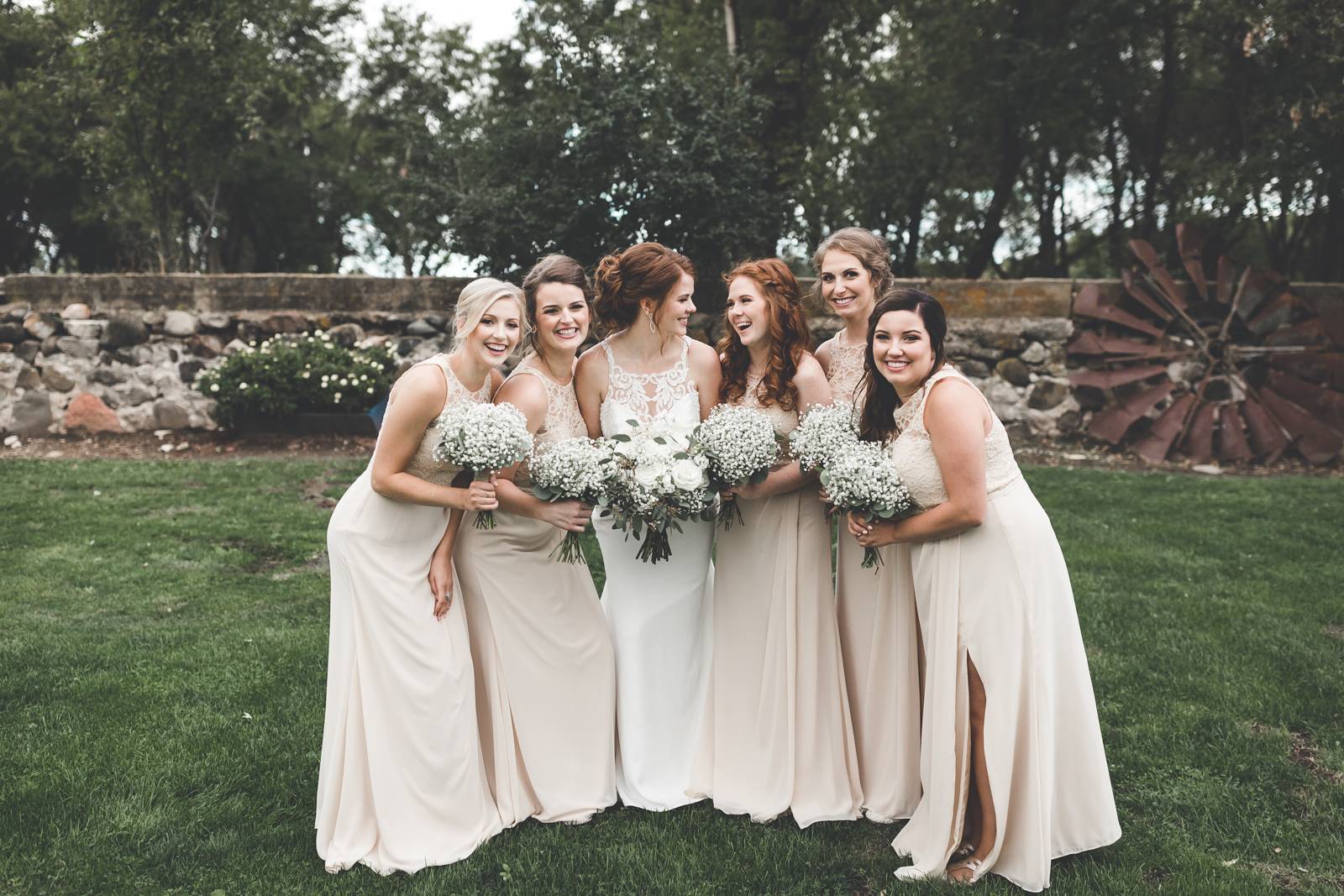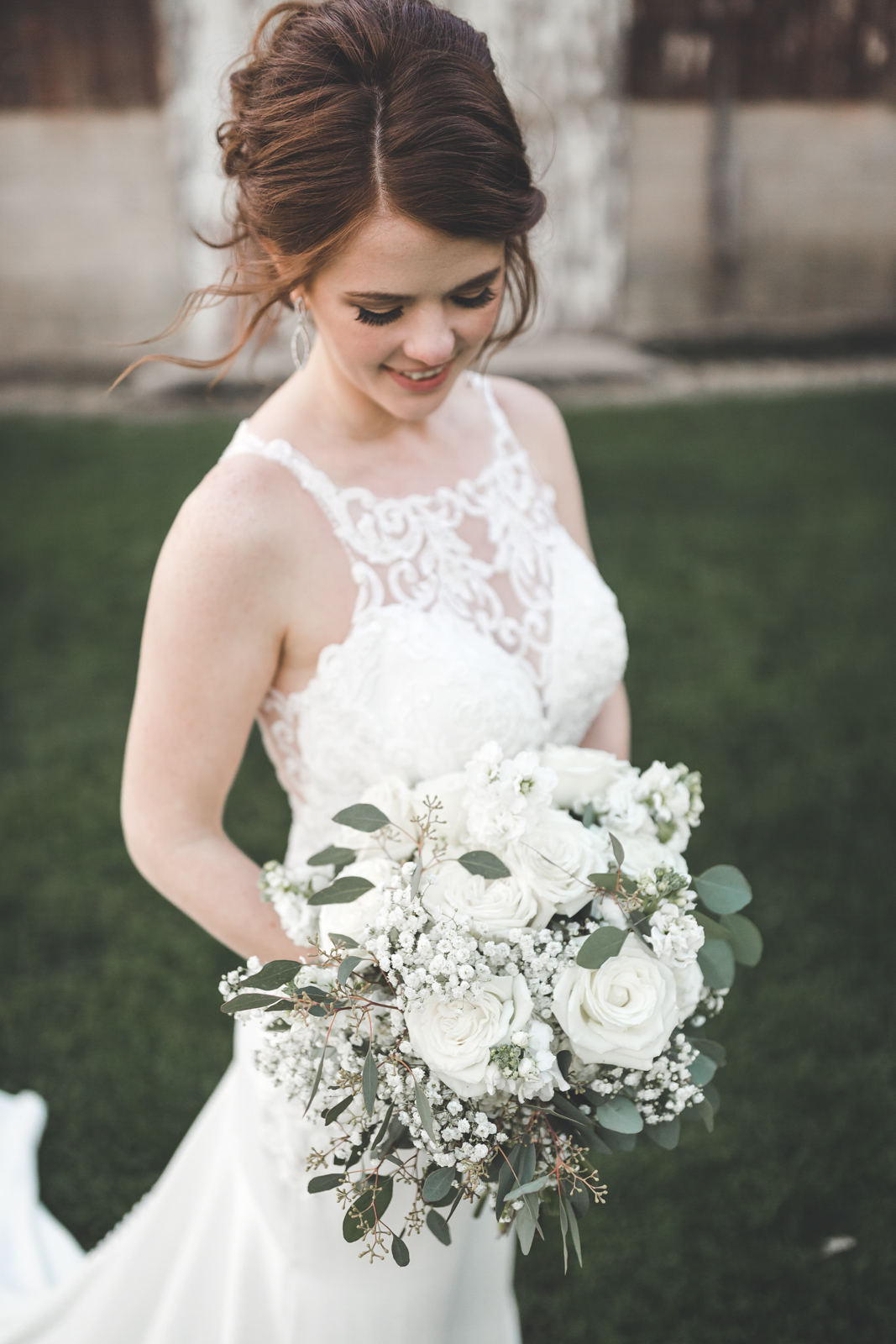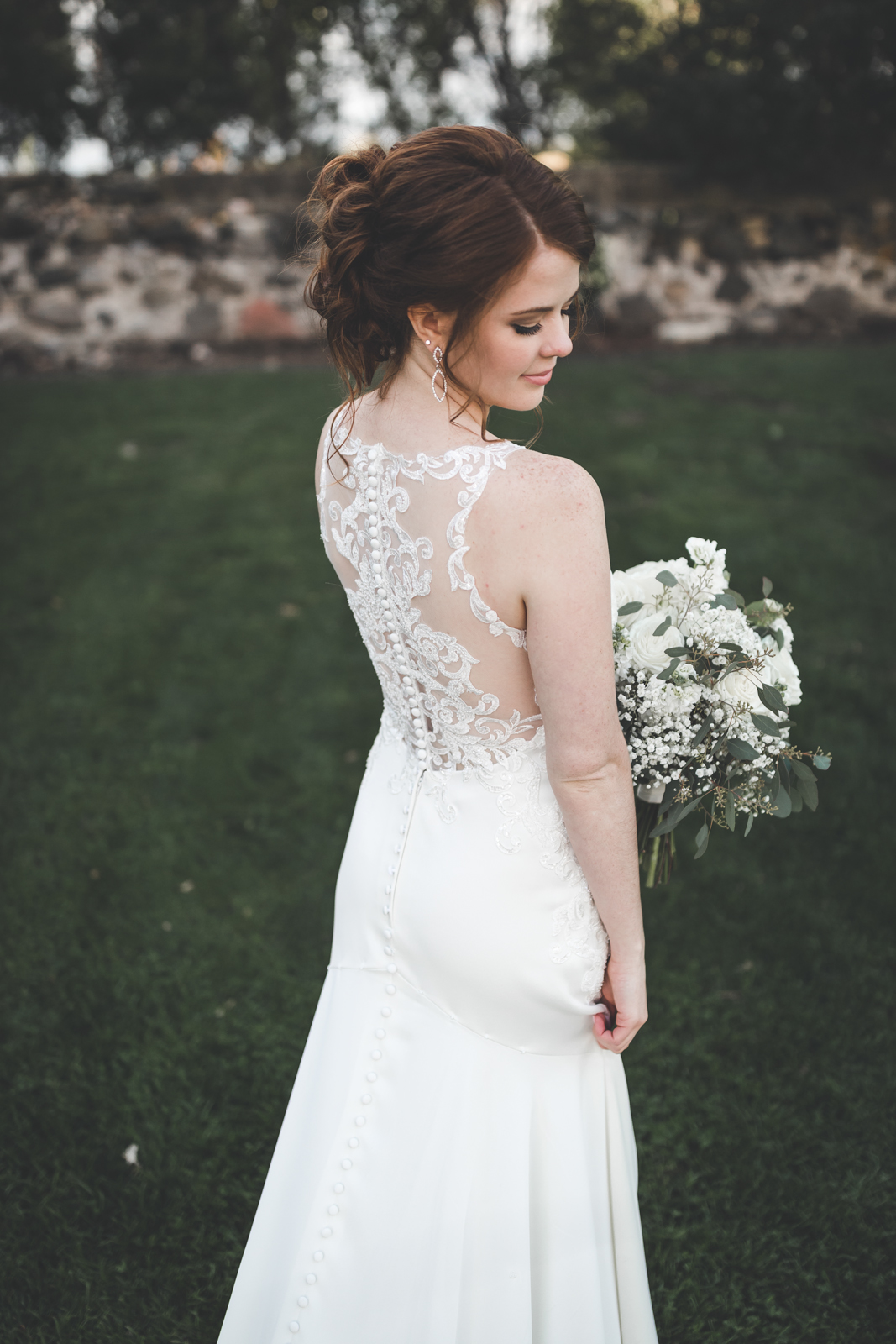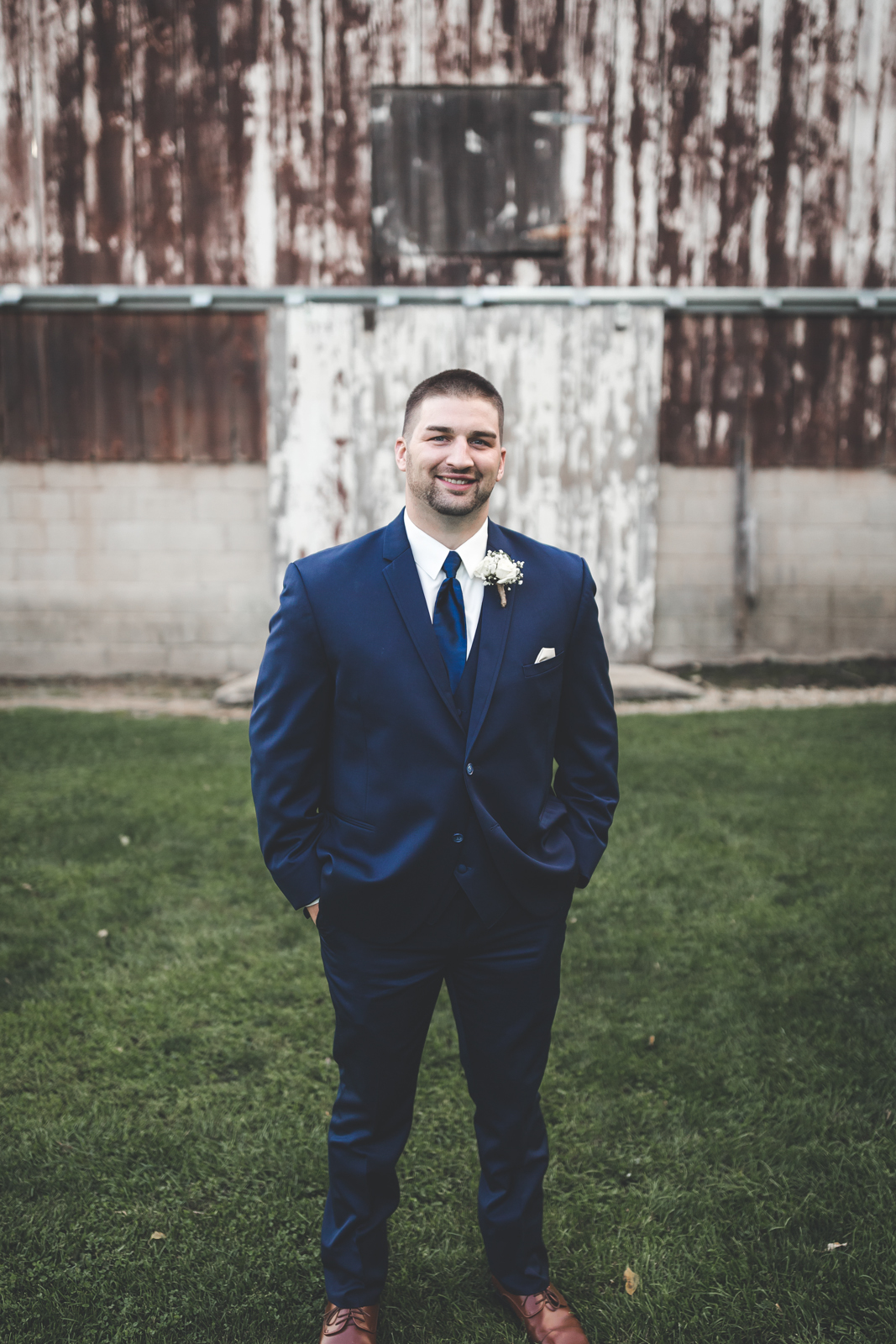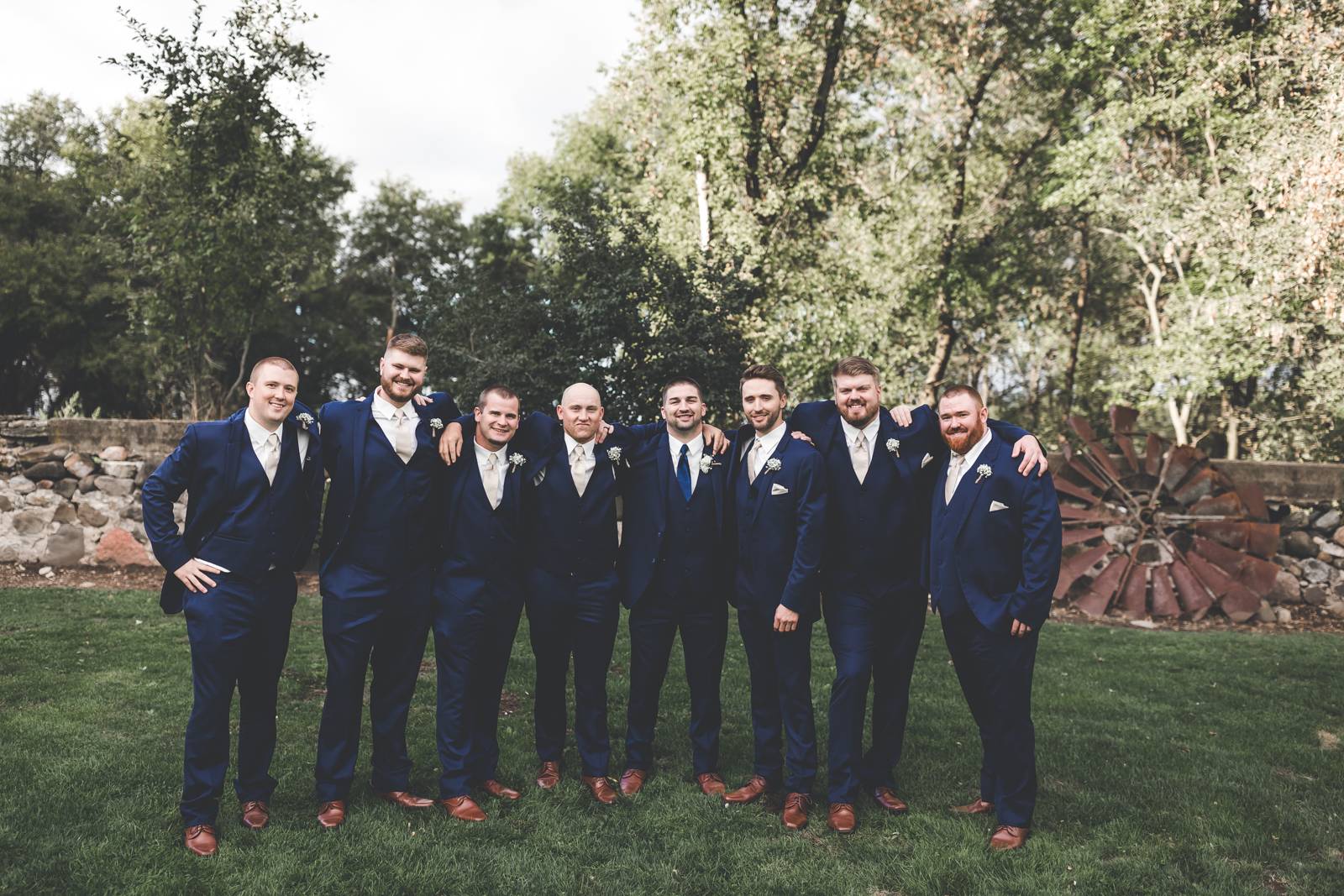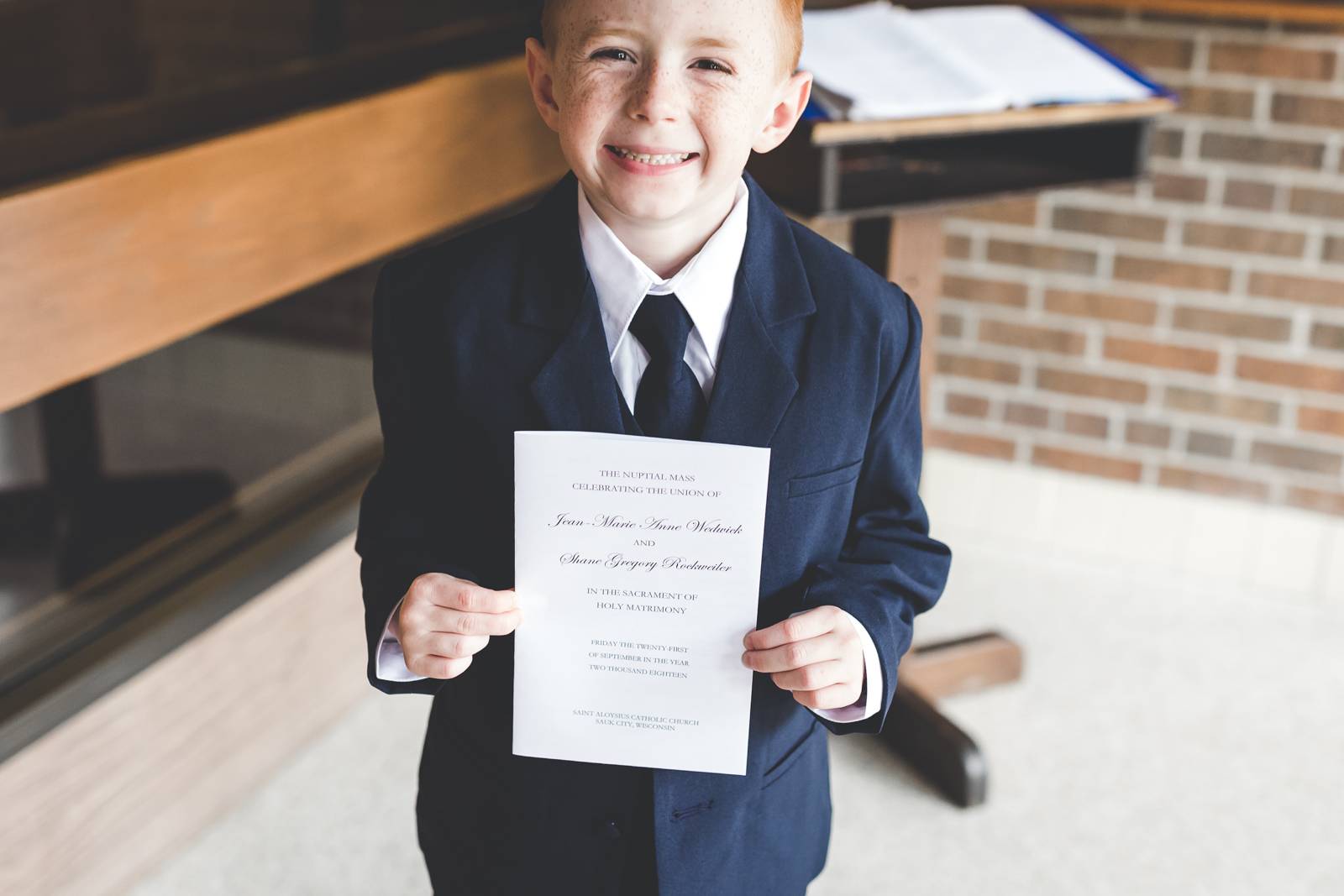 WHAT WAS YOUR INSPIRATION/DESIGN CONCEPT FOR YOUR OVERALL CEREMONY AND RECEPTION DÉCOR? I wanted the venue and decorations to be simple but elegant. The barn venue was so stunning by itself with exposed wood and natural lighting that I didn't want to take away from its beauty. I also didn't want to play too heavily on the rustic theme, which is why I incorporated lots of white and ivory to make it more refined, rather than burlap or additional wood centerpieces.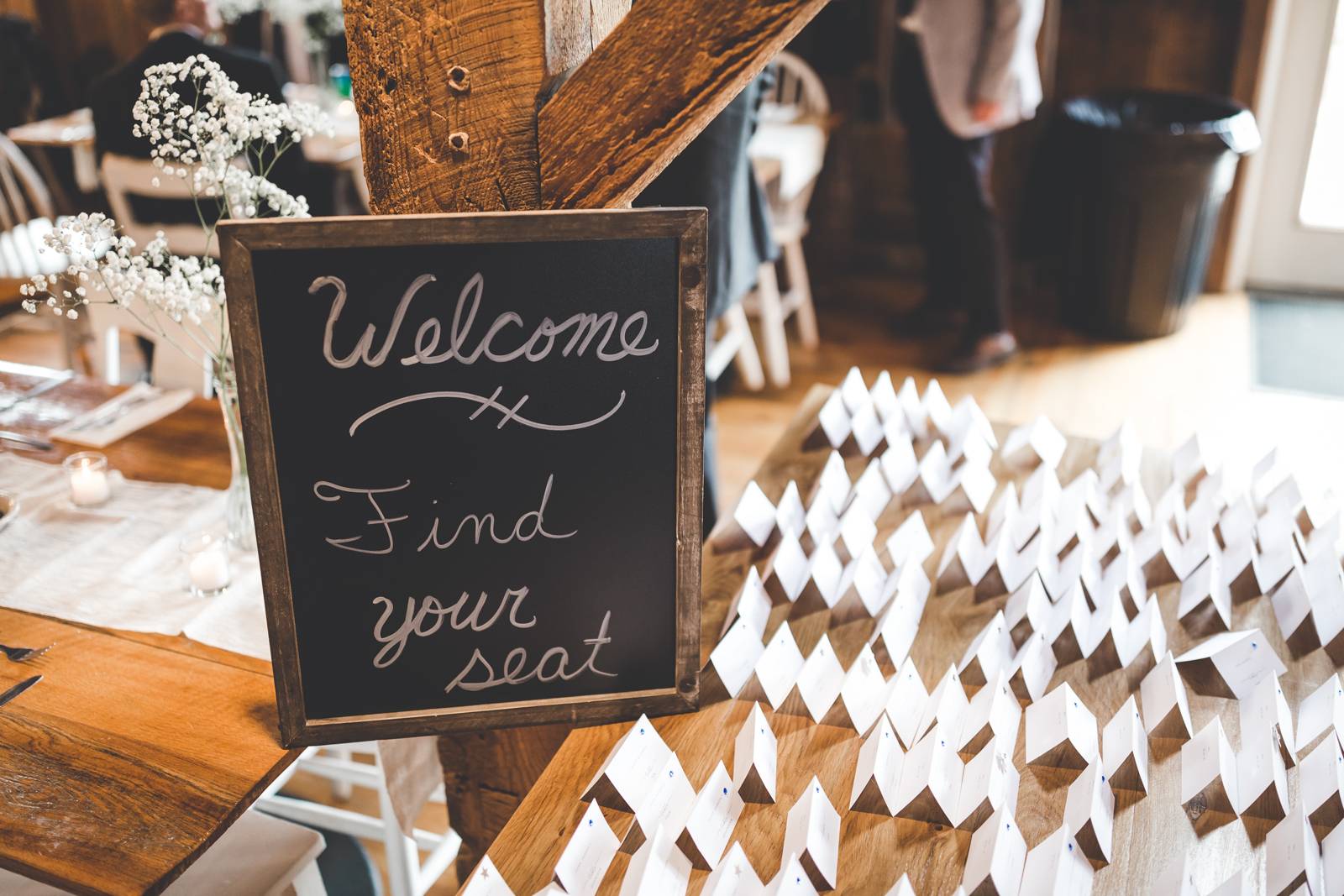 DID YOU USE ANY SPECIALTY CHAIRS, LINENS, CHARGERS, GLASSWARE OR DINNERWARE? Our table runners were hand-dyed cheesecloth material, purchased off of Etsy and shipped from Ukraine. They were custom cut as we had a variety of table lengths. They were my favorite pieces of decoration and I'm so glad we splurged on them!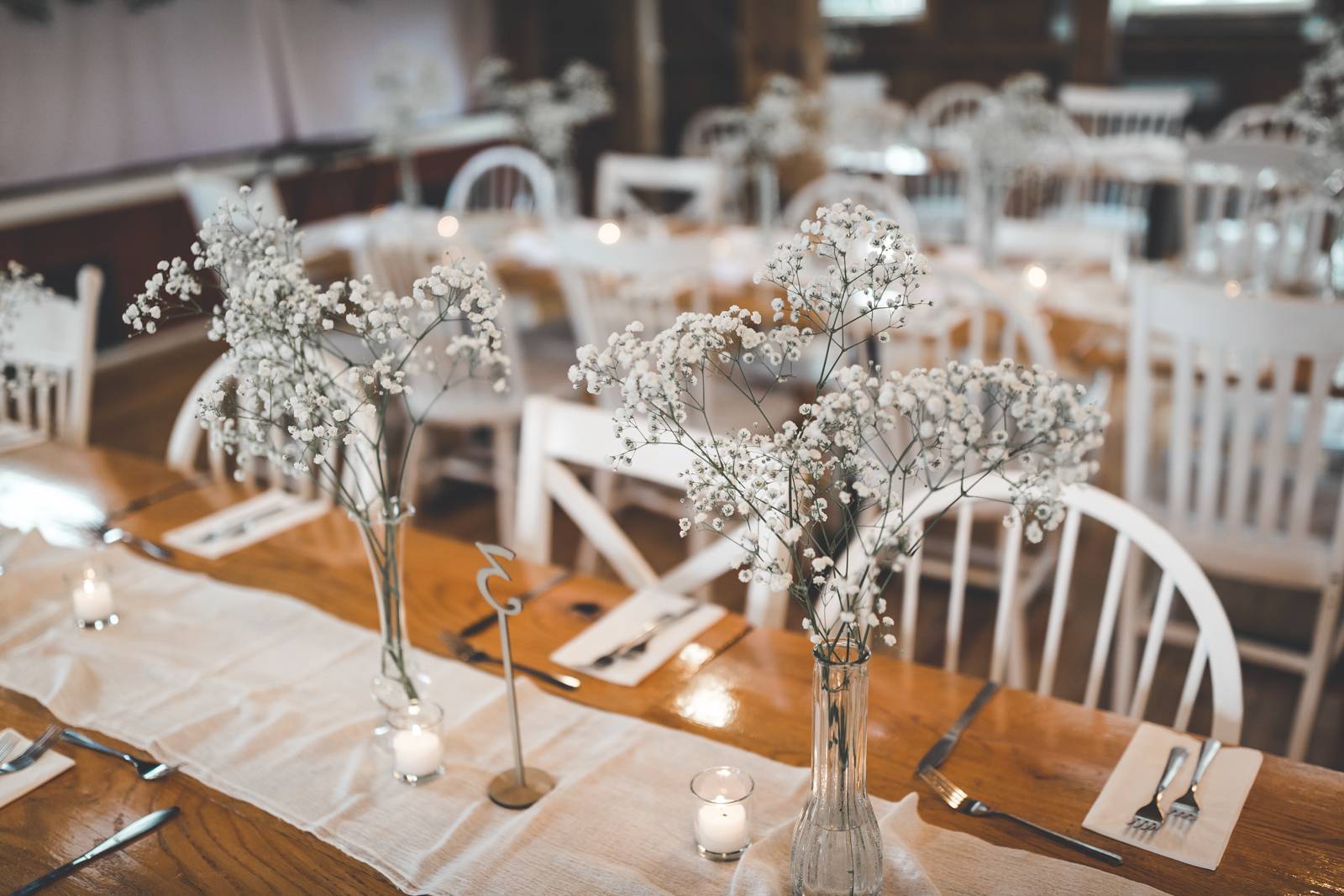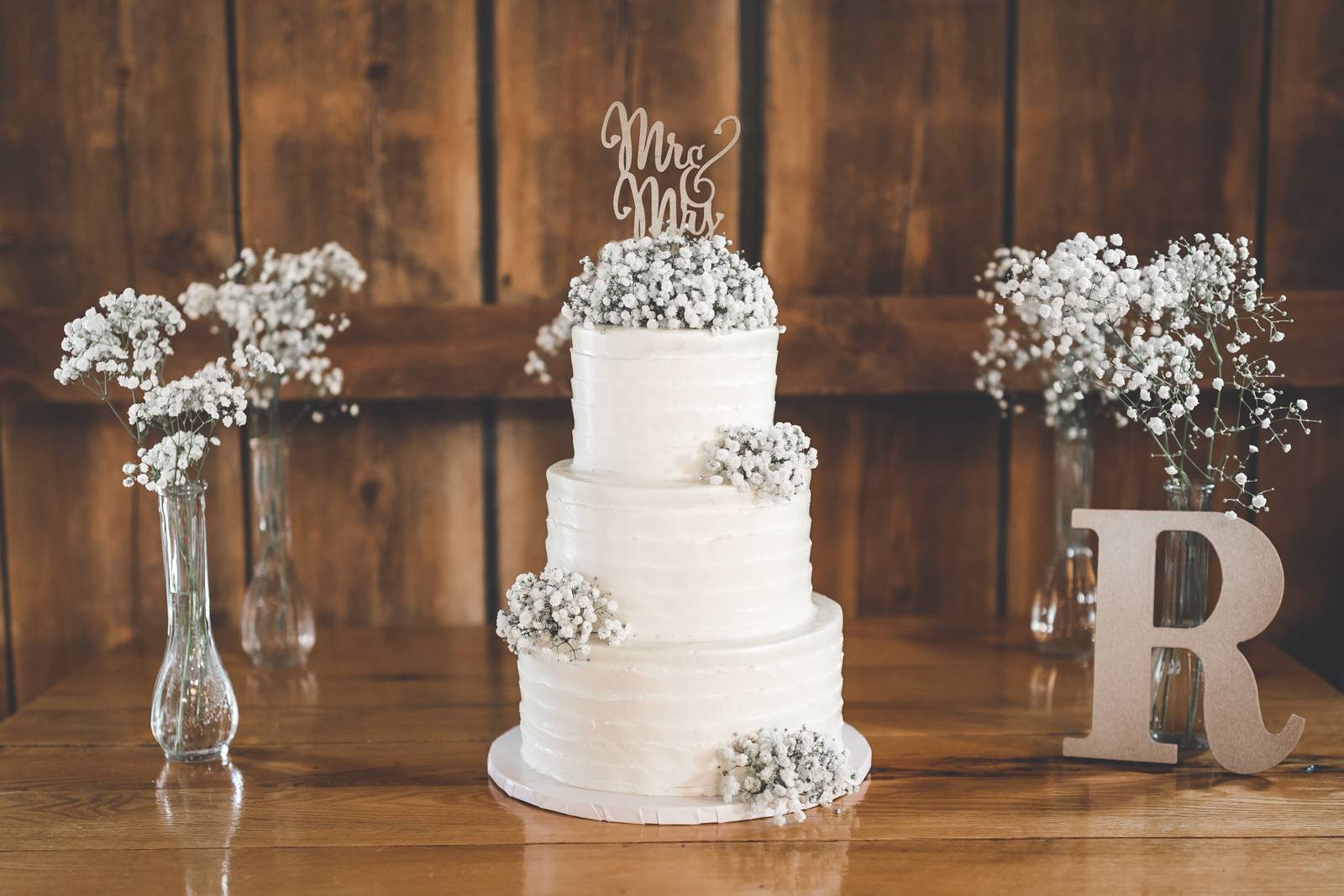 TELL US ABOUT THE FOOD, DESSERT, AND ANY SPECIALTY BEVERAGES ON THE MENU: Our guests were served a plated meal and had the option to choose from a filet of beef tenderloin, Italian stuffed chicken breast, or vegetarian lasagna. They were also served a dinner roll and salad as they waited for their entrée. Following dinner, our service staff brought out the plated cake pieces and guests had the option to choose from several different flavor combinations. All cake flavors were also available on the dessert table after dinner for the guests who weren't yet ready for cake.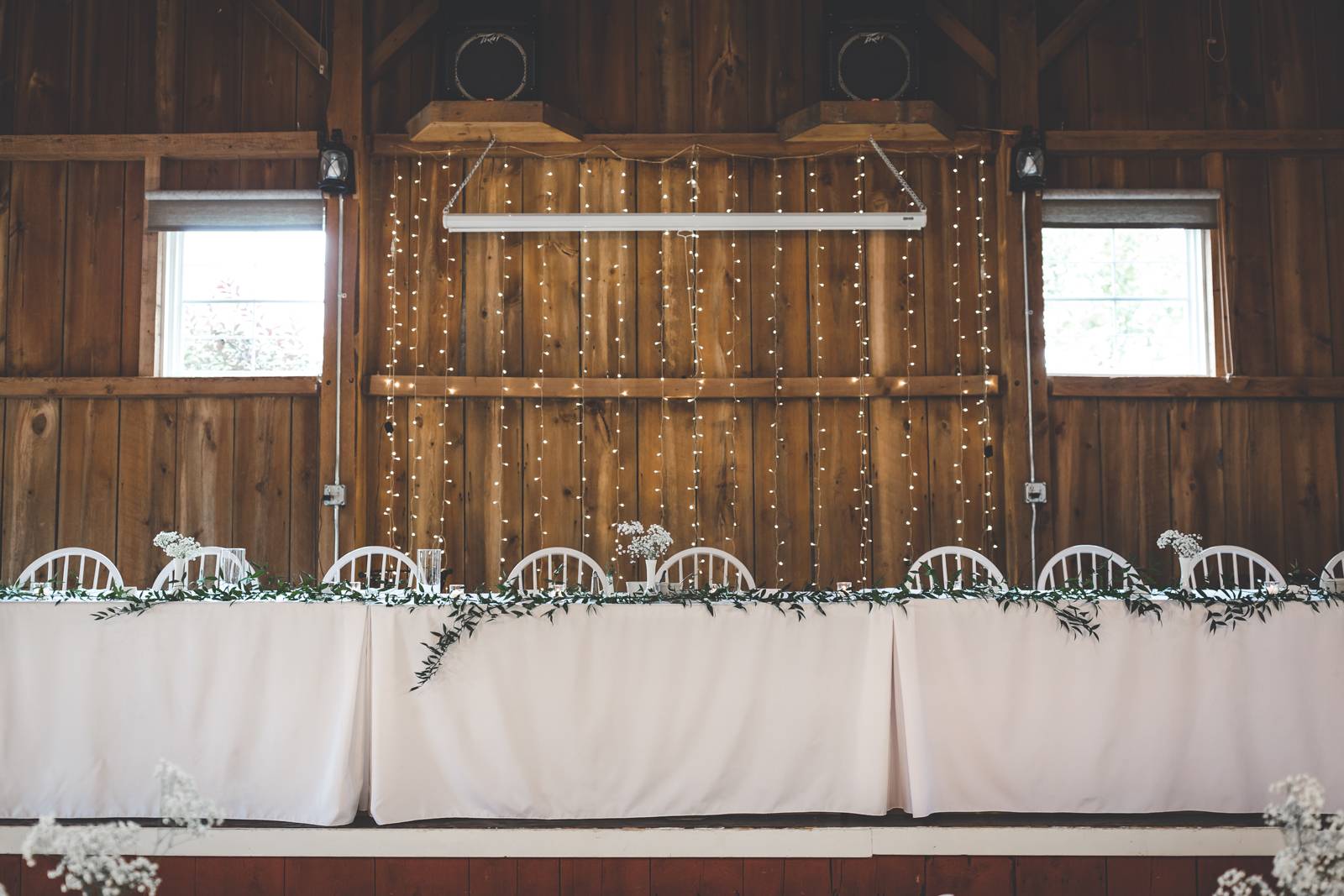 WHAT WAS YOUR FAVORITE MOMENT FROM YOUR WEDDING? My favorite moment from our wedding was after the ceremony, riding the bus to the venue with all of our brothers and sisters as well as the wedding party and their spouses. It was such a happy time and we had so much to look forward to at the reception as well.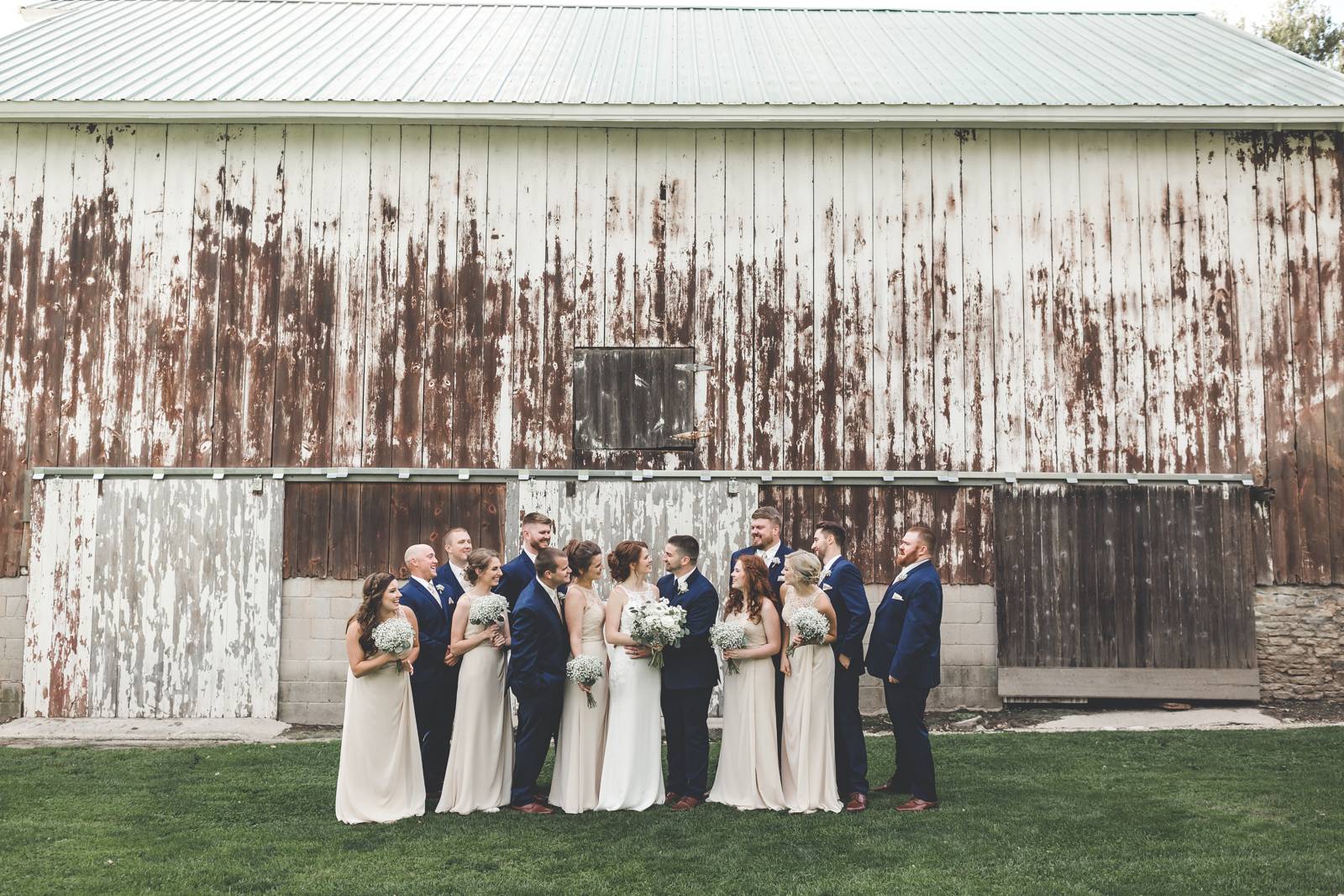 TELL US ABOUT YOUR HONEYMOON: Shane and I honeymooned in Nashville, Tennessee, for the week following our wedding. We rented an Airbnb and spent the week sightseeing, eating LOTS of delicious food, listening to live music, and enjoying ourselves on Broadway.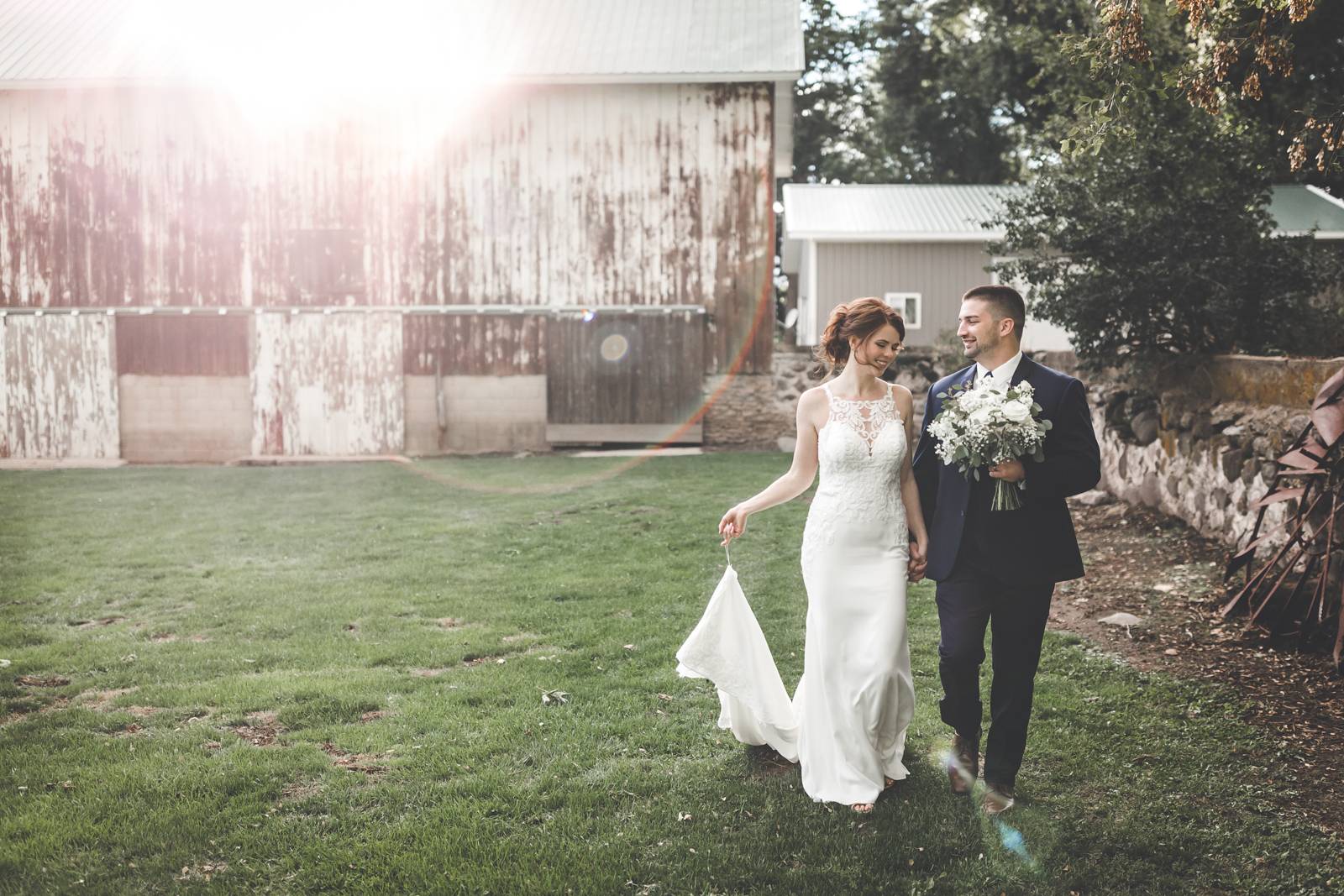 WHAT DOES LIFE LOOK LIKE AFTER THE WEDDING? We closed on our first home together about a month before the wedding, so we're working on the never-ending to-do list and settling into our new neighborhood. We also brought home our first "baby," a nine week old German Shepherd puppy. Between becoming new homeowners and having a puppy running around, we're being kept on our toes!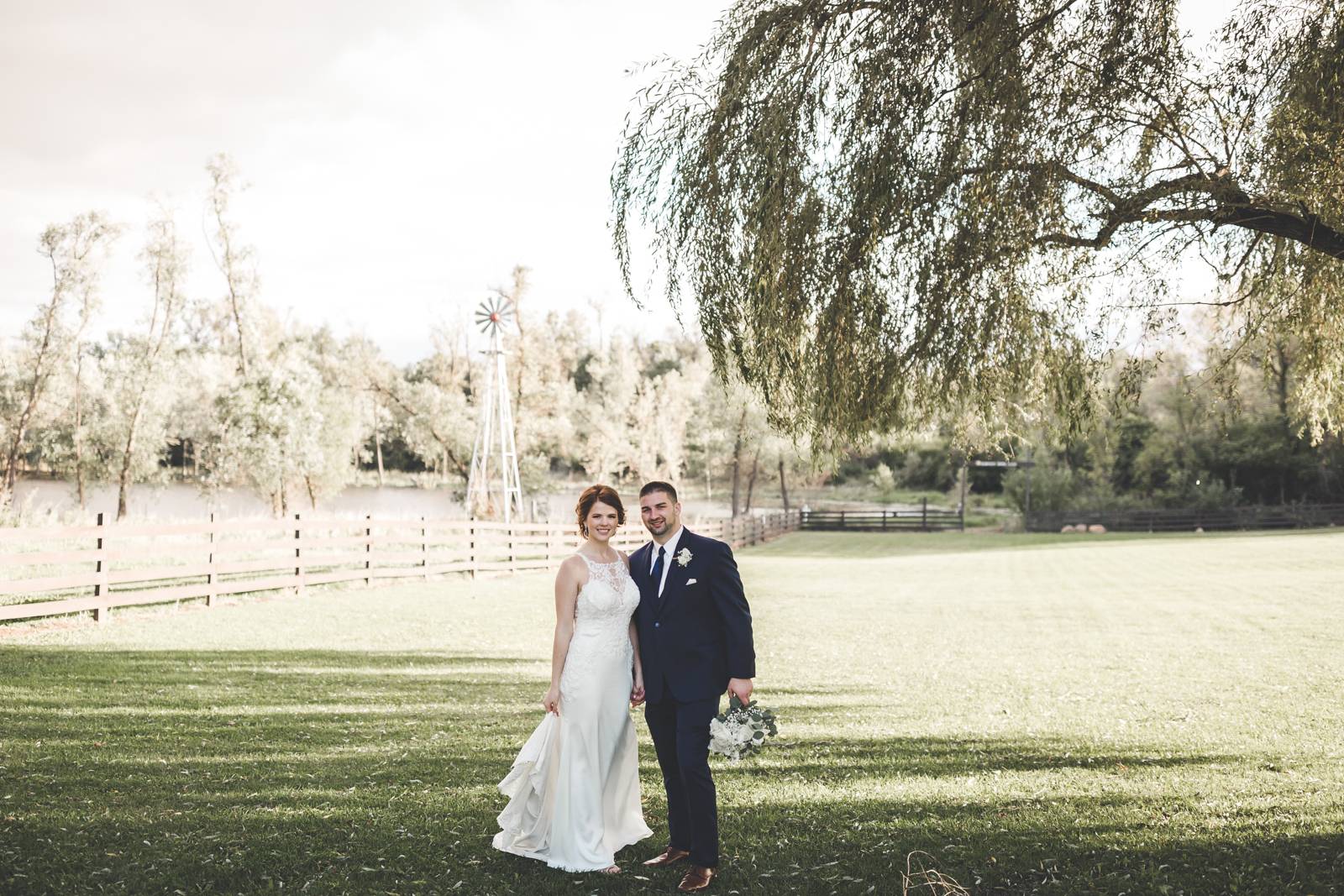 ANY WEDDING PLANNING REGRETS YOU'D DO DIFFERENTLY? Don't forget to eat throughout the day!

IS THERE ANY ADVICE YOU'D GIVE TO OTHER COUPLES PLANNING THEIR WEDDING? Easier said than done, but don't sweat the small stuff. I spent too much time letting my anxiety get the best of me and worrying about insignificant details. The best advice I could offer would be to ensure you chose good vendors... if you have great vendors, everything will be sure to go smoothly the day-of!
Find local Madison wedding vendors, from venues to photographers, on our VENDOR page.