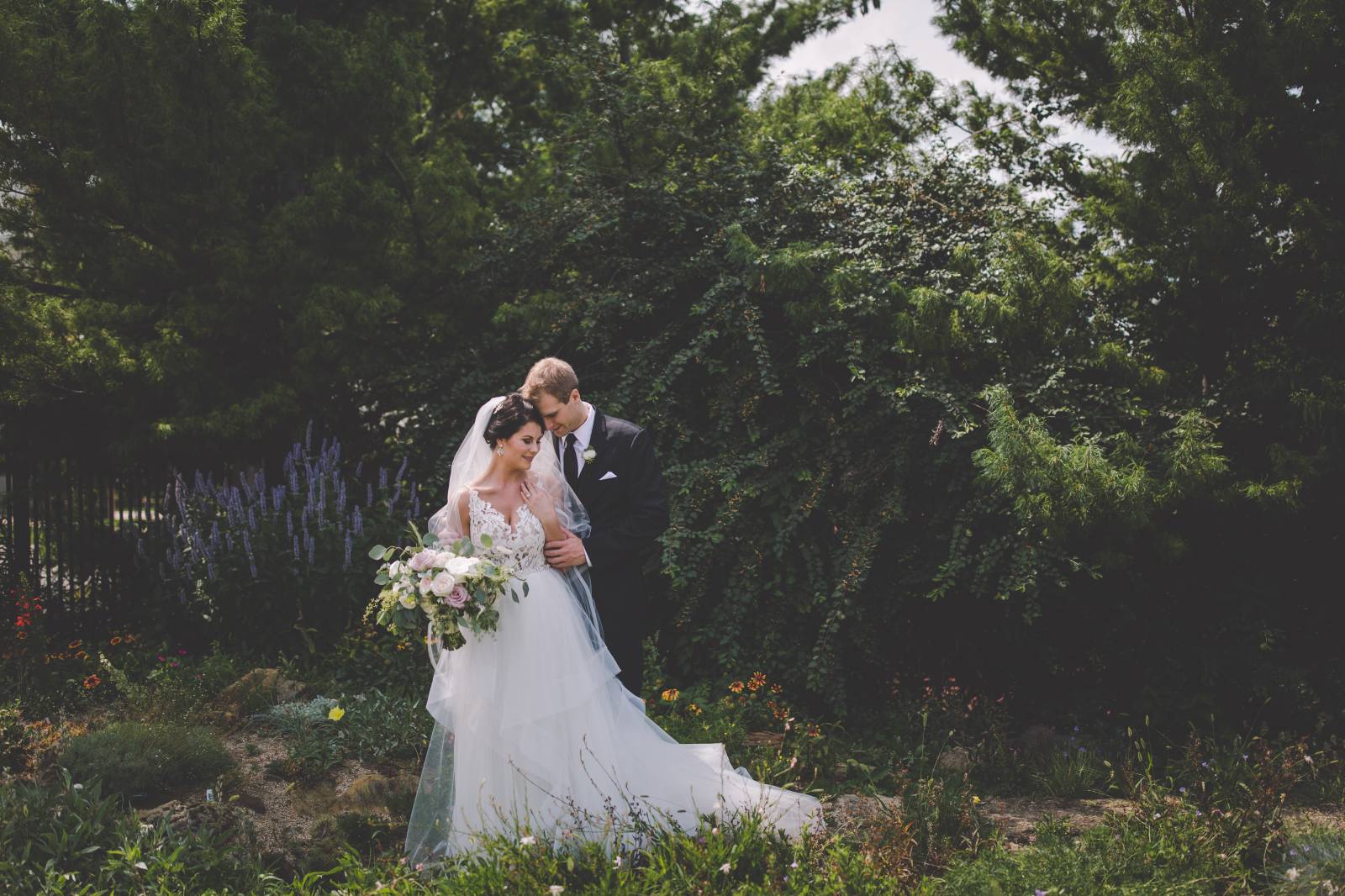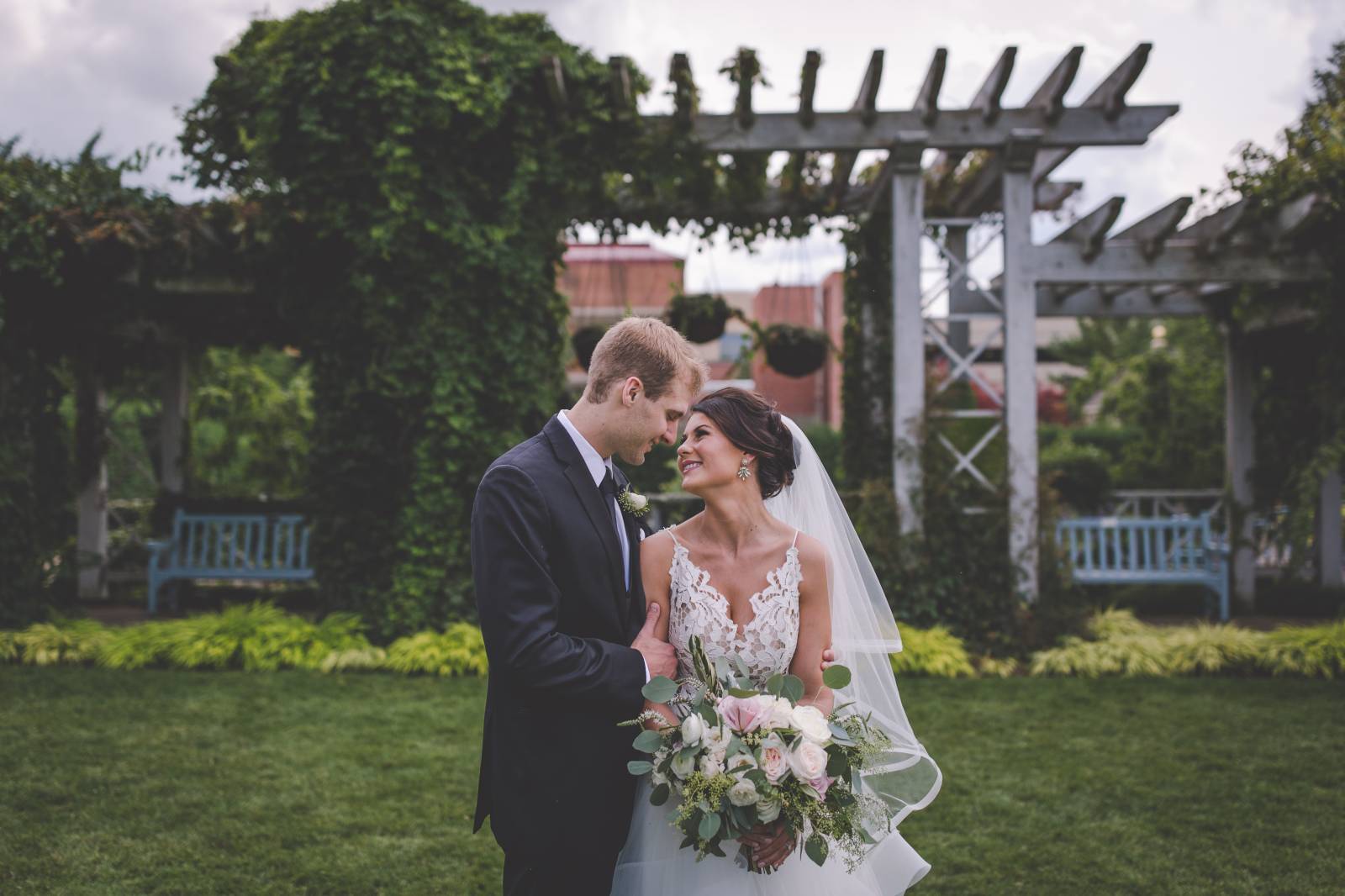 WEDDING DATE: Saturday, August 5th, 2017

HOW DID YOU MEET? Jim and I met in Las Vegas back in 2013. My girlfriends and I were celebrating our first year of having big girl jobs (registered nurses), and we decided to reward ourselves by taking a weeklong trip to Vegas. If you've ever been to Vegas, a weeklong trip is wayyyy toooo much! It was our very last pool day at the Flamingo Hotel, and we kept noticing these boys gawking at us from across the pool. Luckily, they were cute. After staring at us for hours, they finally decided to come over and introduce themselves. As Jim approached me, he apparently asked how I was doing? I was used to people asking where I was from all week so I instantly responded, "WISCONSIN!". We shared a few laughs that day which turned into exchanging numbers. On the plane back to Wisconsin I figured I would never see this cute Ohioan again. It took a few months of daily texts and lengthy phone calls just to say "hi" until we realized there was a strong connection developing even though we were over 500 miles apart. After a year of monthly road trips and flights (most of them delayed) to see each other, we knew it was love...and that it was time for one of us to make the move. Next thing I know, my parents and I were loading up a U-Haul for me to make Cleveland my new home. Never in a million years did a city guy from Ohio and a country girl from Wisconsin think they would meet on a friend's trip to Vegas and fall in love. The odds were not in our favor, but we are so grateful that what happens in Vegas doesn't always stay in Vegas.
HOW DID YOU KNOW HE WAS "THE ONE"? It was only natural for Jim and I to have some hesitation with the distant dating as neither of us had dated anyone from a different state let alone a different area code. Despite us not being able to physically hang out whenever we pleased, we always made time to chat on the phone (for hours) each night. On one of our nightly chats, I told Jim that I would need to cut our phone call short as I was feeling really sick. Anyone who knows me can vouch that when I get sick it is a full-blown illness for days. About an hour after cutting our phone call short, I got a knock on my apartment door. To my surprise, Jim had ordered up a care package to be delivered with all sorts of cold/flu remedies and a dozen fresh-baked, warm and gooey chocolate chip cookies from Insomnia (which are my absolute favorite by the way). This kind gesture was the first of many examples to demonstrate how caring Jim is, and that was my "ah-ha" moment when I knew he was "the one".

TELL US ABOUT YOUR PROPOSAL: On June 26th, 2016, I was frantically trying to put together a dual birthday party for my dad and Jim's mom. My parents had just flown in from Wisconsin, and I wanted to do something special for our parent's birthdays. Jim's mom insisted that she bring a birthday cake. I didn't like the idea of someone buying their own birthday cake, but everyone kept telling me I already had enough to plan and to let her do it. After dinner, I noticed there was no cake brought to our house. I started to panic; what is a birthday party without cake? After expressing my concern to Jim, he asked his parents if they forgot the cake at home? He also seemed a little bit concerned about the missing cake. Next thing I know, Jim's dad brings in a big box and sets it on our Island in the kitchen.As I was preparing to cut right into the cake, Jim asked me to read what the cake said. I was so focused on cutting the cake that I didn't even notice it said, "Kari, I love you. Will you marry me?". I was so confused.I honestly thought they picked up the wrong cake. I turned around to look at Jim, and next thing I knew he was down on one knee with a ring in his hand. The waterworks came, and saying yes to Jim was one of the easiest decisions I have ever made.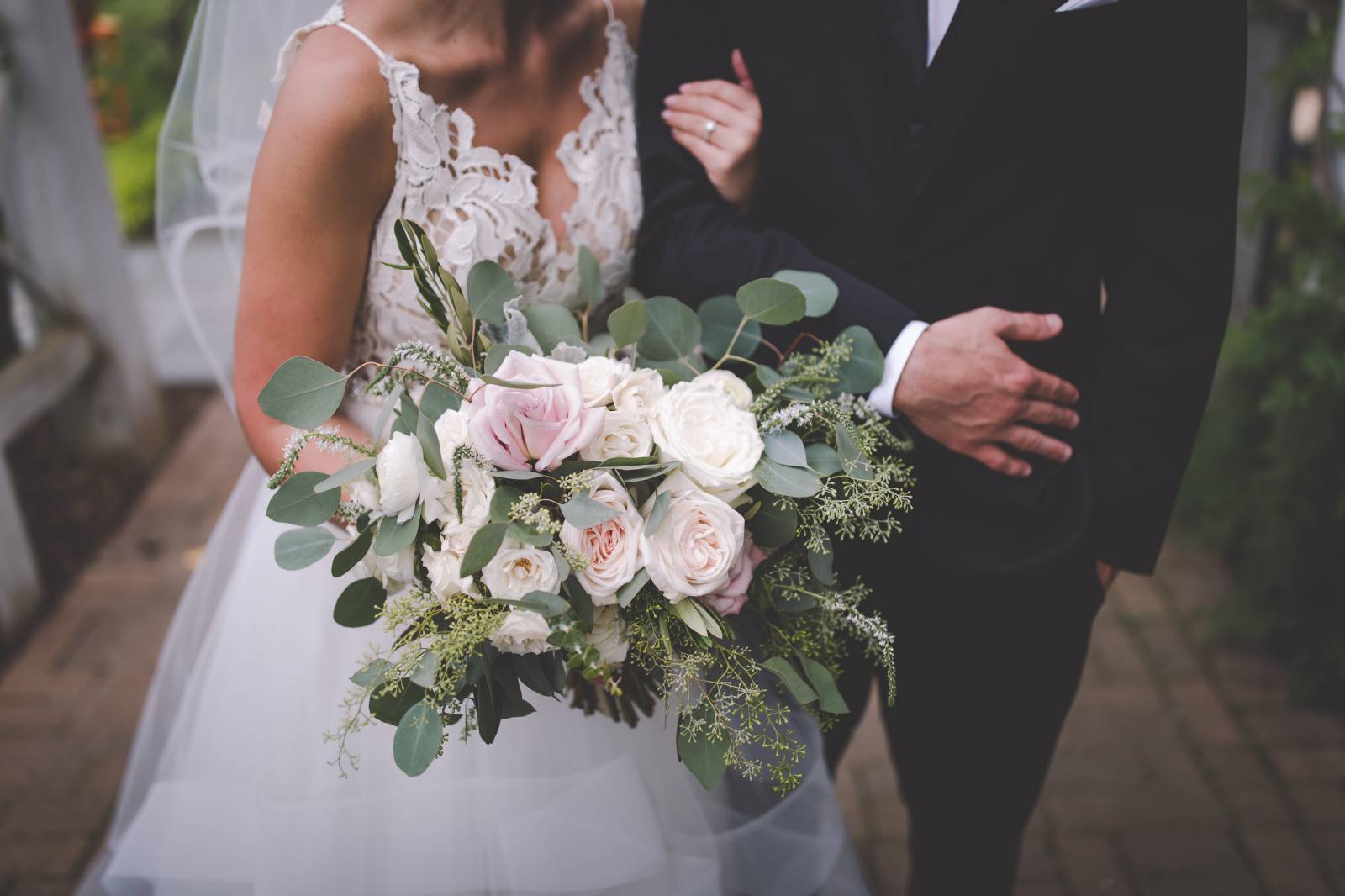 DESCRIBE YOUR WEDDING FLOWERS: Loose garden style bouquet with a mix of antique dusty blush faith roses, garden roses, white majolica spray roses, white Veronica, and white ranunculus with eucalyptus and tucks of babies breath.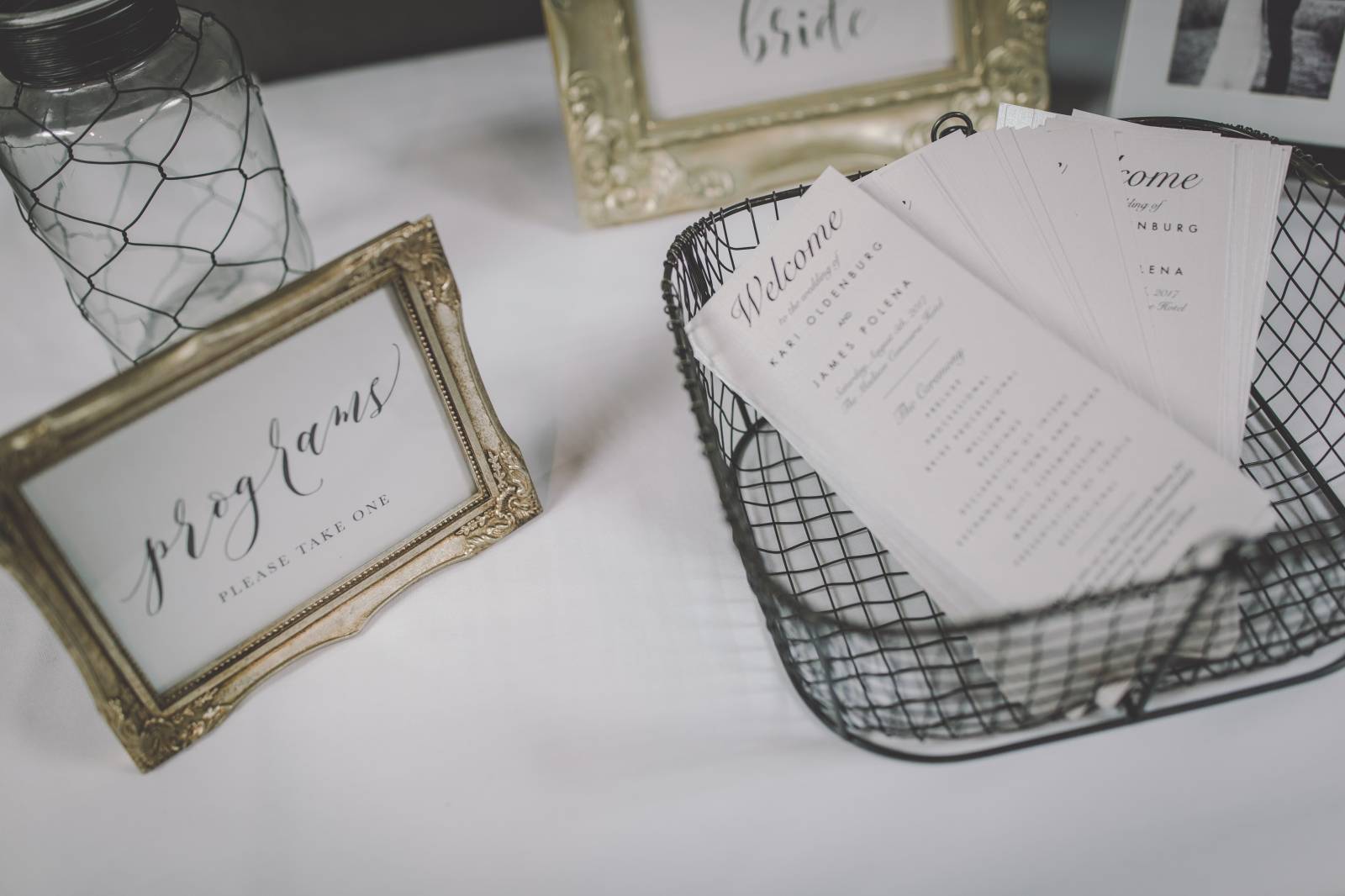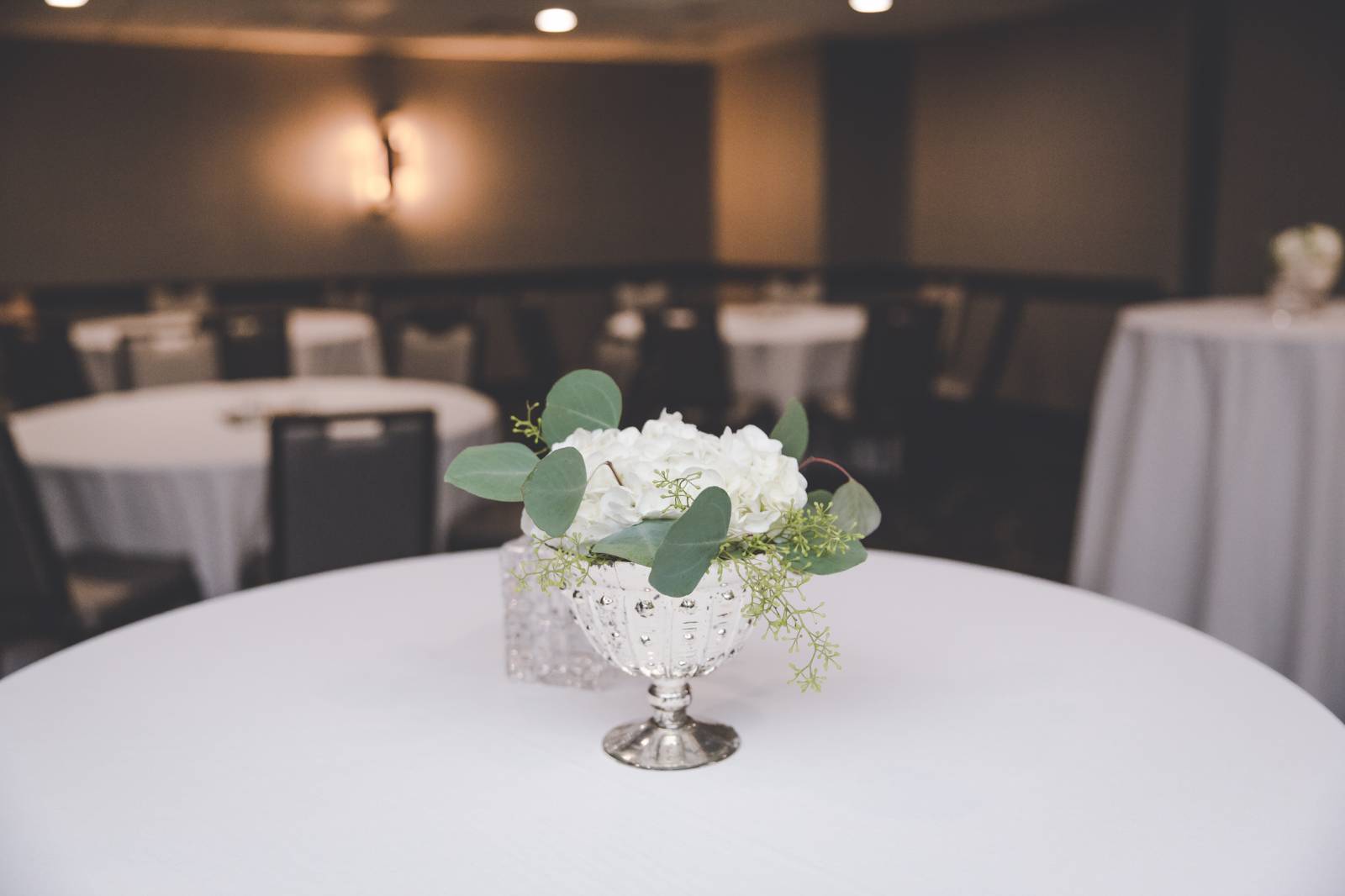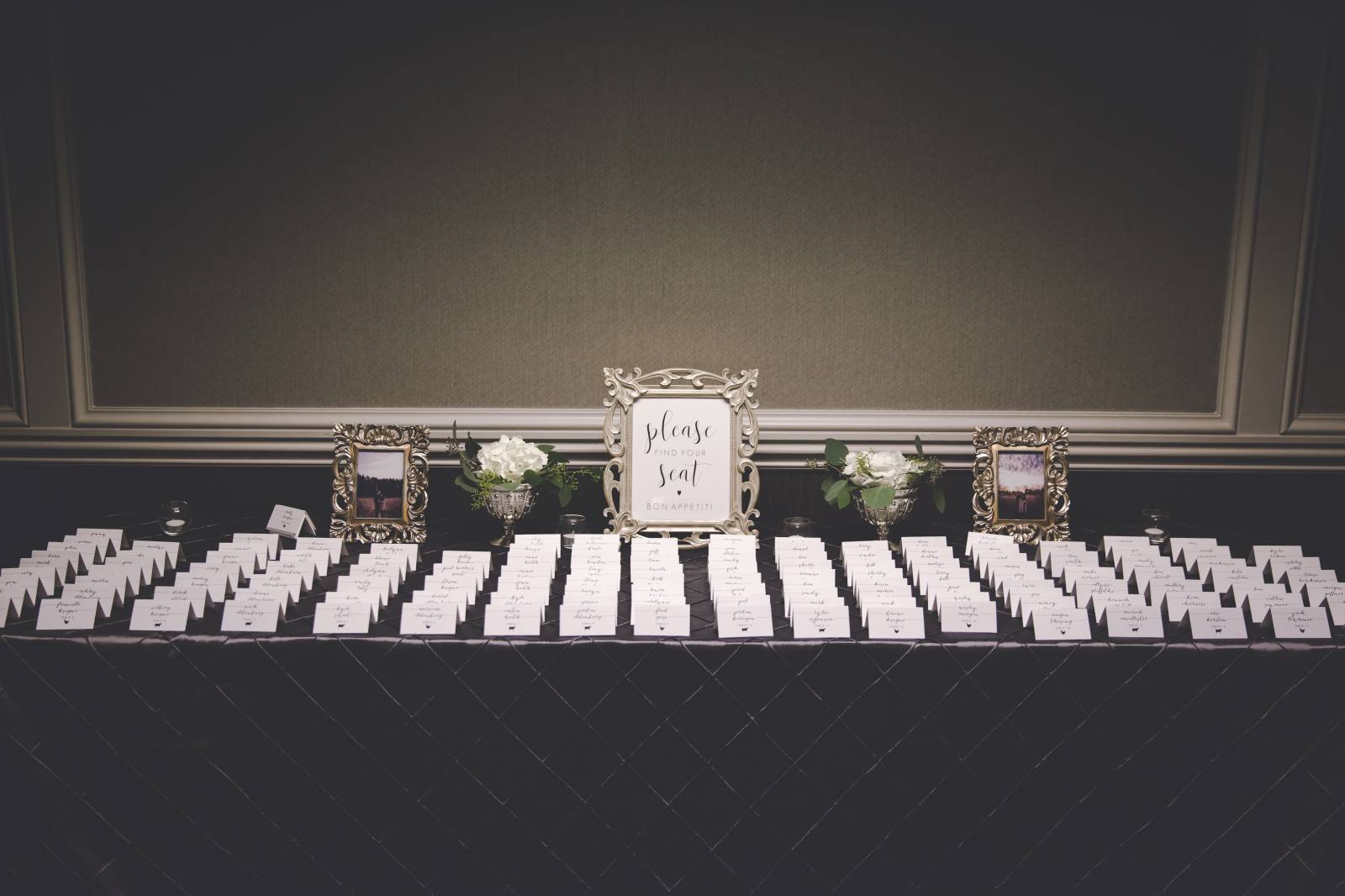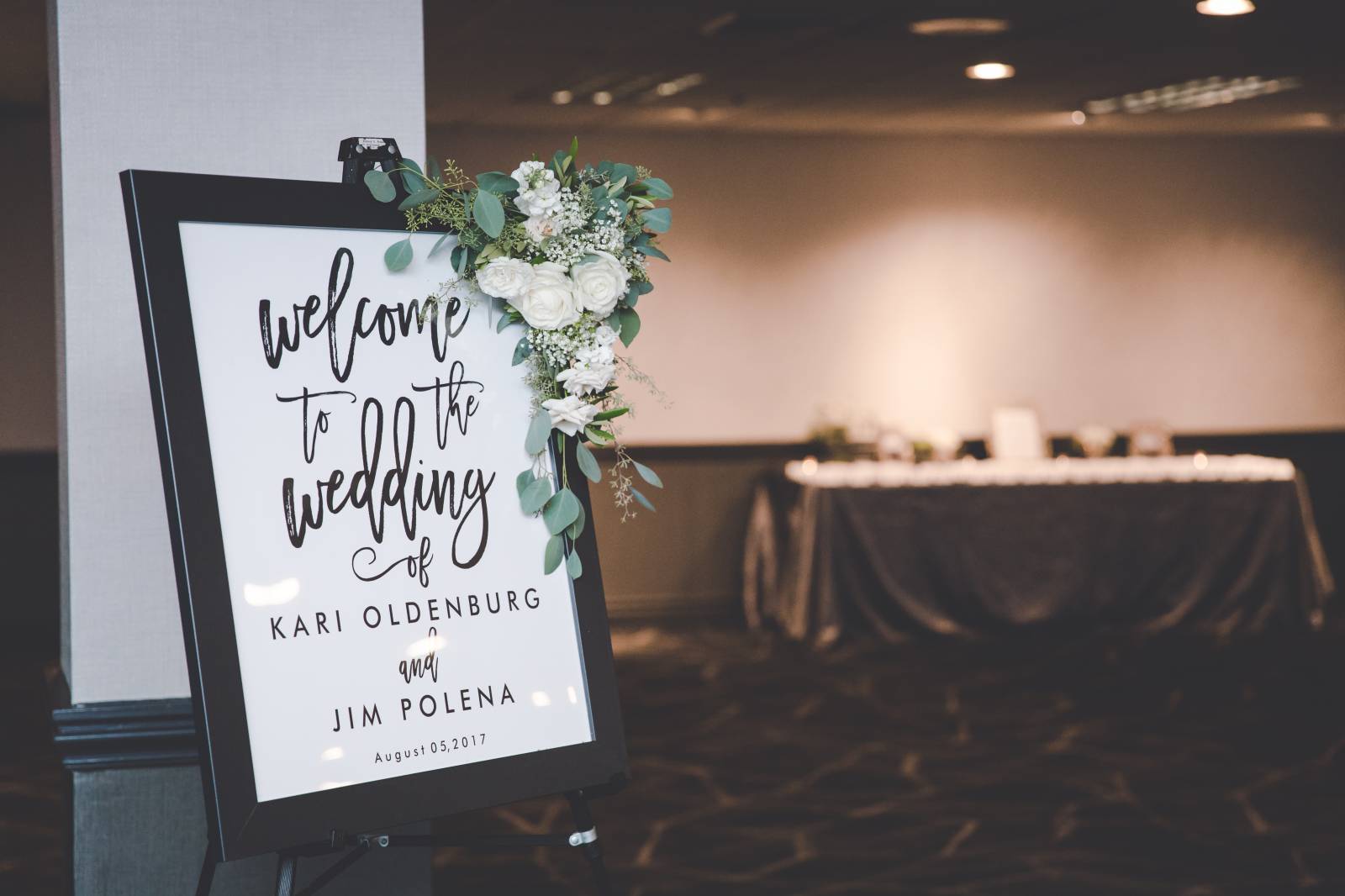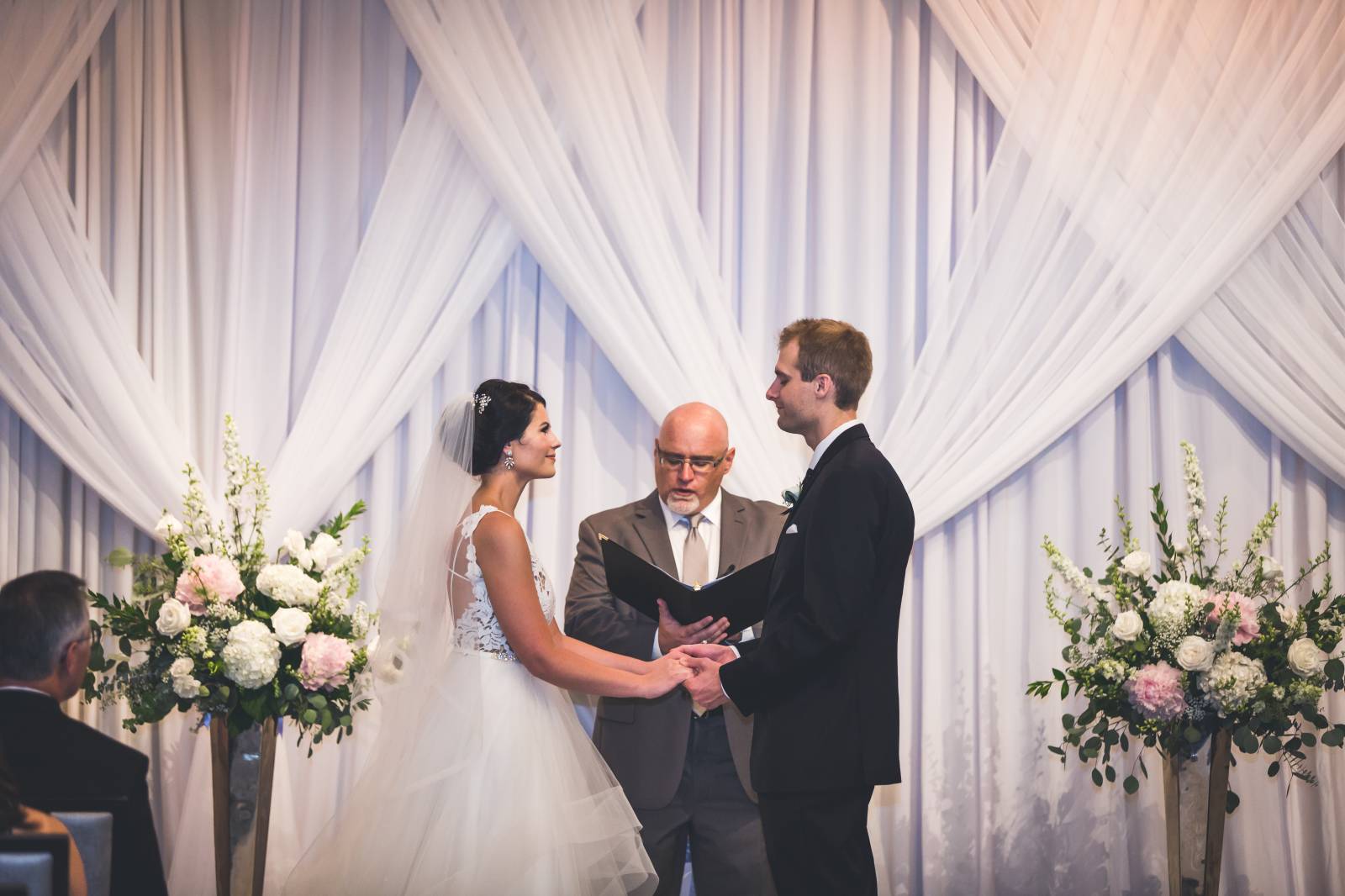 TELL US ABOUT YOUR DRESS: When going dress shopping, I knew that I wanted a dress that was unique. I wanted a dress that was flirty and fun to match my personality. After trying on countless strapless mermaid dresses, I was finally introduced to the designer Hayley Paige.I instantly fell in love with her whimsical designs. When trying on the halo gown by Hayley Paige, I immediately knew this was "the" dress. I had never seen anything like it.Never did I imagine purchasing a ballgown, but the tiered tulle skirt with horsehair trim and laced scalloped v-neck bodice with low open back and beautiful strap detail had me saying yes to the dress.I truly felt like a pixie princess, and couldn't have been happier with my dress choice.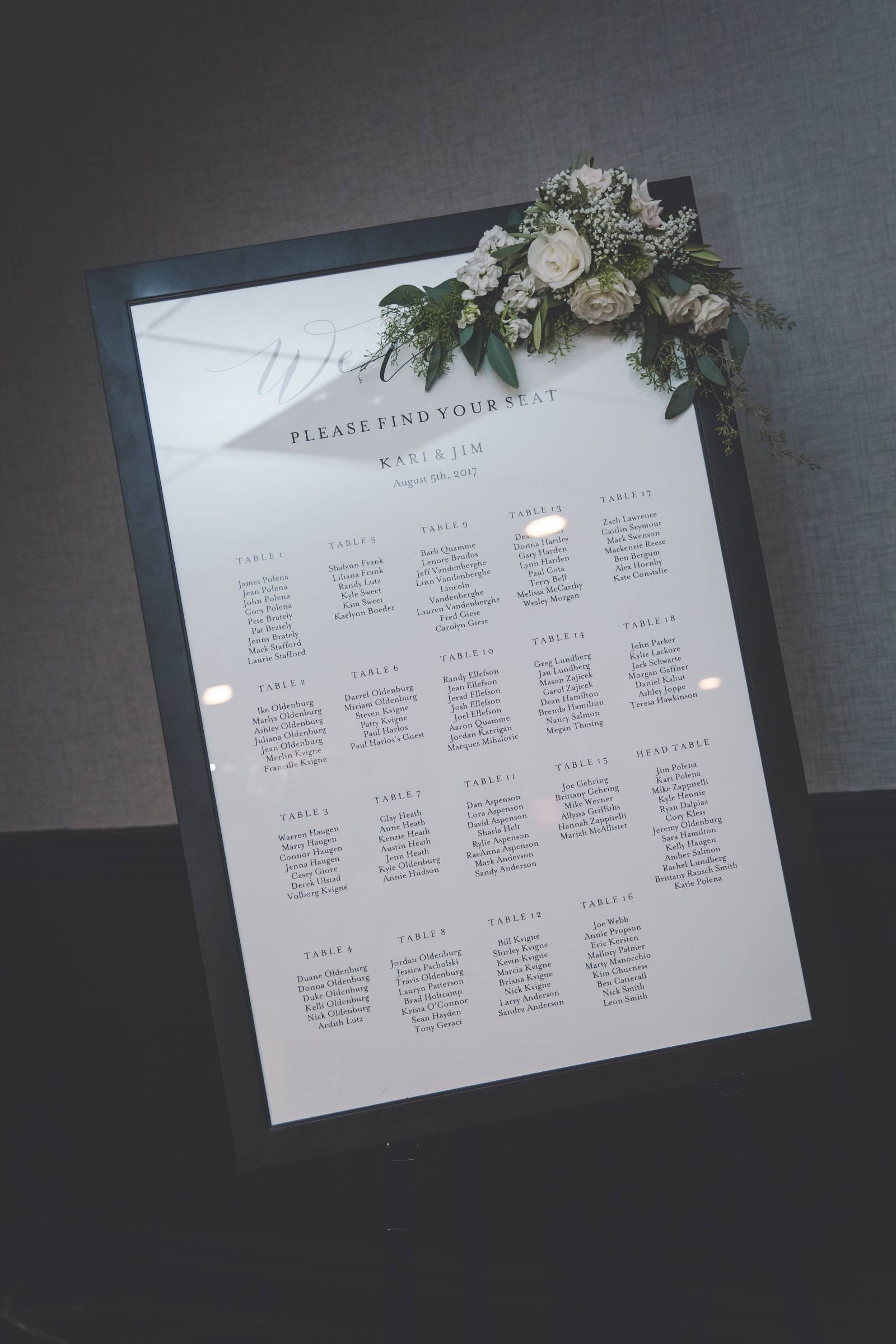 WHAT WAS YOUR FAVORITE MOMENT FROM YOUR WEDDING? Aside from being pronounced Mr. & Mrs. Polena, our favorite wedding moment was looking out into the crowd and seeing all our closest friends and family from both sides having such a great time together in one place.We truly felt so blessed and loved by all on our wedding day.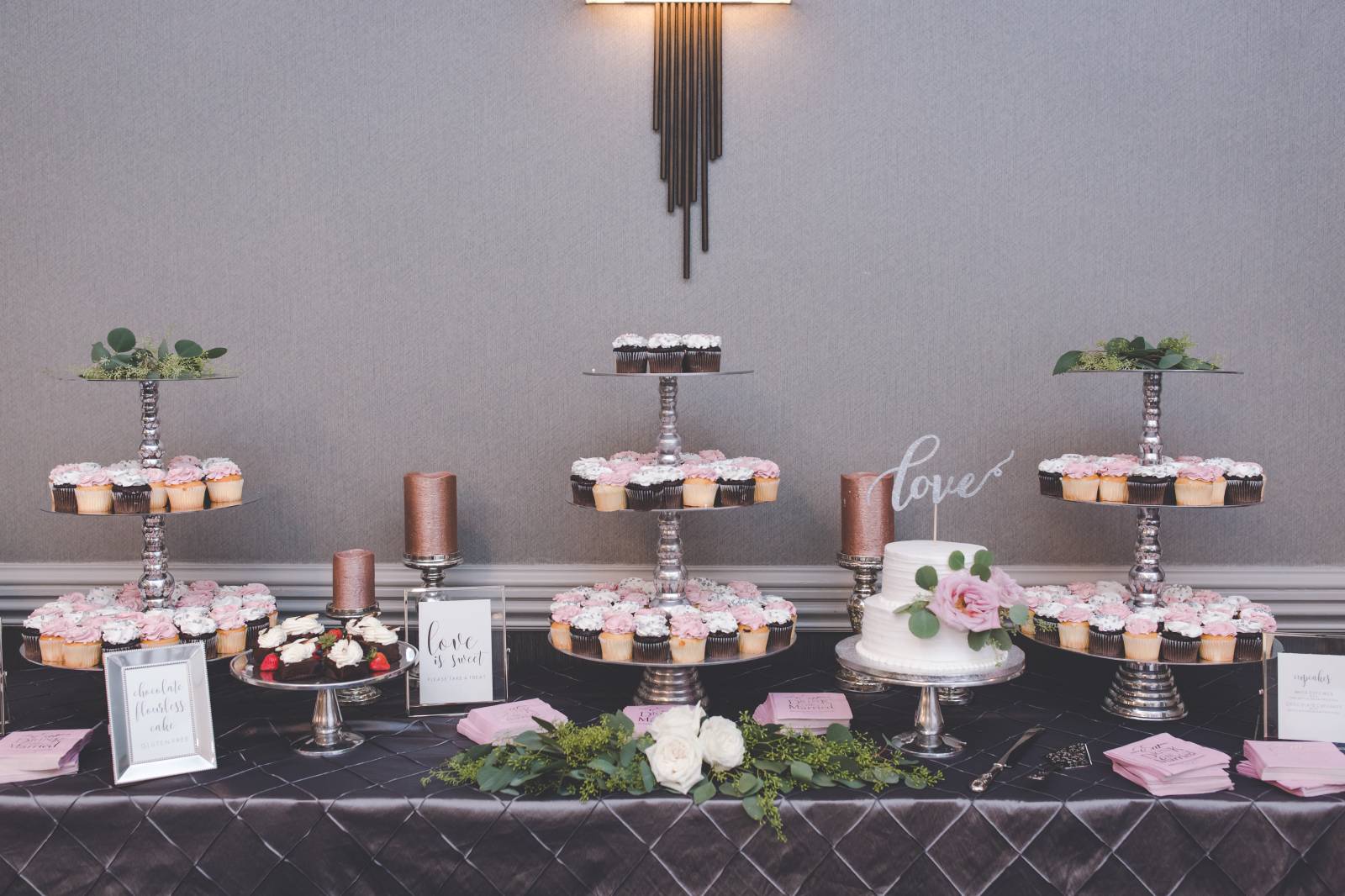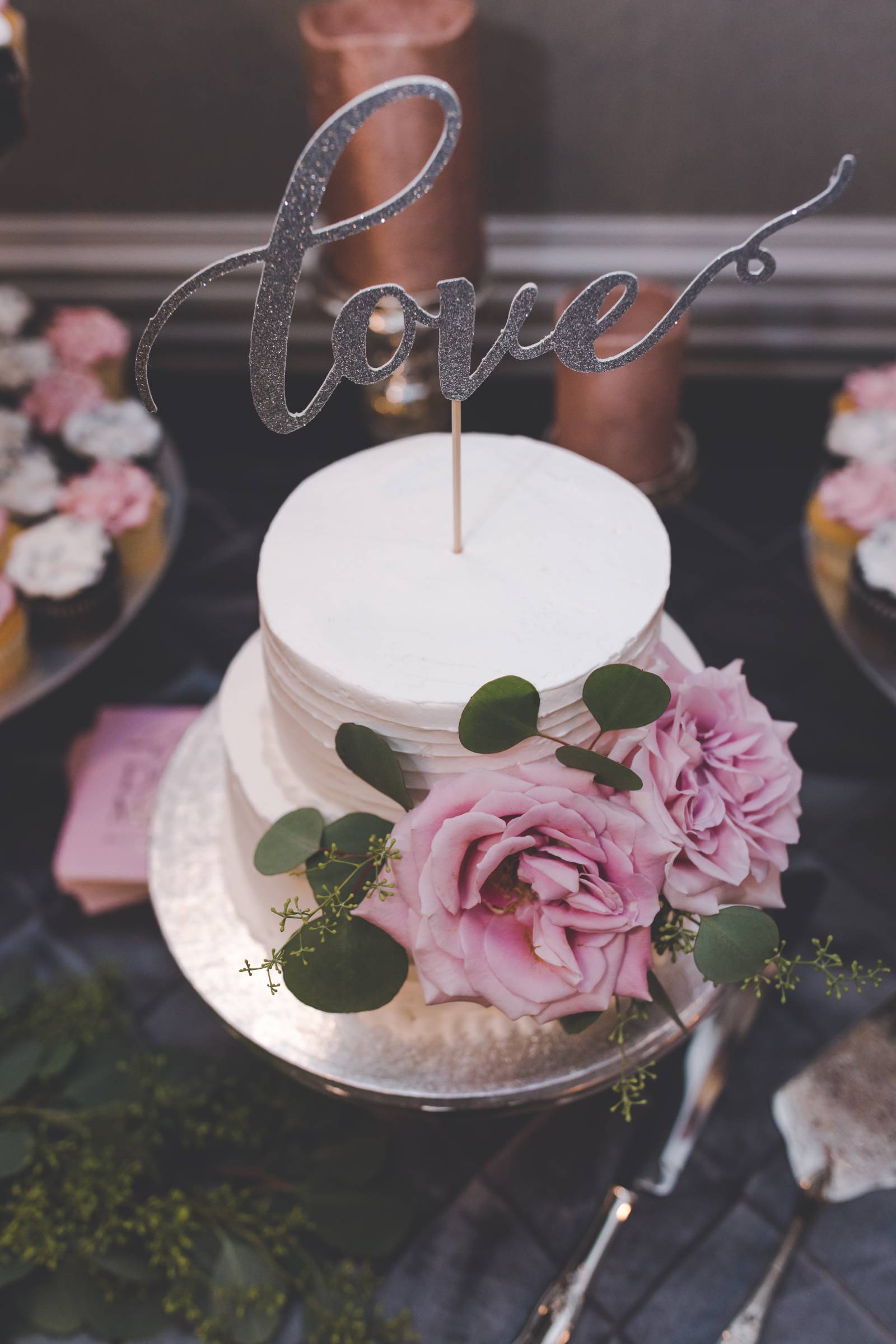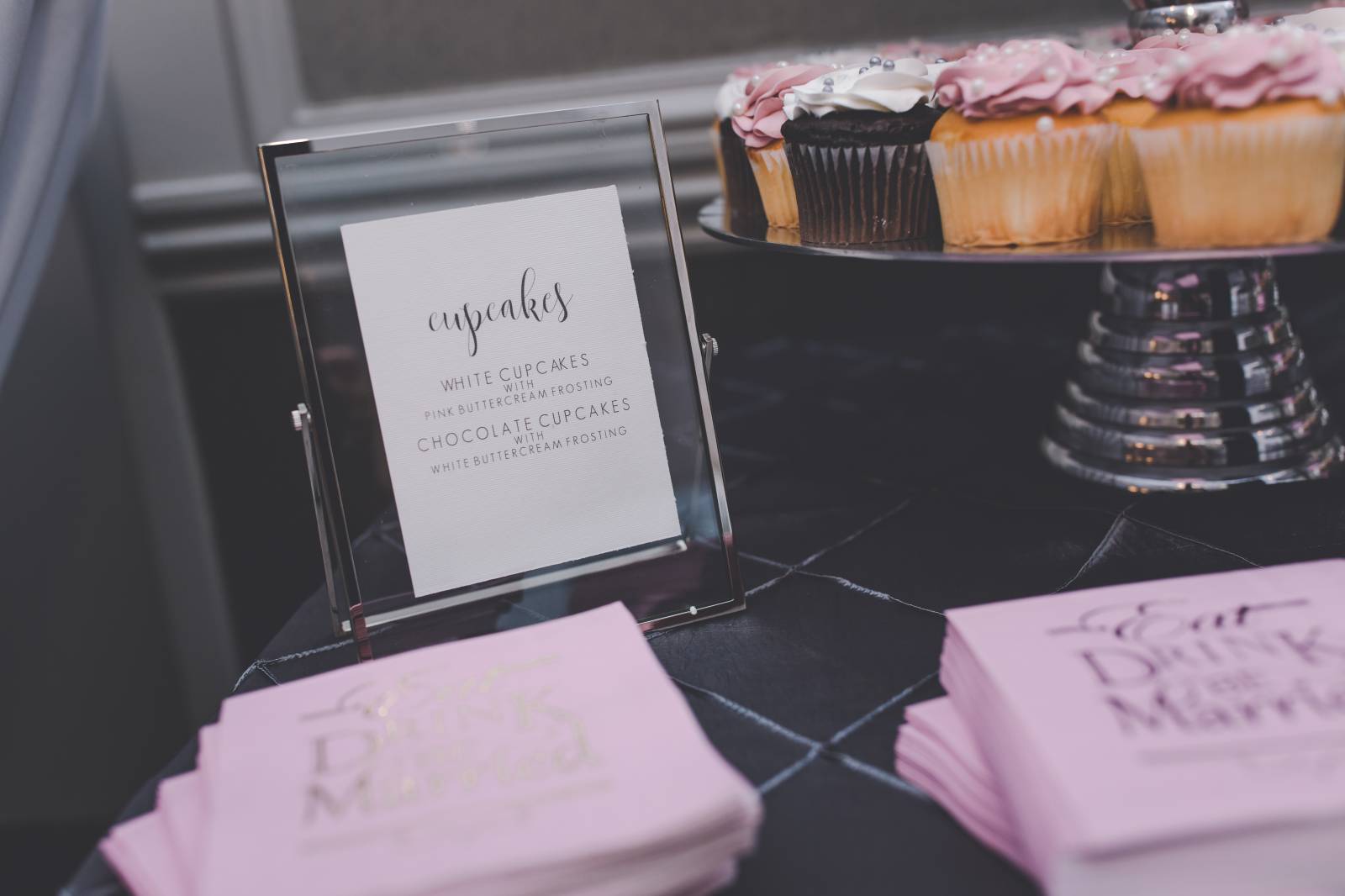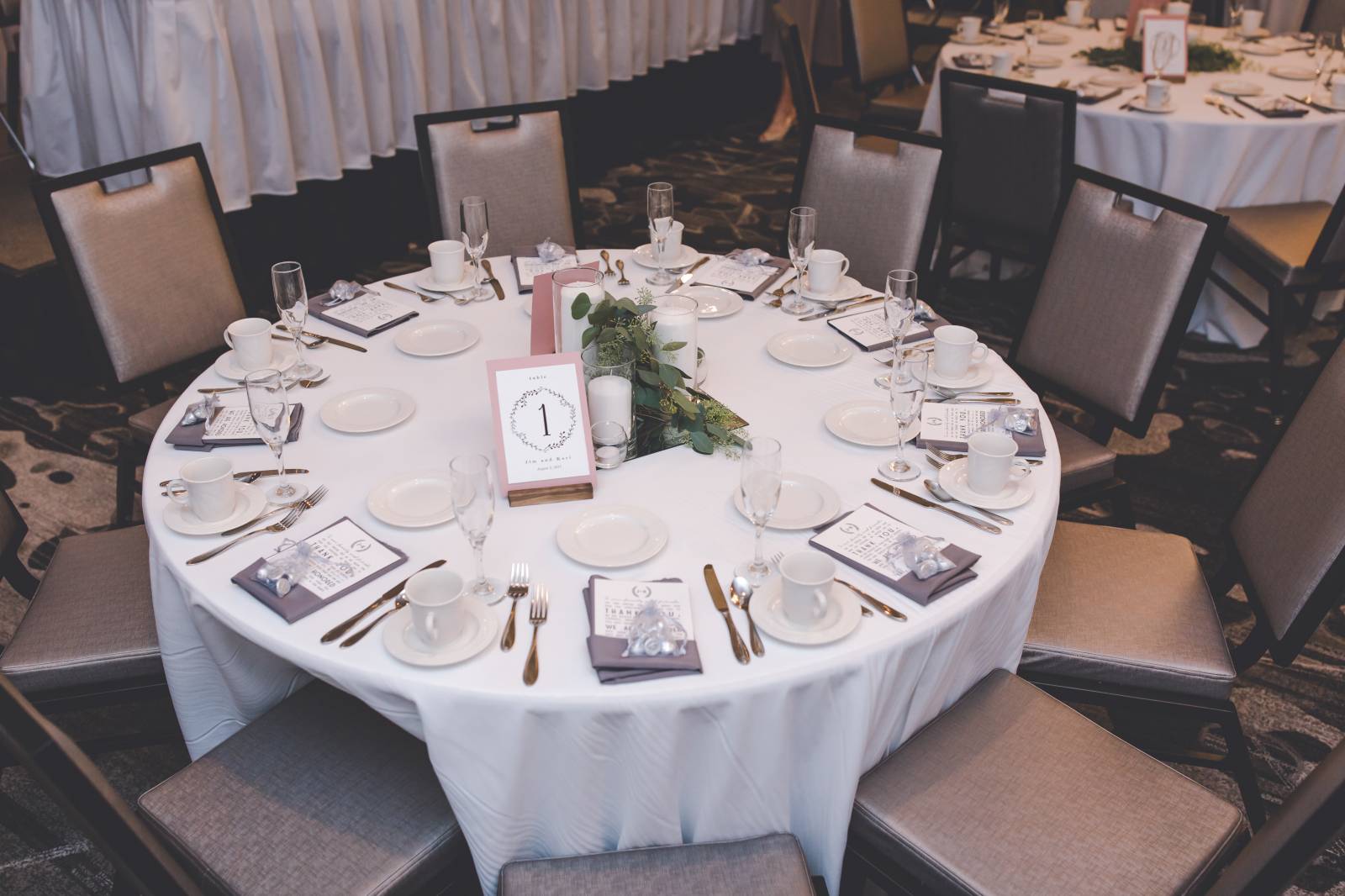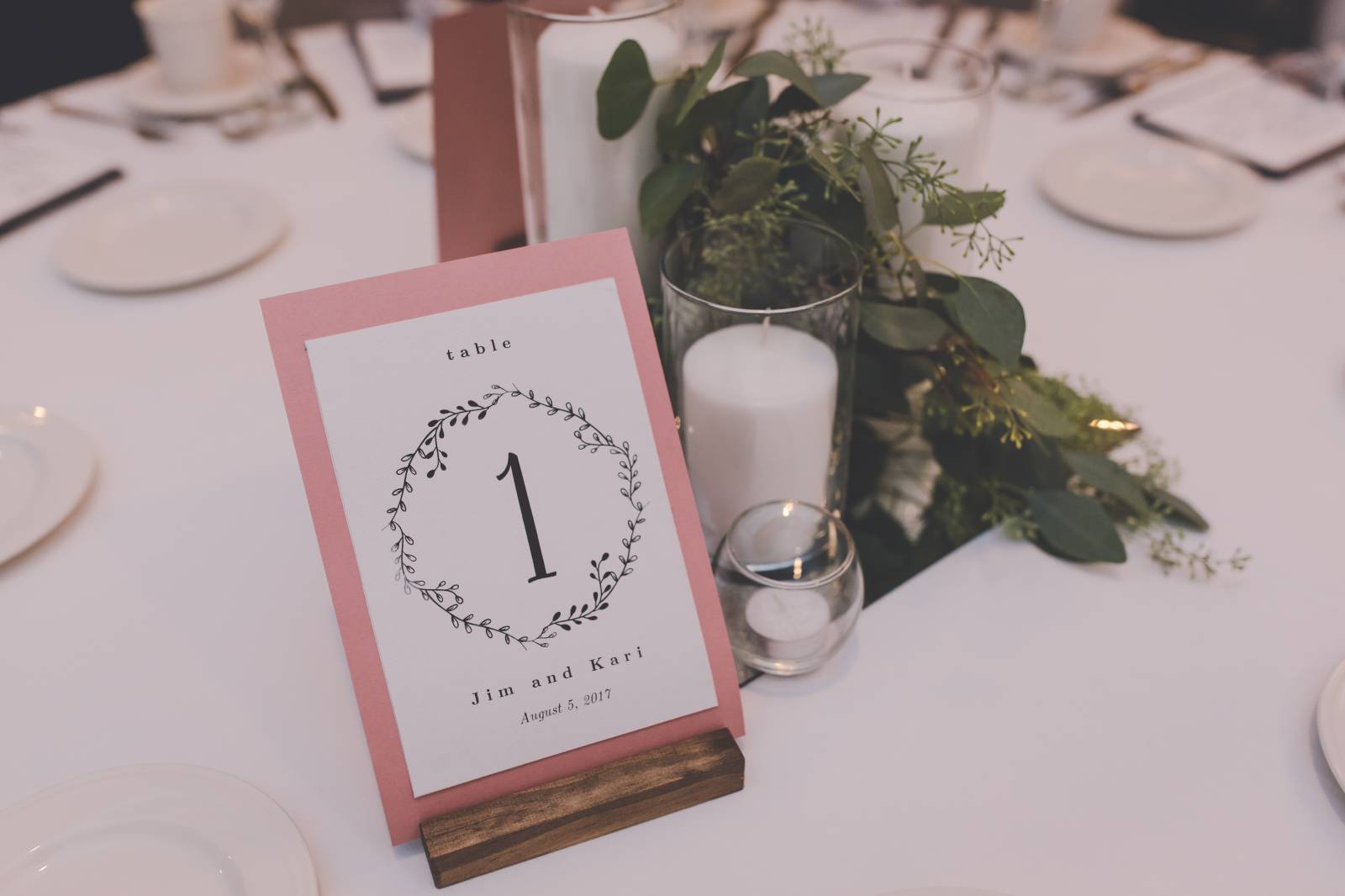 WERE THERE ANY PERSONAL TOUCHES OR DIY ELEMENTS? The fact that the majority of our guests were traveling from afar made me want to do something special to acknowledge the fact that they spent a lot of time and money to celebrate with us. With the help of my MOH, I put together welcome bags for our guests when they checked into their hotel rooms. The goodie bags consisted of yummy treats (chocolate cow pies) and a wedding survival (aka hangover) kit. Since Madison was unfamiliar territory for many of our guests, I also wanted to showcase my favorite city by adding some fun Madison activities for guests to check out.
Jim and I really wanted to get the point across of how blessed we were for our guests to celebrate with us and for traveling from all over the country, so it was a must to include thank you notes at each place setting for dinner.My talented friend, Allyssa Griffiths, designed these for us.
Jim and I were very fortunate that my grandparents could travel several hours to attend our wedding (my grandma is 93 years old). Unfortunately, all but one of Jim's grandparents are deceased. I wanted to pay tribute to them by having a generation display table at our cocktail hour.I could tell that it was especially meaningful for Jim's family to see.
One of the biggest DIY wedding projects was our wedding slideshow.I told Jim that I wanted to have a slideshow during dinner. He told me absolutely not and that nobody wants to sit there looking at a hundred pictures of us two. Little did I know that Jim had a plan of his own in the works. A week before the wedding, Jim surprised me with a slideshow for our wedding.The slideshow started with our embarrassing age progression pictures followed by the real story of us narrated by Jim.
One of the personal touches I was really excited for was our glow stick table. When it came time for everyone (and I mean everyone) to head out on the dance floor and let loose, the glow stick table was a hot commodity. Since Jim and I are from two different states, I wanted to somehow incorporate that into our wedding. While working with Miss Design Berry on Etsy, I was able to have a watercolor canvas made with the state of WI and OH. There was a heart drawn where the states overlap to show Madison (our wedding location and my favorite city). Another element that was fun to incorporate was our customizable wedding snapchat filter using the same design for our state-to-state canvas.Our guests had so much fun with this, and we enjoyed looking at all the videos/stories the next day.